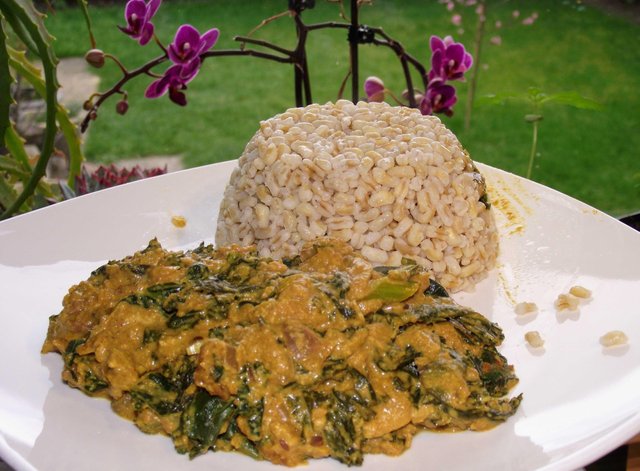 Hello and welcome to my entry for Tasty Tuesday #69, this is my first time, a bit green as they say, like spinach and kale lol 😂. @lizelle tagged me last week and I thought I may as well give it a go, so here I go. I made a kale and spinach curry, the sauce comprises of sweet potato and blended cashews to give it a sweet and creamy vibe, the mountain you see on the plate is khorasan wheat, it is very similar barley, you can barely tell them apart, OK I will calm down with the play on words now and show how I went about my creation.
Ingredients
100g chopped walnut
150g cashews with 200ml boiling water
200g chopped kale
150g spinach
400g sweet potatoe grated
2 onions chopped
10g finely chopped ginger
20g finely chopped garlic
20g nutritional yeast flakes
1 1/2 teaspoon mustard seeds
1 teaspoon cumin seeds
1 teaspoon chilli powder
2 teaspoons korma curry powder
2 teaspoons garam masala
1 teaspoon ground coriander
1 veggie block
500ml water
Pinch of salt
First thing I start of with is soaking the cashews in boiling water while I am getting everything ready. I get a pan lightly oiled and chuck in the seeds.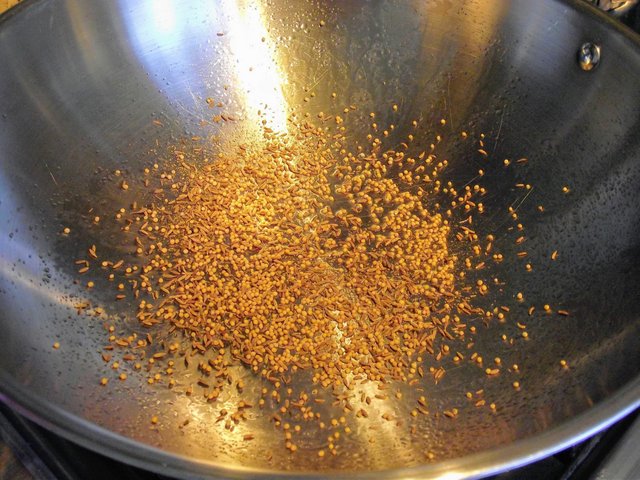 Then the walnuts.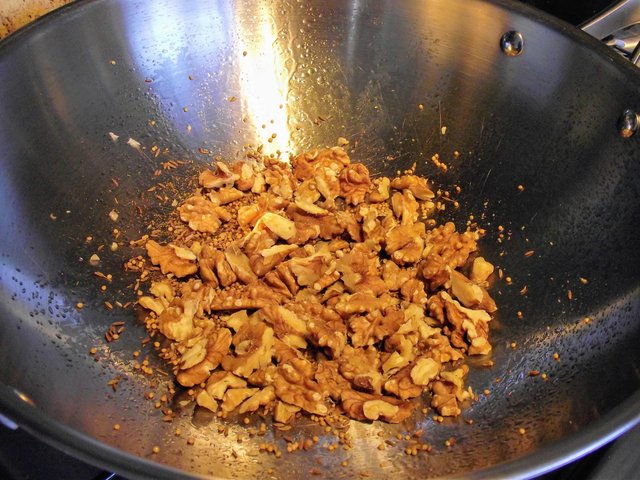 Once the seeds start popping like popcorn I chuck in the onions, garlic and ginger.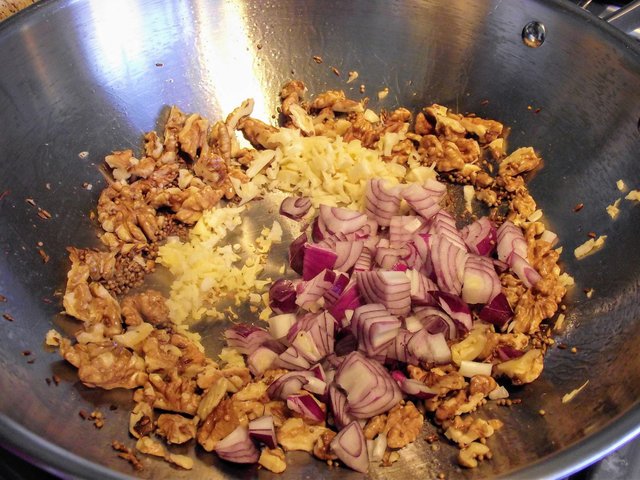 I peel the sweet potato and using a grater I grate into the pan, and throw in all of the spices.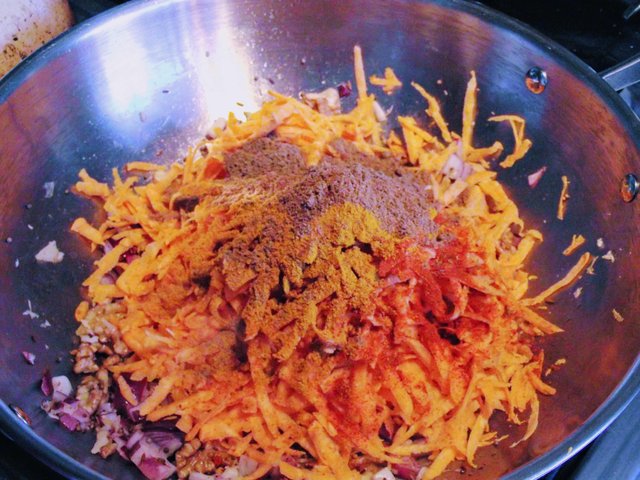 I add water and the veggie cube, and let it simmer for 15 minutes until the sweet potato is soft, it will thicken a sweeten the sauce, then chuck in the kale.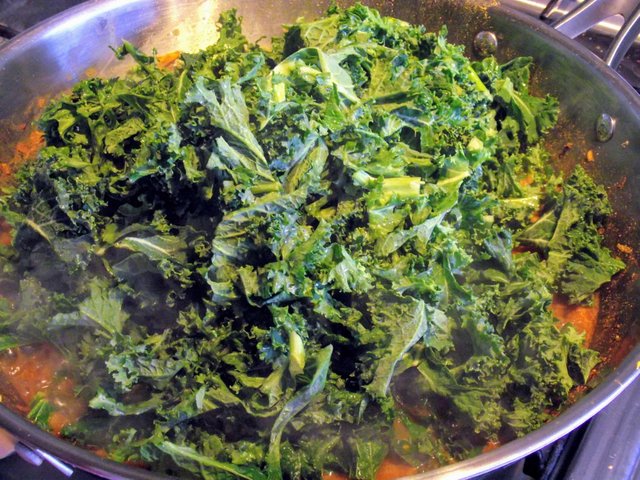 I let it simmer for 5 minutes and bang in the spinach.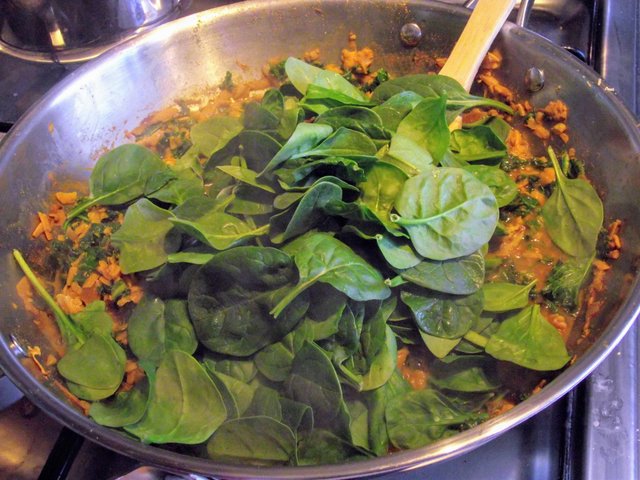 Then I blend up the cashews with the nutritional yeast flakes and add to the pan.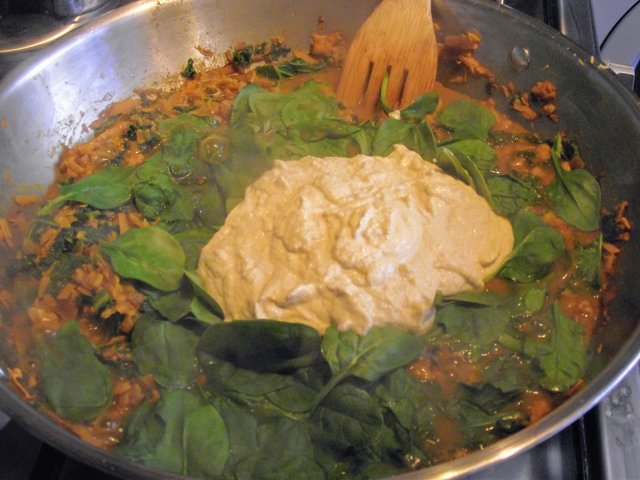 I don't like my spinach over cooked so I stir while simmering for a couple of minutes and turn off the stove.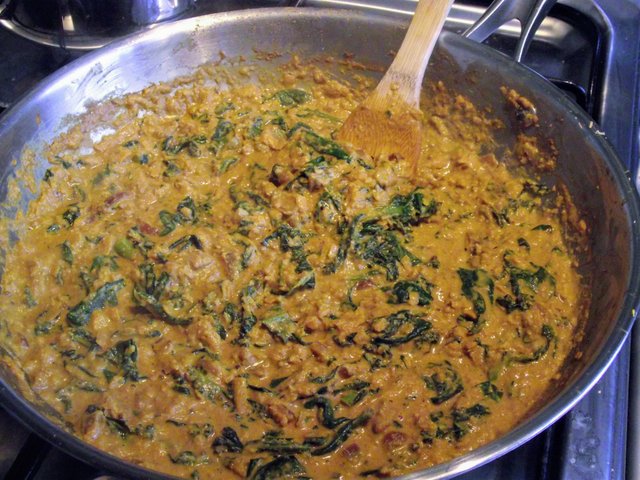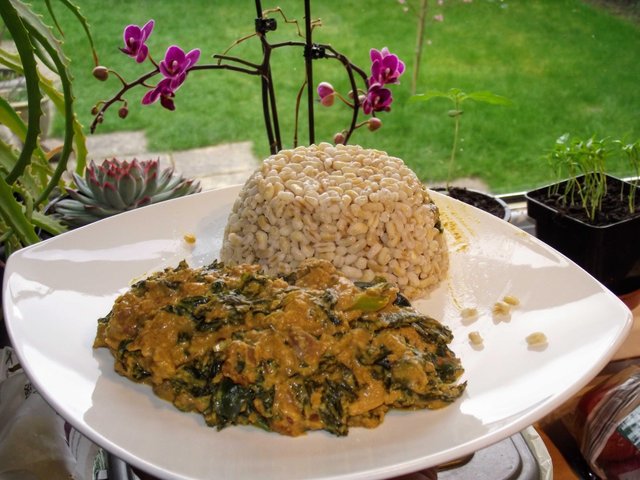 After that it is dishing up time, like I said I used khorasan wheat, but if that is too wierd rice is probably easiest to find. I hope you like it and thanks for stopping by.