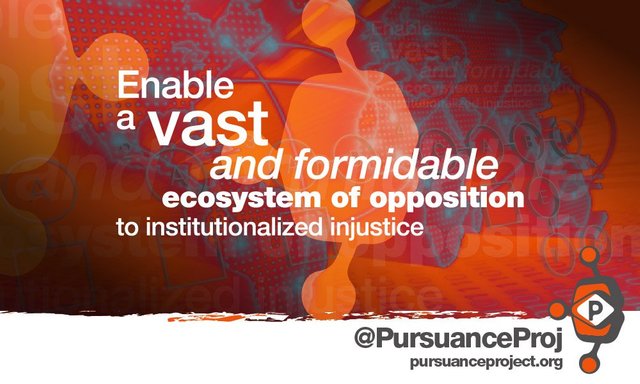 Bad News Brown

Ever since Barrett Brown was released from prison, rearrested for speaking to journalists, re-incarcerated, and eventually re-released from prison, Brown has redoubled his efforts and dedicated himself to the realization of his visionary collaborative framework known as the Pursuance Project. The Pursuance Project aims at creating a never before seen platform that, once operational, will transform our understanding of crowd sourced collaboration across numerous domains. Barrett Brown has assembled a diverse group of like-minded individuals across professions and expertise to participate in the creation of the platform that is scheduled to launch at the end of 2017.
In recent weeks, the official Pursuance Project website was launched while on September 15th, Brown revealed more details in a YouTube AMA concerning the purpose, functionality and aspirations of the upcoming platform.
---
Why We Need the Pursuance Project
"The reason we're putting our energies and thoughts into this project is because - The world is broken."
"The United States government is broken."
"The Institutions surrounding the US government, including the press, are broken."
"And cannot be repaired from within. They must be reformed and or replaced as appropriate from without."
- Barrett Brown
---
Pursuance Project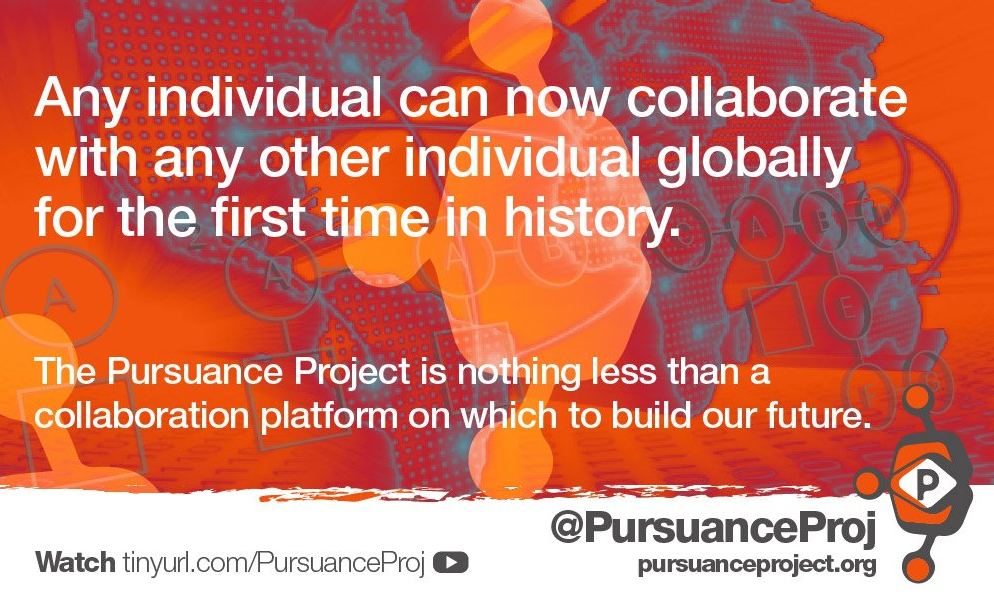 The official website lays out the founding principles of the the organization as:

Impactful, agile, secure civic collaboration.
The pursuance system is the world's first comprehensive framework for process democracy. That is, it allows individuals with no prior relationship to self-organize into robust, agile entities governed via a "proceduralism of agreement." These entities, called pursuances, in turn engage and collaborate among themselves to whatever extent they choose, leading ultimately to a vast and formidable ecosystem of opposition to institutionalized injustice.
For those interested in participating in the pursuance project, Brown specified all participants must agree on 3 basic tenants:
Be Anti-Police State
Be Anti-Surveillance State
Be Anti-Drug War (must be pro legalization)
Default Pursuance Structure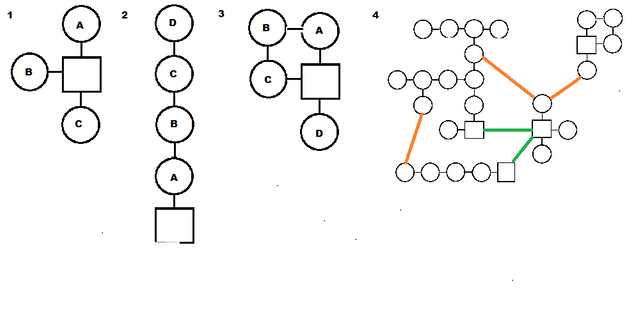 Open Sourced
End-to-End Encryption
Provides Task Management (First of it's kind).
A key component of the platform is its flexibility. Participants will be able to join larger groups or initiate their own research projects. Hierarchies will be determined by the initiators and can appear in different forms whether the pursuance is a micro-managed top-down approach or a more democratic effort. Individuals are under no obligation to continue a pursuance and can leave the group at anytime for any reason.
If a particular issue being investigated is deemed to be too sensitive, the group leadership can delegate tasks separately or can limit certain aspects to the inner core researchers to maintain discretion. In short, the pursuances are completely customizable.
A striking difference between the project in other activism orientated groups, such as Anonymous, is that these groups often suffer from a lack of focus, cohesion and direction. The Pursuance Project aims to streamline collective energy and skill towards specific issues which has the potential to be much more effective.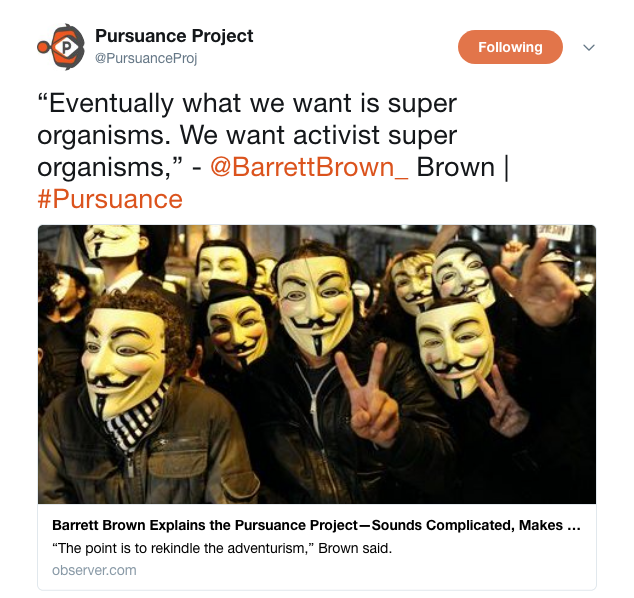 For a more comprehensive overview visit the website or click on the links below.
---
Related Posts:
Pursuance Project Barrett Brown Releases New Research Platform by @fortified
Barrett Brown's Pursuance Project by @v4vapid
---
Barrett Brown AMA on YouTube
Infiltration

One of the most pressing concerns that emerged in the AMA was the issue of government or corporate infiltration and how it could be defended against. Brown emphasized that in the beginning stage the pursuances will be initiated by the core members that Brown has surrounded himself with which includes journalists, professors, whistleblowers and activists. New members will be added to pursuances depending on what they bring to the table in terms of skills, expertise, reputation and enthusiasm.
Individuals who create disturbances will be let go from a pursuance by the leadership or kept on the periphery. If these individuals continue they will find themselves isolated as no one will want to work with them or share information.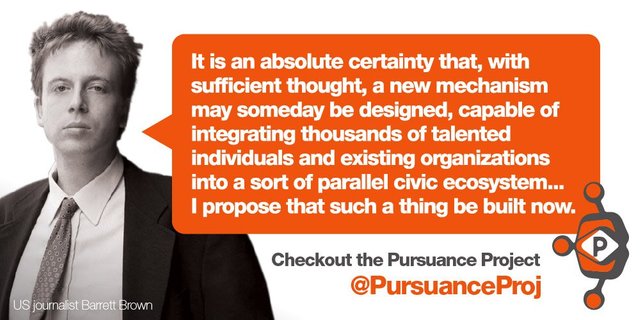 Aspirations

Brown hopes that over the course of the next five years that there will be at least 10,000 active members and multiple pursuance projects. He envisions that separate pursuances can lend support and share resources with one another as certain expertise will have been developed. He also hopes that a number of NGOs will be integrated into the system at various levels which could benefit from support from the pursuances.
Not all members need to be professionals with special expertise, members can contribute in a number of different areas including design. People who have visual graphic / design skills who want to help create 'visual propaganda' for the project will be necessary while others may assist in research (even simple tasks for non-technical types) or others may design pursuance tactics and strategies and make submissions.
Ultimately, new pursuances will build on the best practices that have been developed in the ecosystem up until that point.Colla
---
Institutional Opposition
This project has vast potential to be bring revolutionary change as citizens can create collaborative organizations that can wield great power.
I have already subscribe to the website to be part of this incredibly forward thinking movement. Join us!
Imho, this is one of the most exciting projects under development that could challenge the status quo.
There's also great potential to develop parallel frameworks, such as @rebelskums' DinsFire, that could effectively harness the power of the blockchain.
Donations

If you want to make a Donation to the Pursuance Project, please visit the website and make a Bitcoin donation.
Follow the latest developments on Twitter
https://twitter.com/PursuanceProj
https://twitter.com/BarrettBrown_
---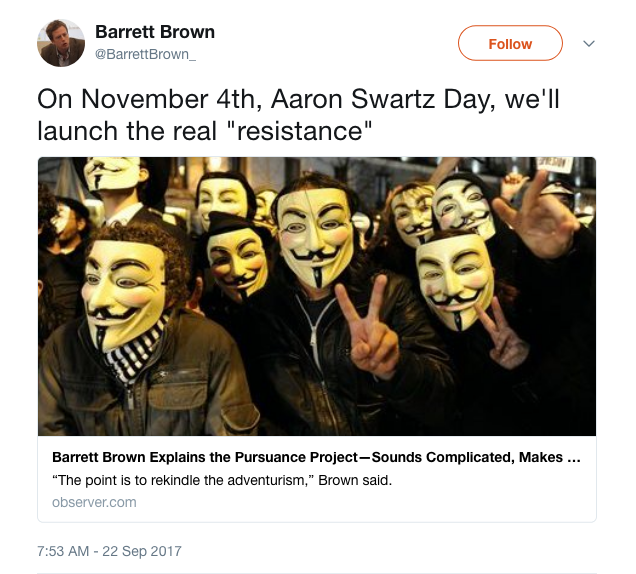 ---