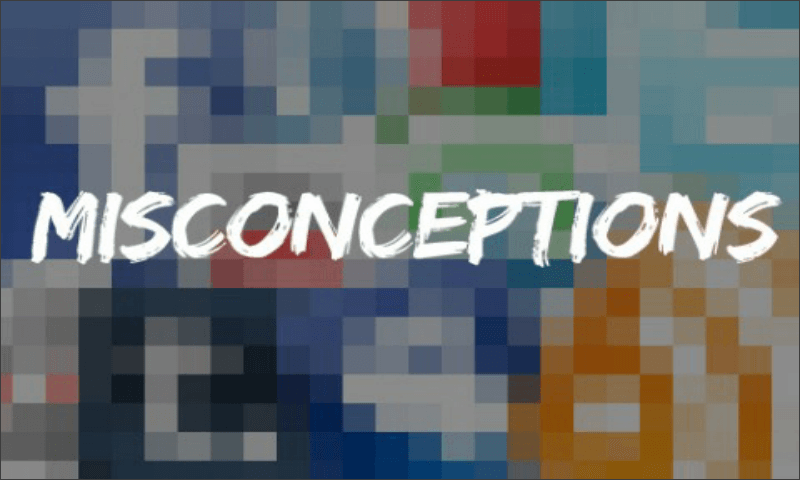 Little by little, through the incredible discussions that have been taking place here on my blog, I am getting a better grasp of where some of the misconceptions surrounding both the field of psychology and mental-health issues come from. I have always understood too well that most of what people know about psychology is a result of what is portrayed by the mainstream media. However, now, more than ever before, I can see that some of the mistaken views and opinions about these topics also stem from people's personal set of beliefs.
Let me just say, though, first of all, that by addressing the very statements I am going to discuss here I am not, by any means, trying to persuade anybody to go against their doctrines, or much less challenge those doctrines. What I am trying to do is to get some flexibility out of people in order to reduce prejudiced views towards mental ill-health.
Discussing Misconceptions
I am going to start with this misbelieve because it may be the one which puzzles me the most.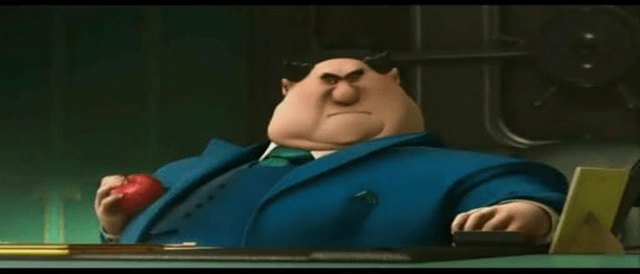 The big corporations invented mental illness in order to profit from it. 😕
At the same time I appreciate that for some people the concept of mental-illness is a difficult one to fathom due to its subjective nature, I also struggle to understand why this is the case. Because I am yet to meet, or read in medical literature, about someone who has not been through some sort of struggle with their mood, thinking or behaviour from time to time. For instance, have a look at the following experiences:
Disorganized thinking – when was the last time you felt you needed to put your thoughts in order?
Hallucinations - Have you ever had the impression you heard someone calling your name, for example?
Confusion between reality & imagination - Was it a dream, did I see it in a movie, or did it really happen?
Shifts in mood - Are you familiar with feeling confident in one occasion and insecure in another?
I don't know about you, but within the past twenty-four hours I experienced two out of the four examples I listed above, and guess what? They are all experiences that people living with mental conditions such as psychosis, schizophrenia and bipolar go through. True, such experiences are constantly recurring in the lives of the individuals afflicted by the aforementioned disorders. And it is precisely the recurrence that warrants a diagnosis. Still, my point is, this is not a far-fetched reality for people who have not received a diagnosis.
So, how unrelatable can the above experiences be for someone to the point they state they have been created by corporations? I am not quite sure.
I know you are talking about the pharmaceutical industry
I am not a big fan either; but, perhaps, for different reasons. Like this one:
There is evidence demonstrating that ADMs (anti-depressants) are not more effective than Cognitive Therapy in the treatment of depression.
Ps: Don't be intimidated by the chart. I put it here mainly for purposes of illustration 😇
The chart below illustrates the findings of a study conducted in individuals who had mild to severe depression. The clients treated with an ADM as well as those treated with Cognitive Therapy showed significant improvement after 8 weeks, when compared to those treated with placebo (a sugar-coated pill). After 16 weeks, though, patients being treated with ADMs and Cognitive Therapy exhibited almost the same response.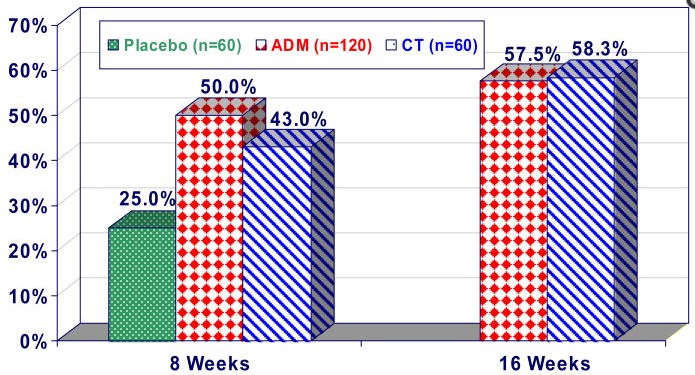 Amazing! Right? Well, not so much! In this same research the authors discuss how neither Cognitive Therapy nor ADMs provide the definite solution. As they also point out to the fact that these patients are also more likely to have another depressive episode when compared with the general population.
I have quite a blunt way of viewing this: the fact that someone has been treated for depression either with medication or therapy, doesn't magically turn their lives into a walk in the park from then onwards. Adversities will inevitably come again and depending on their overall context and history they may fall into a depressive state once more.
All because of our wicked society, you tell me.
Well, not all but, most mental issues, mainly those rooted in stress are associated with the life style and social values cultivated nowadays, yes. The pursuit for instant gratification, the "always-on" life and the keeping up with the Joneses are just a few of such contributors.
This is an observation made especially by psychoanalyses, which, in a nutshell, puts forward the following:
Mental distress is the product of the civilised, rule-bound world we live in.
Still, while there are those who can recover from their emotional difficulties without medication there are those who cannot. Yet, they still return to fully function in life and in many cases that is because of treatments with ADMs which they either took for a period of time; or, take on a daily basis. For sure the corporations profit from such cases; however, the profit I choose to focus on here is that of the families who have their loved ones once again emotionally stable, and that of the individual who is no longer haunted by so much suffering. These are cases that I have come across both in my off-line life and here, on Steemit, through your most wonderful comments.
Comments left on my last post
..... I started having several panic attacks a day and eventually stopped sleeping because the panic attacks would wake me up almost immediately. It was probably the lack of sleep that caused the anhedonia. It took several medications and about six months to bring me out of that downward spiral and I do think I exhibited resilience. But I'm not sure resilience alone would have been enough to get my body to start sleeping again and stop hitting me with continuous shots of adrenaline ....
.... I feel that medication can play a very important role in treating some of these disorders. I know that in my case it has been a game changer and has significantly improved my quality of life.... My anxiety manifested as frustration and anger, and my coping strategies were inappropriate. Going onto a medication enabled me to better manage my behaviour and in conjunction with a psychologist, work to develop more appropriate coping strategies when feeling stressed, frustrated or anxious....
---
These are both extracts of comments generously left by two different readers on my post Depression – Where to Draw the line?.
I would like to thank again these two kind people from the bottom of my heart for leaving such meaningful, hopeful messages (they know who they are! 😘).
Moving on to another misconception.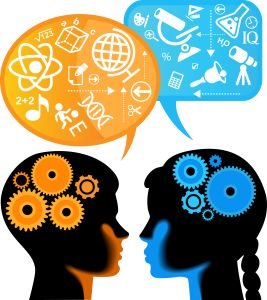 Psychology only studies sick people. 😯
This is not an accurate statement! And, it concerns me for the following reason: it is this sort of hostile thinking that disseminates uninformed preconceptions.
You don't even have to leave my blog to find out this is not the case.
Studies such as this one on Evaluative Conditioning was conducted in emotionally stable adults, and explores how people come to like and dislike things through association. This study further delivered a better understudying for the cases of PTSD, when, for example, people re-experience their traumatic event as a result of an encounter with a song, something someone said or an image (triggers)that they associate to their traumatic events.
Further, don`t forget the classic psychological research The Obedience to Authority Study, in which the participants were all mentally adjusted, family men. Through studying perfectly healthy adult males this study unveiled some of the reasons why good people may, depending on the circumstances, go against their moral values and harm others. Finally, within my blog you can find yet another study that was not conducted in mentally-distressed individuals; but rather, in a group of little children with the purpose to discover how deep their understanding of friendship goes.
But, I must admit I understand why some people come to the conclusion that psychology is mainly concerned with the negative aspects of human existence. Especially because this was indeed the case for quite a few years. There is an explanation for this, though, which I will tell you a little bit about next.
Traditional Psychology & Positive Psychology
Psychology emerged as a science with three main purposes:
Find a cure for mental ill-health
Improve general well-being
Identify and nurture high-potentials
In fact, these were aspects of human life which received greater attention from academics prior the wars; but, particularly after the second world war the first purpose – find a cure for mental ill-health - understandably became its focus, as so many veterans returned home from the battle field afflicted by dissociation and terrifying flashbacks. Thereafter, the works of psychology mostly shifted towards the treatment of the mentally-ill.
However, there is much more to psychology than the treatment of mental distress. For example, Positive Psychology is a branch within the field that focuses on aspects of human life concerning well-being; some of these aspects are: personal growth, individual potentials and all the features of existence that, as some psychologists like to describe, 'make life worth living'. The main therapeutic approach within this branch is, perhaps, Humanistic Psychology, which I have already talked about on a previous post.
Acceptance, love and compassion are nowadays subjects largely researched by Positive Psychologists and are topics I will indeed discuss here in the near future.
Final thoughts
Am I trying to tell you that psychology holds the
grand
solutions for all humanity's troubles? Absolutely not! Because it doesn't. And this is why I try to raise your awareness about things such as situations that call for the use of anti-depressants and those that do not. Whether I write about
Humanistic Psychology
or
The Diagnosis of Mental Illness
I point out its strengths and weaknesses.
You see, my aim is not to persuade you about anything; what I try to do here is to bring you information with its pros and cons, because I believe in your critical thinking capacity.
[Original Content by Abigail Dantes - 2018]
---
Reference List:
DeRubeis, R.J., Siegle, G.J and Hollonh, S.D (2008) 'Cognitive Therapy versus medication for depression: treatment outcomes and neural mechanisms, Nature Reviews Neuroscience, vol.9, pp. 788-96.
Seligman, M. (2002) Authentic Happines, New York, The Free Press.
---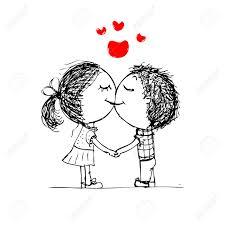 Dear Reader,
Last week I shared with you my struggle to accept Luca's situation with his parents and treatment, and you were generous enough to not leave me alone with my frustration. You also shared with me some of your emotional difficulties.
What about if for this post we created a space for positivity and commented on that thing in our lives (it can be anything) that we would not change for anything in the world and why! For example:
I would not change for anything in this world, the years I have spent with my husband. Because he makes me feel truly comfortable with whom I am.
I wish you all a wonderful weekend & hope this post has broadened your view and understanding about the field of psychology and mental health a little bit more.