Disrupting Bankers and Filming Steemit Promo with Danny Shine - Viral Video
Amazing Steemit Promo Video! We want your help to make this video go Viral for Steemit! Please share it with your social networks!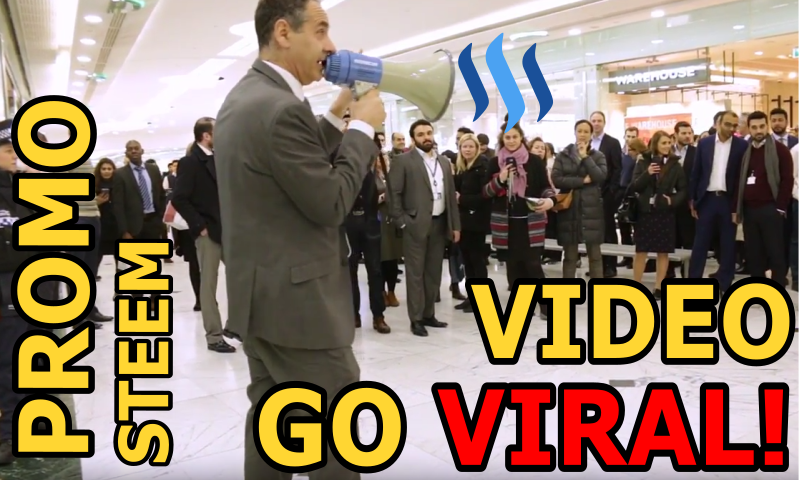 @dannyshine, @weirdside and @starkerz were filming their Steemit promotions in London at Canary Wharf, which is where all the big banks are situated. We had Danny on the megaphone catching the attention of hundreds of people during the day, whilst I was the banker, the guy with the extra information, taking down people's email addresses, giving out Steemit business cards and inviting people to Steemit using www.steemivite.com.
Please enjoy this hilarious video where we promote steem, misbehave, annoy security, have our banner stolen, cause a scene and let hundreds of people know about Steemit!
@dannyshine's megaphoning technique worked so well we gave away 200 business cards in 10 minutes!! WOW!
Thanks to:
Signing up?
If you do open a steemit account as a result of having seen this video, include the tag #promofree-steem in your intro blog stating that you signed up after having seen this video, and we'll upvote your blog. (Danny, will give you a bit more if you are a vegan ;)).
Blog Rewards
@dannyshine has kindly offered to delegate any of his rewards from this post to the @steem-ambassador account in order to support the #promo-steem cause! An act from which the whole promo community will benefit! what a Steemian!
Stay Tuned for More
During the day, we filmed enough crazy promo content to make at least one more video. @weirdside is currently editing this and it will be out shortly!
We encourage others to do the same!
Short promo videos about steemit are the most likely things to go VIRAL! So please record your promo work, find a talented editor and make a great short video out of it! The more of these types of videos our amazing promo community produces, the more chance we have of getting the steemit name out there!
HAPPY PROMOTING!