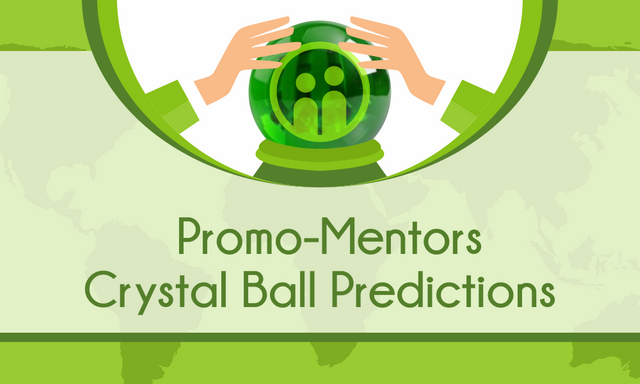 Hello World Cup lovers!
World Cup 2018 Russia has been phenomenal. With underdogs stepping like Russia and Japan stepping up, and well known teams being eliminated, this world tournament has been full of surprises so far. I have loved soccer since elementary school. People wouldn't see me a die hard fan, but whenever I am watching games I enjoy them to the fullest.
What I find most fun to watch besides the technical plays is actually the comradeship of the teams and especially between the people rooting for their them. Not only do we see people being closer together in their respective countries, but we also see people from different countries coming together and have a good time, and respect each other.
I found this video that shows beautiful moments from previous worldcups.
A Challenge
---
I wanted to do something fun and at the same time raise a small fund to use to bring smiles to people. This idea came from that I wanted to do a worldcup prediction challenge with my team from @promo-mentors. I had in mind to do a hard challenge which involved in predicting the results of all the upcoming matches for which they would receive a big reward if they were able to. I myself am involved in two wordcup contests of @worldcup-rusia (hosted by @anomadsoul and @acidyo) and of @steemitboard. I rarely join contests, but these ones has been very fun, which is why I want to hold a bet with you guys who is able to gaze in to the future and predict the results of the upcoming matches of the quarter and semi finals and the results of the final match.I am putting 20 SBD in this bet and the earnings from the @promo-mentors account!
How it works
---
The bet: predict the winning teams of the quarter and semi finals AND the result of the final match correctly!

To join send an amount of SBD (a minimum of 2 SBD) with memo "World Cup Oracle". This wil go to the prize pool. If you win the bet you will win

a stake of the pool equal to your betting size
My 20 SBD
10% of all post rewards of @promo-mentors for a month
All the SBD from this post

If no one wins then the best prediction will receive ONLY 20 SBD from me and also when no one beats my prediction, the whole betting pool will be send to @promo-mentors where we will use it for our project to fund initiatives that aim to help people or promote Steem.

You can show your prediction in two ways. First is by copying the image below and fill in the results with an image edit programn and post your prediction in the comments.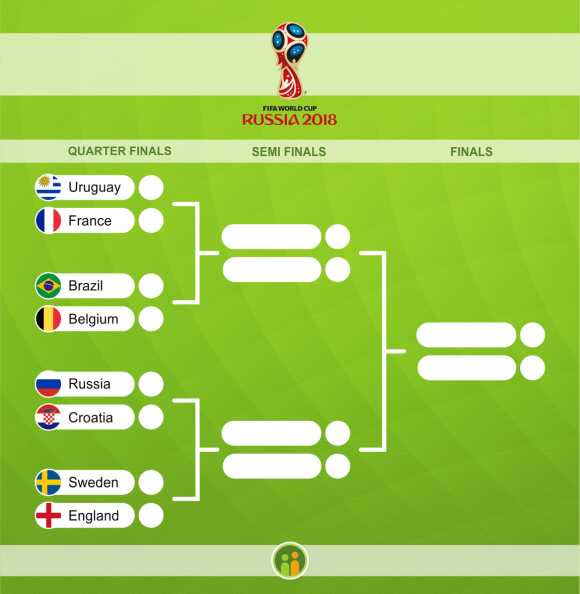 Or you can fill in this table below. You get 1 point if you predicted the winner and 3 points if you predicted the correct results. In case of a tie indicate the winner with this symbol *.
Quarter finals
Score
Semi Finals
Score
Finals
Score
Uruguay
0
France
1
Brazil
result
France
1
Brazil*
1
Russia
result
-
Brazil*
1
Russia
result
Belgium
1
England
result
-
Russia
result
Croatia
result
-
Sweden
result
England
result
Copy this below to get the table:
Quarter finals | Score| Semi Finals| Score| Finals | Score
-|-|-|-|-|-
Uruguay | 0 | France | 1 | Brazil| result |
France| 1 | Brazil* | 1| Russia| result |
| -| | | |
Brazil* | 1 | Russia | result|
Belgium| 1 | England |result |
| -| |
Russia| result |
Croatia| result |
| -| | | |
Sweden| result |
England| result |
Post your prediction in the comments. You can also make a post and then link your post in a comment.

Deadline is before the first match of the quarter finals which is on Friday 14.00 GMT + 0

P.S. All results are before the 90 minutes, which makes ties possible

And come join the promo-mentors discord channel where we will have special channel dedicated for this bet! :)
---