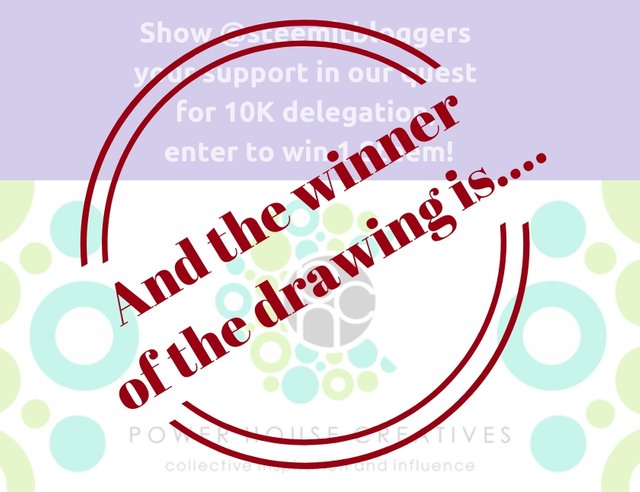 ... going to be announced in a second. 😊
First, a few quick things (because my brain is mush, and it's getting close to SUPERBOWL KICKOFF!) -
From what I can tell, there were a total of 91 posts published on Steemit in support of the Steemit Bloggers/Power House Creatives winning the 10K delegation for a year from @theycallmedan
Of those 91, there were 13 different posts done by 7 different people who are not part of the Steemit Bloggers community, including 2 (@qurator and @freewritehouse) who were also in the running, so they were our competition!
While we fell short in the voting during the very last moments due to a Herculean effort by the @votovzla team (and CONGRATULATIONS to you all!) , we still won in so many, many ways - including the HUGE announcement that @bluemist (via @appreciator) has delegated 10K to @SteemitBloggers for 6 months!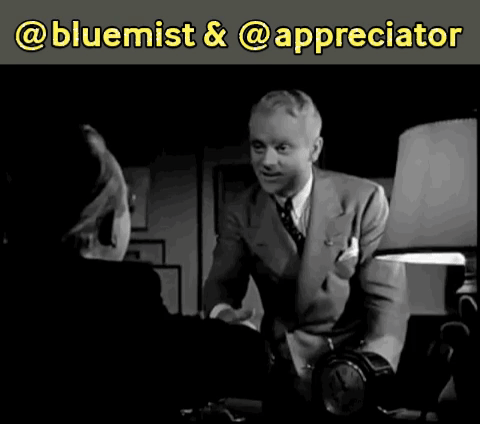 via GIPHY
Okay, now for the drawing. Thanks to the awesome generosity of @foxyspirit, who donated 1.5 Steem yesterday, the total prize pool is 3 Steem! I decided to do a random drawing for the winner of 1 Steem, then send 0.50 Steem to the other 6 participants.
I then realize my math skillz are lacking, and that would make a total of 4 Steem, but you know what? I'm still gonna do it, because this is a VERY small gesture compared to all the gratitude I feel from this whole delegation contest! 😍
I used the random generator over at RandomResult.com, and took a screenshot of the result...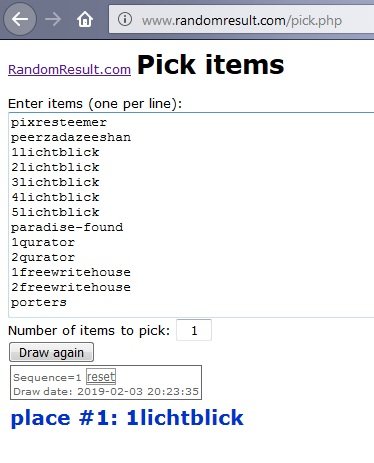 Congratulations to @lichtblick!! No big surprise you were the winner, given how many times you posted on our behalf. Thank you again for your wicked awesomesauce support! I'll be sending along your 1 Steem in the next few minutes!
And to @pixresteemer, @peerzadazeeshan, @paradise-found, @qurator, @freewritehouse, and @porters - thank you also for your amazing shout outs! I'll be sending along 0.50 Steem to all of you also in the next few minutes.
EDITED TO ADD
Just to make it official...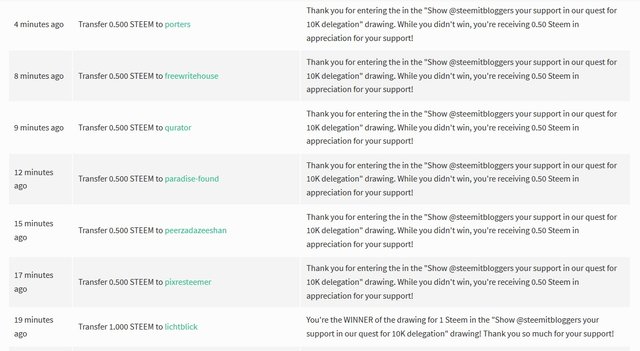 Last bit before I teeter over to the couch, where I will be for the foreseeable future - thank you so much to @jaynie, @zord189, and the entire @steemitbloggers/#powerhousecreatives community for giving and inspiring the most amazing support during this past week, both on and off the blockchain. I am incredibly proud to call you folks my family! ❤️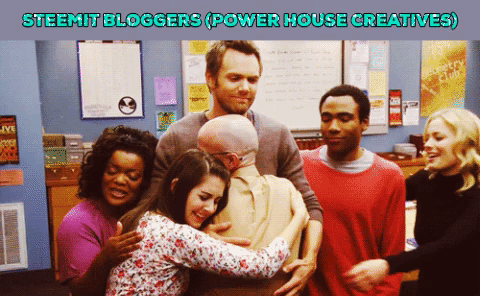 via GIPHY

Thanks for stopping by!
My posts may occasionally contain affiliate links. If you click through,
I might get a wicked small commission, with no extra cost to you.
Blog graphics created on Canva
My photographs are taken with my trusty Nikon,
sometimes utilizing my handy dandy tripod.
All words and images are mine (unless otherwise indicated),
and can sometimes also be found on my various social media sites.
Speaking of witch which...

I have one billion many homes on the interwebz.
Here are a few...
On the Steemit blogging site,
I am a proud member
of these awesomesauce communities


   



 
 


 
 
Links: PowerHouseCreatives; steemsugars; steemusa;
anonyvoter/steemians directory; helpie