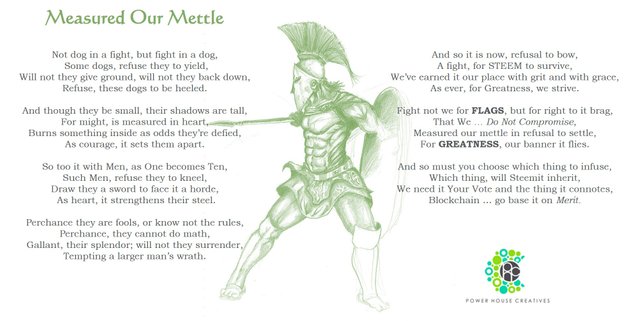 Measured Our Mettle
Not dog in a fight, but fight in a dog,
Some dogs, refuse they to yield,
Will not they give ground, will not they back down,
Refuse, these dogs to be heeled.
And though they be small, their shadows are tall,
For might, is measured in heart,
Burns something inside as odds they're defied,
As courage, it sets them apart.
So too it with Men, as One becomes Ten,
Such Men, refuse they to kneel,
Draw they a sword to face it a horde,
As heart, it strengthens their steel.
Perchance they are fools, or know not the rules,
Perchance, they cannot do math,
Gallant, their splendor; will not they surrender,
Tempting a larger man's wrath.
And so it is now, refusal to bow,
A fight, for STEEM to survive,
We've earned it our place with grit and with grace,
As ever, for Greatness, we strive.
Fight not we for FLAGS, but for right to it brag,
That We … Do Not Compromise,
Measured our mettle in refusal to settle,
For GREATNESS, our banner it flies.
And so must you choose which thing to infuse,
Which thing, will Steemit inherit,
We need it Your Vote and the thing it connotes,
Blockchain … go base it on Merit.

The Great @theycallmedan 10,000 STEEM Delegation is nearing its end. 
A number of Nominee Groups have ceded and asked their Members to support SteemitBloggers (recently re-branded as the Power House Creatives) ... most notably, two groups for whom Creating and Curating High Quality Content is the purpose of their existence, @qurator and @freewritehouse. From Our House to Yours, we thank you for your support. You are Class Acts.
The members of the Power House Creatives hail from every corner of Earth. Our Founder and Commander-In-Chief, @jaynie, lives in South Africa. Our Number 2, @zord189, lives in Malaysia. I am a Canadian, who lives in the United States. Others live in England, Ireland, Scotland, Wales, Germany, Slovakia, the Netherlands, France, the Philippines, India, Denmark, Sweden, the United States, Uruguay, Canada, Croatia, Bulgaria, Belgium, Russia, South Korea, Australia and Indonesia. 
We are not a group bound by nationality. 
We are a group bound by an ideal: That to survive, and to thrive, Steemit must be capable of creating "Great Content." Not "Good Content" or even "Very Good Content." 
Great Content. 
Poets and writers. Musicians and chefs. Photographers, videographers and visual artists. It matters not the Art Form ... but it matters that it's Art.
The First Principle of Leadership is that you don't ask of others what you are unwilling to ask of yourself. And so, we walk the walk. No excuses. It's a high standard we set and one which we do not always achieve. But our failures do not impede our ambitions.
Steemit is but the cumulative result of a million choices. We have made ours ... and now we ask you to make yours.
We ask for Your Vote.        
Quill

How To Vote
Click this Link 
When asked, Login to steemconnect
Select "steemitbloggers"