Choosing the Battleground
Those who still hope to achieve freedom via petitions, elections and legislation are not only doing something that has no chance of success, they are essentially dooming themselves by letting tyrants and crooks choose the field of battle, and letting them choose the rules of engagement.
The philosophical debate of statism versus voluntaryism—authority versus self-ownership, government power versus non-aggression—is now drastically one-sided. I've been an anarchist for two decades now and I can attest to the recent exponential increase in how many people are actually questioning their authoritarian indoctrination, down to its roots. In all sorts of forums and formats (outside of the mainstream media, that is), people are now questioning and abandoning the political mythology they were taught, and instead learning and embracing the principles of non-aggression, self-ownership and voluntaryism. And what are the sociopathic control freaks doing about that? They don't have any sort of logical or moral rebuttal, so they don't even try that approach. Their attempts to justify their own power basically come in two forms: "If we weren't here ruling you, scary things would happen!" and "Everyone knows that government is necessary!" But other than fear-mongering and baseless assertions, they have no argument to offer in favor of the Divine Right of Politicians. Because there isn't one. When it comes to rational debate and discussion, the control freaks and politicians have pretty much walked off the field of battle.
On the philosophical battleground, authoritarian collectivists are unarmed buffoons, which is why those in power want so badly for the discussion to be about campaigns and elections, not principles and ideas. They are constantly and desperately trying to drag the battle onto their home turf: the pointless circus known as "politics." As long as the argument is over WHO should sit on the throne, the tyrants have nothing to fear. That is their game, played under their rules. "Politics" is a system of the control freaks, by the control freaks, and for the control freaks. It always has been, and always will be.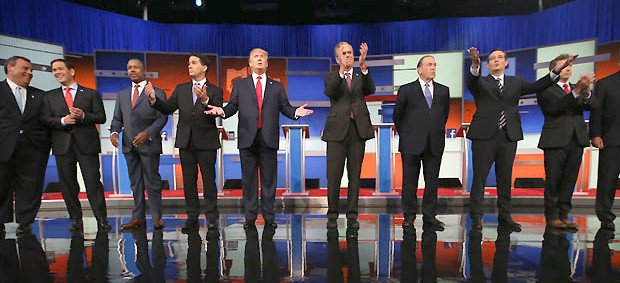 That is why it is so frustrating to watch alleged freedom advocates eagerly jumping onto that battlefield, where they pointlessly and impotently whine about how Tyrant A might be slightly less bad than Tyrant B, or how maybe even Tyrant C has a chance of winning. "If you don't vote for my guy, that's like voting for the other guy!" Such short-sighted, unprincipled stupidity is precisely and exactly what those in power want. Why do you suppose "the powers that be" push so hard to get people to vote, even sometimes talking about making voting mandatory? Would they do such a thing if they thought elections posed any threat at all to their power? Of course not. They want the fight to happen on the battleground of choosing political masters, because they already know the outcome. As the saying goes, "Whoever the people vote for, government will be elected."
Indeed, the ridiculous spectacle of "democracy" is the best trick tyrants have ever come up with. Allowing the slaves to vote is an amazingly effective way to drain even pro-freedom people of their time, money, energy, enthusiasm and hope, without giving them the slightest chance of achieving actual freedom. They obsess over the race, scream at each other, and then, after smashing their heads against that brick wall one more time—and after a new set (or the same set) of political puppets takes the throne—the subject class meekly crawls back into subservience, exhausted and discouraged. "Well, you can always try again in another four years." Pathetically, most of them will do just that, falling for the exact same scam the next time around, too.
(For those who haven't seen it yet, my video called "The Jones Plantation" should make voters appropriately uncomfortable.)

If your goal is freedom, do not set foot on the battlefield of elections and politics. Do not vote, do not campaign, do not petition. Do not even pay attention to that absurd puppet show. What matters is not the stupid rituals and appointments of political parasites. What matters is what the people understand and believe in. Neither the problem nor the solution exists in Washington DC; it exists between eight billion pairs of ears. Do not get dragged onto the field of politics. You will lose. Every time. Keep the battle on the field of ideas. That is the only place where freedom will ever be won.