The Yellow Vests protests have been going on for about 4 months. With 5,000 police on the streets of Paris, the authorities wanted more force present, which is why the military has been drafted to help subdue the protesters.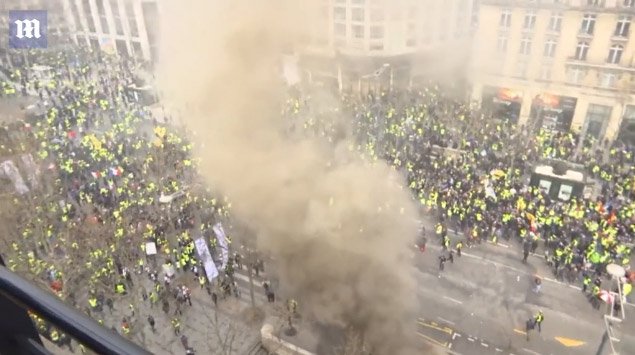 Source
At 19 weeks of protests, many are opportunists who seek to use the protests as a way to enact violence. Last week's riots had many Paris shops looted. The French government is seeking to lay down some order, and the military is how they see it happening.
On Friday, French General Leray told Franceinfo Radio:
"If their life or that of the people they defend is threatened, they can go up to opening fire."
Many want to burn tear down the current establishment and status quo. Some want to actually burn down what they consider those who "have more" than they do. Rioters have taken to looting and burning down banks and high-end shops and restaurants which represent the upper class they view as representing their enemy.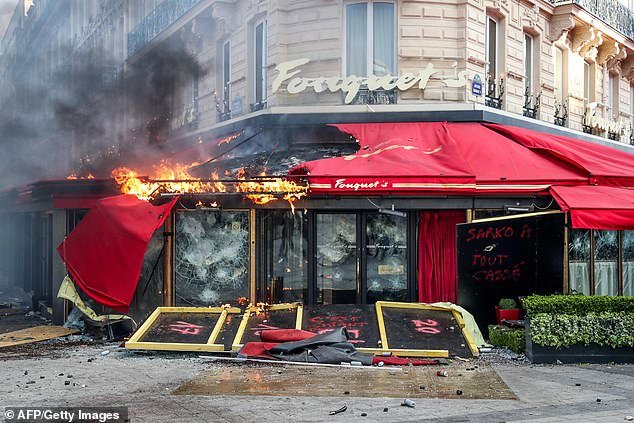 Source
Police have already been using tear gas, water canons and batons to beat back and restrain the Yellow Vest protesters. Over 250 arrests were made and injuries sustained. This destruction is being called "anarchy".
Is that really anarchy? Most people think so, since anarchy is equated to "chaos". The word anarchy doesn't mean chaos. An-archy means without-rulers, no-rulers, no-masters. And in that situation, where we don't have masters ruling over our lives, people think that lack of control is disorder and chaos.
People believe so much in the established order of our way of life with government controlling so much around us, that they can't think any other way could work. They think that without government you get what the news shows, chaos, destruction, violence, etc. But this is not the ideal of true anarchy.
The depictions on the news are not what is required, but it is what some people are doing, for whatever reason. Some may just be lashing out at a system that doesn't work for them and millions of others, while some may just be taking advantage of the protest to cause mayhem and destruction because they enjoy that. And some are most likely agent provocateurs inserted by the authorities to escalate violence and create a negative image for the Yellow Vests.
The protests have been banned in several parts of Paris now. This includes in the Champs-Elysees where the looting took place, as well as streets surrounding the Arc de Triomphe, the presidential Elysee Palace and the National Assembly. Fines are set to increase for anyone taking part in protests in the banned areas.
Now the military is being brought in to help "deal" with the protests that the governing elite and the upper class would rather see as a distant memory. General Leray says the soldiers know how to respond in a "proportionate manner":
"They are subject to the same legal framework as the internal security forces."
"They are perfectly capable of appreciating the nature of the threat and answering it in a proportionate manner."
But how many times have we seen soldiers being deployed on home soil, only to see them ill equipped to deal with protesters and mistreat them further, causing more escalation and outrage. Will the French soldiers be able to restrain themselves when the unarmed citizens aren't? Or will they threat riots and looting as a "threat to life" and open fire?
Some in the police have their doubts as well. Philippe Capon, of the UNSA police union, said:
"I'm worried about how they will respond in case of attack."
With flash ball rubber bullets, chemical weapons and now military allowed to "open fire", the response from the government is progressively getting more aggressive. Where is the limit on tactics used to stop the protests? Losing eyes and hands from exploding devices launches at protesters doesn't seem to cause the government to question their tactics yet.
---
Thank you for your time and attention. Peace.
---
If you appreciate and value the content, please consider: Upvoting, Sharing or Reblogging below.


me for more content to come!
---
Like what I do? Then consider giving me a vote on the Witness page :) Thanks!

My goal is to share knowledge, truth and moral understanding in order to help change the world for the better. If you appreciate and value what I do, please consider supporting me as a Steem Witness by voting for me at the bottom of the Witness page.