Tomorrow is the election for Vladimir PutIn president of Russia. That's how Russians is joking now. Everybody knows result already, and that not because everyone will vote for this guy. There is a many stories and opinions why it will be like that. I will not speak about it now, I want just to show you some street art and what was happened to it. So, few day ago I was walking on the streets of central part of Saint-P, and saw this pic on the wall..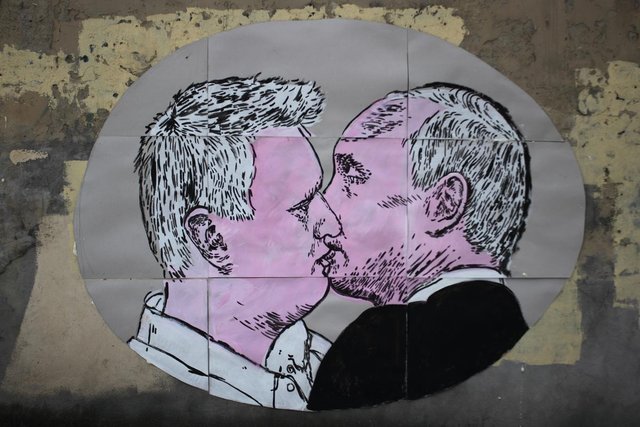 Everybody knows man on right side yeah it is Vladimir P. Guy on the left side is Alexei Navalniy Russian opposition "politician". I say "politician" cause he is really don't actually a politician. For my opinion this guy just advertising himself. Some things he say is correct and must be said that's true, but he doesn't have any program or real strategy for people here. I guess painter want to say it too, but I can be wrong, its just my vision. I like these graffiti, doesn't matter that was already world-famous picture where Mr Putin kissed Mr Trump. But interesting part of this story comes in next day. I passed this place again and that what i have seen there..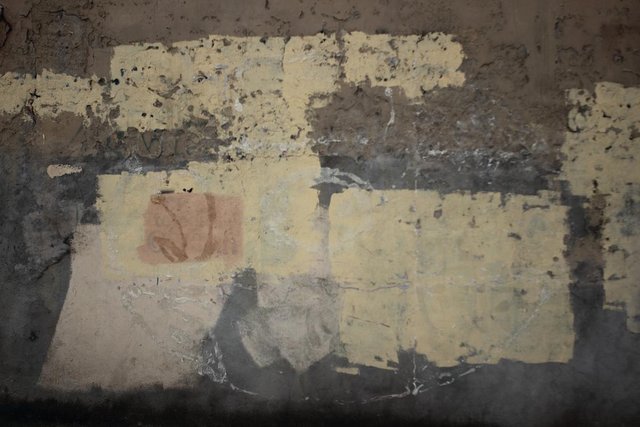 Come on people! In Saint-P any graffiti or sticker on the walls stays for years normally. Nobody gives a f*ck about clean them up, especially if it on the place where nobody can see it. It was on a corner between two houses on a little street, from 20 meters you already don't understand what is about. Mr Navalniy can't be elected anyway, he is out of race already, and there is no race at all. But police protect billboards what advertise Mr Putin's face, that nobody draws him a Hitler mustache or something. They delete graffiti about, because it can come on the internet. Even someone put a video on YouTube where man in uniform go out of the car which is look like police car, and sprayed on the wall "Putin our president!" Because it's also can come on the internet, but they don't think that somebody will see that from the window. So don't be surprised tomorrow it can't be different this time.. 
Original photo's Canon 600D / Canon 28mm / Saint-Petersburg / Russia / March 2018
 My name is Timon, and I am on the slowest worldwide cruise ever. In 2011 I left the country where I was born and since then I'm traveling supa slow. My plan is to go Around the world in 80 years..
What is the point? - I want Just look around, have a lot of fun and make things I'm interested on. It will take time.
Why so long? - Because I really want to see how people live and what this place is for me, so I stay some time in each spot, and it's so many. 
How long I stay? - Not too long, not too short, it's really depends on many things.. 
Am I so rich to just travel..? - No not at all. It is what making this trip a bit more complicated but still awesome and interesting. 
Am I serious? - No, not really. But still on my road..
The Biggest part of my way so far was by Sea and Ocean, 7 years I spent on my boat, and last 3 of them on a little island in Atlantic Ocean. For the moment I'm back on the dry land, and I can find a lot of fun here as well. 
[//]:# (!steemitworldmap 59.924520 lat 30.285495 long empty wall d3scr)