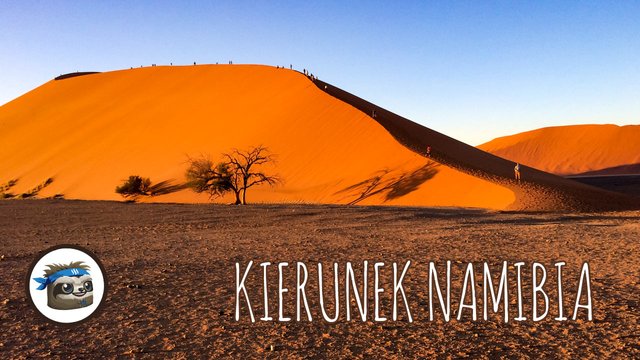 Hej, tu @veggie-sloth. Wróciłem z podróży i nie próżnuję! Przedstawiam Wam jedno z najsłynniejszych miejsc w Namibii. Umiejscowiona na 45 km drogi z Sesriem ponad 170 metrowa, piękna wydma. Udaliśmy się jeszcze przed świtem.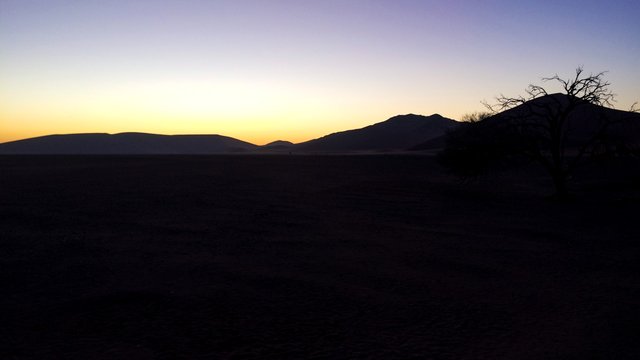 To część pustyni Namib, niemal bezludny teren. Najstarsza pustynia na świecie. Deszcz pada tu zaledwie co kilka lat i są to szczątkowe opady. Długi na ponad 1300 km pas piachu, który od milionów lat jest nawiewany z Kalahari. Namib to w języku nama miejsce, w którym nic nie ma, i tak prawie jest...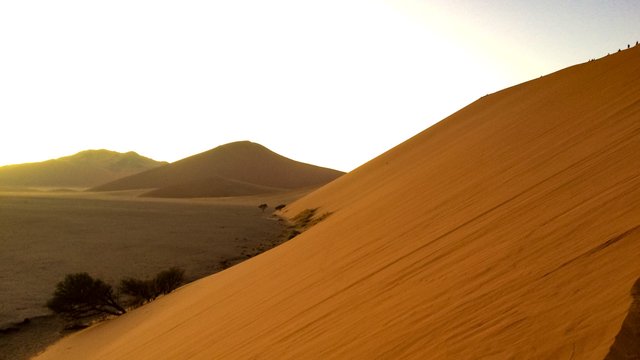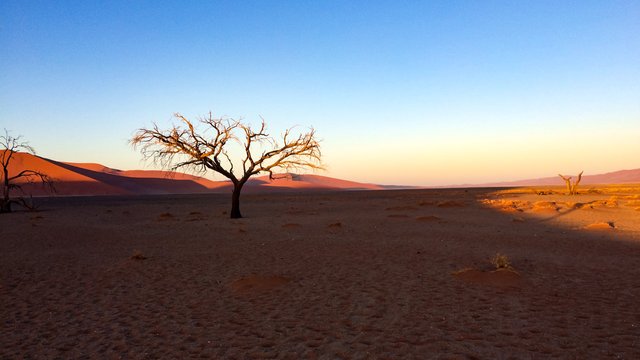 Jazda wśród wydm w samochodzie bez napędu 4x4 jest karane wysoką grzywną. Teren jest trudny, piaszczysty, więc zwykłe auto w chwilę zakopałoby się w suchym piachu. Chcieliśmy dotrzeć na miejsce jeszcze przed wstaniem słońca, by z góry, stojąc na wydmie oglądać świt.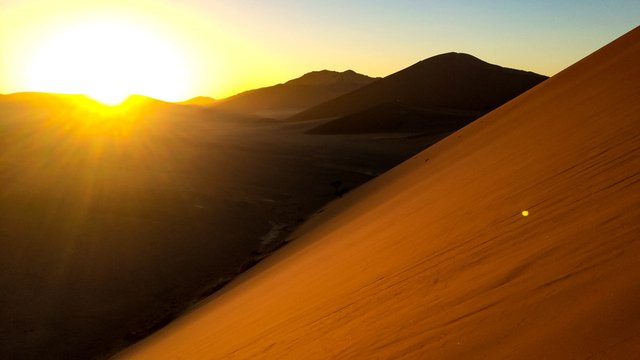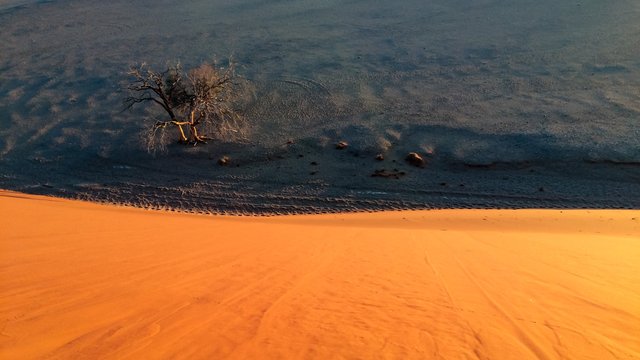 Niewielu turystów towarzyszyło nam we wchodzeniu na szczyt. Zaczynający się wraz z pierwszymi promieniami upał i rozgrzany piach utrudniały wspinaczkę, o braku kondycji nie wspomnę… Wchodzi się z biciem serca, po utwardzony śladach poprzednich osób. Gdy postawi się nogę w świeżym piachu, od razu zapada się ona aż po łydki.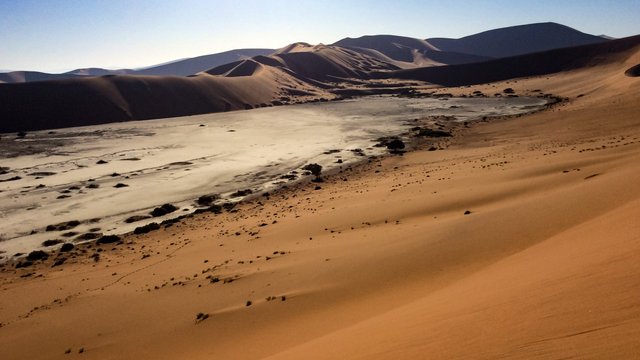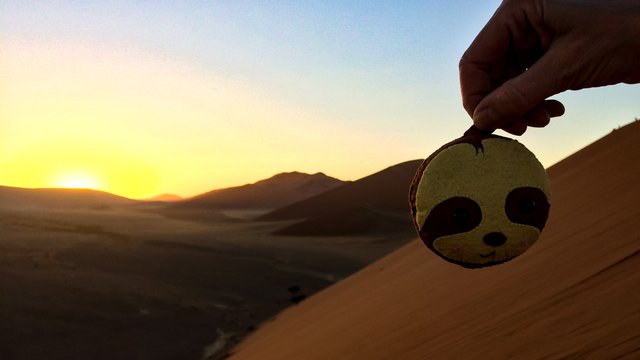 Wschodzące słońce zsynchronizowało się z nami, a kolejne promienie towarzyszyły każdemu metrowi w górę. W końcu wynurzyło się zza wielkiej wydmy. Widok na kładące się na piasku cienie był niesamowity. Po drugiej stronie wydmy, na samym dole, widać było wyschnięte jezioro i drzewa, a w zasadzie to co po nich zostało. Tam po zejściu ze szczytu zrobiliśmy odpoczynek.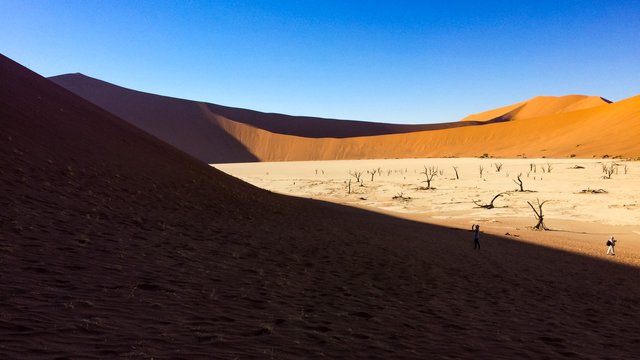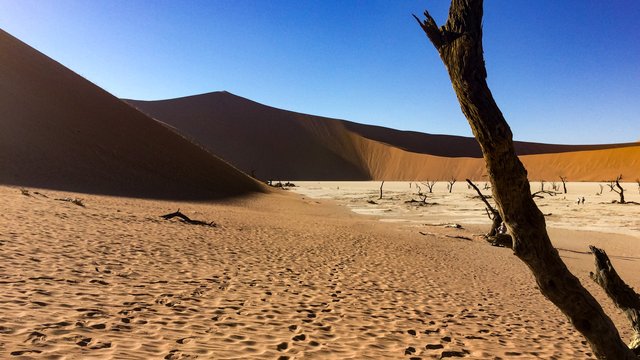 Powierzchnia wydm ułożona faliście przez wiatr przerywana była przez odciski butów. Już po kilku godzinach nie będzie po nich śladu, a Dune 45 wróci do dawnego wyglądu, sprzed milionów lat.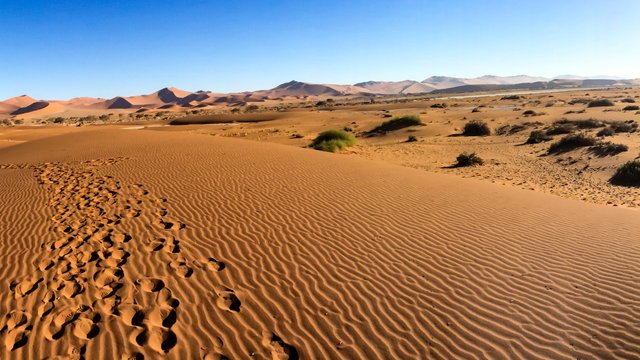 Zdjęcia własne