Zima zamroziła nie tylko nasze postępy na budowie, ale też moje pisanie. Niestety. Wszystko wskazuje na to, że nie jestem stworzona do spędzania zimy w Polsce - popadam w melancholię i bezruch. Ale wiosna, idzie, jest światełko w tunelu :) Udało się, kolejna zima praktycznie za nami :)
Wracam tu z krótkim sprawozdaniem naszych postępów budowlanych. A trochę się jeszcze udało zrobić, zanim nadeszły wielkie mrozy i ponura ponurość zimowa. Otóż: MAMY FUNDAMENTY :) Tak jak pisałam w poprzednim wpisie (Żyjemy), musieliśmy wymienić komin na nasz koszt u sąsiadów. Udało się. Nie bez przygód, ale najważniejszy jest rezultat. Sąsiedzi mają nowy komin, który nie zawali im się na głowy, my spokój ducha i zielone światło do dalszych prac :)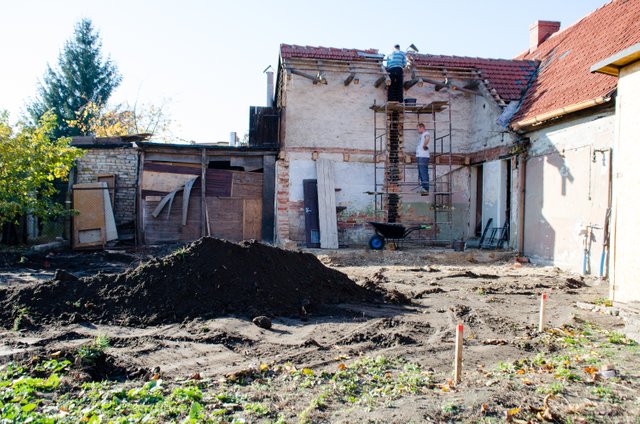 Jak widać na powyższym zdjęciu, rozebraliśmy resztę budynków gospodarczych i usunęliśmy pozostałości po szambie.
Później czekało nas zdejmowanie wierzchniej warstwy ziemi.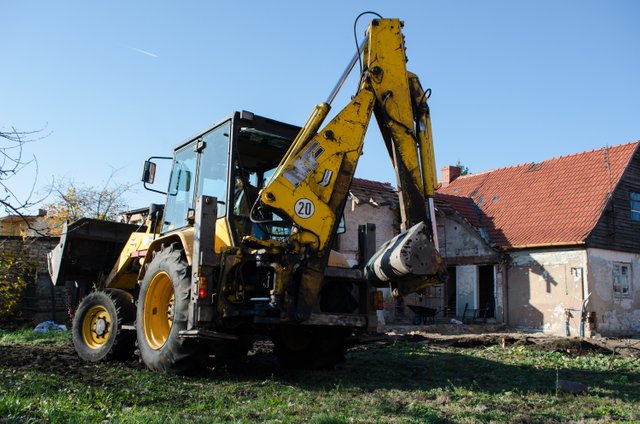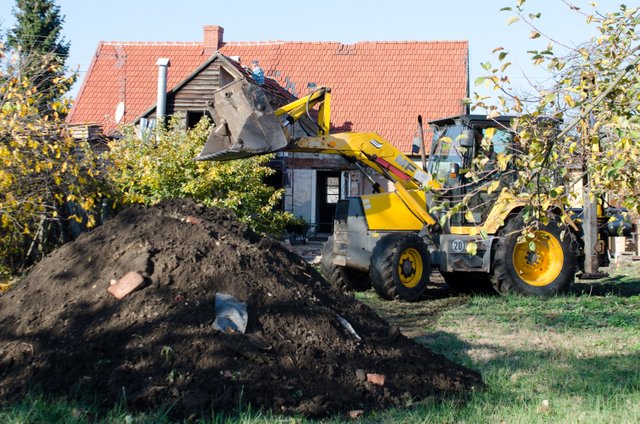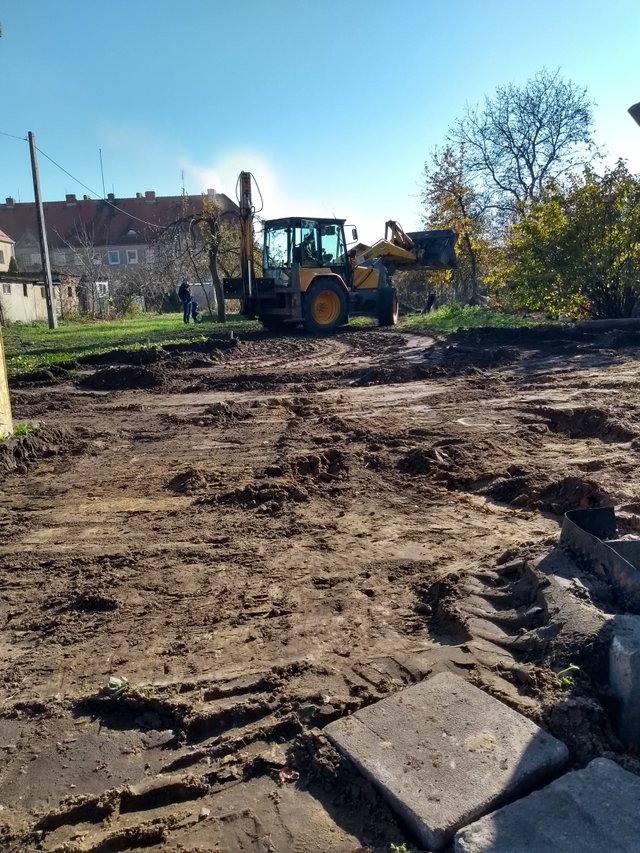 Następnie mierzenie i kopanie fundamentów. I chyba największa frajda: wielka betoniarka :) A nawet dwie :)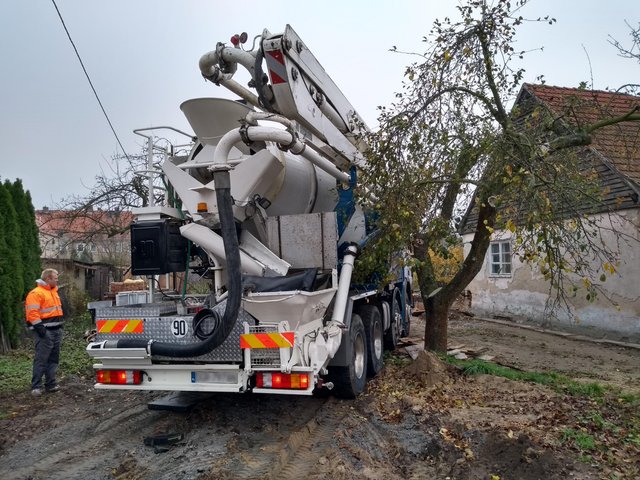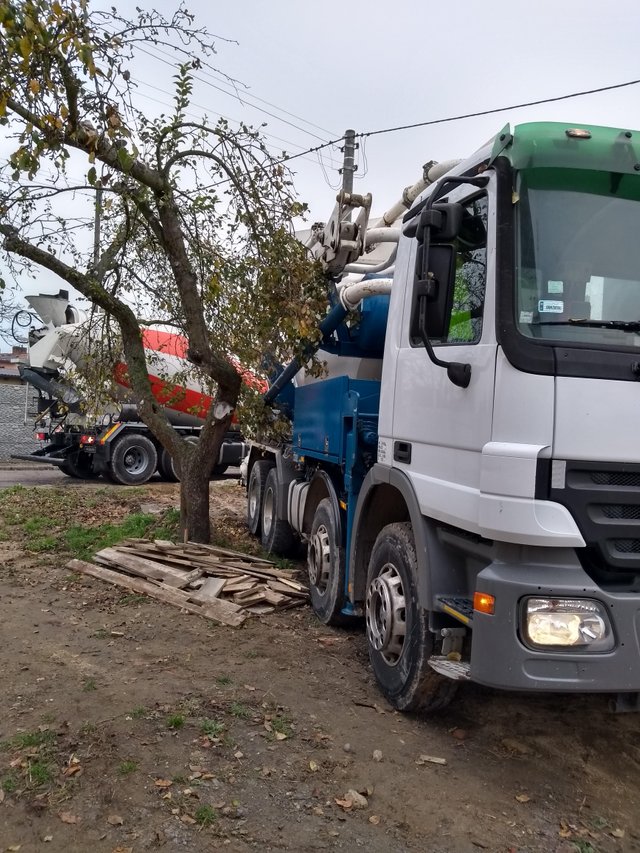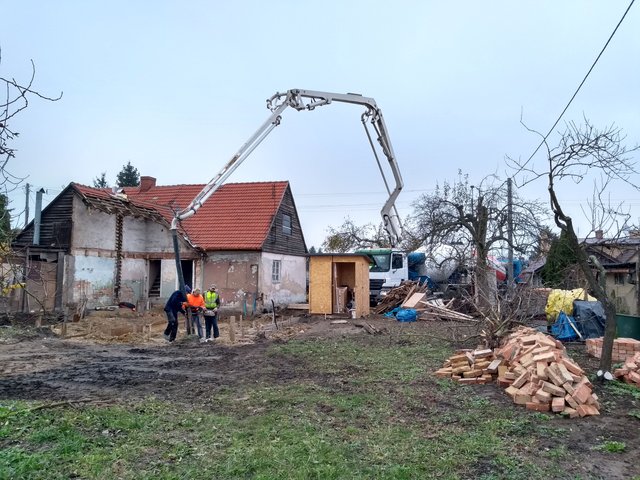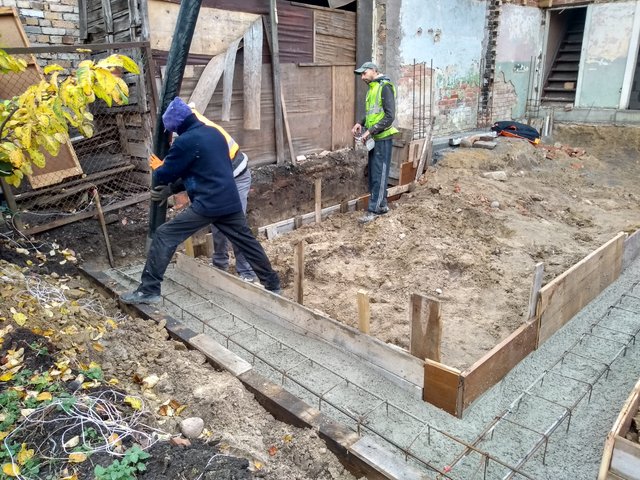 I oto jest: nasz długo wyczekiwany fundament.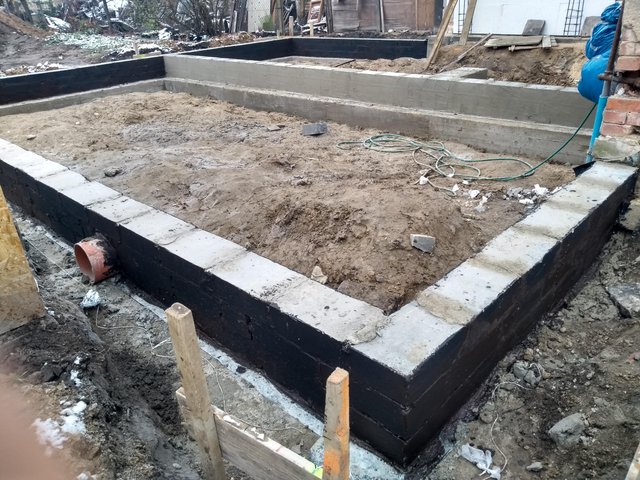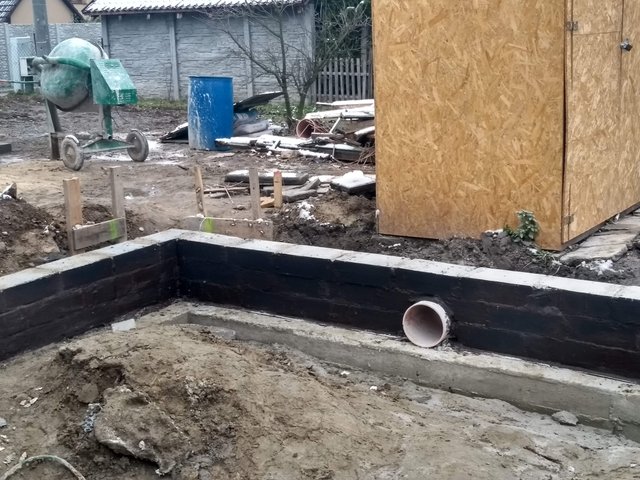 Przysypany i "udeptany" przezimował dzielnie kilka miesięcy.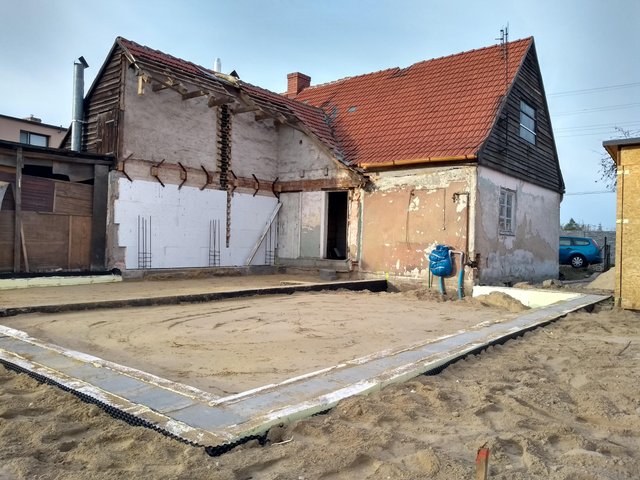 Teraz ruszamy z dalszymi pracami.
Hydraulik rozprowadzi nam tzw. instalacje podposadzkowe - czyli przygotuje wszystkie odpływy i dopływy, które będą biegły w podłodze i wyprowadzi je ponad poziom planowanej posadzki. Później zalewamy to wszystko chudym betonem. I jest szansa, że za kilka tygodni ruszamy z murowaniem :)
Mam nadzieję, że następny wpis będzie pozytywnym podsumowaniem naszych dalszych POSTĘPÓW. Trzymajcie kciuki i do usłyszenia!
PS. Ma ktoś sposób/pomysł jak kupić po przystępnej cenie dachówki ceramiczne? Ewentualnie jakiś sprawdzony sklep? :) W okolicach Leszna-Rawicza (czyli na granicy dolnośląskiego i wielkopolskiego).
---
---
Construction logbook / Dziennik budowy
1. The biggest project of our lives! / [PL] Największy projekt w życiu!

2. It all starts with a good plan… / [PL] Bez dobrego projektu ani rusz...

3. See our lovely ruin from the inside / [PL] Zapraszamy na salony - czyli nasza ruinka od środka

4. Papierologia

5. Theorizing time is over, let the demolition begin! / [PL] Koniec teoretyzowania, zabieramy się do roboty

6. Joyful excavations, pipes and tons of earth / [PL] Radosne wykopy, rury i tony ziemi

7. Big and small treasures / [PL] Skarby duże i małe

8. Żarty się skończyły, wyciągamy sekatory!

9. Najpierw trzeba zburzyć, żeby coś zbudować

10. Było kolorowo… :)
11. Przyciąć drzewo - to brzmi niewinnie
12. Uwaga! Będę się chwalić :)
13. "Pani! Przyjeżdżaj, tu słupy chcą przestawiać!"
14. Tu na razie jest ściernisko… A będą borówki, winogrona i maliny :)
15. A tymczasem na budowie... skończył się już pierwszy etap prac
16. Oda do szlifierki kątowej - czyli projekt "PIASKOWNICA"
17. A miało być tak pięknie…
18. Żyjemy
19. Wiosna, wiosna - czyli wracamy na budowę