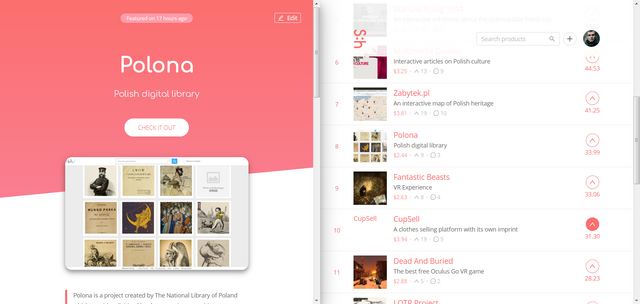 Steemhunt to serwis, na którym każdy post przechodzi proces weryfikacji. Odrzucane są plagiaty, zdublowane produkty oraz posty nie mieszczące się w przyjętych ramach. Są one następujące:
Web services
Mobile apps
API, IT solutions, bots, open sources or other types of software
Tech gadgets, hardware, IoT/connected/wearable devices
Games
Innovative Engineering/Design Products (It may cover non-tech products that have been invented based on high-level engineering/design approach to solve a major problem)
Posty sprawdzają moderatorzy, którzy za swoją pracę są wynagradzani. Niestety nie zawsze wykonują oni swoją pracę dobrze. Do tej pory na 17 wrzuconych przeze mnie "huntów" (w zasadzie wrzuciłem ich 19, ale 2 były w ramach "starego porządku") 2 zostały określone jako niezgodne z zasadami. W pierwszym wypadku zarzucono mi plagiat. W drugim - niezgodność z przyjętymi ramami.
Na szczęście od takiej decyzji można się odwołać. W tym celu należy wejść na Steemhuntowego discorda. I tam w zakładce moderation-appel opisać swoją krzywdę.
W moim wypadku oba odwołania zostały przyjęte.
W pierwszym przypadku. Plagiat okazał się być... postem ze Steemita. Otóż edytowałem post na Steemicie i program antyplagiatowy potraktował go jako plagiat wpisu na Steemhuncie. Z kolei moderator był na tyle leniwy, że nie sprawdził tego dokładnie. Na szczęście stracony czas, kiedy post był "zdelistowany" (czyli ukryty i nie można był ona niego głosować za pomocą SH) został mi zrekompensowany głosem moderatora.
W drugim wypadku który miał miejsce wczoraj moderator samo sobie zaprzeczył. Usunął mój post z listy bo jak to określił "It seems to be more of a service than a product." Co ciekawe pod spodem wkleił mi listę, którą wrzuciłem powyżej, na której na pierwszym miejscu stoi jak byk: WEB SERVICES. Na szczęście odwołanie zostało przyjęte. Choć wciąż jest dla mnie trudne do zrozumienia, jak można argumentować usunięcie wpisu, bo to jest serwis a nie produkt, w sytuacji gdy na pierwszej pozycji możliwych produktów są właśnie serwisy.
Reasumując: Błędy na Steemhuncie się zdarzają, jak wszędzie, gdzie obecny jest czynnik ludzki. Z drugiej strony system odwołań jest całkiem sprawny, a straty zwykle są rekompensowane.