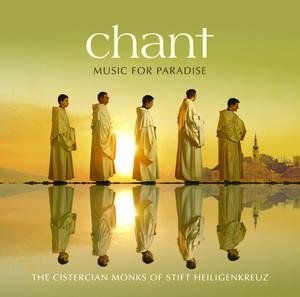 Kilkanaście kilometrów od Wiednia w Heiligenkreuz znajduje się klasztor założony został w 1133 roku przez św. Leopolda. To jedyny cysterski klasztor, w którym od tylu wieków bez przerwy tętni życie.
Kilku zakonników, podobno dla zabawy, odpowiedziało na konkurs zorganizowany przez firmę płytową Universal Classic&Jazz na najlepsze wykonanie chorałów gregoriańskich. Wysłali swoją propozycję przez portal Youtube zaśpiewali to co śpiewają codziennie. Do konkurencji stanęło ponad sto chórów z całego świata, wybrano właśnie mnichów z Heiligenkreuz.
W kwietniu 2008 roku wydali płytę pod tytułem Chant - Music For Paradise. Mnisi podpisali kontrakt z Universal Music. Płyta szybko osiągnęła złoto w Wielkiej Brytanii i Niemczech, platynę w Belgii i Polsce.
Płyta pojawiła się wśród 10 najlepiej sprzedających się albumów muzyki
w Wielkiej Brytanii i ciągle utrzymuje się w ścisłej czołówce.
Jesienią 2011 roku wydali nowy album Chant: Amor Et Passio
Tu możesz kupić płytę
              pomoc wikipedia i opoka.org.pl

---
---
---
---
Nie może też zabraknąć zespołu Gregorian który jest nazywany Śpiewający Mnisi.
Jest to męski chór pochodzący z Niemiec w skład wchodzą muzycy sesyjni.
Zapraszam do obejrzenia i posłuchania ponad godzinnego koncertu, śpiewane są także znane utwory.
---