Warm Again (Haiku)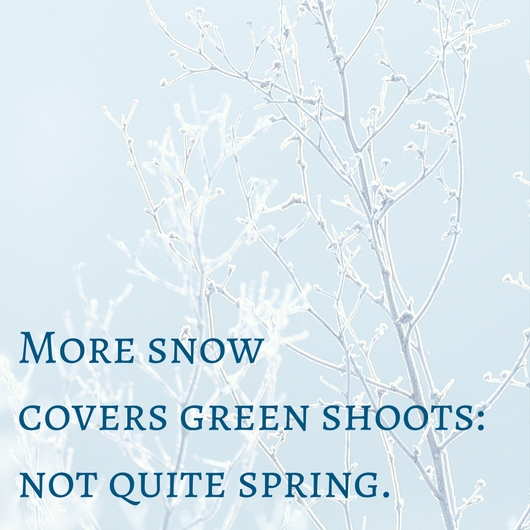 I used to love haiku when I was sixteen. My sketching teacher would take us on little trips to the park and set us loose with pencil and a sketching pad. I often had a little notebook in my pocket, and one or two haiku would find their way onto paper.
Then, I still wrote in the 5-7-5 syllable pattern that we all know. And I wrote them in Dutch. If I can find some of them again, I have to translate them all. Without fixed-syllable pattern. Breath style, like @dbooster taught us over at The Writers' Block.
For now, you'll have to make do with this one. I wrote it for @dbooster's Haiku Contest. This week's theme was warm again. I was looking forward to spring, already. Longer days, green shoots on the trees, the first tulips and narcissus peering out from the earth. And then it snowed. We've had frost and snow and hard, cold ground all week. Darnit!
So this is the haiku I ended up with. Spring is a fickle mistress and when she leads, we've got no choice but to follow.
Let's hope the next part of the dance turns out to be a bit warmer.
A printed version of this piece is available for purchase through my Redbubble Webshop
Hugs
Tiny
---
If you would like to read more of my work, feel free to have a look around on my off-Steem blog page by clicking the banner. My library there contains all of the pieces I've written since starting my blockchain adventure.

---