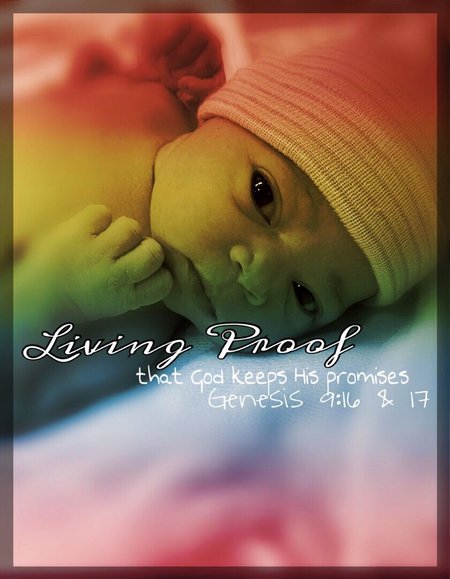 "Whenever the rainbow appears in the clouds, I will see it and remember the everlasting covenant between God and all living creatures of every kind on the earth." So God said to Noah, "This is the sign of the covenant I have established between me and all life on the earth." (Genesis 9:16 & 17, NIV)
A child born after a loss due to miscarriage or stillbirth is called a "rainbow baby", because they are born in the wake of a horrendous storm. Just like when God brought the rainbow to Noah after the flood. Evelyn Rose is mine and @bigdre45's rainbow baby. The older she grows, the truer these words below become.
Rainbow Child
The child we've waited for is you, my love.
Born unto us out of our grief and pain.
You are the rainbow that outshone the flood.
A priceless gift we never could afford.
Your smile brings joy where once there was no life.
With deep brown eyes so rich and so serene.
You laugh and it is like an angel's song.
A precious life worth far more than our own.
But now we ask the thoughts that burn within:
Do we deserve this gift beyond compare?
Can we protect this life that we have made?
How can we give you all that you desire?
When will we know it's time to let you free?
What would we do if you were just a dream?

Image was taken by our dear friend, Donna Daigle, just moments after Evie was born. Photomanipulation was done by me.
Special thanks to @damianjayclay at TWB for his help with the poem structure