The Sims Diaries
Earlier this year, I had put some of my creative voices, or alter egos, into The Sims 4. Every now and then, I play with their lives and develop their stories. I have been inspired to write about their personal stories which they write on their private diaries, and adapt them into poetry. Today's poem focuses on Arya Stout. Rather than introducing her myself, I will let the poem show you who she is and what she does.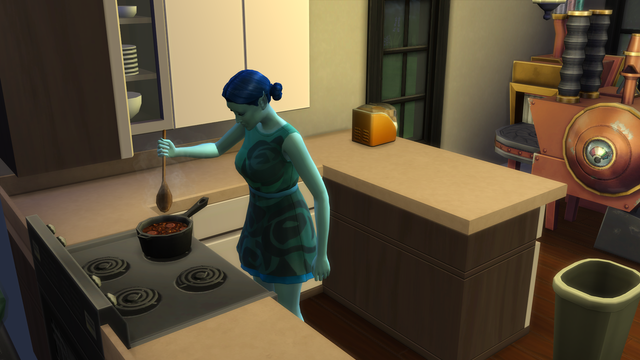 Screenshot from my game of Sims 4
Captive
Her gaze is lost
among the bubbles
of the boiling water.
Uncooked pasta stands on the counter,
nervously expecting its timely death.
Arya sets her floral apron
to fit nicely along her waist;
she pours the pasta in the pan
and sets the timer:
the ticking reminds her
of her youth going to waste.
She loves baking -
cooking is not the same:
plain and boring,
dull work for the woman
with artistic ambitions.
Her icy blue skin means
she will never fit in;
an outcast with alien blood.
Enslaved by vicious ruminations,
she forever stirs pots of pasta
while her head sinks in sorrow.
A peek at the calendar
hanging on the wall:
seven weeks until she holds a piping bag
in her moisturised hands
to decorate Maggie's birthday cake.
Until then, seven weeks
of cooking boring meals,
washing dishes,
doing laundry,
cleaning floors.
---
I invite you to check out SPU Poetry Contest #1, which I am organising for our community, Steemit Poets United.
---
Join the Steemit Poets United on Discord

Designed by
@mental-extract
---
Join The Isle of Write on Discord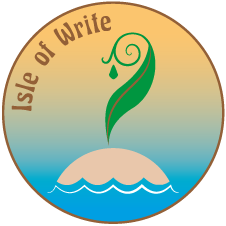 The Isle of Write logo was designed by @PegasusPhysics
---
Join Steemit's LGBT+ on Discord

---