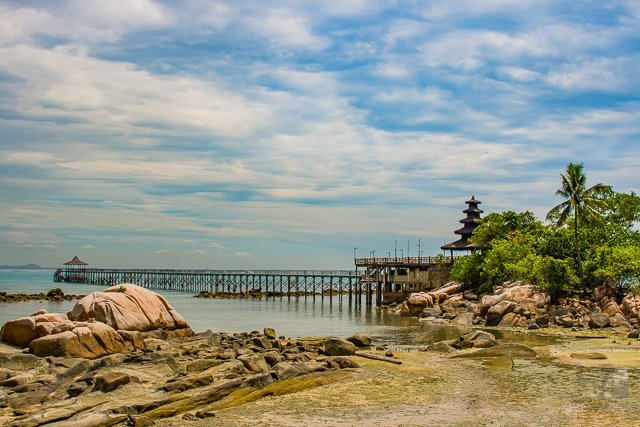 Turi Beach Resort is located on the island of Batam, Indonesia. It is roughly an hours ferry ride away from Singapore which makes it a great getaway from the hustle and bustle of city life. In fact it is such a quiet and peaceful seaside resort that it felt as if we were the only ones in the resort most of the time! From the ferry terminal they have a shuttle that will take you to the resort. Once you reach the resort, you are greeted with an open air lobby decorated with Indonesian artistic sculptures, wood decor and a hostess offering tea.
The resort has 2 types of rooms, the condo/hotel type rooms to the left side of the lobby and the beach huts to the right. All rooms, I've been told, have sea views. Since we chose the beach hut for the experience, I can only write about that. I suppose I shouldn't call them beach huts as they are more like cabins and not directly on the beach. Most of these structures are not single dwellings, they are more like duplexes built on stilts maybe 100 meters from the beach, nestled in patches of trees. If you're not a big fan of nature and or camping, I would not suggest these beach huts. You can seen ground between the floor boards, which may be creaky and you can hear the noisy monkeys walking around on the roofs, especially early in the morning. The beds are surrounded by netting , which is nice until you see all the bugs on the netting when you wake up. To say that these cabins are in ill repair or not clean is unfair, after all it is the beach/cabin motif that I suppose they are going for. There's running water, flush toilet and a shower so it's more like glorified camping so if you're not into it, choose the "condo" rooms. Personally, I enjoyed it, my wife and kids not so much but we only stayed in the hut to sleep and had plenty of mosquito repellent.
The resort has two pools, a regular, rectangular, infinity type pool and a tropical pool with a built in bar. There's also jet ski rental center and a jetty with a bar. We spent most of our time in and around the tropical pool, we had a poolside gazebo in the shade. The beach is a narrow strip of sand in most spots, non existent in others but when the tide is out, there are plenty of boulders and rocks to poke around and about. Speaking of things poking out, where there was some sand, when the tide was out, it revealed a field of twig like things that stuck out of the sand. Don't step on them, they're hard, jagged and rough. There was also a sticky, black film that was really hard to get off, so we didn't venture further out.
Over all if you just need an out of the way place where you can sit by the sea and just hang out with a book or something. Turi is just the spot. Like I mentioned before, we felt like the only people there. The only outdoor staff that we could occasionally see were the ones attending the jet ski's. So to get drinks and stuff you'd have to go inside and get from one of the restaurants, even the pool bar was unmanned, as was the bar on the jetty. With regards to the restaurants, if you're a foodie, you may be let down with the selection and taste of the meals, but we didn't mind it at all.
The tranquility and simplicity of the Turi Beach Resort gave us, as a family time to ourselves and we find value in that but if you're the type who can't be disconnected from the city and its' comforts then you probably won't enjoy this resort as much as we did. Oh, we have a family tradition that we must get a fridge magnet from everywhere we get to visit. Turi Beach Resort did not have a gift shop nor did they have any Turi branded souvenir items, much to the dismay of my wife and kids. So I snagged a sugar packet that had the word 'Turi' on it and glued on a magnet and stuck it on the fridge, problem solved! Not really, they didn't like it so I had to make my own using a print on demand website.
Consider following me for updates and to find not only my other travel bloopers, blunders and shenanigans but also photography related news/reviews and the occasional contest entry.
All the photos (unless otherwise noted in the post) were taken by me and are available for sale. If you're interested in buying an image or three, 😃 please don't hesitate to contact me for more details. Thanks in advance!
Comments & Critiques are always welcome. As are upvotes and resteems, if you like what you see.
Thanks for viewing and best wishes,
Ray
PS. If you want to check out my other 'works', you can find them here: