The Pingyao International Photography Festival is one of the top photo festivals in China. Founded in 2001 it gathers an estimated 2000 photographers from 20 plus countries and regions around the world to the Ancient City of Pingyao, Shanxi Province, China.
This festival is hosted within the Ancient City of Pingyao's city wall. It is a UNESCO Heritage site and promises a plethora of photographic opportunities when you're not in the workshops, seminars or walking around taking in the awesome photography opportunities all around you. Although the opening ceremony was crowded and the well armed security presence prominent, the rest of the event wasn't overly crowded nor were there armed security personnel (police and military) walking around everywhere. The week long festival is packed full of things to do and see, not inclusive of the historical sites within the city.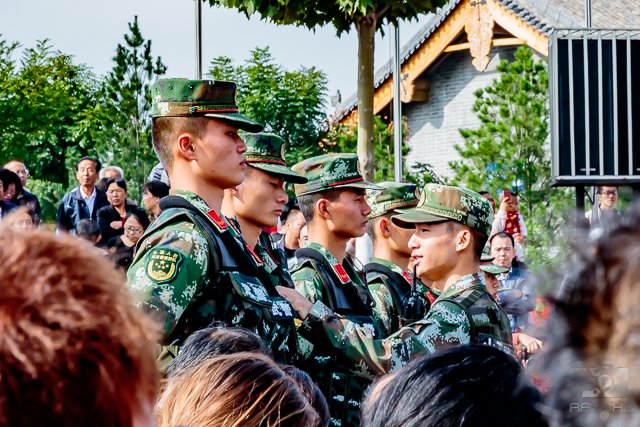 Exhibitors in the larger halls have allocated "air time" where they get the mic to talk about their works. The language barrier wasn't as big of an issue as I thought mainly because we had a local "guides" with our contingent, organized by the organizing committee, who tried their best to translate for those of us who couldn't speak Mandarin. What was most surprising, for me, was that some people, in the crowd, just started translating for the others which was so awesome! The guides were really helpful in helping us find our way, keep to our schedules, find food and flag down those golf carts for moving around between venues away from the exhibit halls. Here's some images of the opening day festivities:
There are several buildings which houses the photography exhibits inside and several more buildings with photography works exhibited on their exterior walls. There are also small plaza like areas where there were self standing wire walls with even more photography works being displayed. I even saw 4x6 prints stuck on the city's ancient walls but I don't think they were "official" as they were gone the next day. Also, you may want to budget some extra cash and time because there may be special performances in the evening.
The last two photos are of me talking about my works with the crowds, taken by my daughter. Since I spent most of my day in front of my works, talking to anyone who would listen, I didn't get to see a lot of the other exhibits and photo works. The ones I did see, were awesome! I also got to see more works in the catalogue that we were given so that made me feel better, if only just a little bit. I would definitely recommend getting in on this photography festival and budget an extra day or two to visit all the attractions (one ticket will get you in to all of them). I budgeted one full day and we still didn't get to see them all.
Consider following me for updates and to find not only my other travel bloopers, blunders and shenanigans but also the occasional photography related review and contest entry.
All the photos (unless otherwise noted in the post) were taken by me and are available for sale. If you're interested in buying an image or three, 😃 please don't hesitate to contact me for more details. Thanks in advance!
Comments & Critiques are always welcome. As are upvotes and resteems, if you like what you see.
Thanks for viewing and best wishes,
Ray
PS. If you want to check out my other 'works', you can find them here: