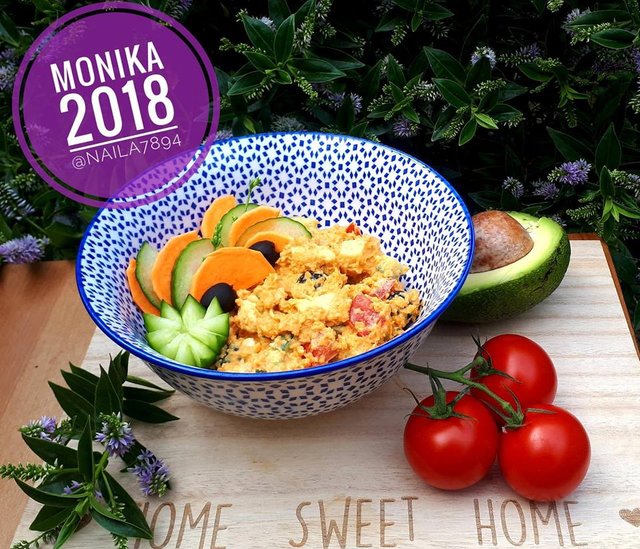 Od kilku dni chodziły za mną bataty i wkońcu stworzyłam swoją sałatkę z batatowym kuskusem :) Poprostu była przepyszna. Nie lubię się chwalić ale to mi się naprawdę udało.
Składniki
1 średni batat
1 pomidor
1/2 awokado
3-4 cm ogórka
5-6 oliwek
Bataty rozdrabniamy na drobno ( wielkość kuskus) w maszynce z ostrzem typu S. Nastepnie wrzucamy na rozgrzaną patelnię na 2-3 min - trzeba uwazać żeby nie smażyc za długo bo się zrobi pure. Bataty można jeść na surowo więc tak naprawdę w ogole nie trzeba ich smażyć.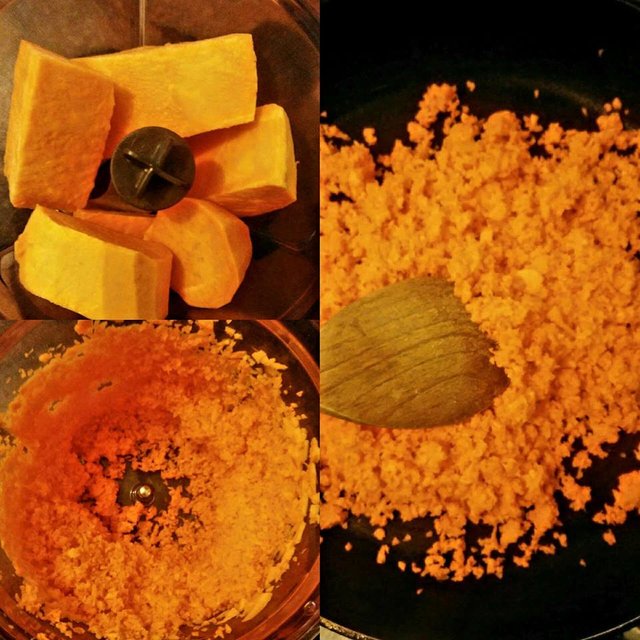 Warzywa kroimy w średniej wielkości kostke i wkładamy do miski. Dodajemy kuskus , mieszamy. Następnie przygotowujemy sos.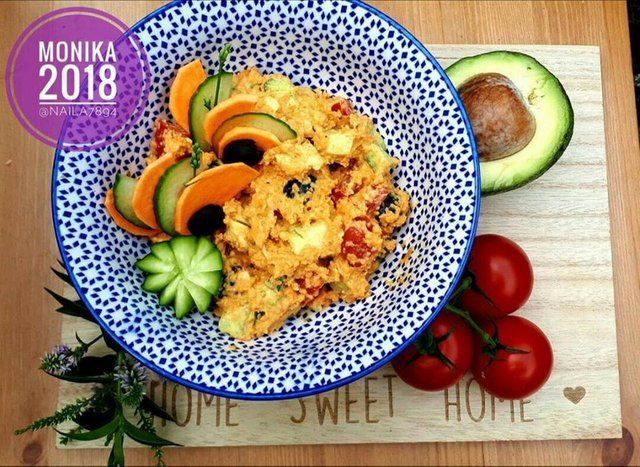 Sos curry
3 łyżki tahini
2 małe ząbki czosnku
1,5 łyżeczki curry
sól
1/4 łyżeczki chili (opcjonalnie)
Wszytskie skladniki mieszamy, dodajemy przeciśniety przez praskę czosnek oraz wodę - tyle aby uzyskać konsystencje majonezu.
Jeżeli nie masz tahini możesz z powodzeniem zastąpić ja nerkowcami (1/2 szklanki moczonych 15min we wrzątku )
Sos mieszamy razem z pozostałymi składnikami i zajadamy :) Smacznego.
Jeżeli robisz sałatke w stylu raw po wymieszaniu odstaw na 15 min żeby bataty zmiękły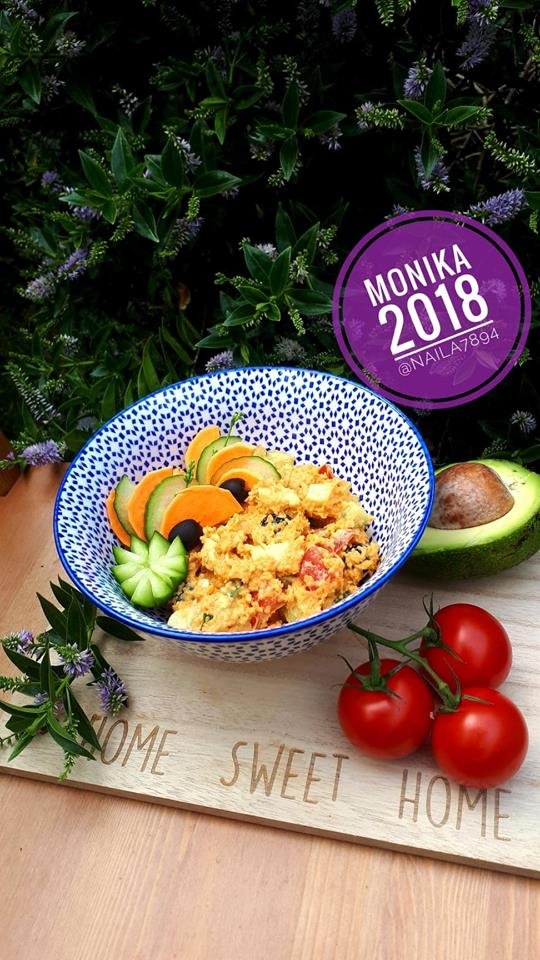 Mało kto wie ale bataty to bardzo wartościowe warzywo, mają zbawienny wpływ na wzrok więc są szczególnie polecane osobom, którym grozi ślepota. Ponad to są polecane przy schorzeniach takich jak : cukrzyca, otyłość, mieżdzyca. Działają również przeciwnowotworowo.
Witaminy i minerały
Witamina A, C, E
Witaminy z grup B, beta-karoten,
Błonnik,
Kwas foliowy,
Potas,
Magnez
Fosfor
Sód
Wapń
Białko
Węglowodany
Błonnik
Witamina C = 11 mg (15% dziennego zapotrzebowania)
Sód = 9 mg (0.6% dziennego zapotrzebowania)
Potas = 518 mg (11% dziennego zapotrzebowania)
Wapń = 37 mg (3.7% dziennego zapotrzebowania)
Fosfor = 94 mg (13% dziennego zapotrzebowania)
Magnez = 61 mg (19% dziennego zapotrzebowania)
Żelazo = 1 mg (6% dziennego zapotrzebowania)
Cynk = 0.3 mg (4% dziennego zapotrzebowania)
Miedź = 0.2 mg (22% dziennego zapotrzebowania)
Mangan = 0.3 mg (16% dziennego zapotrzebowania)