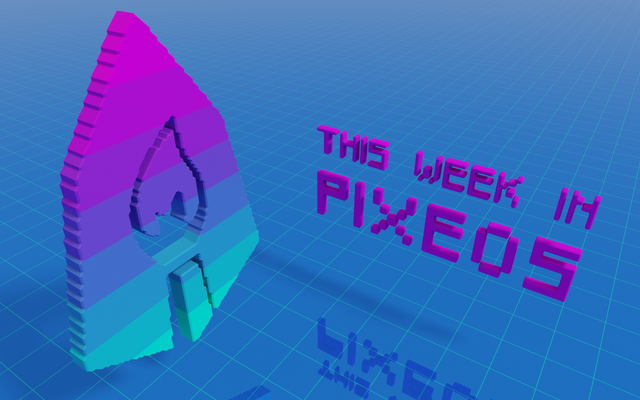 Get your weekly dose of all things pixEOS.
Today we are announcing our first edition of pixWeekly, a curated list of happenings within the pixEOS community.
Here's a roundup of the week's events January 30 - February 5
pixEOS Paint DApp Beta Launch
The pixEOS Paint dApp beta successfully launched on February 2, 2019. You can play the game here: https://paint.pixeos.art/#/
View the genesis of the pixel canvas:
video credit: Kurt
Staking your PIXEOS tokens is now live.
Learn how to stake your PIXEOS tokens with the Scatter wallet:
(Staking with Mac OS now works, we successfully staked some PIXEOS just now)
We are working hard to make pixEOS Paint compatible with popular wallets like Token Pocket and others. Right now, pixEOS Paint works with the Scatter desktop https://get-scatter.com/ wallet and the Math wallet. https://www.mathwallet.org/en/
150,000 pixels painted almost activated. We are now 1900 pixels away from the bonus activation stage. Once 150,000 pixels are painted, the bonus are unlocked for players, and they will have full access to their rewards. Read this to learn more about how the reward components function: https://steemit.com/pixeos/@pixeos/community-update-a-closer-look-at-pixeos
If you need support or an EOS account, visit our Telegram channel: https://t.me/PIXEOS
Due to increased demand combined with the Chinese New Year holiday, please be advised that there is a wait time for new EOS accounts.
If you run out of cpu while playing pixEOS Paint, go here: https://cpuemergency.com/pixeos.html
Pro tip: When drawing your pixels on the canvas, paint, and buy in small batches. If you spend a lot of time painting, someone else could buy those same pixels, which would result in you not being able to buy them. This would result in you losing your art, and your time (maybe your patience, too).
Distribution of rewards: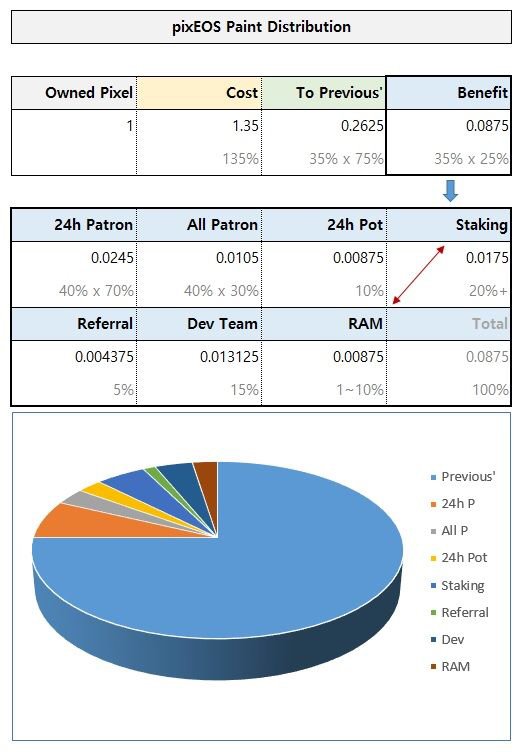 PIXEOS Token Wallet Growth: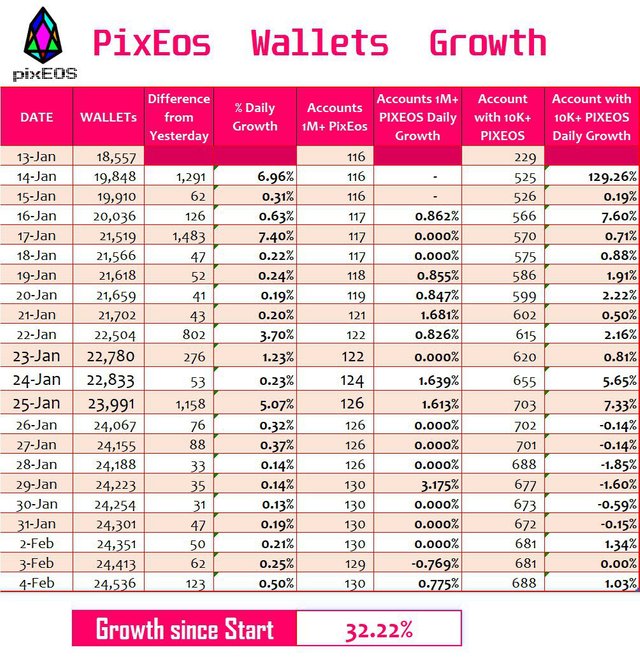 Thanks to Corts who consistently provides the pixEOS community with stats about PIXEOS token holder wallet growth.
Dappradar Lists pixEOS
Dappradar.com has now listed pixEOS, so you can check out all the stats about players, EOS volume, etc: https://dappradar.com/eos/973/pixeos
Enter the pixEOSrama ArtsyDrop with dapp.com:
https://www.dapp.com/article/pixeosrama-artsydrop-with-dapp-com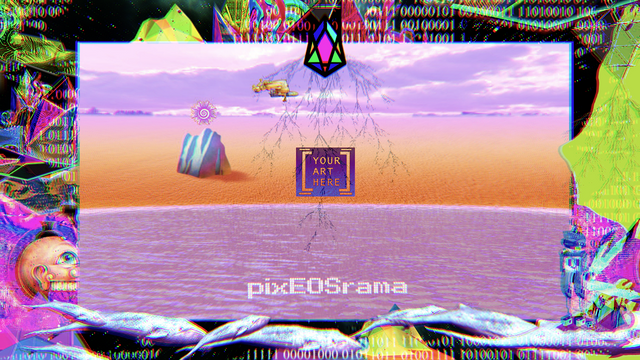 A prize of 100,000 pixEOS tokens (estimated 1,000 EOS) will be airdropped amongst Dapp.com community participants! The amount each person receives will vary based on the number of participants. Submit your art to get your share! https://steemit.com/pixeos/@pixeos/announcing-the-pixeosrama-canvas-event
pixEOS Creates a Free Avatar Maker: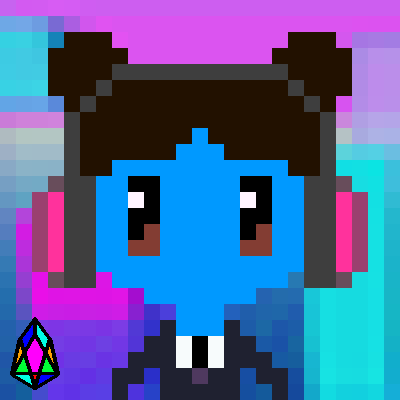 Due to popular demand for custom pixel avatars, we created a free Avatar Maker for the community. The Avatar Maker is free for everyone, and doesn't require any logins. It's easy for everyone, including kids and takes less than a minute.
YouTube Videos
PIXEOS Saves the World - Mr. Spaceman video reaches 10,000 views
pixEOS Community Lovestream:
Crypto Life Inc: