Pi's scam or chance to change your life - Pi network
Pi Network application is gaining popularity in recent times. More specifically, Pi has been mentioned by many television programs and has become a hot topic on forums.
This article gives some of my observations, hopefully gives you a little more insight on the Pi so you won't miss it.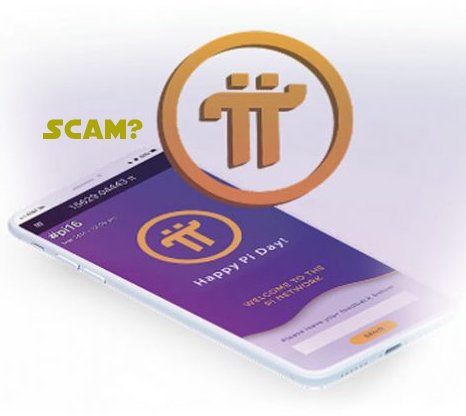 What are Pi and Pi Network?
The current Pi is used as the name of a type of unit & and this unit is used to quantify the amount of shares that Pi Network app users gain during daily attendance or system development for the app.
This means that as of March 4, 2021, Pi is not a digital currency yet and is worth zero for most people.
Pi expected
It is expected to become a new digital currency with blockchain technology and can be mining simply by using an app on a smart phone. The Pi development team expects Pi to become the leading digital currency of all digital currencies.
This means that if it is favorable, the Pi in the future will become the same digital gold as and even more than the current Bitcoin. :)
Pi & Pi network
Pi is the name of the share unit that can become a digital currency provided by the Pi Network app.
Is Pi a scam?
At the time of writing this article, Pi Network has not and there is no sign of user fraud.
Phishing occurs only when a user loses money on an app to own more than the allocated amount, or takes too long (time becomes an expense) or is bothered by ads appearing from the app.
If the Pi Network project is not successful in the future, it cannot be said to be a scam, unless the user receives a solid promise from the development team and invests money / time into this ICO project.
Is Pi a chance to change your life?
It is true that owning many Pis right now is an opportunity to change the owner's life. But do not be too paranoid or overly expect it, the probability that an ICO will succeed and be resoundingly successful as expected by the development team and its community is very small.
=> Perhaps it must be said that the chances of changing your life when owning a Pi are greater than buying lottery tickets and winning the jackpot.
=> The chances of you getting a decent income when owning a Pi are better at the rate, equal to the fact that you dial in to win a 3-digit prize.
Why get a Pi right now?
First: Although very small, this is also an opportunity for you to have income in the future and sometimes even change your life. Before Bitcoin too, at first Bitcoin was just trash, for no one to receive.
Second: Obtaining a Pi is quite simple and does not take much of our time. Just download the app, register for an account, activate (it takes about 3 minutes), then daily click the dig button for attendance (takes about 5 seconds). That is, you will be allocated an hourly Pi. Unless you want to be allocated more volume invest more time to refer other users or perform other tasks if available in the future.
Third: The hourly Pi allocation is decreasing for each user, initially 3pi was allocated to the user for 1 hour, up to now it is only 0.1Pi / hour and in the future when the user increases. will go down. So if you expect in this project, you should not delay more but need to do it immediately, then learn more is not too late.
Fourth: It takes you nothing but a few minutes, you will reveal personal information such as name, phone number, email and later confirm that KYC can always reveal your ID number. Khakha but in fact, that information you have revealed a lot to other social networking sites already. Adding more information to the Pi Network probably won't make much of an impact.
Fifth: Nearly the current Pi Network application does not drain your phone's battery, in the future I don't know! khakha LOL
How to install and register Pi?
First I remind you that after installing, you have 13 days to edit your name on the app to match your KYC name. Renaming is easy and simple, do it after you install and learn about the app.
The App comes in multiple languages so it will be easy for you to adapt. I hope you will find the right language.
Now, using your smart phone, access this link: https://minepi.com download it, install it on your phone. It's as easy as installing a game.
And then enter your phone number, username and activate the application to get the first Pi coin right away.
Enter the name of the referral (or Invitation Code) as haccolong to create a network with me and together speed up the exploitation of Pi.
If you need more help, please join the group on facebook for support. The app also has almost all the information you need to know.


Check out my original Vietnamese post here



Connect with me on other foundation
facebook || youtube || twitter || blogger || wordpress || d.tube || minds || reddit || linkedin || tumblr || instagram
🔥🔥🔥

Follow me to get minimum 1 follow from @anhvu & daily random upvotes from the @hoaithu's Curation Trail

💰💰💰

If you want to earn more rewards with your Steemit account, you can refer to the ways from

this post

.

Recent posts