Tribute to Bunta.. Thanks and We Always Love You
Hello Stemian..
Bunta's death still leaves deep wounds for the conservationist world activists, especially the Mahout (Elephant Elephant) at the Serbajakarta Conservation Response Unit (CRU), East Aceh, Aceh Province. No one thought, Bunta went this fast at the age of just 27 years old.
Kematian Bunta masih menyisakan luka yang mendalam bagi para pegiat dunia konservasi terutama para Mahout (pawang gajah) yang ada di Conservation Response Unit (CRU) Serbajadi, Aceh Timur, Provinsi Aceh. Tidak ada yang menyangka, Bunta pergi secepat ini di usianya yang baru mencapai 27 tahun.
---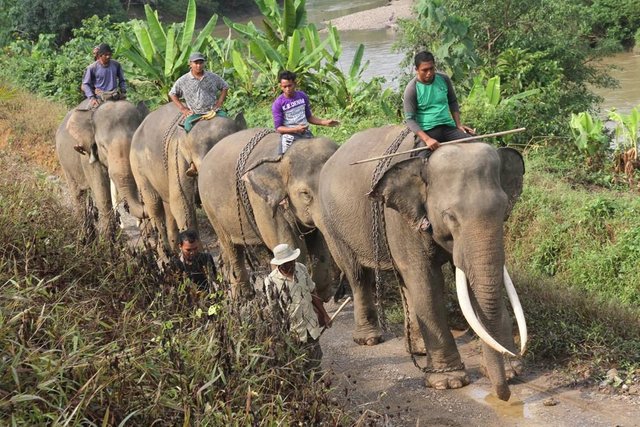 Settings: f/8 1/250 ISO 200 50 mm, Taken by Canon 7D.
---
Saturday (9/6/2018), he was found dead in the CRU Serbajadi field with a terrible condition. Bunta was killed by a hunter by poison to take his ivory. Bunta is a tame elephant that has been placed in Serbajadi CRU since 2016 ago. The existence of the CRU Serbajadi along with four tame elephants that exist there, including Bunta is to minimize the level of disturbance and herded a herd of wild elephants that often descend to the land of the population back into their habitat.
Sabtu (9/6/2018) kemarin, ia ditemukan mati di areal CRU Serbajadi dengan kondisi yang mengenaskan. Bunta dibunuh oleh pemburu dengan cara diracun untuk diambil gadingnya. Bunta merupakan gajah jinak yang selama ini ditempatkan di CRU Serbajadi sejak tahun 2016 silam. Keberadaan CRU Serbajadi bersama empat ekor gajah jinak yang ada disana, termasuk Bunta adalah untuk meminimalisir tingkat gangguan serta menggiring kawanan gajah liar yang kerap turun ke lahan penduduk kembali ke habitatnya.
---
Stemian, here are the data and facts about Bunta that I have successfully summarized from several sources. All photos of Bunta and his friends are my personal collection, taken with Nikon D3300 and Canon 700D.
---
Stemian, berikut adalah data dan fakta tentang Bunta yang berhasil saya rangkum dari beberapa sumber. Semua foto Bunta dan teman temannya ini adalah koleksi pribadi saya, diambil menggunakan kamera Nikon D3300 dan Canon 700D.
---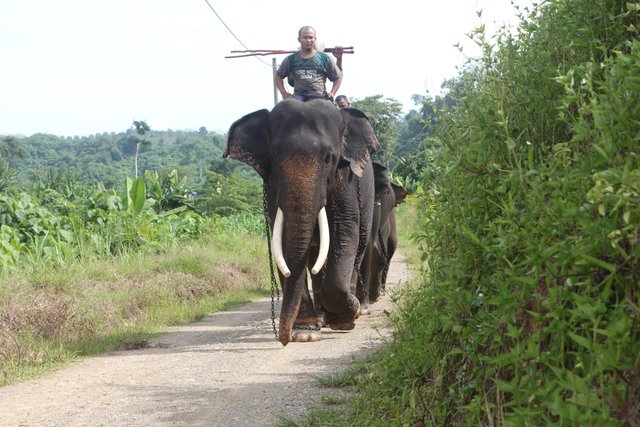 Wild Elephant Trained (Gajah Liar Terlatih)
Initially, Bunta was a wild elephant and was later captured in 2006 in the North Aceh region, Bunta was trained at the Saree Elephant Conservation Center (PKG) and by 2016 officially served in CRU Serbajadi.
Pada awalnya, Bunta merupakan gajah liar dan kemudian berhasil ditangkap pada 2006 di kawasan Aceh Utara, Bunta lalu dilatih di Pusat Konservasi Gajah (PKG) Saree dan pada 2016 secara resmi bertugas di CRU Serbajadi.
---
Brave and Tough (Pemberani dan Tangguh)
Not indiscriminately anyone can approach Bunta, although it is benign like other elephants. The Mahout always reminded to keep the distance with this male elephant, for fear of happening things that are not desirable. Evidently, Mahout just had a bad experience due to 'attacked' Bunta. He often vent his emotions and anger over something he does not like. In fact, each will be taken from the moorings, Mahout must get assistance from other mahouts because Bunta can not be controlled alone.
Tidak sembarangan orang bisa mendekati Bunta, meski sudah jinak seperti gajah lainnya. Para Mahout selalu mengingatkan agar menjaga jarak dengan gajah jantan ini, karena takut terjadi hal-hal yang tidak diinginkan. Terbukti, Mahout saja pernah memiliki pengalaman buruk akibat 'diserang' Bunta. Dia kerap melampiaskan emosi dan amarah terhadp sesuatu yang tidak disenanginya. Bahkan, setiap hendak diambil dari tambatan, Mahout harus mendapat pendampingan dari mahout lainnya karena Bunta tidak bisa dikendalikan sendirian.
---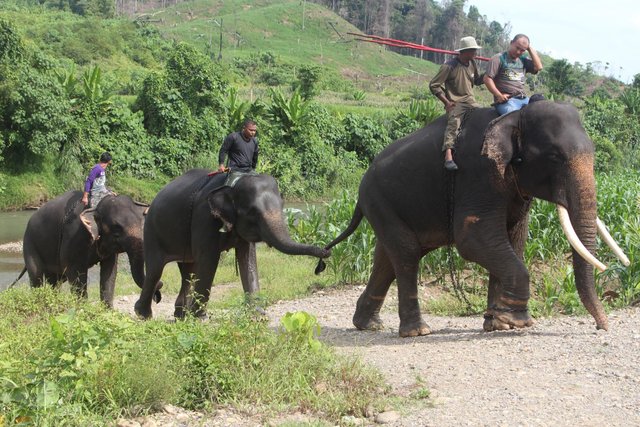 The Leader (Sang pemimpin)
Bunta has been lined up to be the elephant leader of patrols and conquerors at the Serbian CRU. Together with Lilik, Lia and Nonik, Bunta always goes ahead. No mistake, Bunta was endowed with a well-built body with a large and powerful ivory.
Bunta telah didapuk menjadi pemimpin gajah patroli dan penghalau di CRU Serbajadi. Bersama Lilik, Lia dan Nonik, Bunta selalu berjalan di depan. Tidak salah, Bunta dianugerahi tubuh yang kekar serta dibekali gading yang besar dan kuat.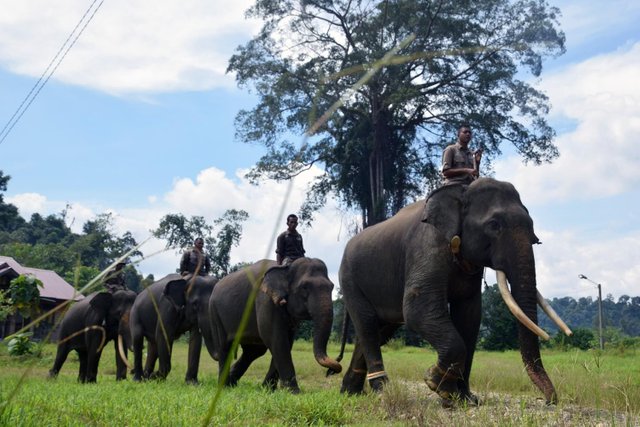 Visited Leonardo DiCaprio (Pernah Dikunjungi Leonardo DiCaprio)
At the beginning of 2016, Leonardo DiCaprio had been to CRU Serbajadi. The main actor Titanic movie together with the entourage arrived at that time using 2 units helicopter from Medan before continuing his visit to Gunung Leuser National Park (TNGL).
Pada awal 2016 lalu, Leonardo DiCaprio pernah berkunjung ke CRU Serbajadi. Pemeran utama Film Titanic itu bersama rombongan datang kala itu menggunakan 2 unit helikopter dari Medan sebelum melanjutkan kunjungannya ke Taman Nasional Gunung Leuser (TNGL).
---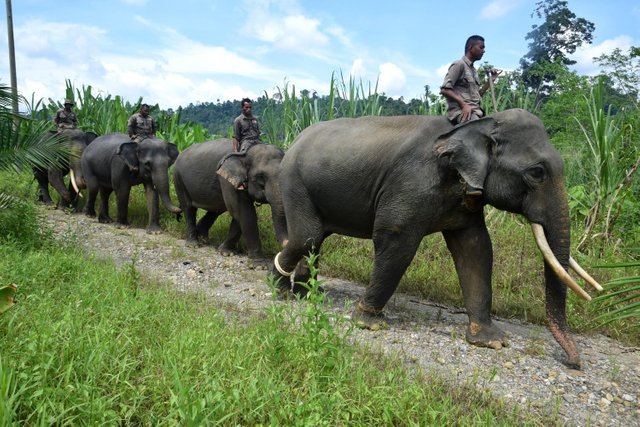 Great Prize for Capturing the Hunter (Hadiah Besar untuk Tangkap Si Pemburu
Bunta's death is clearly an unacceptable event. Bunta who had been carrying noble duties other than due to their law-protected status, were killed in a very heinous way. The Center for Conservation and Natural Resources (BKSDA) Aceh also took the initiative to give a reward of Rp 10 million to anyone who gave certain information about the existence and identity of the hunter.
A number of NGOs also took part, as if eager to hunt down the hunter and willing to add prizes. They are the Leuser Conservation Forum (FKL), Aceh Natural and Environmental Forest (HAkA), Wildlife Conservation Society (WCS), Orangutan Informastion Center (OIC) and Yayasan Ekosistem Lestari (YEL). Total prize provided until now, Wednesday (13/6) reached Rp 30.5 million. Not only that, the owner of one of the coffee shops in Banda Aceh also offers fantastic prizes. The information giver is promised to enjoy coffee for life for free at Leuser Coffee in Lampineung, Banda Aceh.
Kematian Bunta jelas merupakan kejadian yang tidak bisa diterima. Bunta yang selama ini mengemban tugas mulia selain karena statusnya yang dilindungi oleh undang-undang, tega dibunuh dengan cara yang sangat keji. Balai Konservasi dan Sumber Daya Alam (BKSDA) Aceh pun berinisiatif untuk memberikan hadiah sebesar Rp 10 juta kepada siapa saja yang memberikan informasi pasti tentang keberadaan dan identitas si pemburu.
Sejumlah NGO pun ikut ambil andil, seolah bersemangat memburu si pemburu dan bersedia menambahkan hadiahnya. Mereka adalah Forum Konservasi Leuser (FKL), Hutan Alam dan Lingkungan Aceh (HAkA), Wildlife Conservation Society (WCS), Orangutan Informastion Center (OIC) dan Yayasan Ekosistem Lestari (YEL). Total hadiah yang disediakan sampai saat ini, Rabu (13/6) mencapai Rp 30,5 juta. Tidak hanya itu, pemilik salah satu warung kopi di Banda Aceh juga menawarkan hadiah fantastis. Si pemberi informasi dijanjikan bisa menikmati kopi seumur hidupnya secara gratis di Leuser Coffee yang ada di kawasan Lampineung, Banda Aceh.
---