A week ago, I threw an 'Ask me anything' post out into the world. Well, now I'll be answering your questions! I hope you're excited!! I also thought about doing a voice recording to answer these questions (because it would be easier for me to answer them) then I was suggested to record a vlog instead. 🤔 Maybe next time. 
---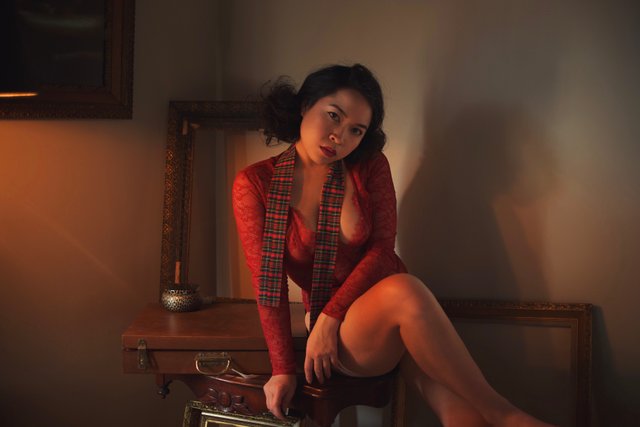 ---
---
Any idea to live in Strasbourg, FRANCE as one of my neighborhood someday?
I actually have a great fear of getting lost while traveling abroad. I'll probably visit one day but the plan is to move to Germany. 
---
---
If there is one thing you can do to change the world, what would it be?
I thought hard about the idea and it lead me to the thought of universal income. If everyone in the world could be provided with a set wage then there would be less suffering...in theory. Somehow, humans always fuck it up. 
---
---
How did you discover Caffeto?
Through @kommienezuspadt :) I actually used to dislike it because the A/C unit was always busted and it's unbearable in the summer. I've gotten more familiar with the environment and the people so I find that it's the perfect place to find inspiration.
What has been your favorite pic of you taken by your sweetheart?
Ah, that's hard because we don't shoot together that often. Also, as a side story, he'll tell everyone (including strangers) that I hate his work but that's not true. I admire and respect his work so much that it has inspired me to continue to push myself in my photography.  
Now to actually answer your question..😆
The first image in @kommienezuspadt's post "Stories told through pictures of our Steemit muse, @vermillionfox!" The first image was taken on my birthday 3 years ago on our trip to New York. It's my favorite not only because of how beautiful it is but the memories behind it. 
What has been your favorite pic that you have taken?
My favorite pic is the image below that I took a couple of weeks back in my post "Beauty has so many forms."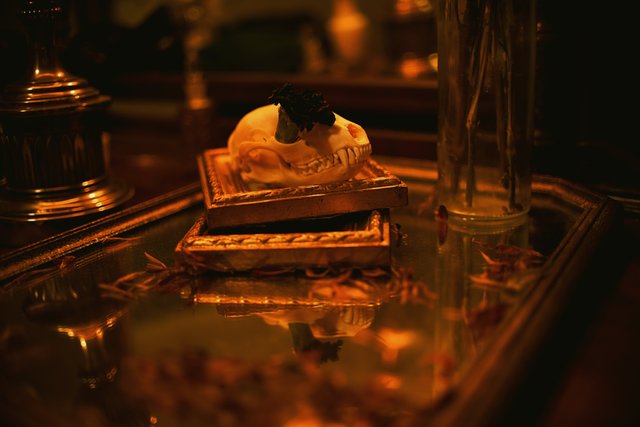 ---
---
Are you a native MN? If not where you from and what brought you here?
Yep, born and raised. I've got a Midwestern accent too. I get teased on the East-coast when I say certain words like "bag".
Do you have a 9-5? what do you do?
Not currently, I'm taking a break. I was in management, running my own stores. The shift in the economy has me rethinking my career.
Glam Doll or SuperAmerica donuts?
Neither. I fell in love with a bakery called "Baker's Wife" but the business was sold and the owner went into retirement. Now the baked goods suck. 
The Wedge, Seward, Kowalski's, Cub, or Lunds/Byerlys?
The Wedge.
Favorite pizza?
Pizza from the East-coast.
When did you know you had artsy tendencies? In what ways was it fostered?
As a kid. I started doing art with my family because we're all creative types on my father's side.
Coolest movie you couldn't stop thinking about?
The Farthest Voyager in Space. I love science films. 
Freakiest situation you've ever been in?
I went to a spiritual ceremony and tried Ayahuasca which was used for healing purposes. The ceremony was performed by shamans from Peru. It was safe, enlightening, but kinda freaky in the end because I felt like I was stuck in a dream-like state.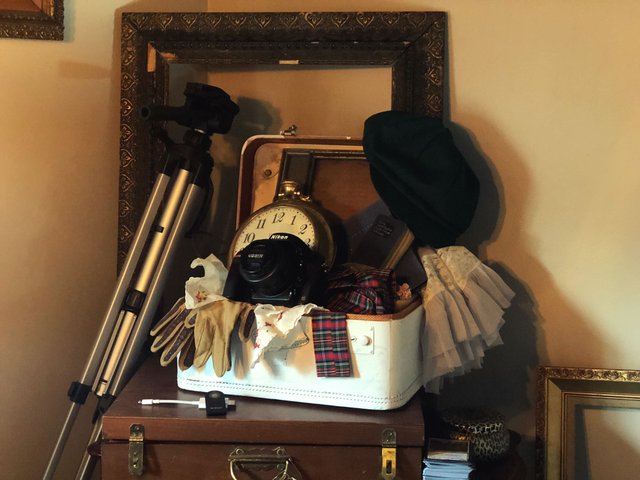 ---
---
Who is taking these shots?
I am. I also do all the editing but I like to keep them minimal and simplistic.
Are these self-portraits?
They are.
Did you set up the lighting yourself?
I use whatever light that is available.  
Do you ever do any fantasy characters for cosplay photography?
I've thought about it but I need to get better at sewing. Materials can be pretty expensive and I'm always behind schedule when I actually have an event that I'm going to. I'm actually planning on going to C2E2 (Chicago Comic & Entertainment Expo) but I doubt I'll have time to do a cosplay. 
---
---
What is your favorite Magic card?
Elesh Norn, Grand Cenobite. The artwork for the card is stunning and she's badass. Plus, you guys hate her so that's also a nice perk. 😏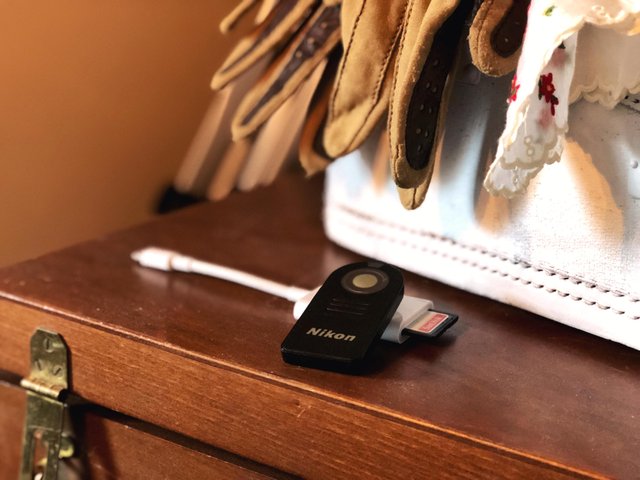 ---
---
I'm curious about your photography as well. What's your setup like? 
I've got my tripod, my Nikon and a backdrop that I rarely use because it's a pain to set-up. I actually prefer to take trips to the fabric store to find fabric to use as a backdrop. 
Do you use a remote trigger, or a self timer? 
I use a remote trigger, which is pictured above. If you look at the first image on the post, I purposely left it unedited and you can see the remote in my hand. What really sucks is when I get a good shot but I'm not able to edit the remote out. 
Do you get an idea, and then try to set up according to what's in your mind/try to capture something specific, or do you sort of draw inspiration from something, and play with different ideas in the same shoot?
Sometimes I get an idea but I usually create something on the fly. I get a little bent out of shape when I want to create the exact image that I've dreamt. My best shots are always accidental and they come after I've tossed away my original idea. I always want my images to tell a story, even if it's only a story I can understand. A cinematic feel is also something that I aim for.
---
@artwatch (who is asking for *cough* smut preferences)
---
Do you like the idea of multiple partners or one on one?
Realistically, one but in a fantasy world maybe two but I've got a specific preference.
Do you like clean shaven or facial hair?
I used to have a thing for guys with beards but now I like clean shaven faces.
Do you like sensitive guys?
Not really because I end up hurting their feelings. 
Do you like highschool dramas or college dramas?
I like DramaFever.
Do you like your smut, just straight to business, or do you as the reader have to fall for the characters for a bit?
I like smut.
Do you like genderfucks/gender bending characters?
I do.
Do you enjoy a lipstick lesbian over a Tom boy?
Naw, I prefer the Tom boy.
What are your porn story preferences?
Role-play. 
Could you tell me about your perfect date?
Exploring a new place with undivided attention. I'm pretty easy to please.
Favorite spot to be kissed?
My face.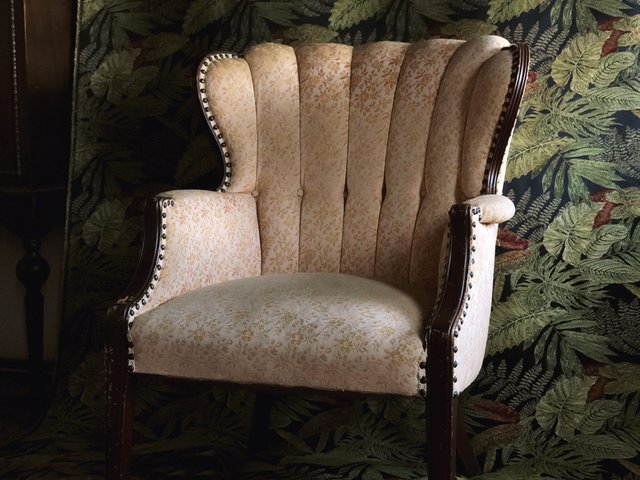 ---
---
What is your most precious vintage/curiosity item? 
I love all my vintage pieces so it's difficult to choose but I'm going to be kinda boring and say that it's my chair. It the perfect size to snuggle in with a blanket and I find myself in a constant state of creation when I'm lounging in it. 
---
---
If you had to name 1 singular biggest inspiration for your art what would it be?
Anime. I know, silly right? As a kid, I used to wake up early in the morning to sneak into the living room to watch anime on TV. That was when I was six. A couple of years later I watched the movie Akira and then Vampire Hunter D. 
I was convinced that I would become a voice actor, then an animator, and then I settled with the idea of becoming a well rounded artist. My style is also heavily influenced by the illustrations Yoshitaka Amano did for Vampire Hunter D. The dark gothic films that I watched as a kid also play a role for my dark photography style. 
---
---
Similar to @davekavangh inquiry, I'd like to know where you draw your creative motivation from.
I have a strong desire to create. Since my family consists of deep thinkers/creative types, I've always been taught that anything is possible. If you were able to manifest it then you're certainly able to replicate that thought into it's physical form. "I don't know how," was an unacceptable phrase in our household.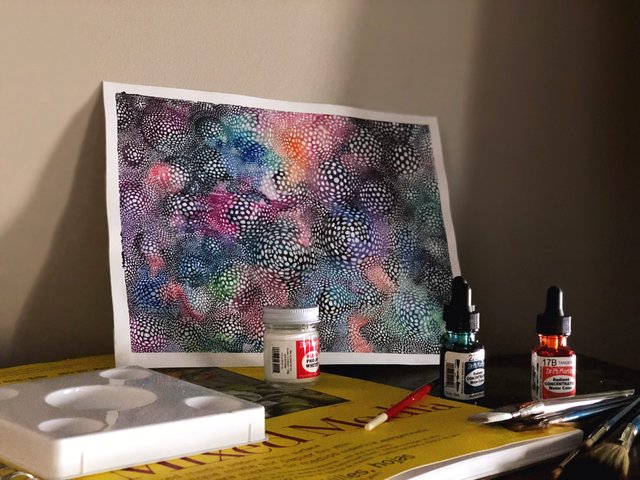 ---
---
Do you have preferred medium besides digital and photography? 
I like drawing in pencils and I used to do charcoal drawings. I started to fall in love with watercolors because acrylic was a little difficult for me to get right. I also enjoy sculpting, below is an image of a mask and a weird eyeball horror creature that I made. 
Have you kept some of your old drawings/paintings?
I don't know where my old drawings are but pictured above was a watercolor/ink painting I did 3+ years ago.
---
---
What aspect of art is most inspiring to you?
The creative process and the freedom one feels from start to finish.
---
---
Where did you get that sweater??
The sweater I was wearing in my "Ask me anything" image is from Urban Outfitters.. it was expensive and I had no regrets because it's basically a blanket. If it ever gets trashed then I'll try to sew up a replica. 
---
---
When were you born?
In the winter. 😉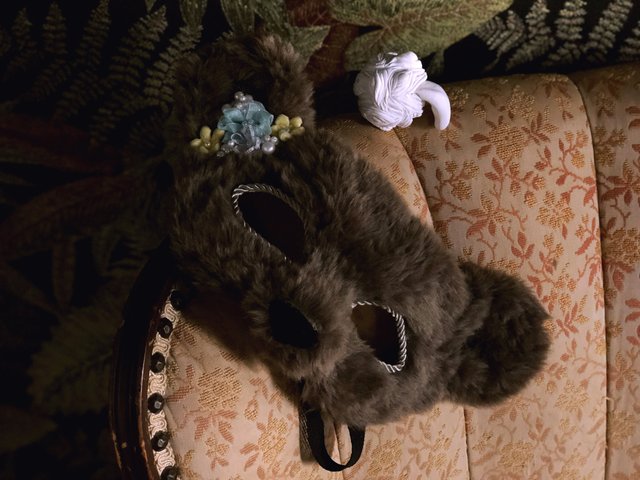 ---
---
I would be interested to hear how you got started with art, and a bit about someone wanting to start with digital art as you do on your new ipad. :) Are there free programs to play around with? 
I've answered some of the art questions above so I'll talk about digital art here. I was actually coerced into learning digital art. I had neglected my art for years because of my career and became fascinated with the idea of digital. 
I'm actually not that familiar with other digital programs beside procreate but I can suggest other Steemians who can lead you down the right path like @loganarchy, @beekart, @bryan-imhoff. There are plenty of other artists but I might end up listing everyone that I follow. 
Also, what's the process for your photography - are they self portraits? For instance, do you come up with concepts first and pick props and outfits to match or how does the magic come about?
They are self portraits. I will always credit images which are not taken by me. The magic happens by accident. If I'm in good condition (mentally because taking images can be exhausting) then I will rummage through the articles of clothing/props that I've collected and start placing items together for a set. I never really know what I'm doing.
---
---
Do you like Neil Young?
For the sake of my relationship, I'll say....sure?
---
---
What's your opinion about dreams? And what's your biggest dream about?
I think dreams are necessary without them we would lose the motivation to create and to simply live our lives. My biggest dream is design/make couture dresses, lingerie, and sleepwear.
---
This ended up being a really long post! Thanks to those of you were stuck around to read all of my answers.
What to do think, did you enjoy this post? Do you feel closer to me now? 🦊