Hello there!
As you should know by now, I'm always on the lookout for Street Art pieces... and I have quite a few stored in my photo collection.
Today I bring you a superb Graffiti I've found in my hometown of Porto, Portugal. This is a collaboration between two local artists - MrDheo e Hazul Luzah - and it's situated right outside the Metro Station of Trindade, right in the very center of the town.
This work of art, painted in 2014, occupies a 250 square meters wall. It's so huge you can't miss it. What you see on the photo below is only half of it.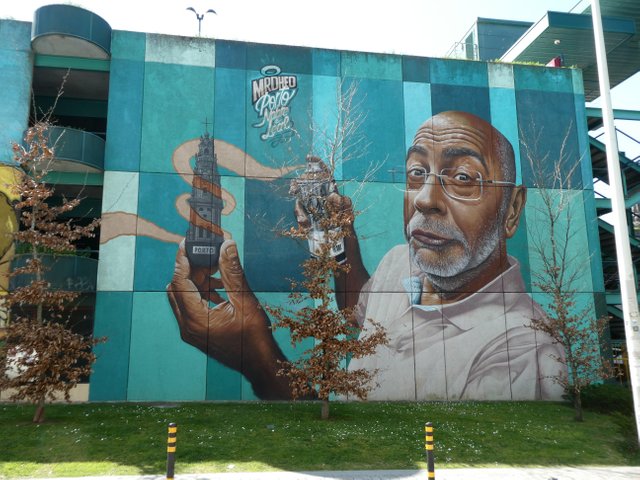 The above character was painted by MrDheo and if you follow the trail from the spray can, towards the left side of the mural, you'll see it morphing into the work from Hazul Luzah...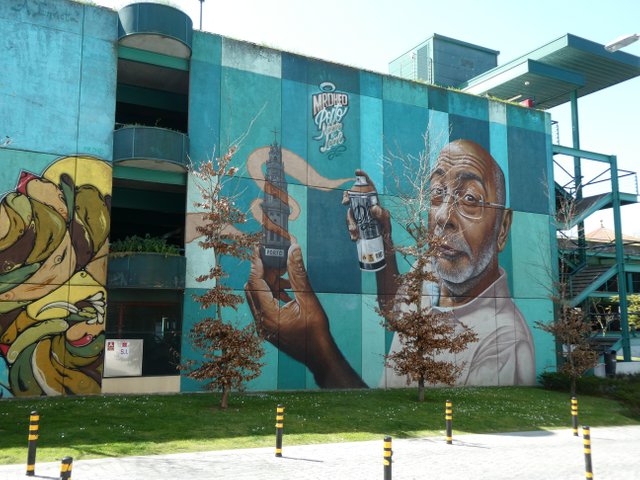 The left side of the wall makes me think of @sanderjansenart's work. Unlike MrDheo, who specialises in ultra realistic portraits, Hazul Luzah has a much more surrealist style and his pieces are usually a mix between reality and fantasy. A wide variety of shapes and colours are his signature style!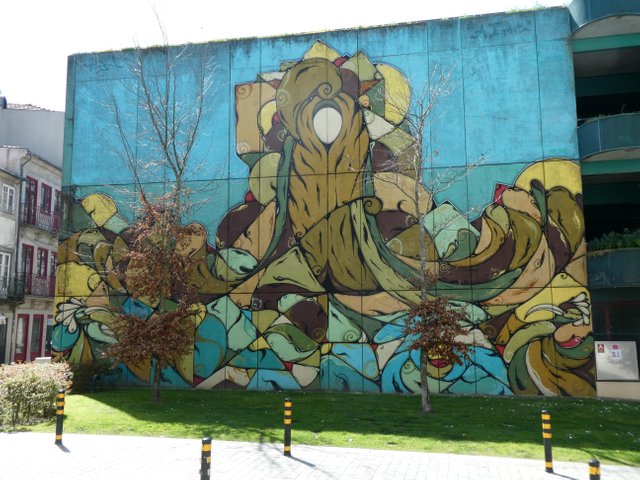 Next I'll show you a shot showing the whole piece (as much as possible since the wall behind me prevented from moving any further. I was glued to the wall and using the viewfinder to get the wider possible angle.)
Here you can see the great contrast between both styles... and they complement each other so well, one could be easily fooled to think it was done by a single artist, were it not for such different styles.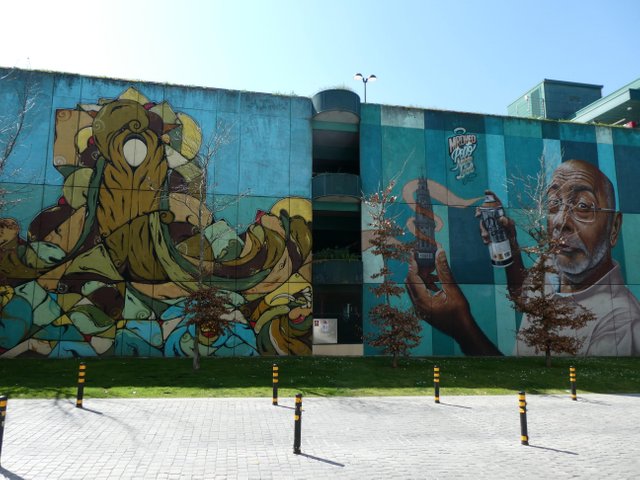 With this new camera, I can do a much better job at capturing images like this. I used to be somewaht disappointed that my previous camera couldn't grab all the details I wanted to. 😑
But not anymore. The only problem is I can't go back in time and take the same shots with this one! 🙃
---
A few details are probably only obvious to the Portuguese readers, so I'll point out a few things you might not know:
The name "A Invicta" that you can read on the top of the mural means "The Undefeated" and it's a reference to the city's past, which stayed undefeated during a siege that lasted over a year, while the enemies were camped all around the city. This battle was part of the 1832-34 Liberal Wars, also know as the Portuguese Civil War. It called by some as the War of the Two Brothers, since the opposing factions were two brothers fighting for the Kingdom of Portugal. Spain, the United Kingdom, France and even the Catholic Church were involved, supporting one brother or the other. At one point, Spain was supporting one brother and then, in 1833, they changed their support to the other brother. Yeah, it was a big, big mess. 🙃

The name of the piece is "Nobre & Leal", meaning "Noble & Loyal", another reference to the city's nickname, "Antiga, Mui Nobre, Sempre Leal e Invicta Cidade do Porto". (in English: Ancient, Very Noble, Always Loyal and Undefeated City of Porto).

The Blue colour is linked to the city since its foundation, as the first flag used by D. Afonso Henriques, the Ffounder and First King of Portugal, was a Blue Cross on a White Background: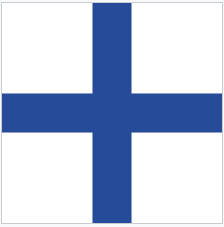 (As you can see in Wikipedia, until 1248, there were no other colours in the Portuguese flag.) Then they start adding more colours, shapes and symbols, but the basis of the White and Blue Flag is always there: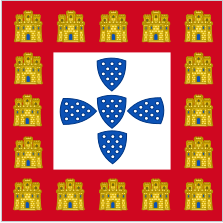 I bet there are a few Portuguese who'd like to see any traces of white and blue being removed from the flag but they can forget that idea. It won't happen, not anytime soon. 😂 😂 😂

Blue is also the main colour used by the major football club from the city. So you can see how important this colour is to the city and its inhabitants. And let's not forget the blue sea, which bathes the city! 😎
---
So, I started putting together a post about #Graffiti and ended up with a short adventure through the #History of Portugal. 🤔
I hope you enjoyed it... but if this information is completely useless to you, I'm sorry. No, I'm not. Ah ah! 😆
---
---