Sleeping on the street
I normally prepare a few drafts on the weekend to have to post if I get busy during the week, plus with my fairly long commute to and fro NYC on the train it does give me a limited amount of time in the evenings to prepare posts, but with Steemit being down for a lot of the weekend I did not have prepare posts for this week
you may ask why have I started this post saying that?
Well its my excuse for this being a shorter post than normal for me with only two photos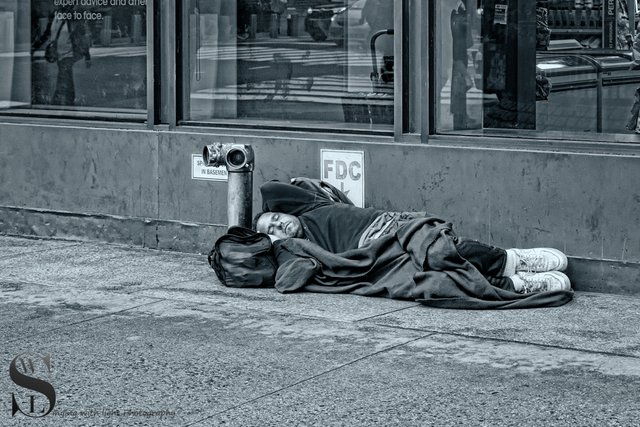 Sony A7iii 70mm F5.6 1/60 Sec ISO 1600
Click here to view larger



Chances are you have walked by or shared a train car with someone who is homeless, know someone personally who has been homeless, or even experienced homelessness yourself.
Every night in our city, nearly 4,000 people sleep on the street, in the subway system or in other public spaces. But this is just the tip of the iceberg. The vast majority of New Yorkers experiencing homelessness – over 63,000 homeless men, women and children – spend the night instead within the city's shelter system where they remain unseen.
In a city of 8.5 million people, nearly 1 in every 121 New Yorkers is currently homeless. But only 1 out of every 17 of these individuals is visible to the eye.
I came across this on a website source
And I have seen many homeless on the streets of NYC, but it was only as I was preparing this post I saw these statistics, and frankly, I am shocked and saddened ot read this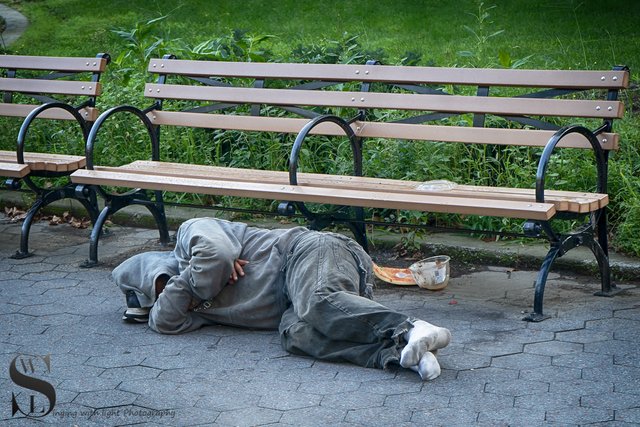 Sony A7iii 70mm F8 1/60 Sec ISO 320
Click here to view larger



Now I am dubious about some of the panhandlers you see asking for money on the streets on NYC, but when you see people sleeping on the sidewalk like the ones in these photos, you have to feel for them and wonder what circumstance they have endured to have to sleep on a hard sidewalk like this.
And that's all folks
---
unless stated otherwise all photos used in my posts are taken and owned by myself, if you wish to use any of my images please contact me.
---

---
steemusa is a Community for and supporting those from of in the United States, and now is in the process of rebuilding stronger than ever join us on Discord








!steemitworldmap 40.752412 lat -73.976960 long Midtown East NYC d3scr