The response I have been getting from these posts are overwhelmingly positive and so I will continue them. And why shouldn't they be - it's all about adventure. Life is an adventure. I don't know all the answers, most days I think of the existential questions that bind all of us human beings together. But the one thing that I can gather from this year about life was that as long as you dream it - you can make it happen.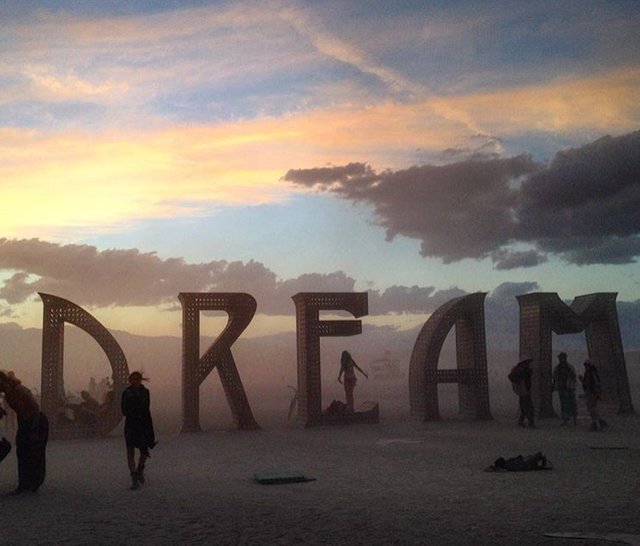 This year started as my sophomore excursion into the World known as Black Rock City. If my first year was any indication of how woefully underprepared I was (I literally decided in Bali on vacation to fly back in 2014 and go to BM) this year and over-preparation was on the agenda. I travelled up to San Francisco (where my Gravity camp was based) to build multiple times.
Preparation did take on many forms. And after learning about all the wonderful aspects of the event, I wanted to participate in every way possible. As is customary with most camps, people make necklaces, bracelets, etc. that speak to the camp and the ethos it wants to create.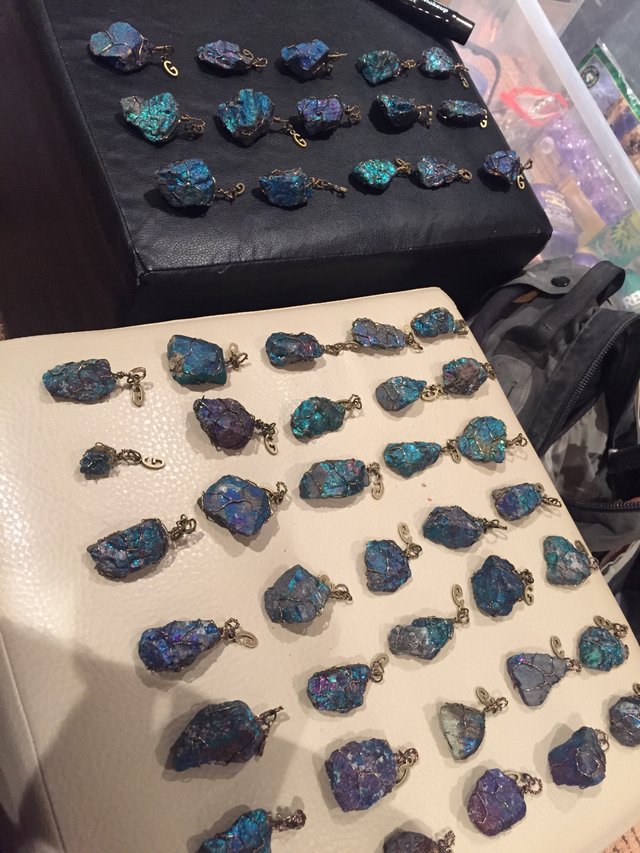 My girl Amy and I set out to make some amazing peacock ore necklaces with the "G" signifying Gravity. Boy were those "G's" hard to find!
Besides finding "G's," traveling to SF once a month, getting an RV and a teardrop to pull (we had 8 of us needing housing), prepping like none other - the days were getting closer to leave. As we wanted to be there early to build, we needed to pick up our RV in San Diego (the only place we could find) and then attach the teardrop trailer to it...
Needless to say, this was an adventure in of itself. By the time we left LA and finished all our last minute errands. It was 3pm!! We had to get to San Diego in rush hour traffic before the RV spot closed at 5pm. There was NO WAY we would be able to make it. Think think think Sam... Fearing that we would not be able to pick up the RV which would put us a full day behind was not an option. I was able to call a dear friend of mine who lives in San Diego, turns out he was only 10 minutes from the place and said he would be willing to go pick it up for me and would just park it somewhere with the keys hidden.
LIFESAVER!!!
We finally got down to the RV spot and the RV was parked waiting for us. We had been able to convince the teardrop people to wait for us. So we drove 15 minutes with the RV and two close girl-friends of mine following in my car. Once we got to the teardrop spot, they began attaching the teardrop to the RV.... AND another PROBLEM...
They gave us the WRONG connection, so there was no way to electrically connect the RV to the teardrop trailer. In the United States, if you are trailing anything, it NEEDS to have brake lights otherwise it is ILLEGAL to drive at night.
SHOOT and $!$(&!#!%$(
Think think think Sam... the people at the teardrop spot had to leave as it was now 8pm. They said they can help us tomorrow morning at 8am, but again putting us a full day behind, we still had to drive up to Black Rock City!
Walmart. Walmart has trailer parts. So we left Caitlyn back to watch the vehicles while Marcelle and I drove to Walmart. They had lots of parts, amazingly enough.... BUT none of them would be compatible with the other.
SPARK - an idea...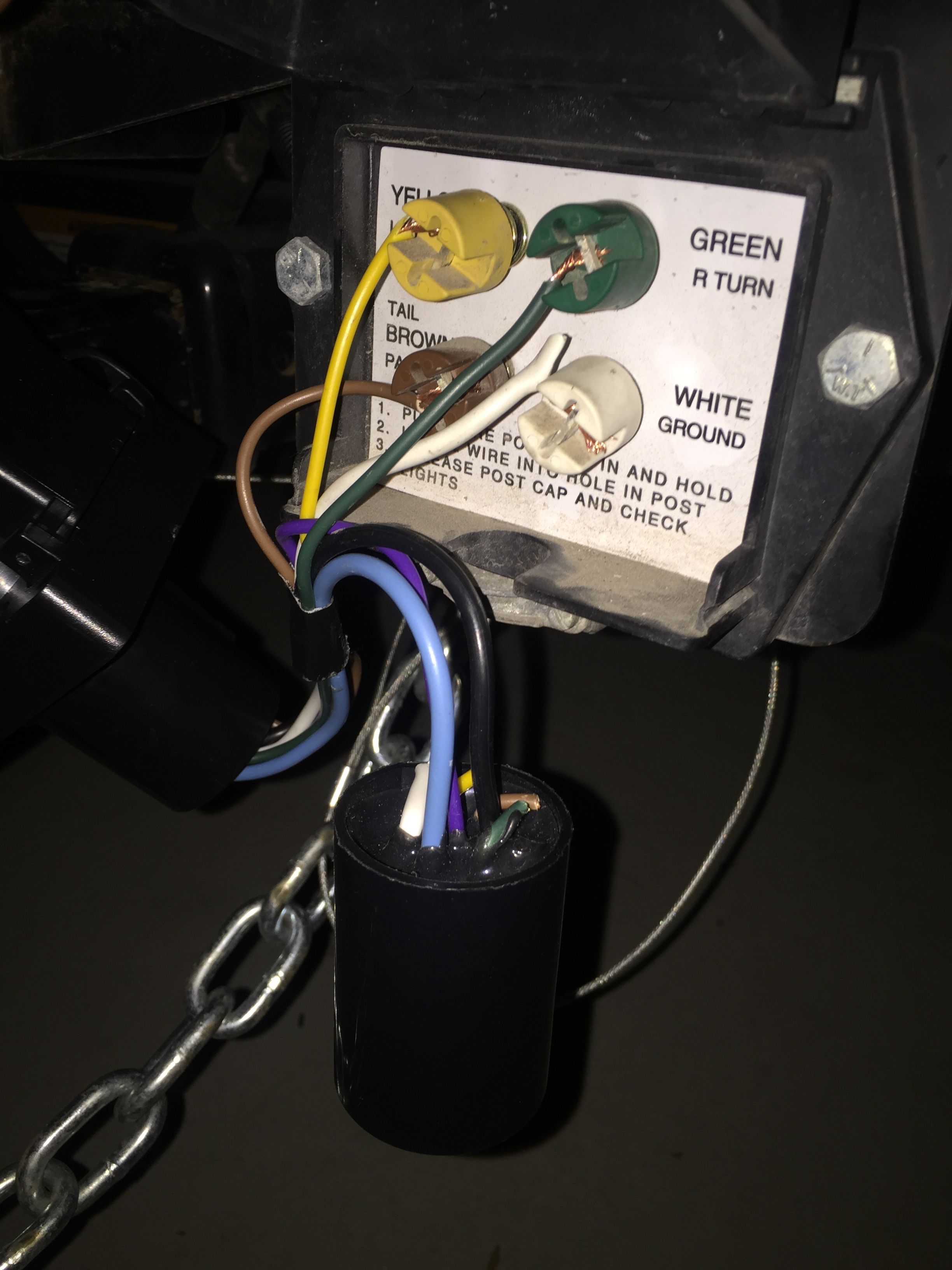 I ended up buying 3 different parts. Remembering my electrical circuitry classes, I took a knife and began splicing all three up. If I didn't have a male to female component, I was going to create one dammit!!! So for the next 15 minutes, I MacGyver'd (look that up if you don't know what that means!) and tested my device out...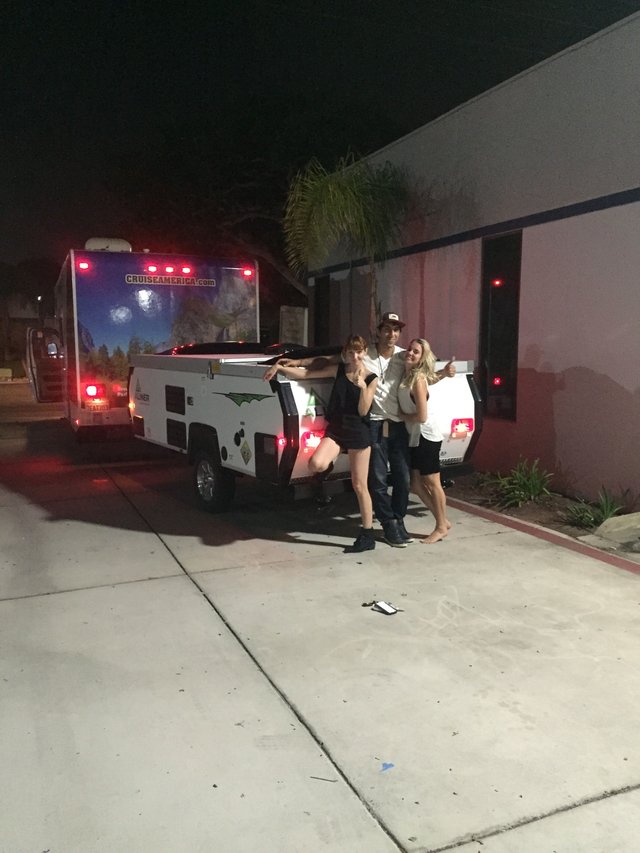 SUCCESS!!!
10pm and we had gotten it done and were able to finally get on the road. I was extremely proud of myself of being able to make this happen.
Just goes to show, never - EVER give up.
The road was for the most part uneventful, except for some mining explosions we ran across via a short cut we took...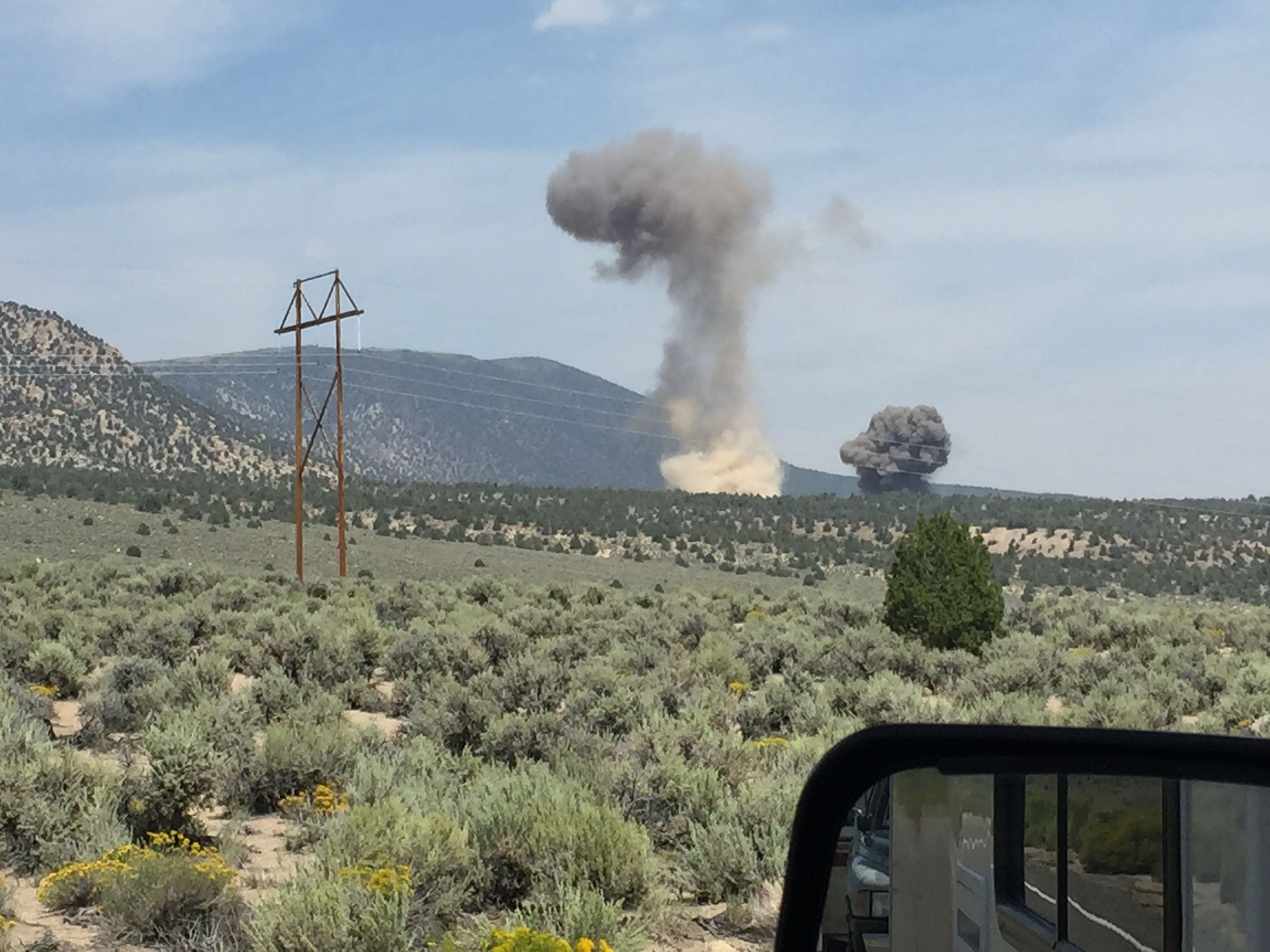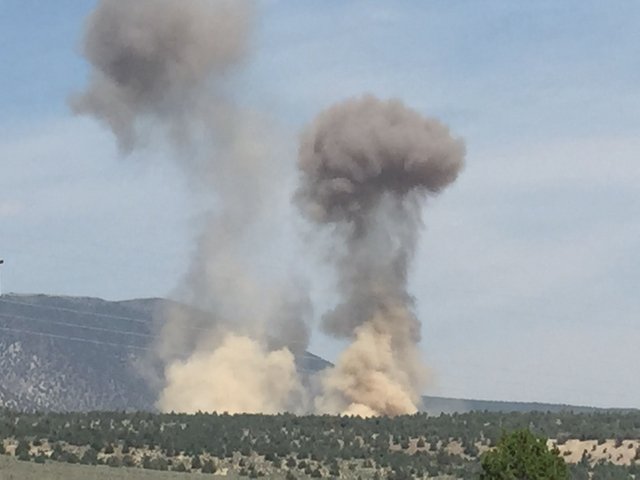 We had to stop for a bit, but pretty cool to witness.
We took a very scenic route. Forests, lakes, and some of the most beautiful countryside the United States has to offer.
We finally arrived late night the next day, still one of the first on the scene of our camp. We went out and explored that very night...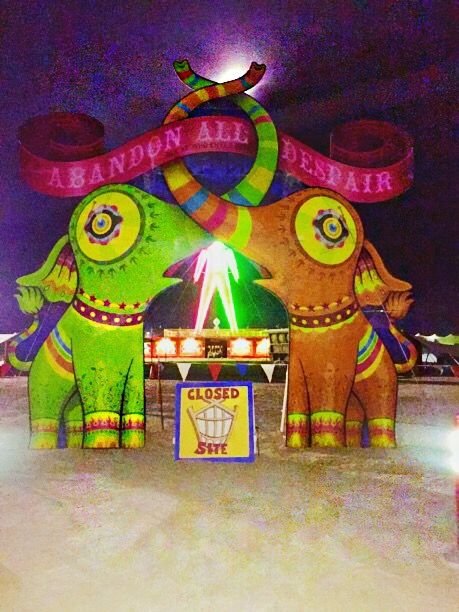 Still under construction!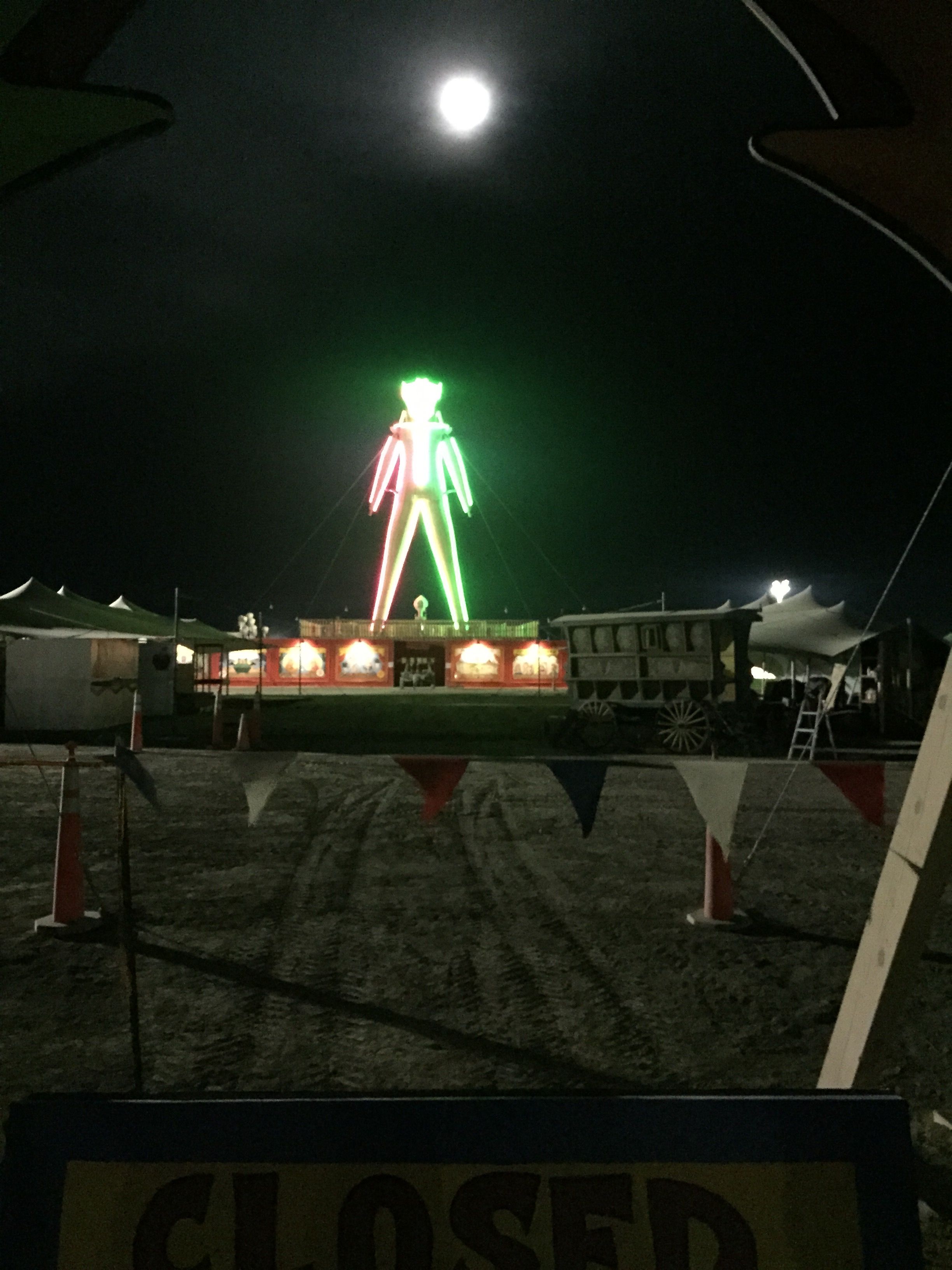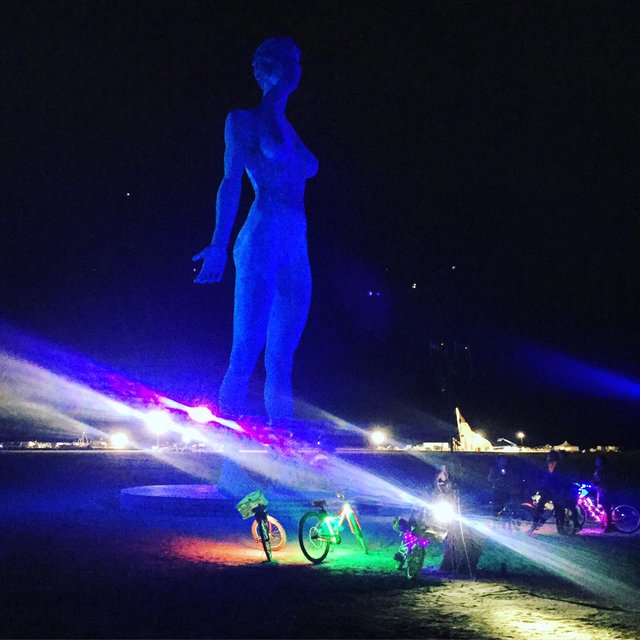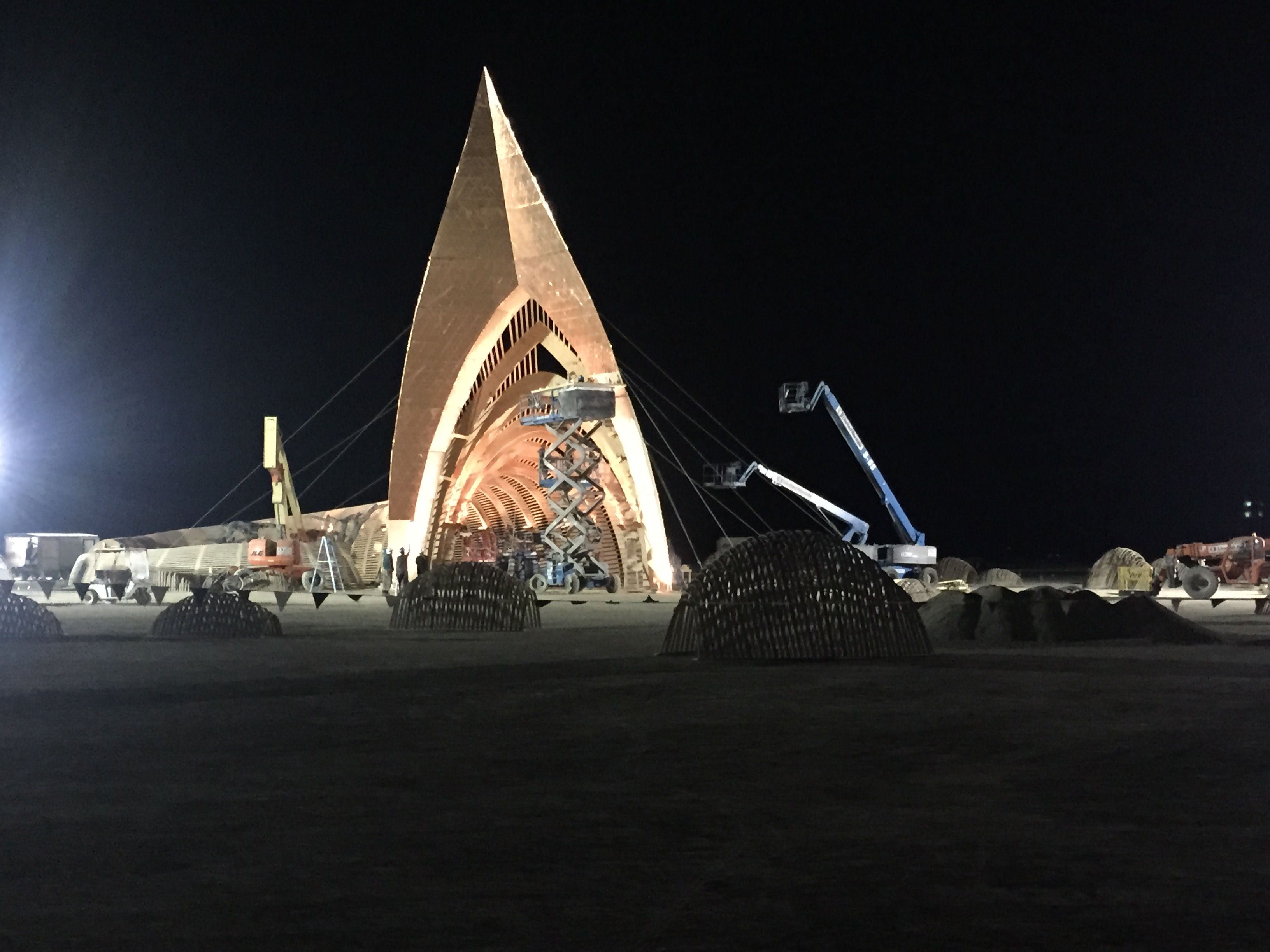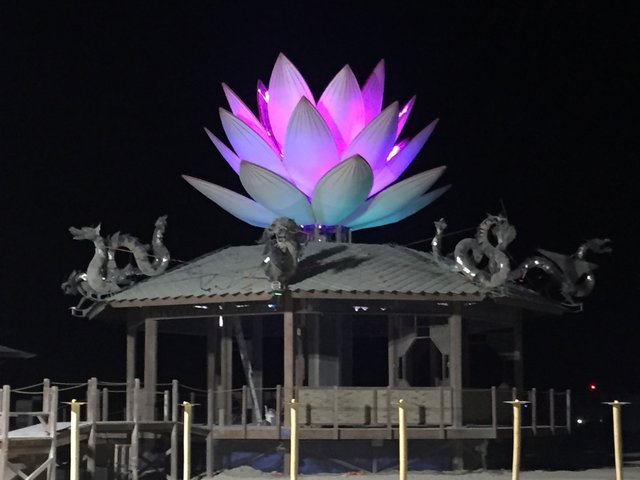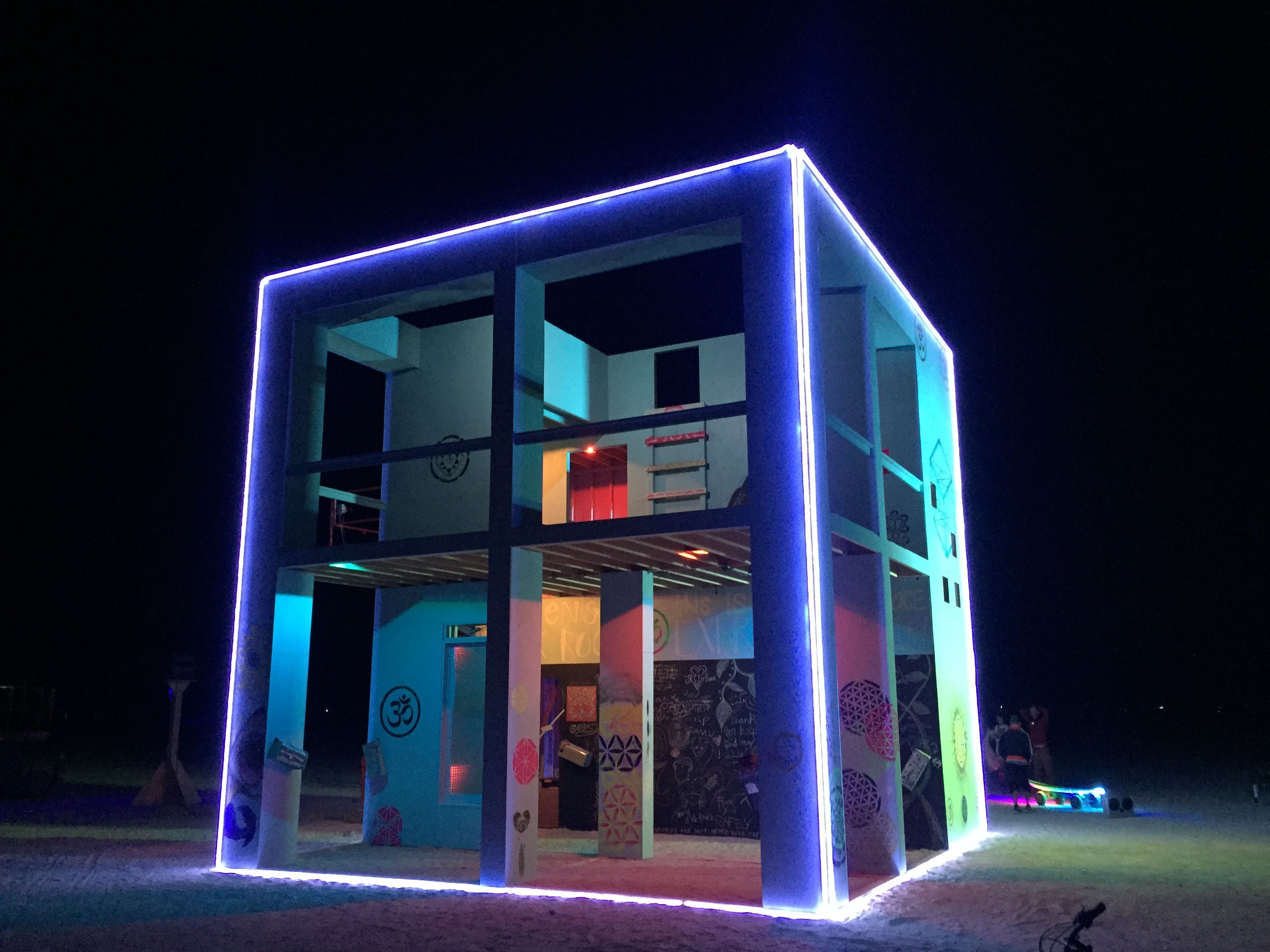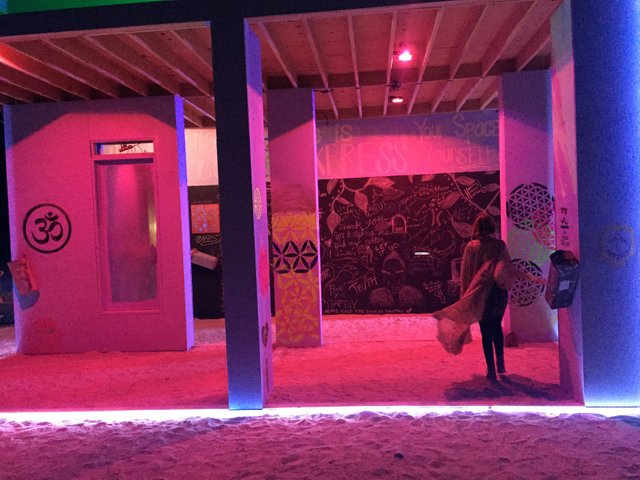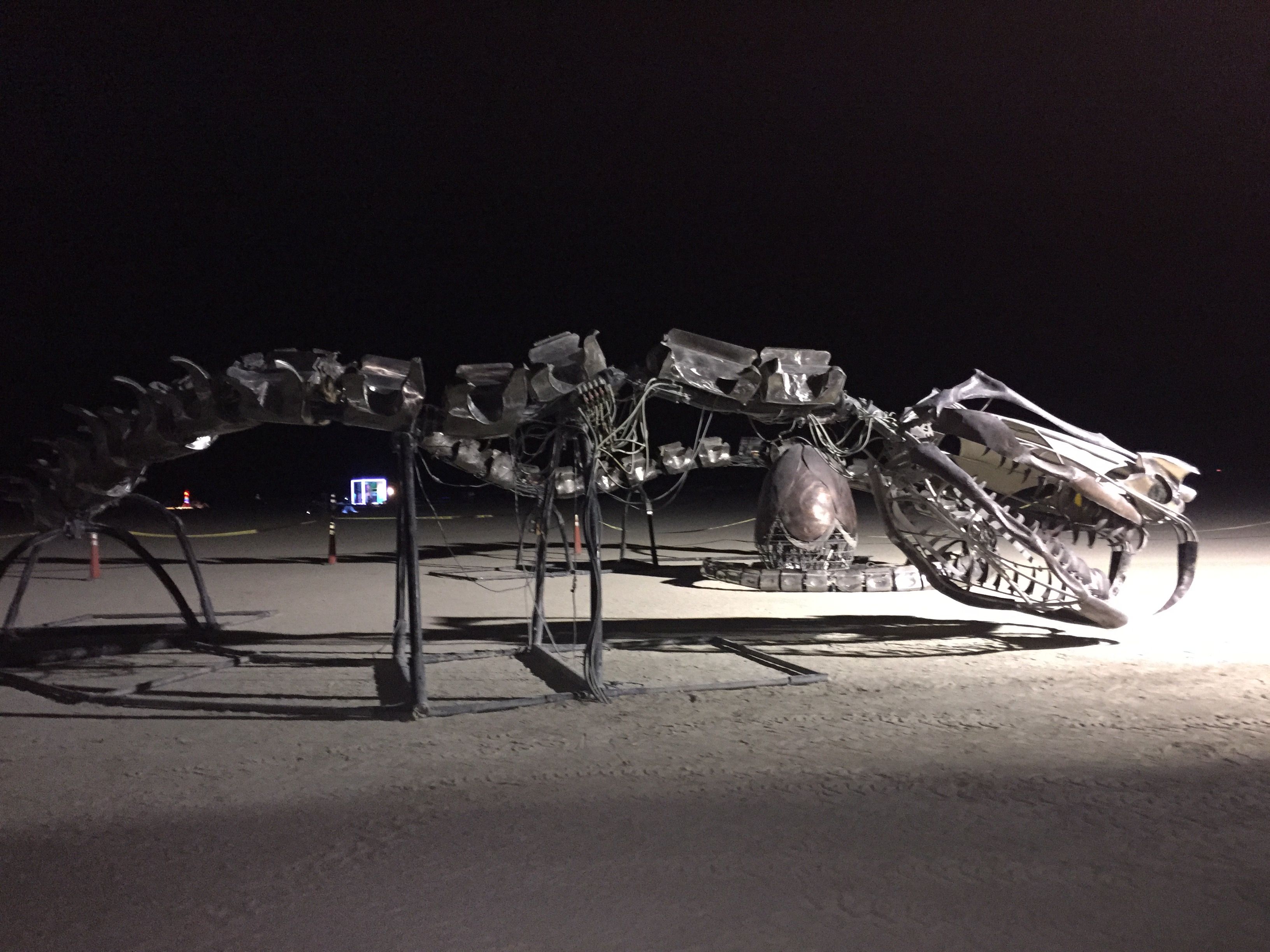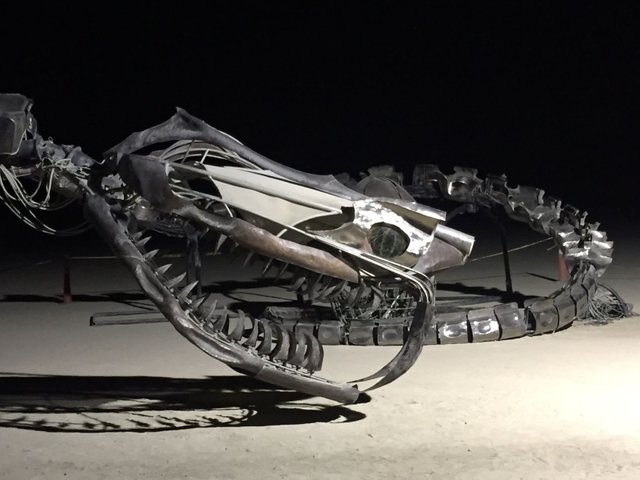 Beautiful sneak peeks of the week that was to come. Exhausted, elated and happy to be there, we headed to the RV to take a nap until the morning. This was cut short by screaming and yelling coming by way of our camp. Scary, but overnight and in the early hours of morning, a sand storm hit the playa. Our camp wasn't prepared for this and didn't secure the shade structures which has metal poles that go deep into the ground.
Instead, these poles started lifting OUT OF THE GROUND and began harpooning the tents all around us. Thankfully NO one got hurt, but we had to house a lot of the camp members inside our RV where it was safer.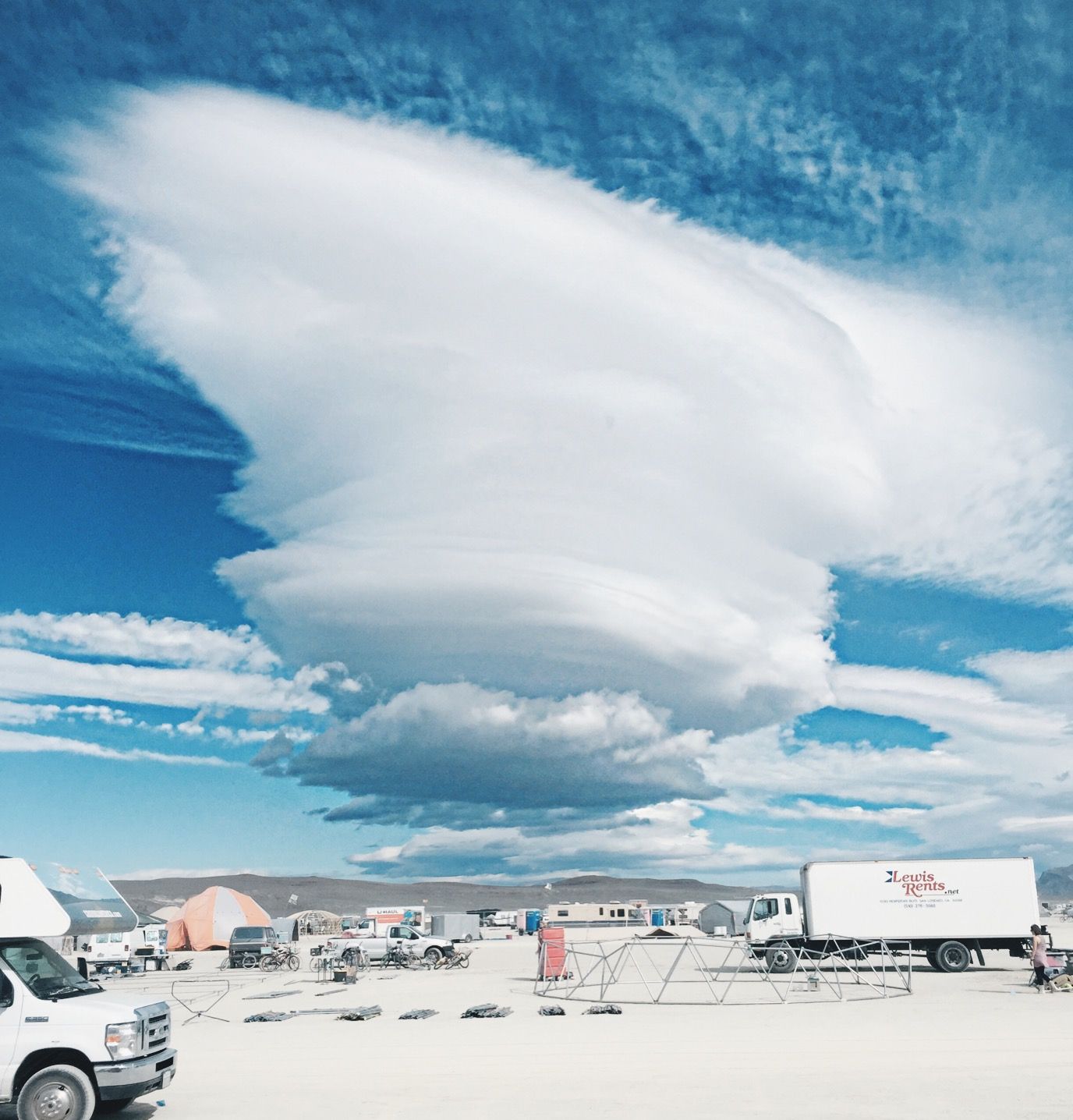 The wind structures... amazing.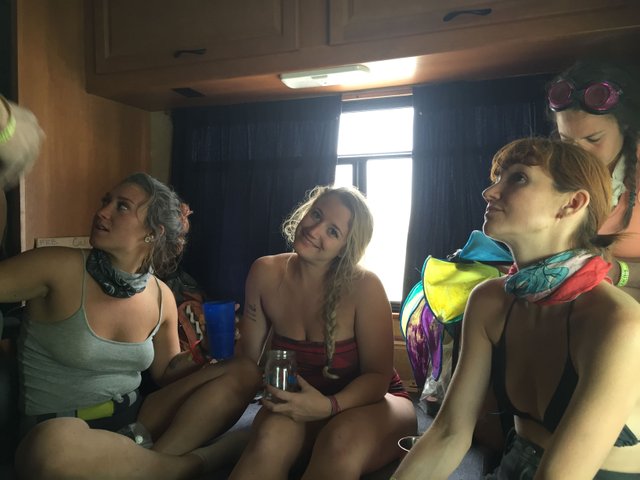 Hiding out in the RV...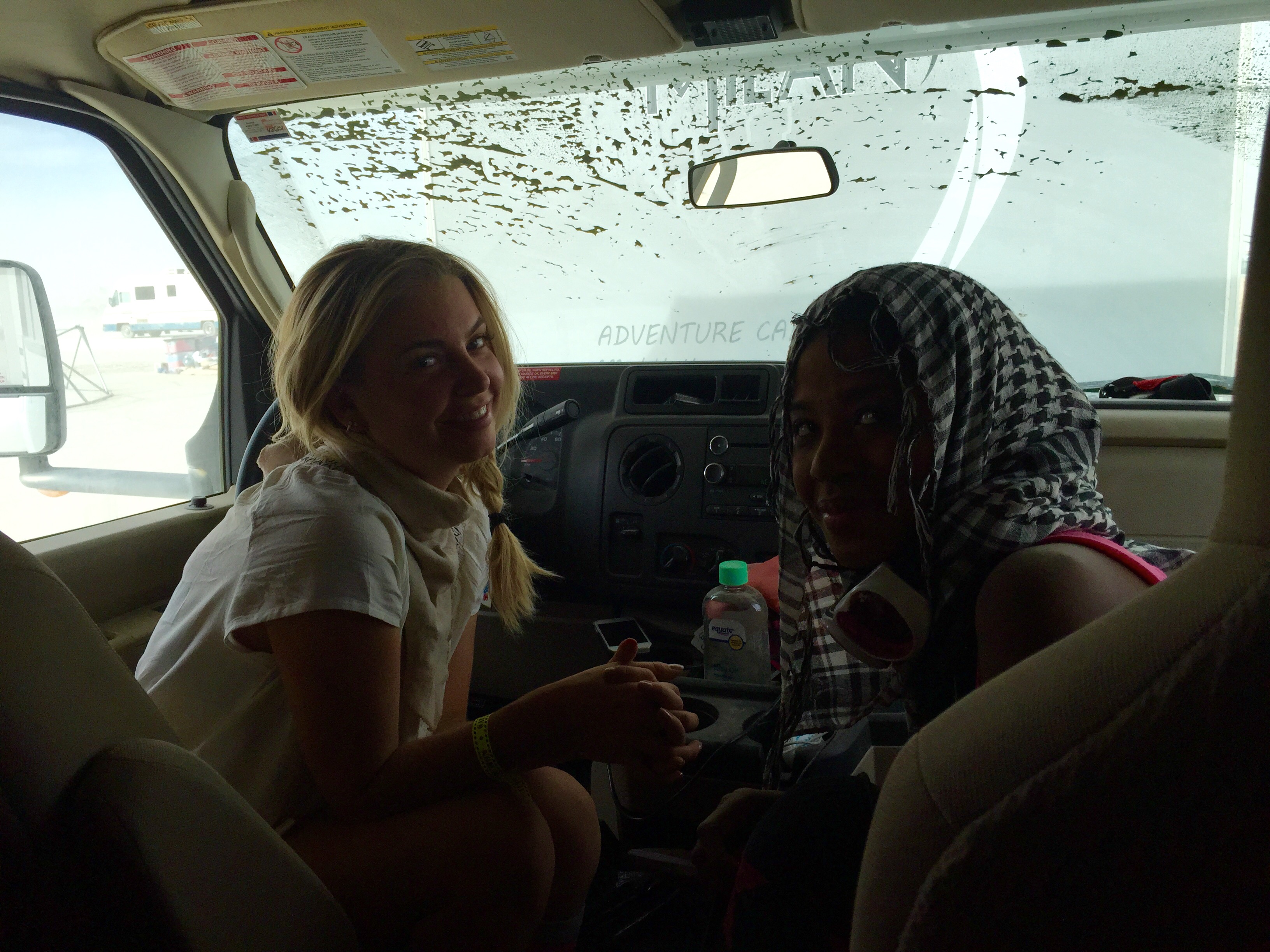 Hiding out.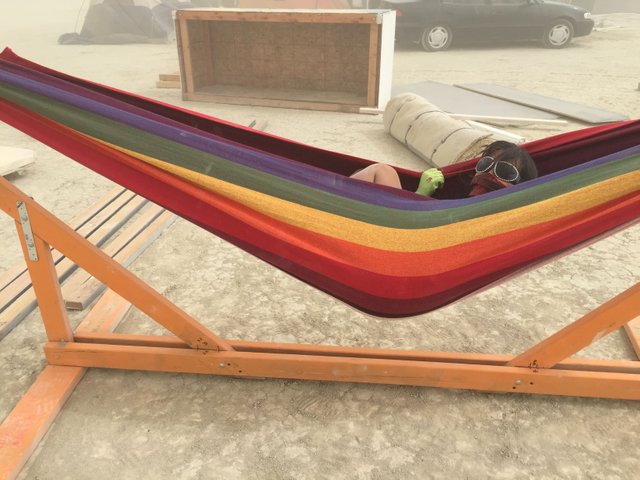 Little Meg hiding out.
One thing this year that was different than prior years was the extreme cold. Whereas the year prior was really hot, this year dropped below freezing at night.
It led to scenes like this: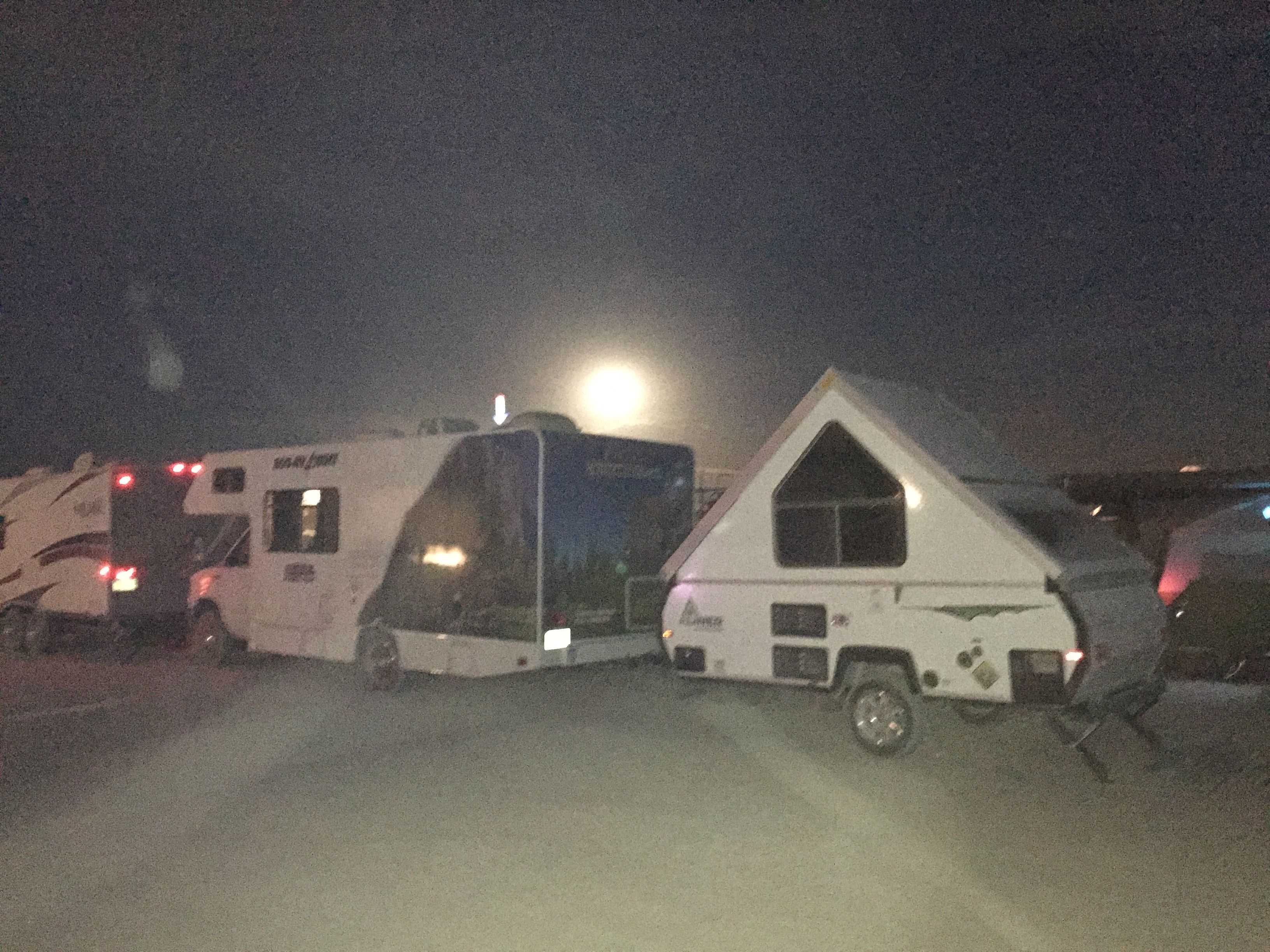 Of course though, our crew always manages to have a good time.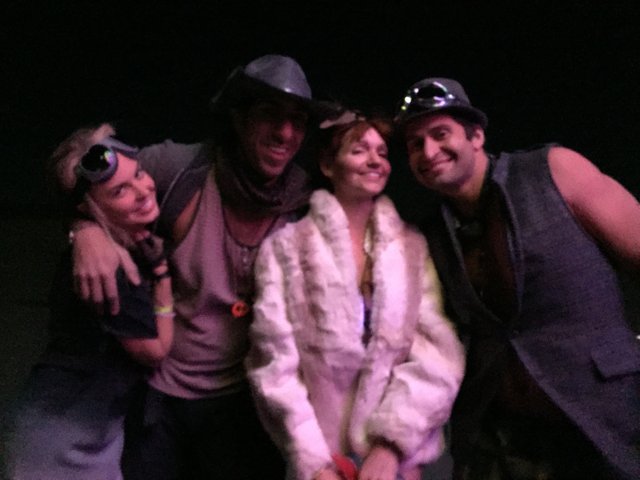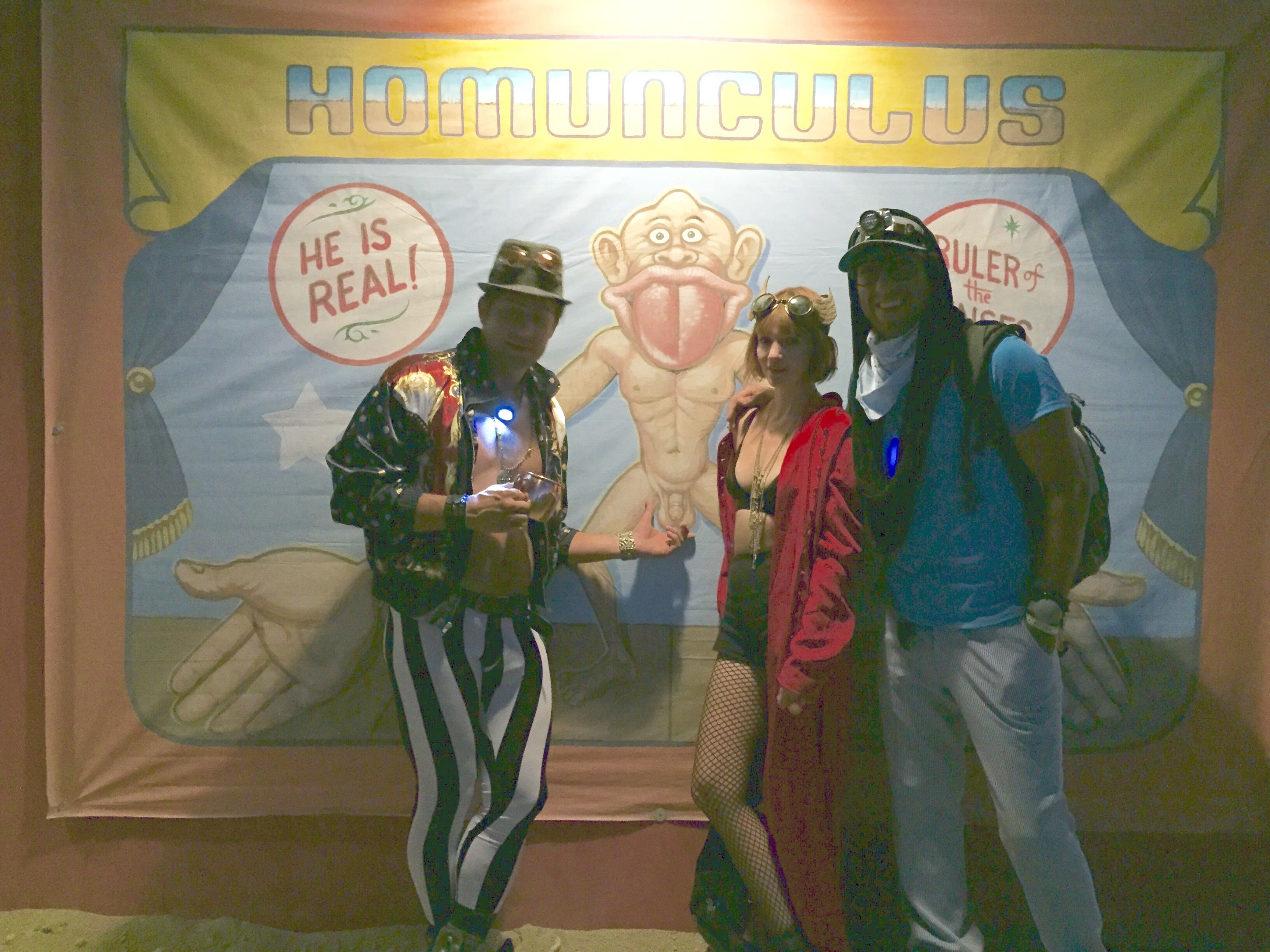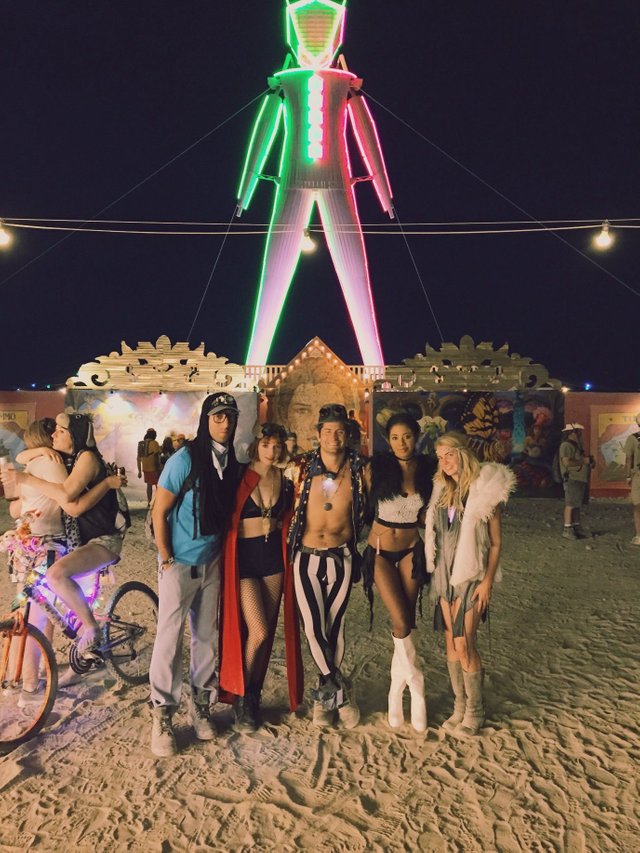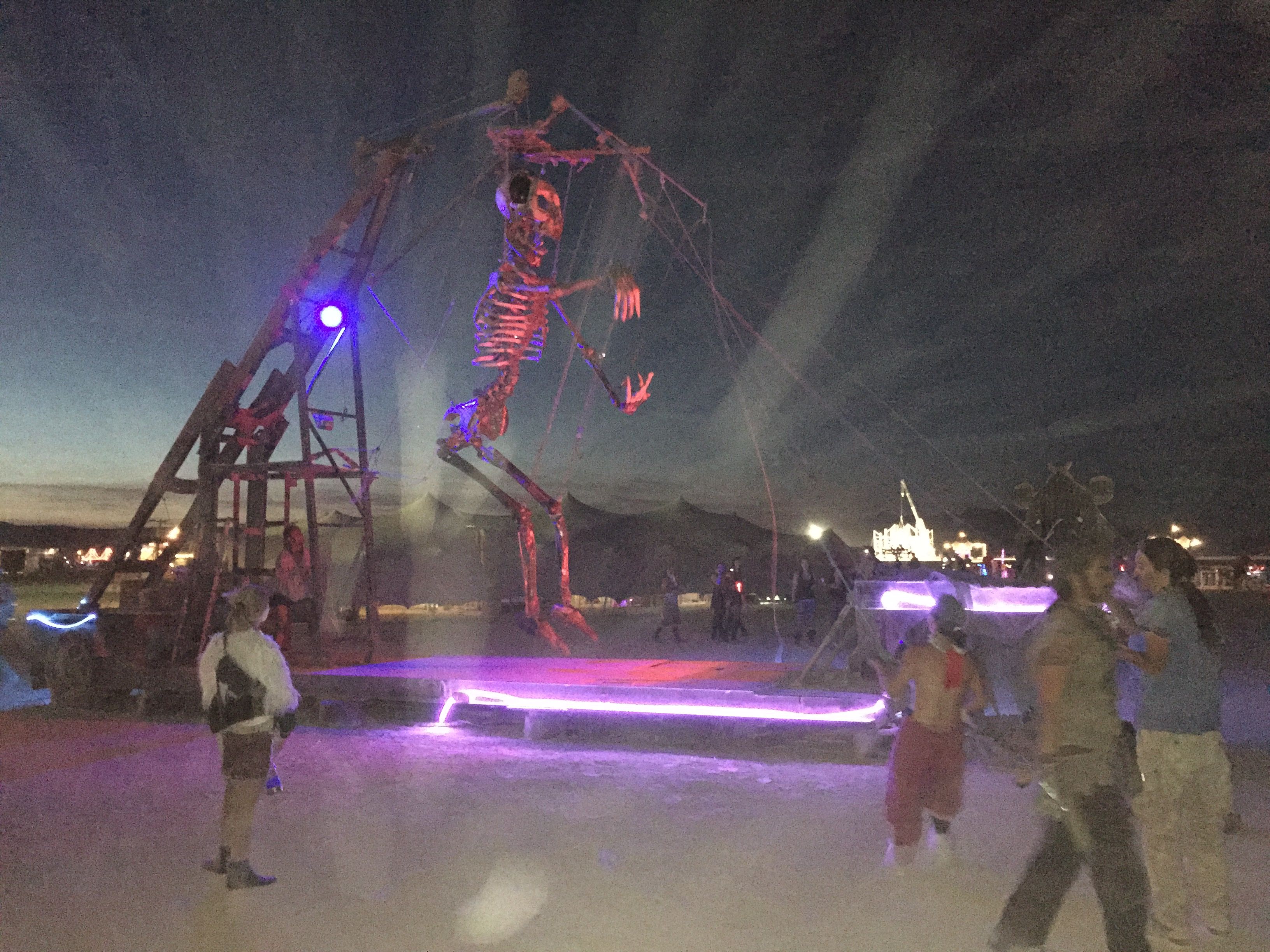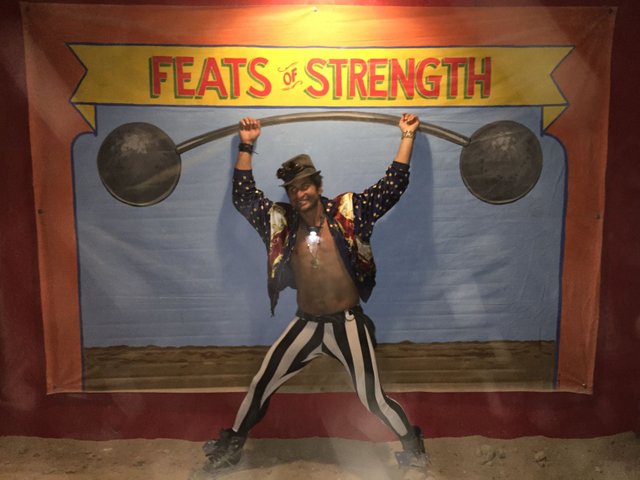 One of my favorites over the years has been the cuddle puddle. Imagine a space with amazing music and where you are knee deep in 6 foot Teddy Bears. I mean, are you kidding me?!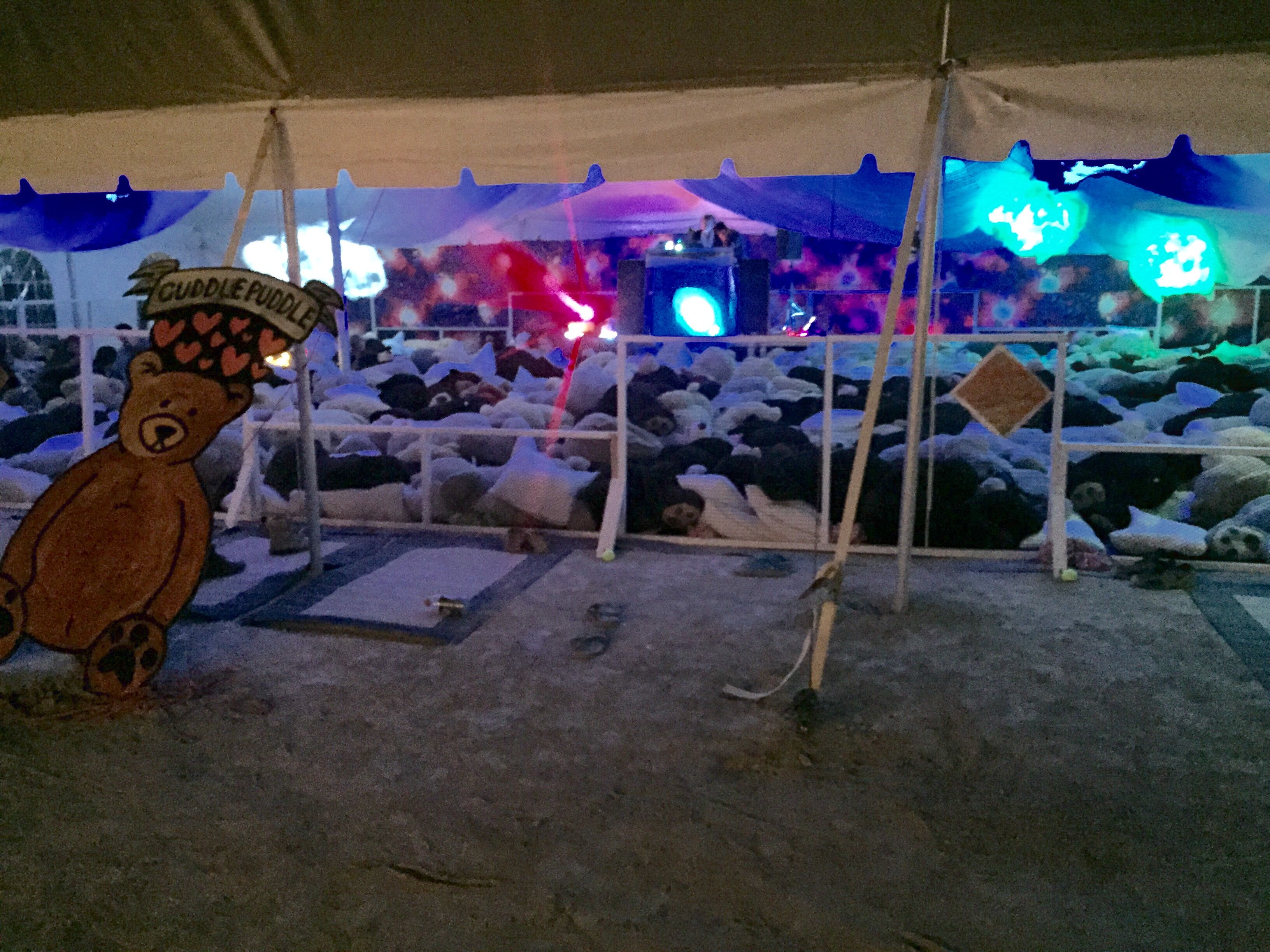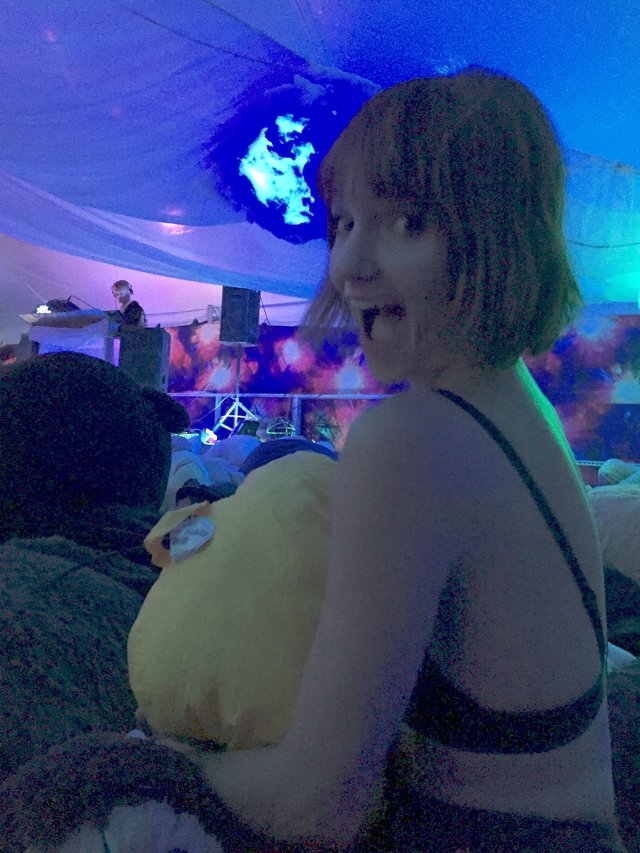 I know Marcelle loves it! Haha!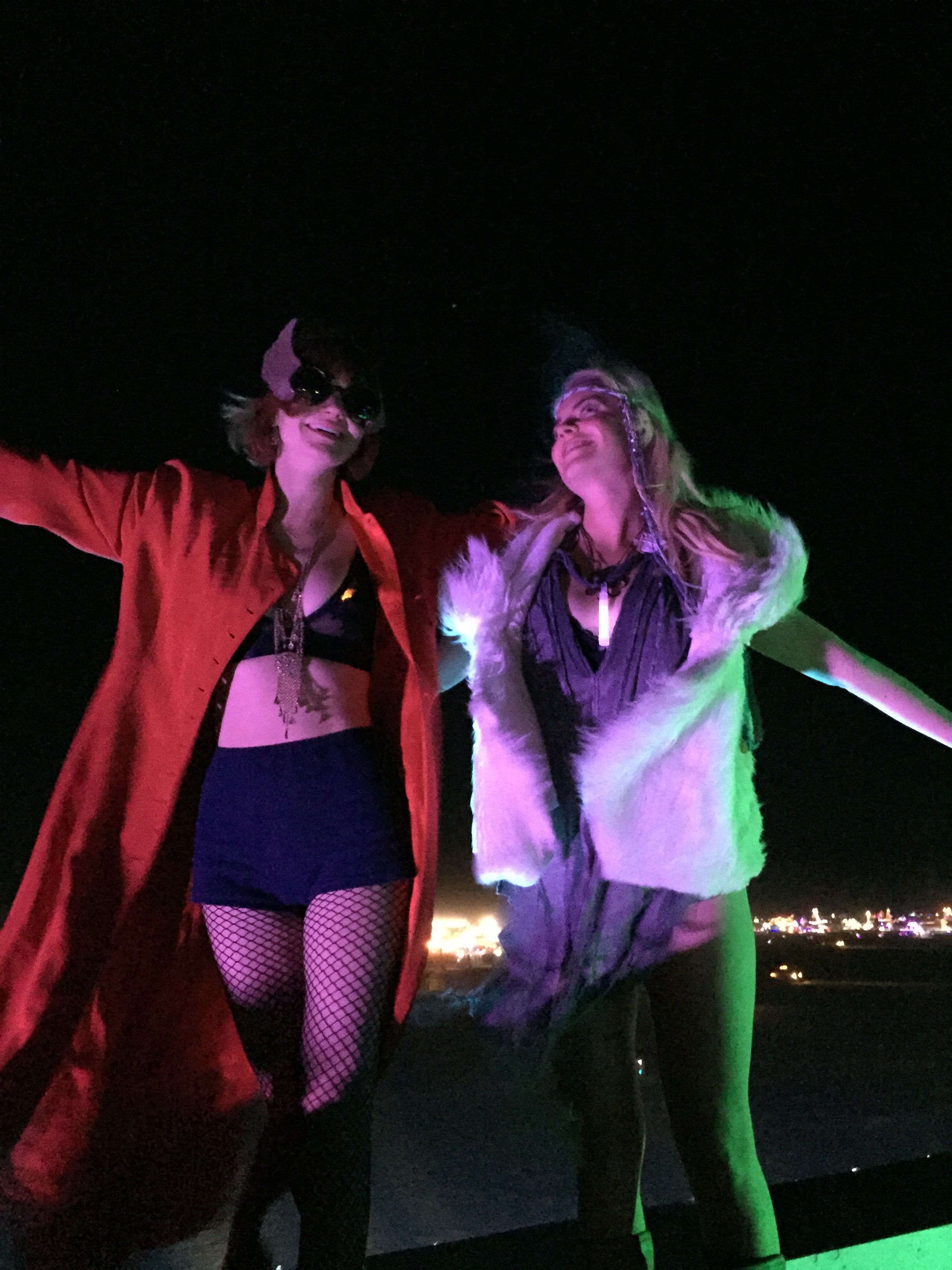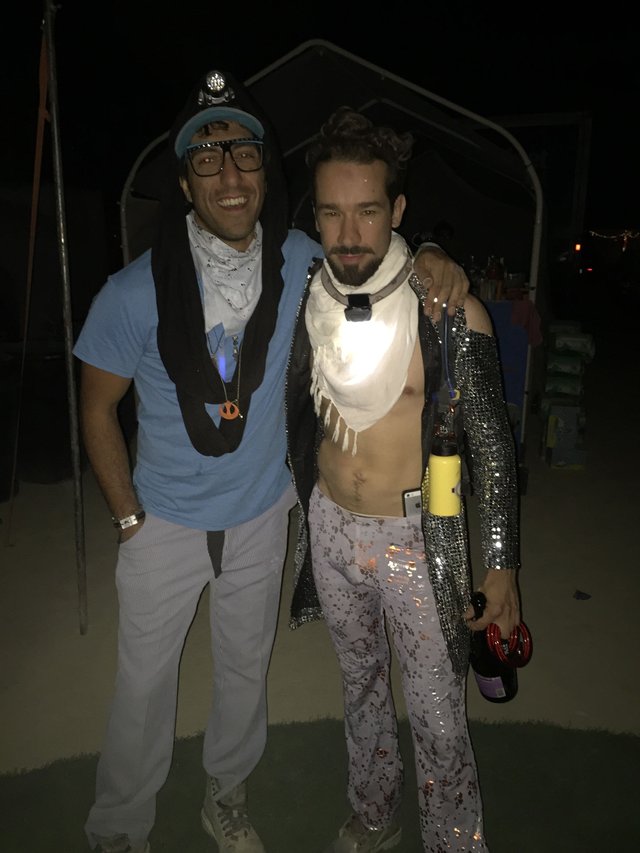 Duck Pond is an interesting place. They have tons of activities, several of our guys tried to "hold on..."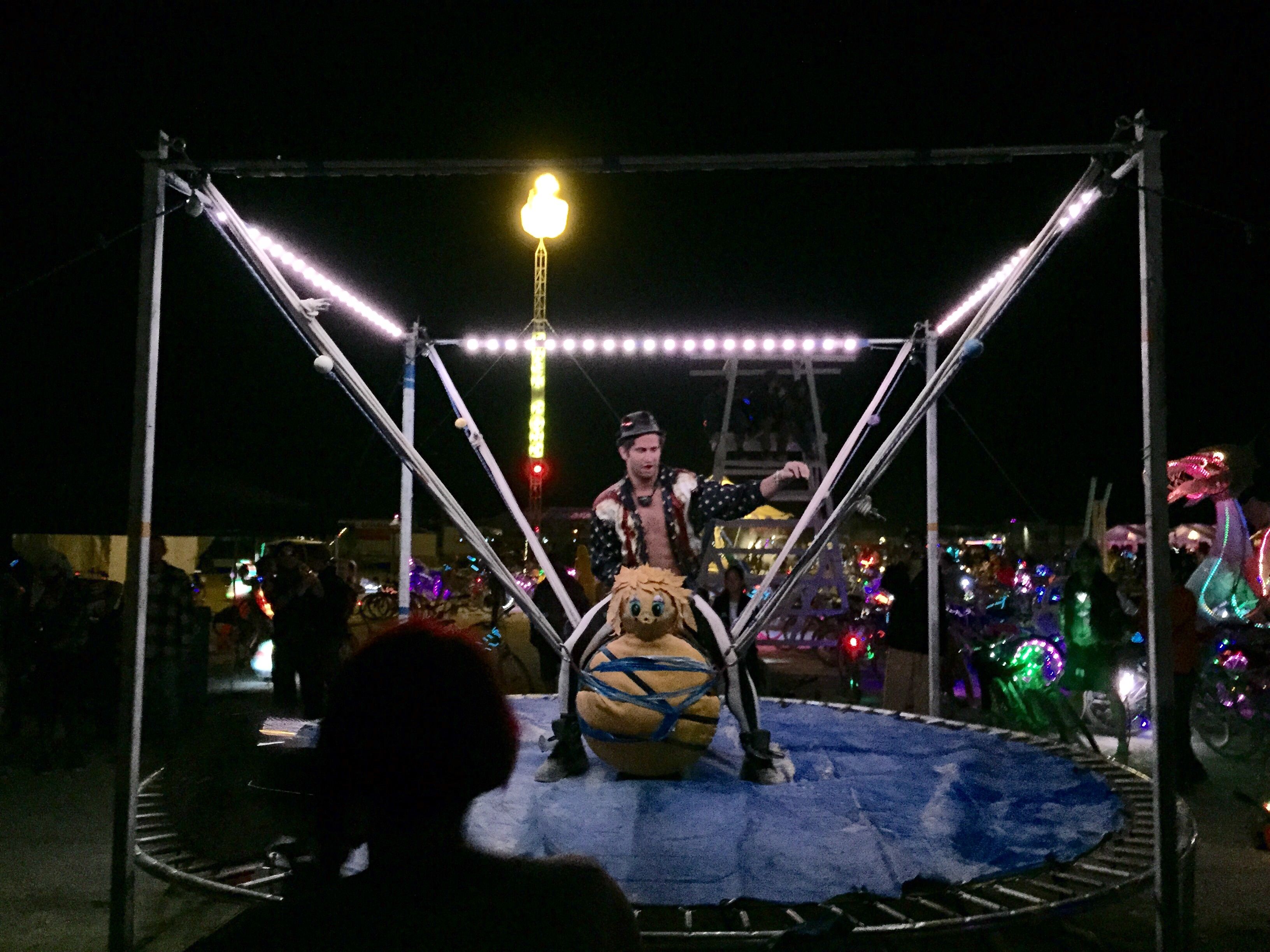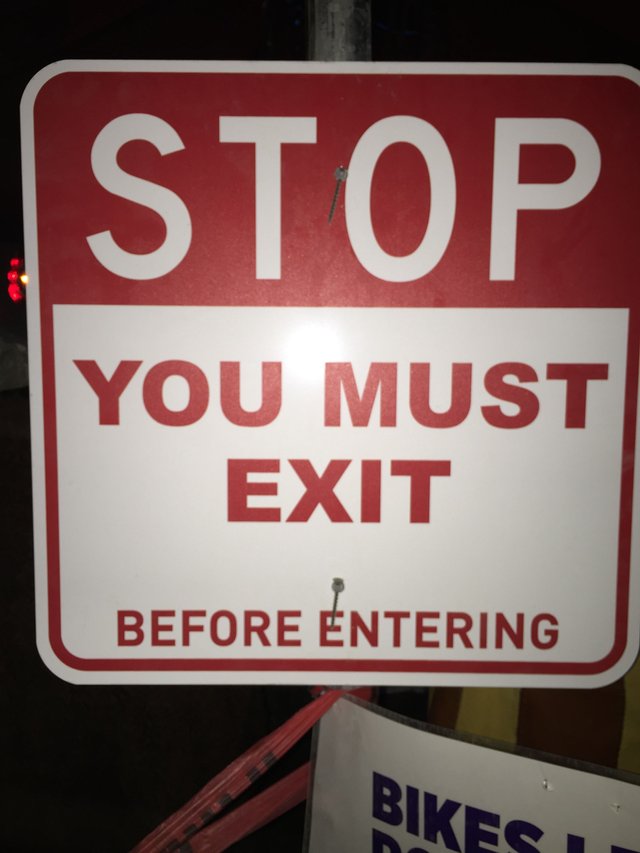 Makes sense.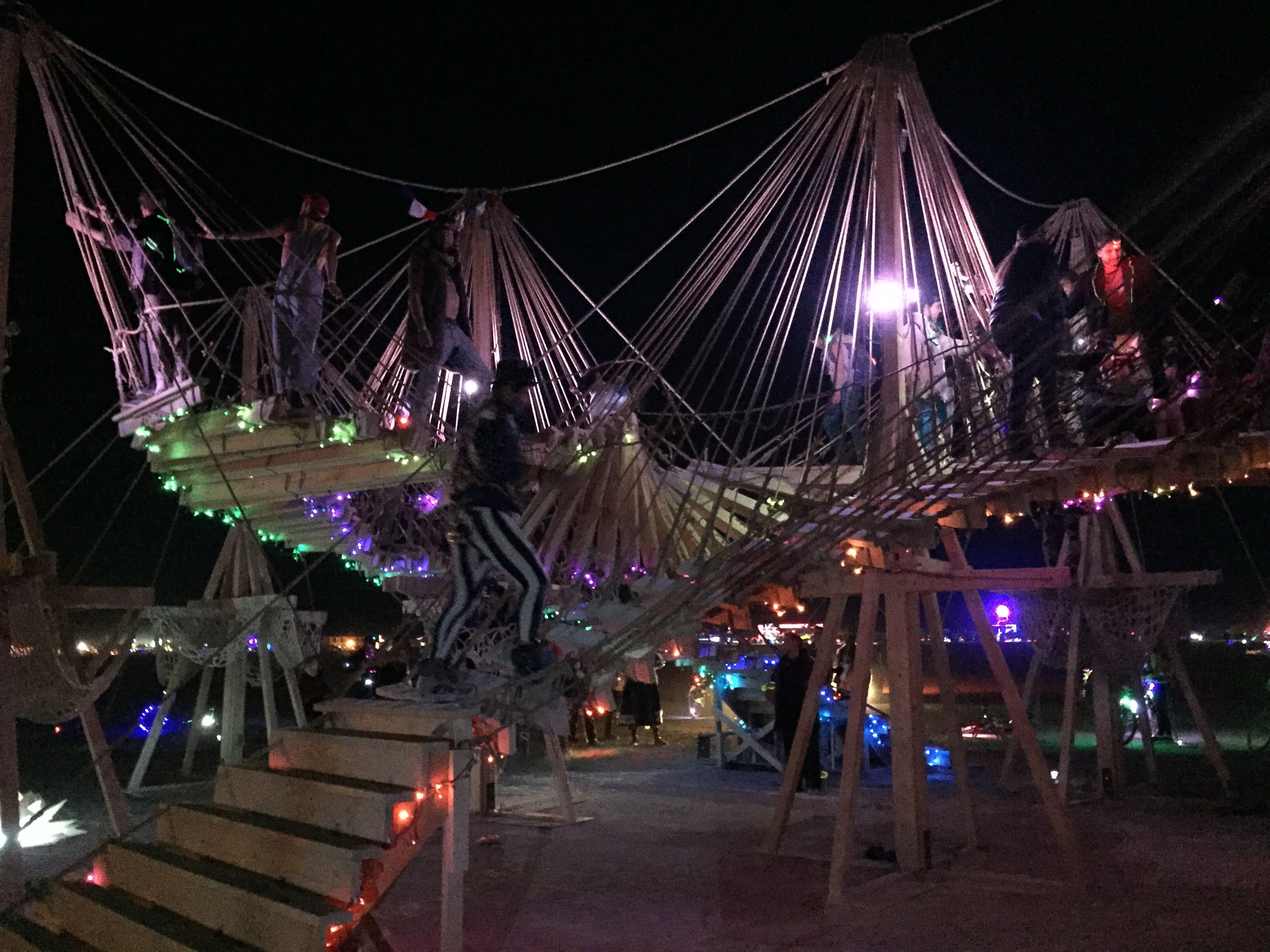 One of my favorites before burning it.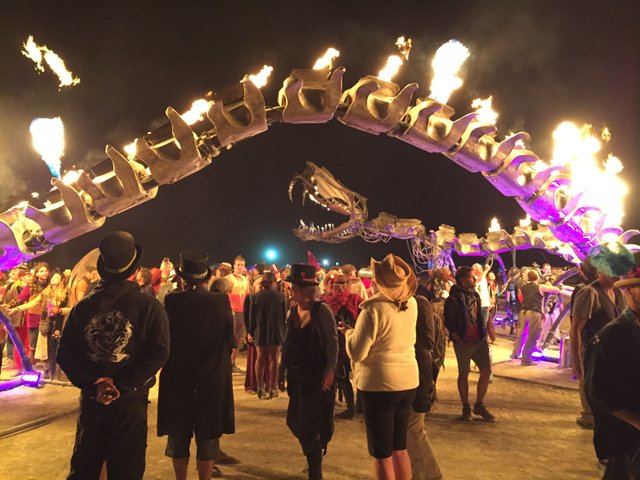 Ahhhh she's alive! The mouth spits out FIRE!!!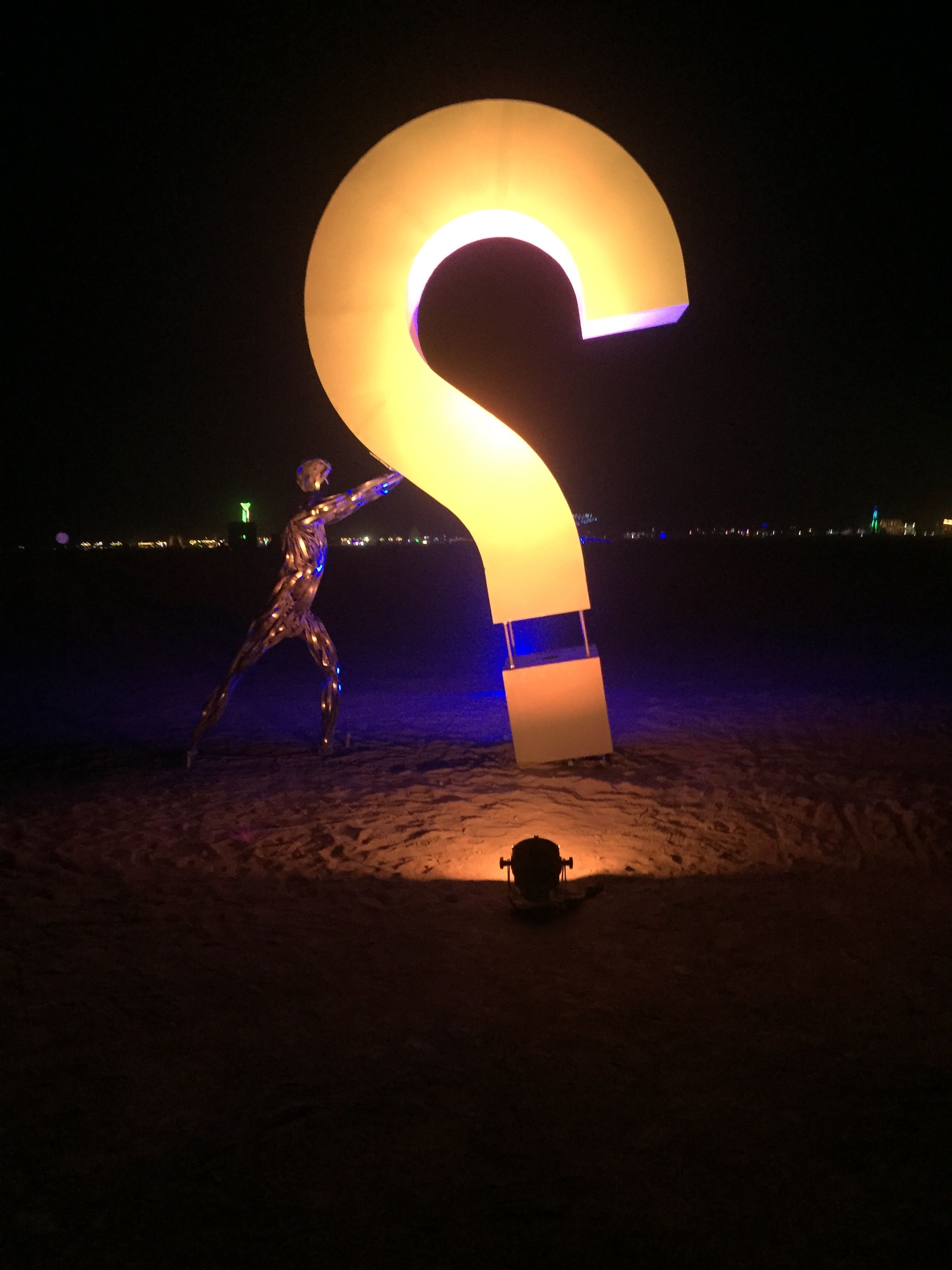 Who invented the Question Mark?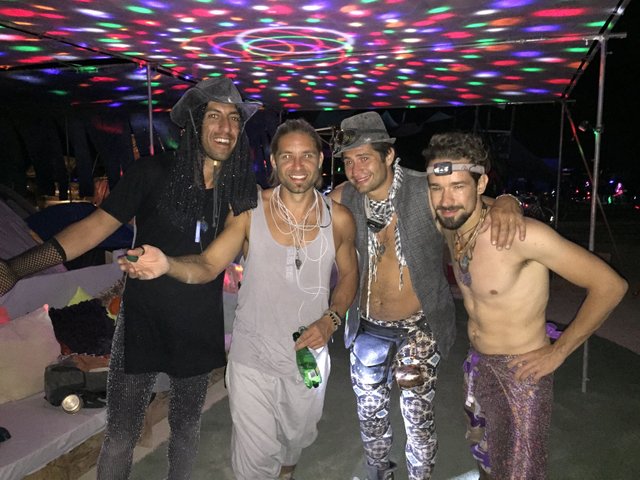 Boys and their toys.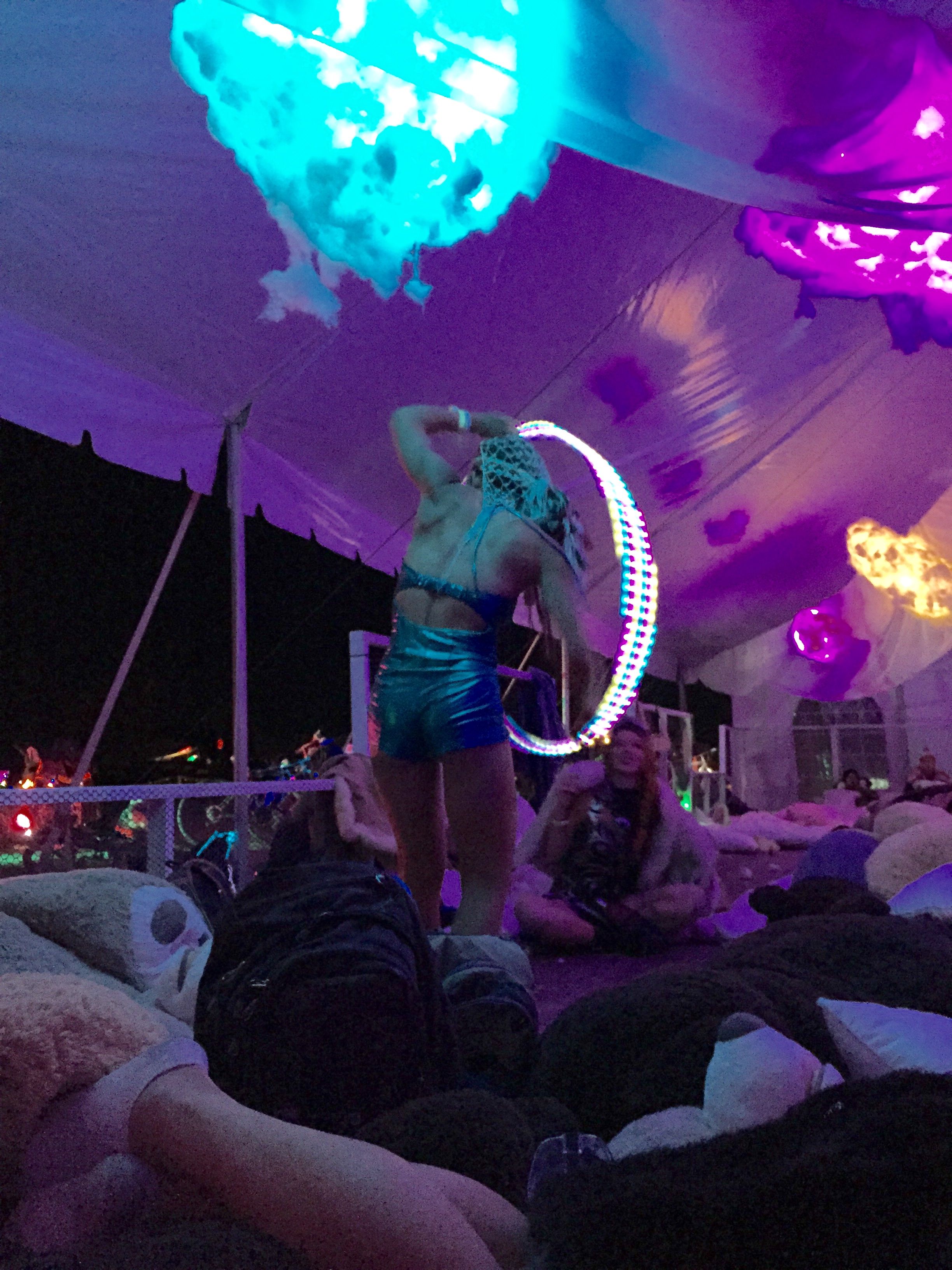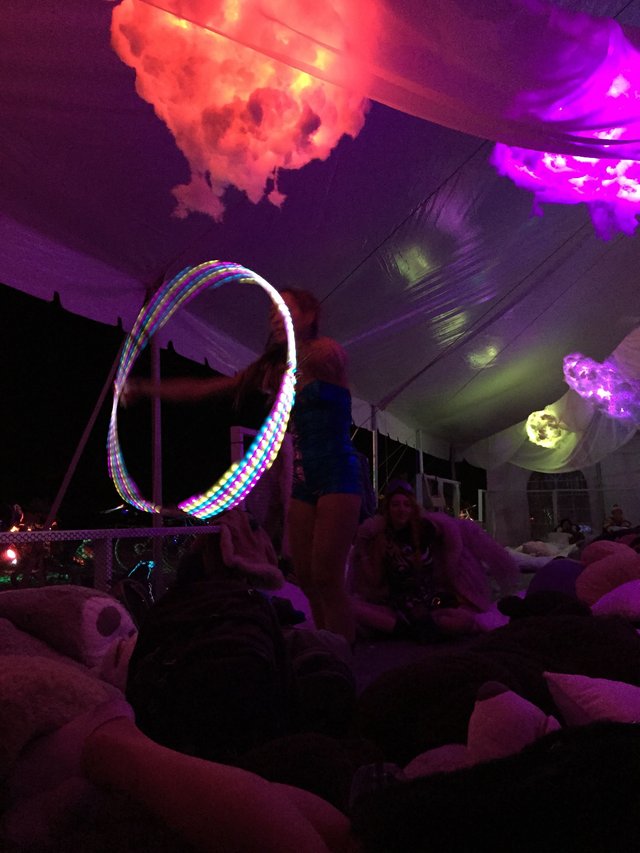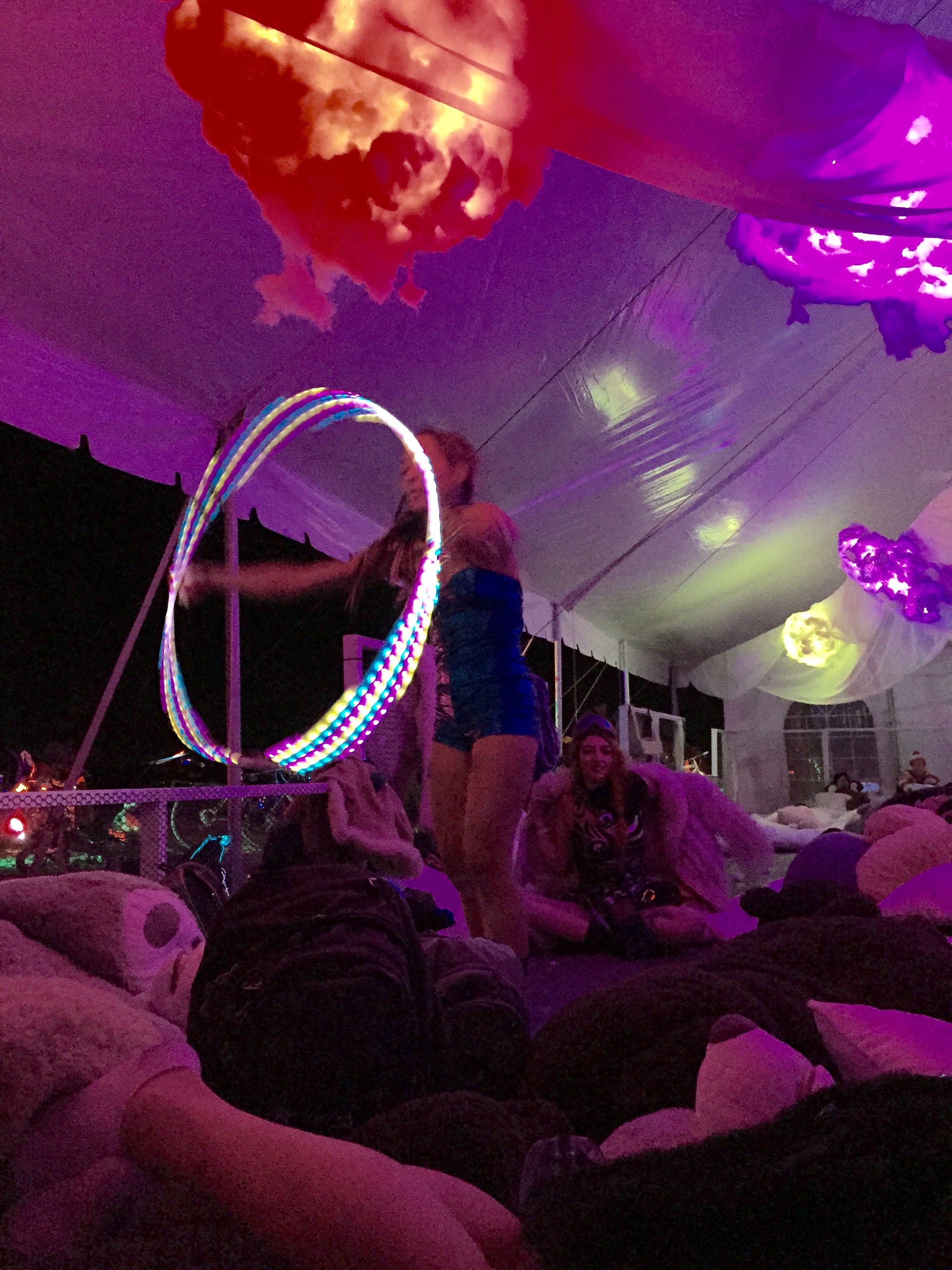 One of my favorite parts of this year was watching my girl Bina KILL It with the hoola hoops. Had no idea people can move like she does... well, I had some idea - but wow.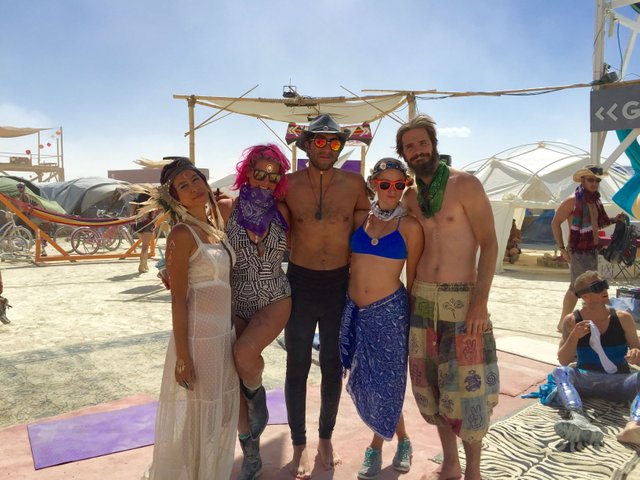 Our camp this year offered yoga as well.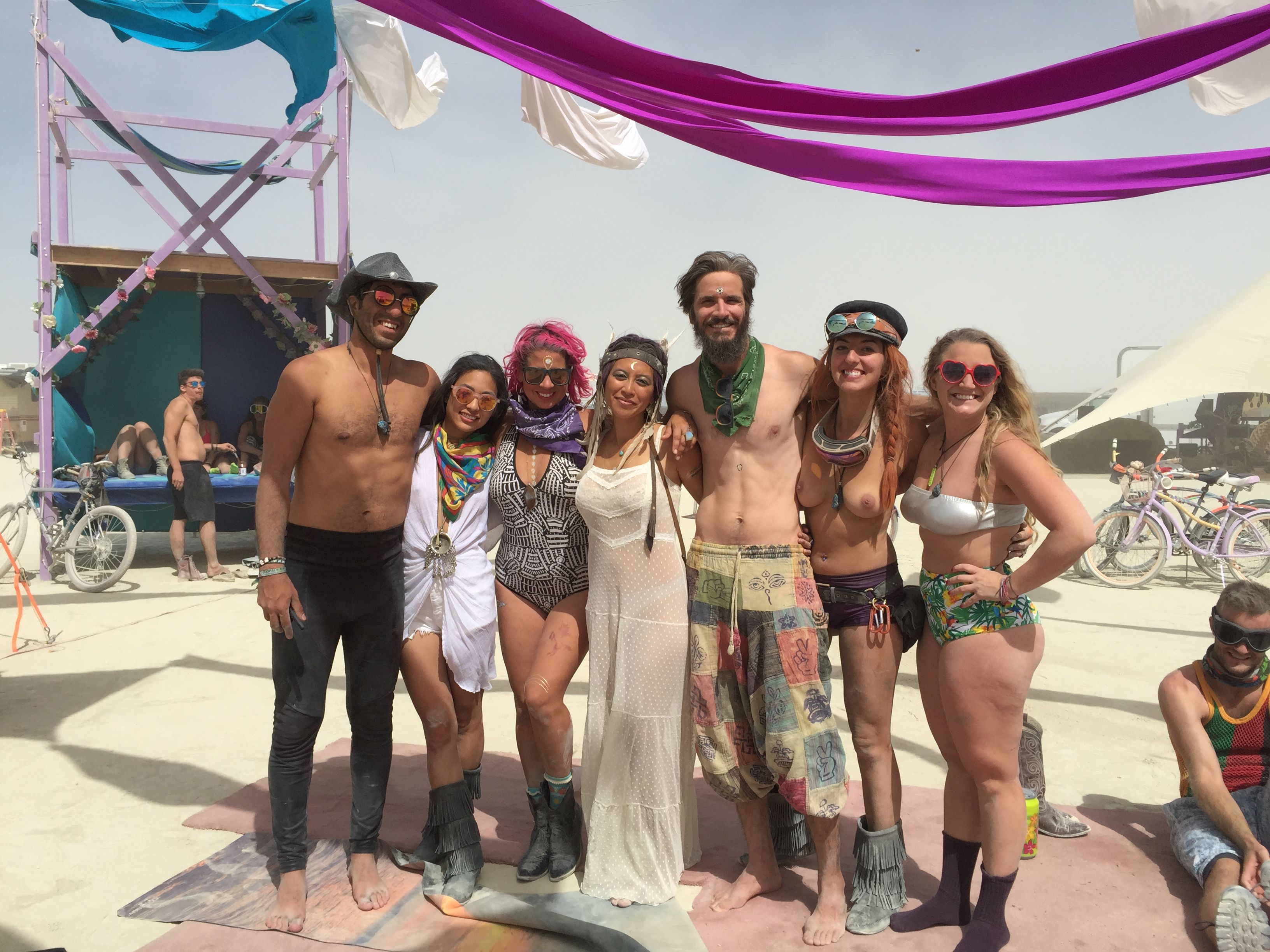 In between sandstorms of course...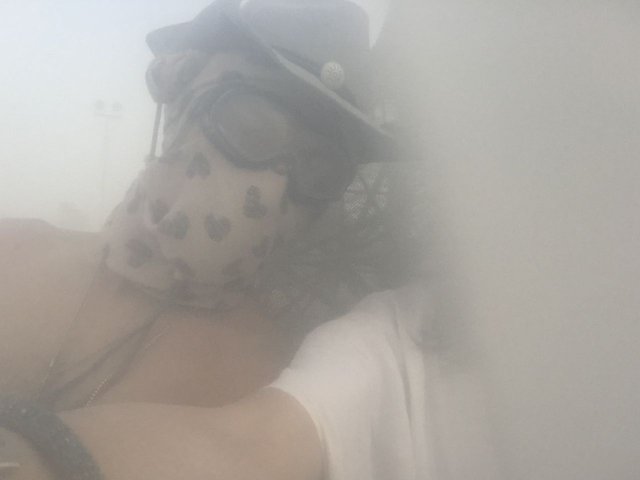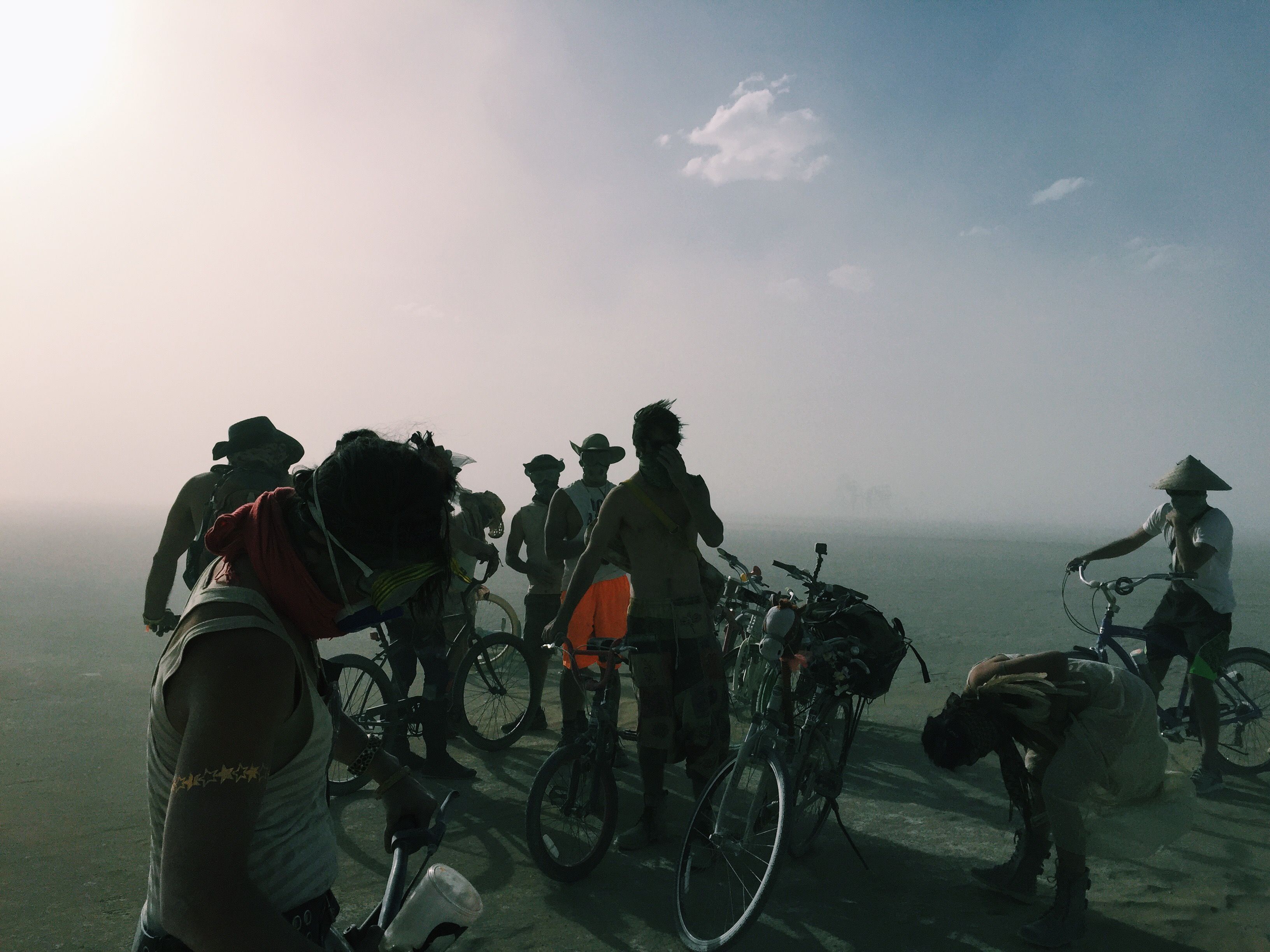 It was also a somber year in some ways as I had 2 close friends pass away. Burning Man commemorate those we have lost over the years. Here's to you both Kelsey and Jackson. Miss you guys.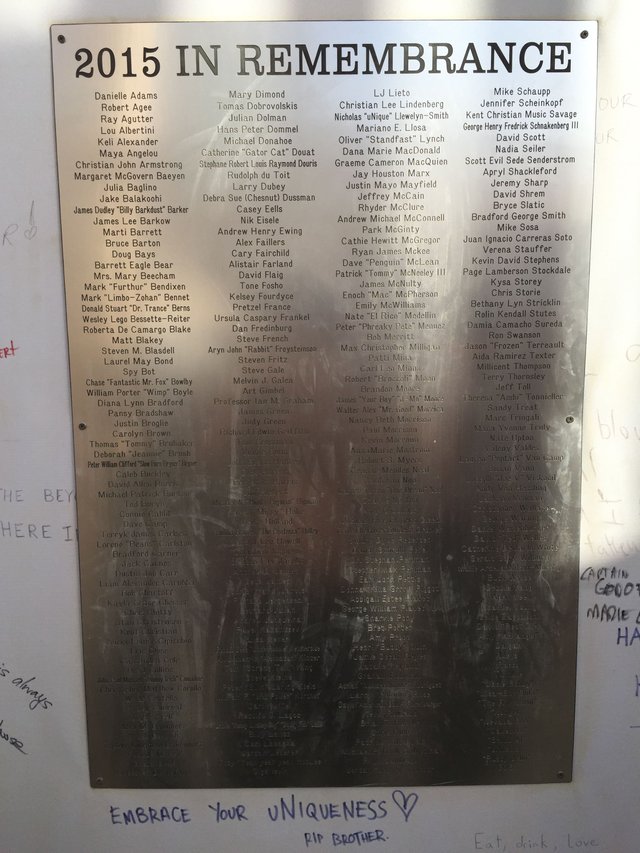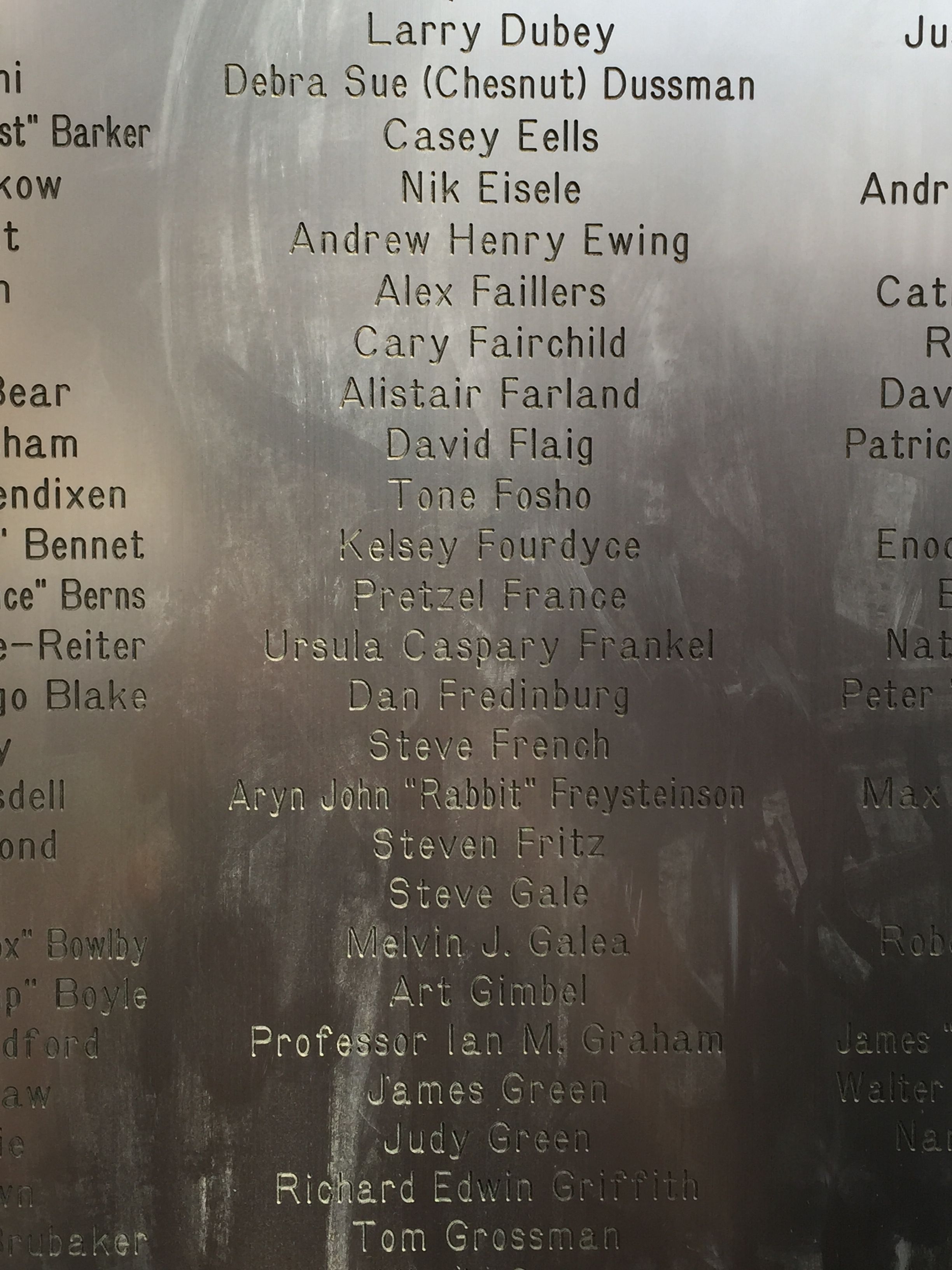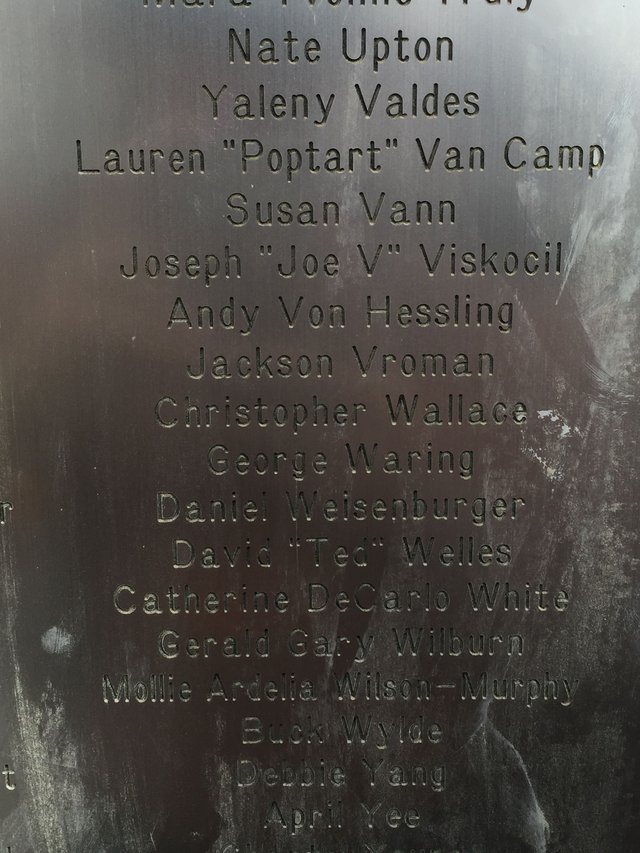 This year this was at the base of the man. The theme was Carnival.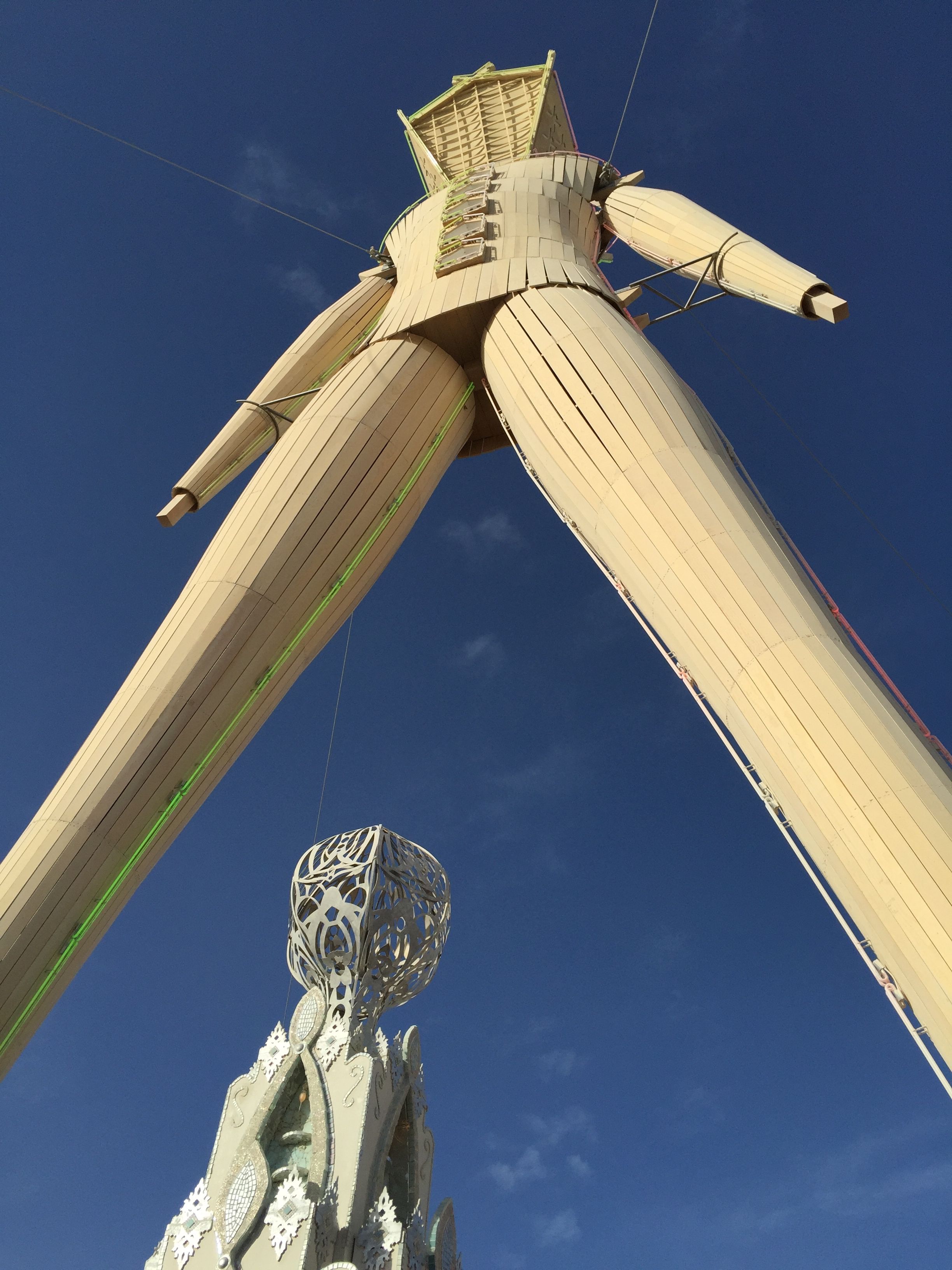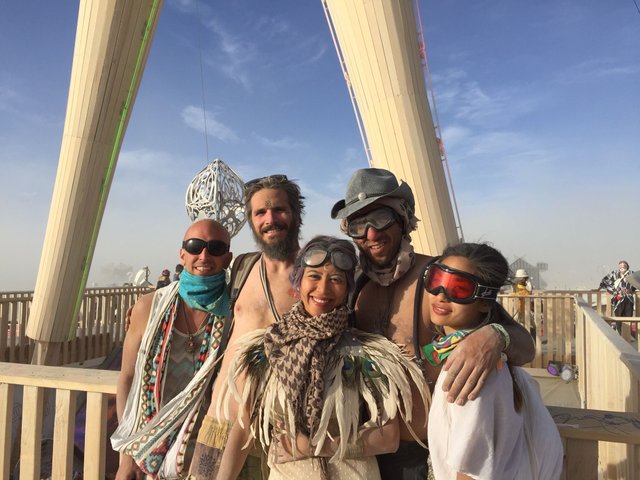 Just controlling skeletons in sandstorms...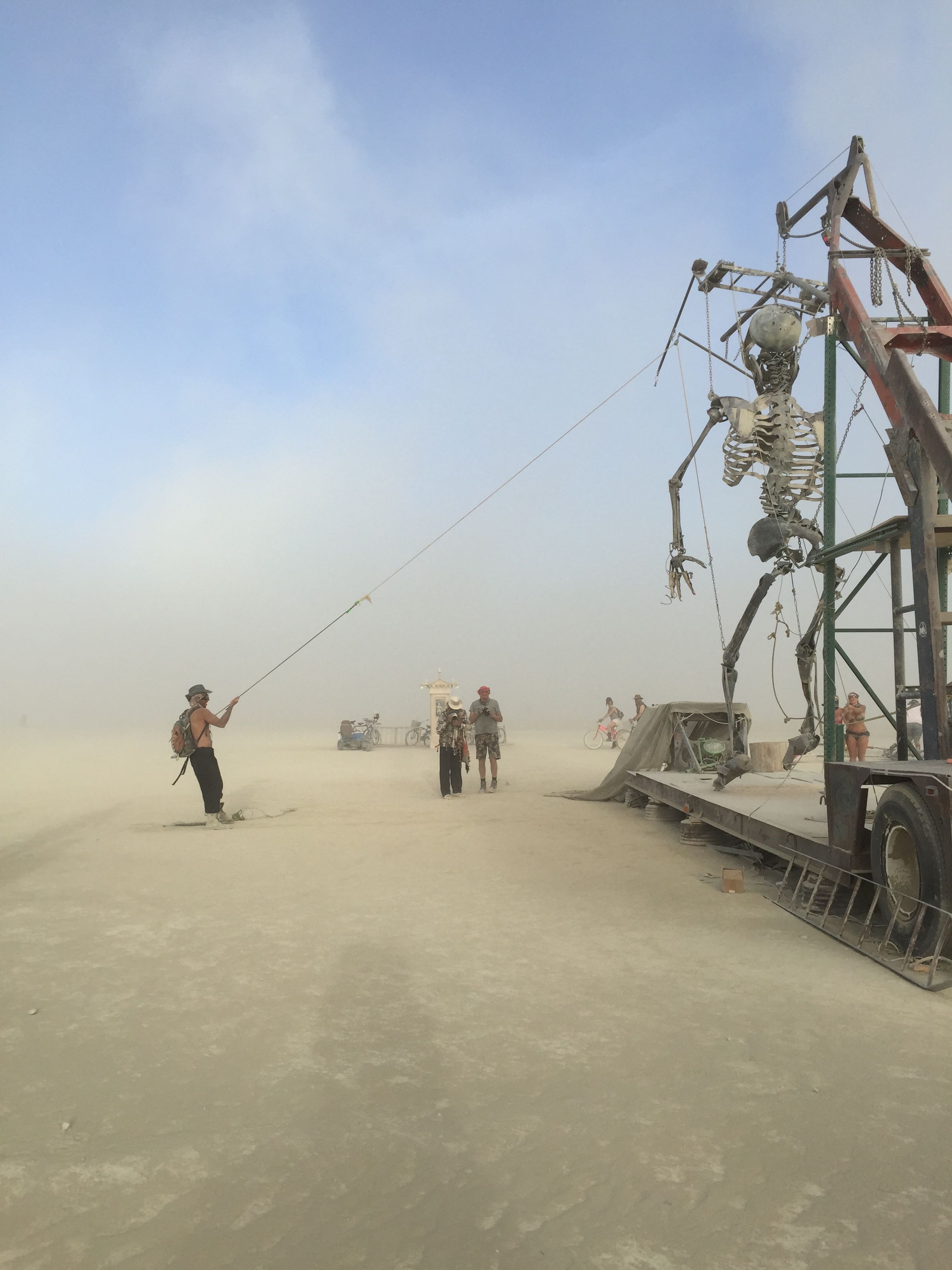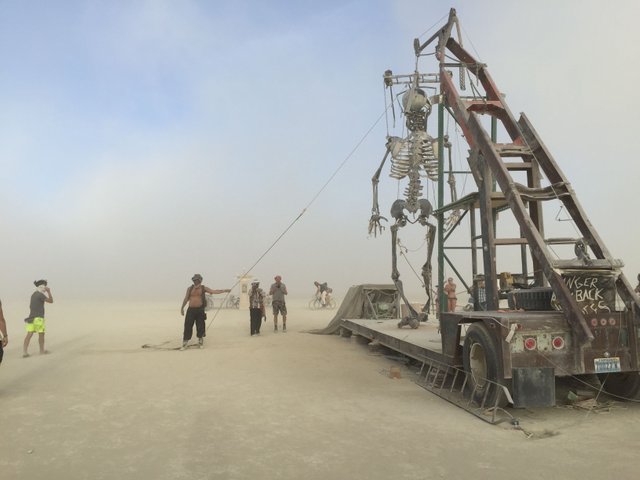 Oh, and did I mention Marcelle is not only beautiful, but an amazing DJ!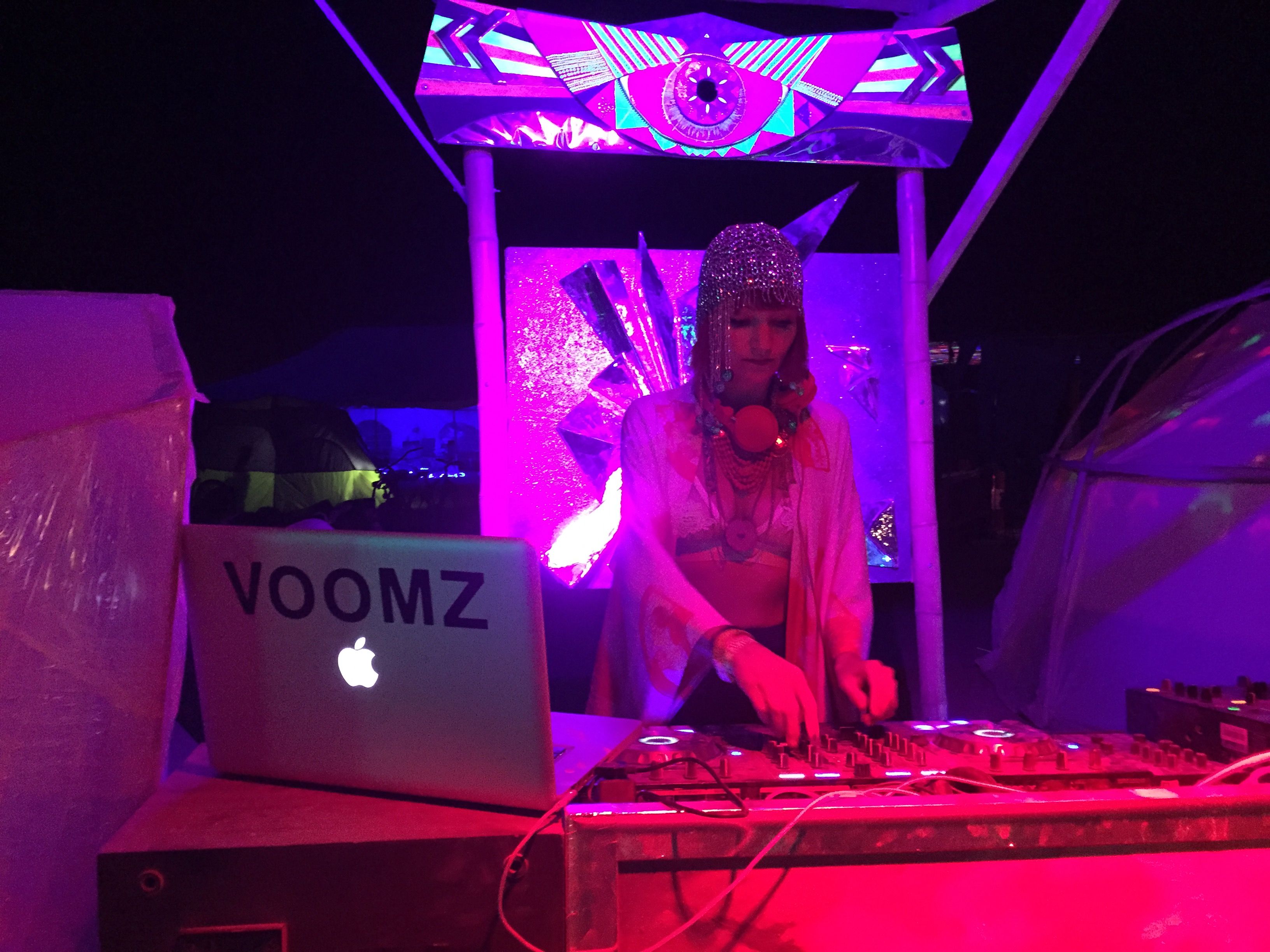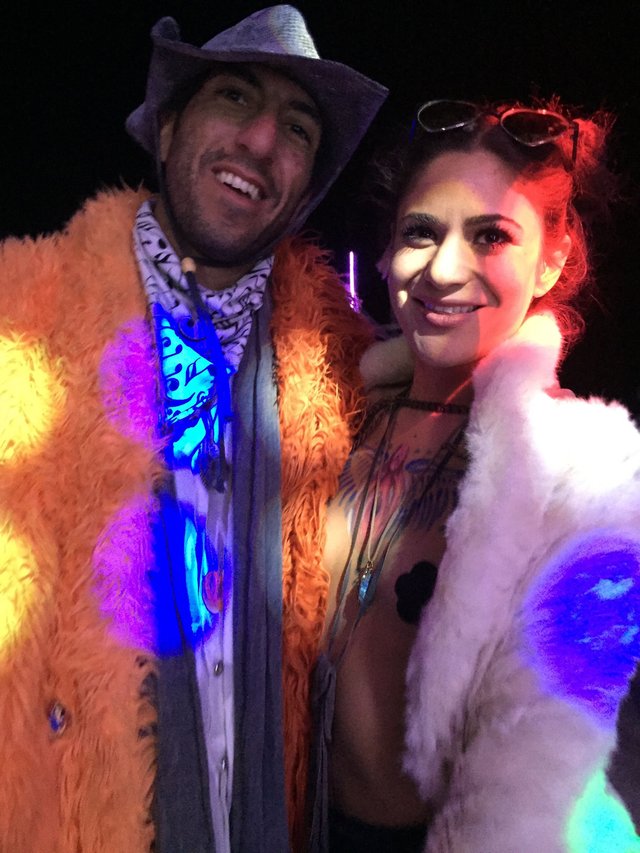 Deena and I on a cold night!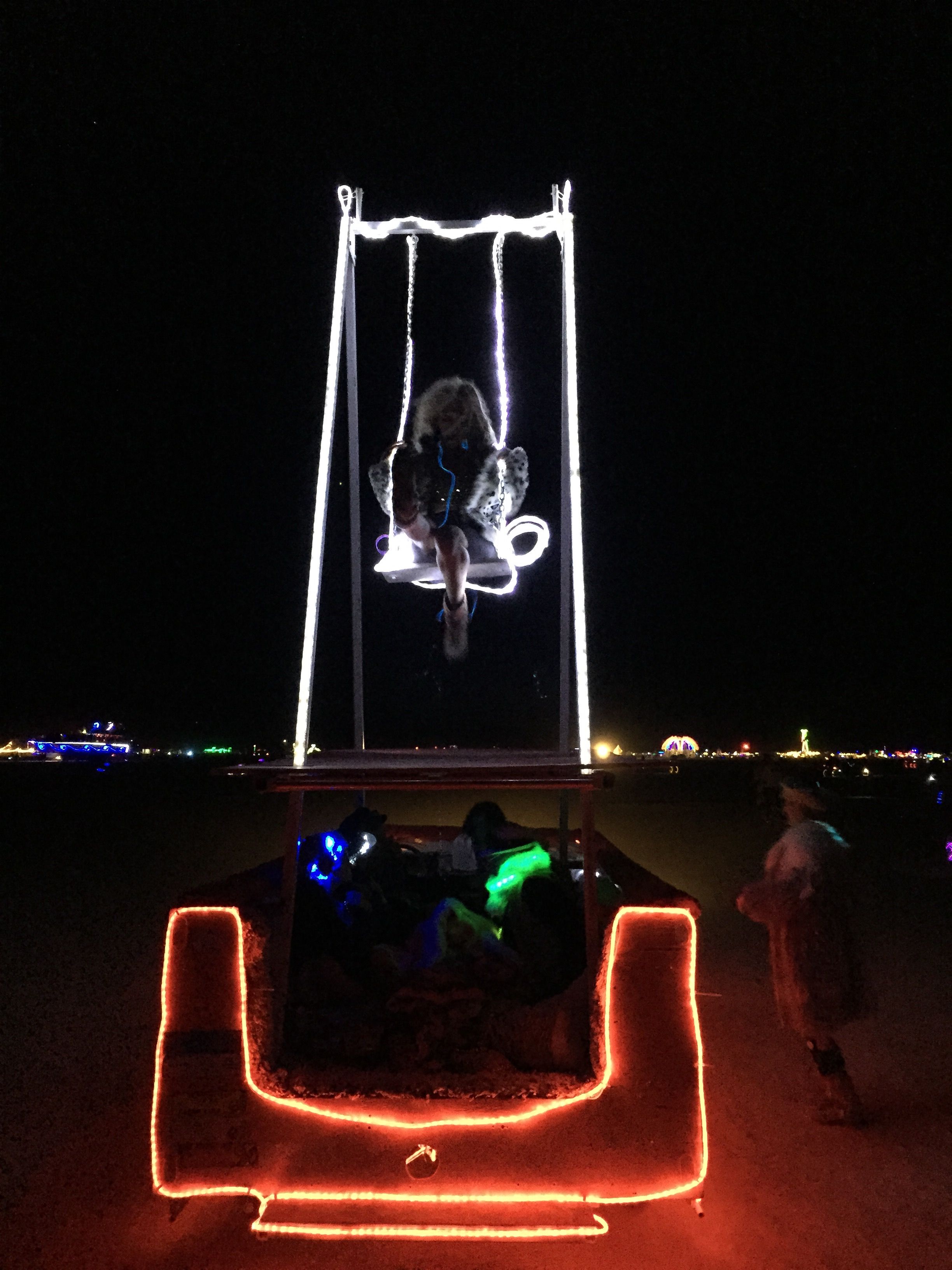 Art Car with a swing!

Marcelle and I at dawn.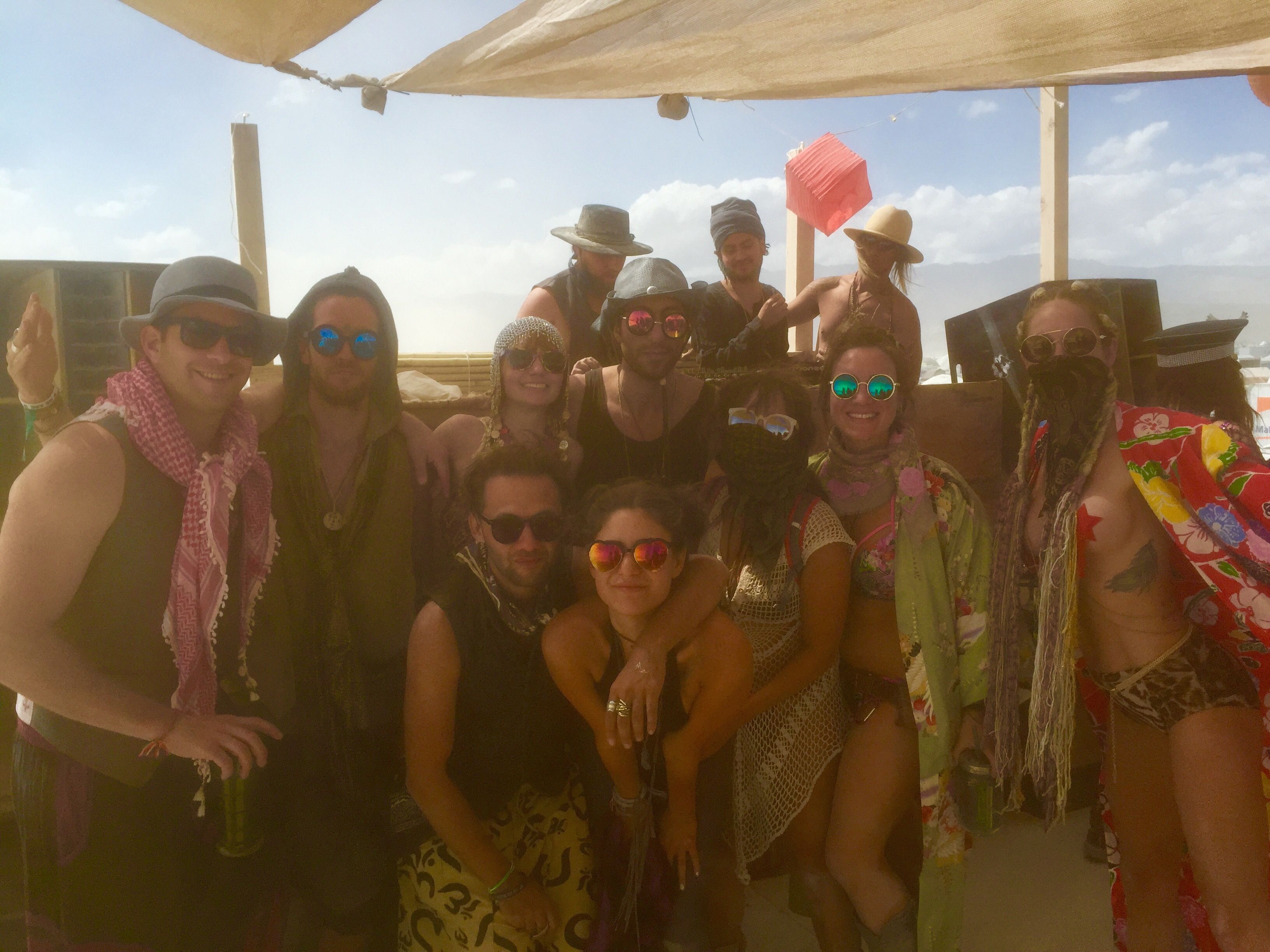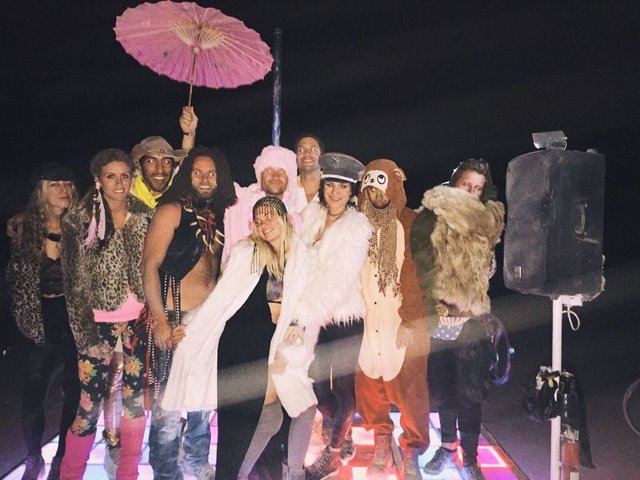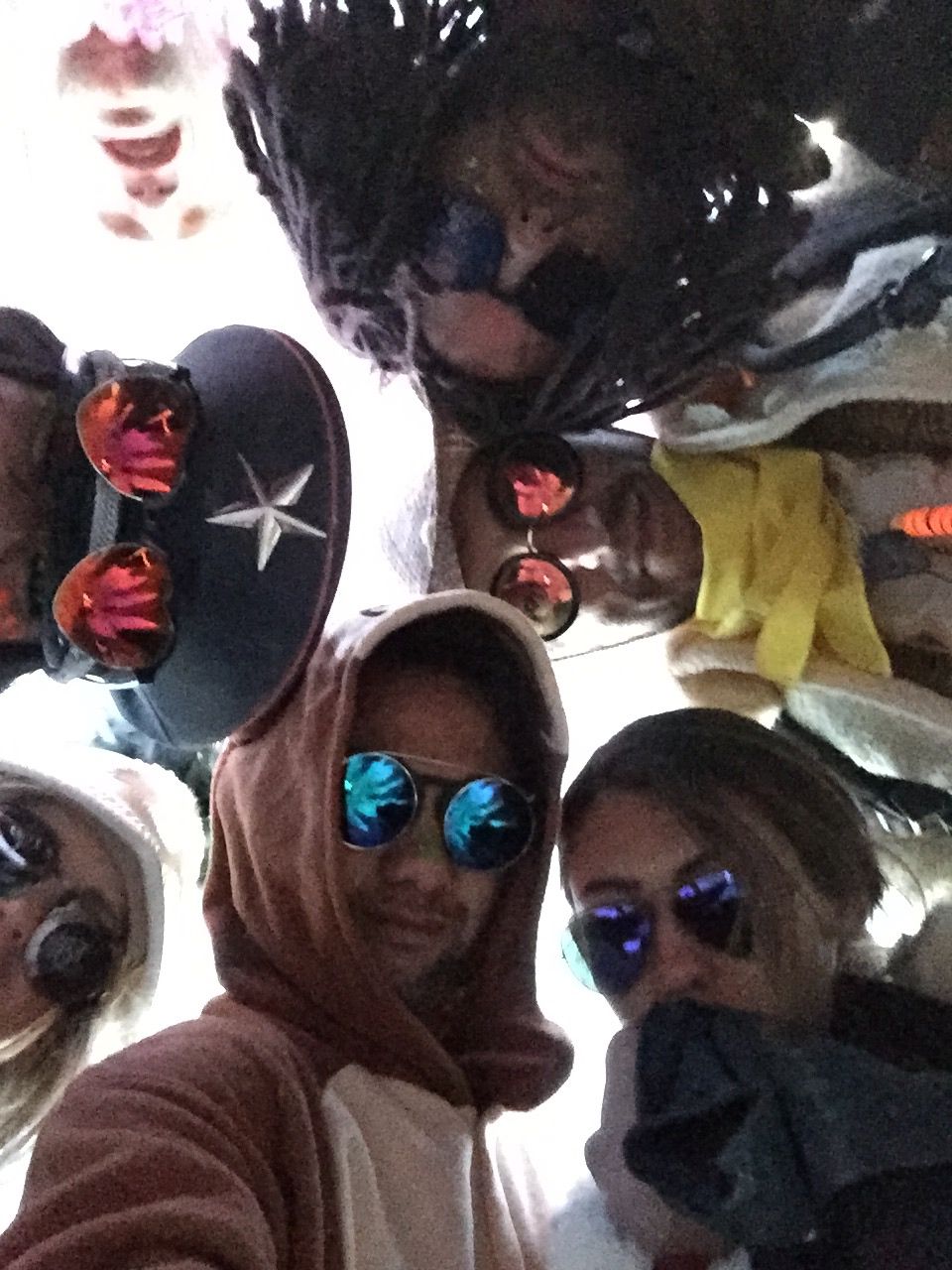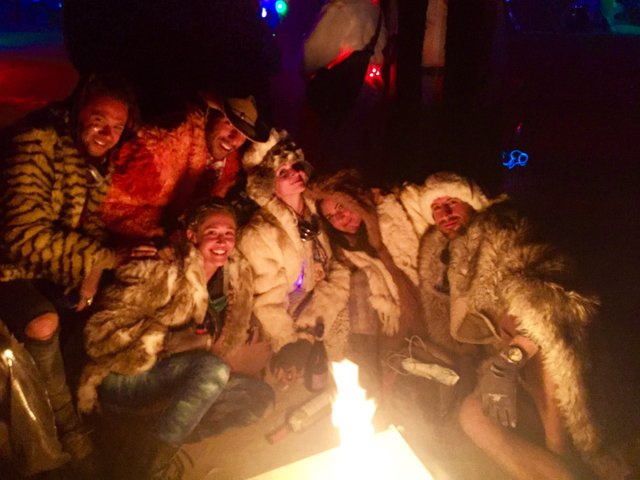 New Friends and old come together. Day / Night - it doesn't matter. Music on point and off the hook. What more can you ask for...?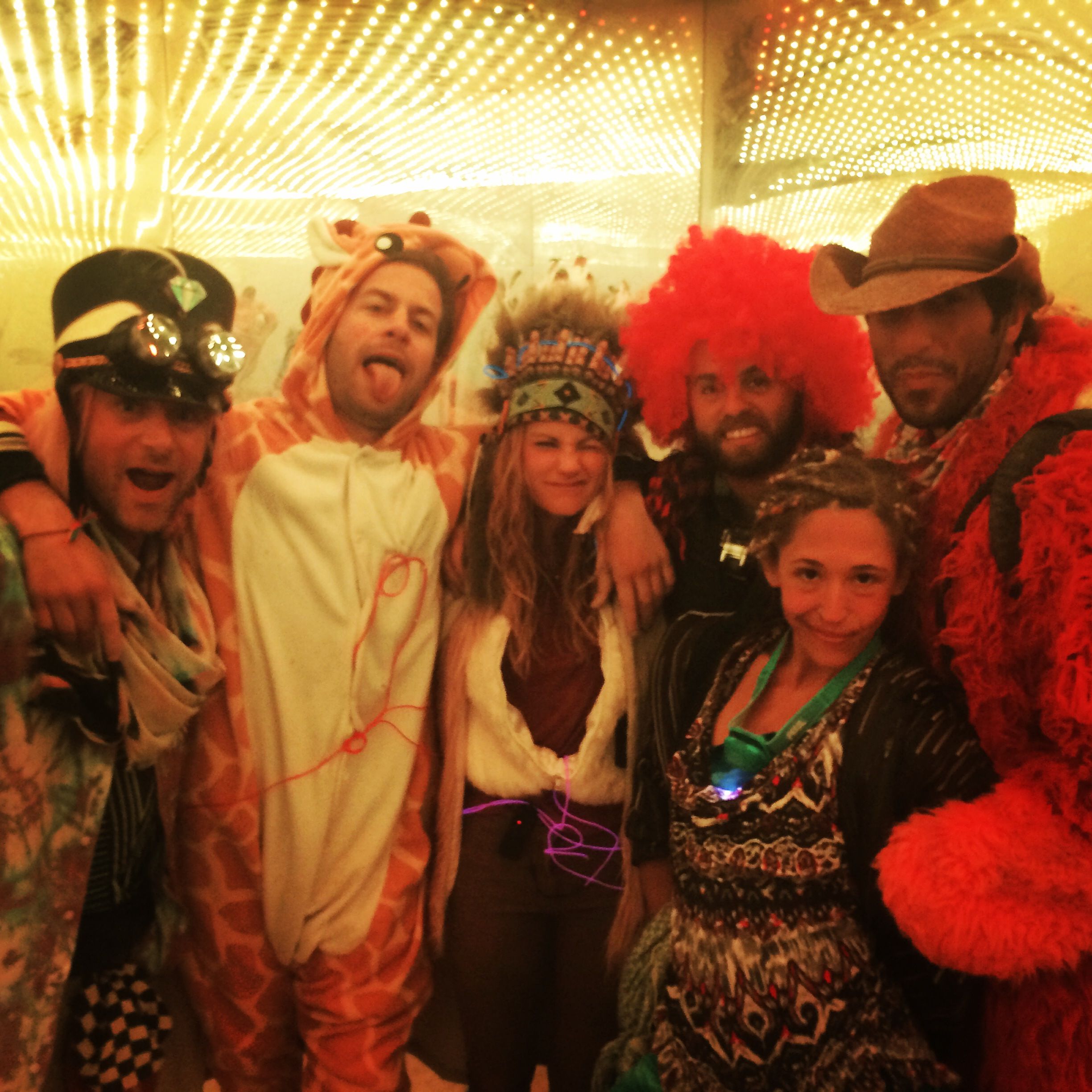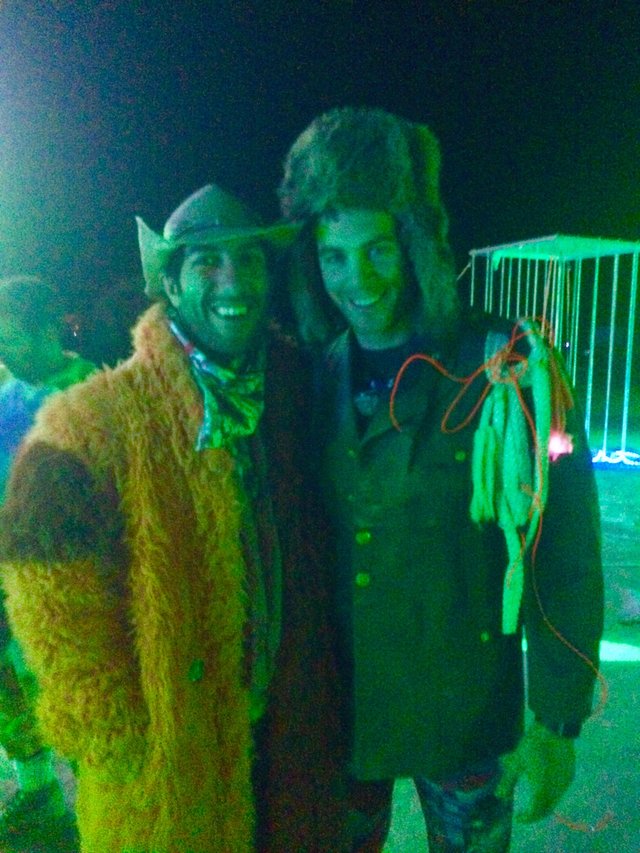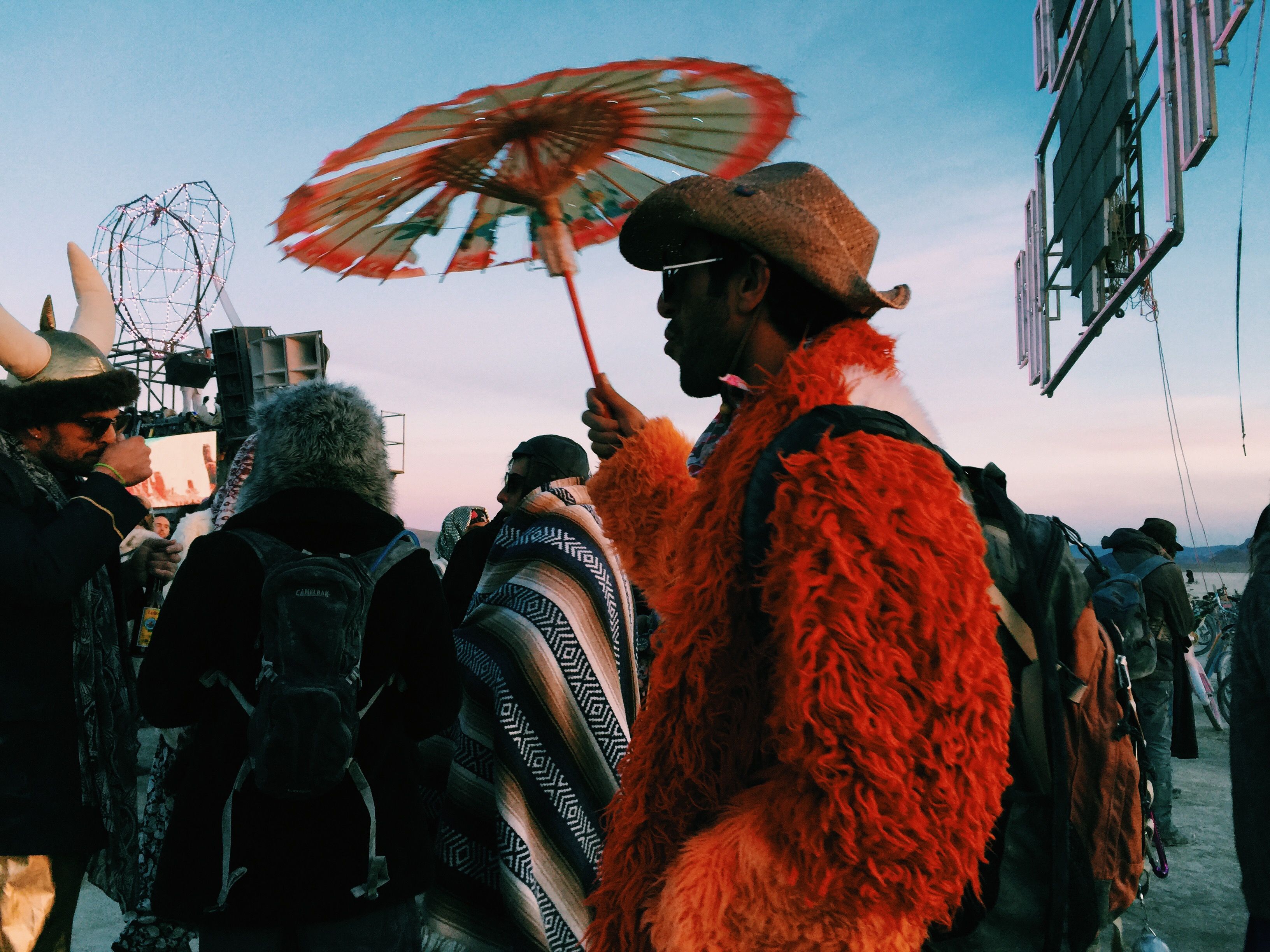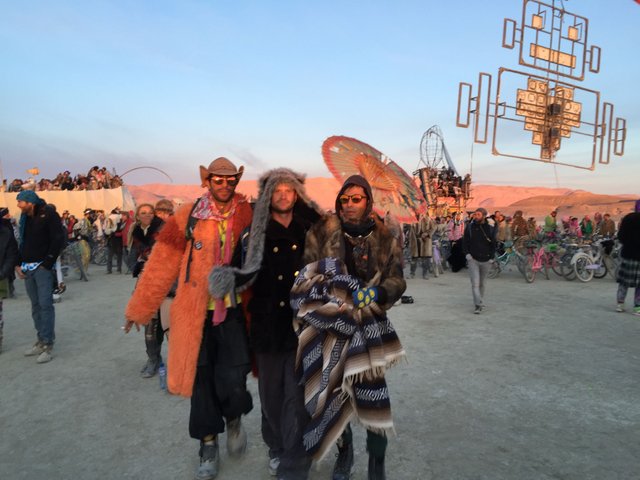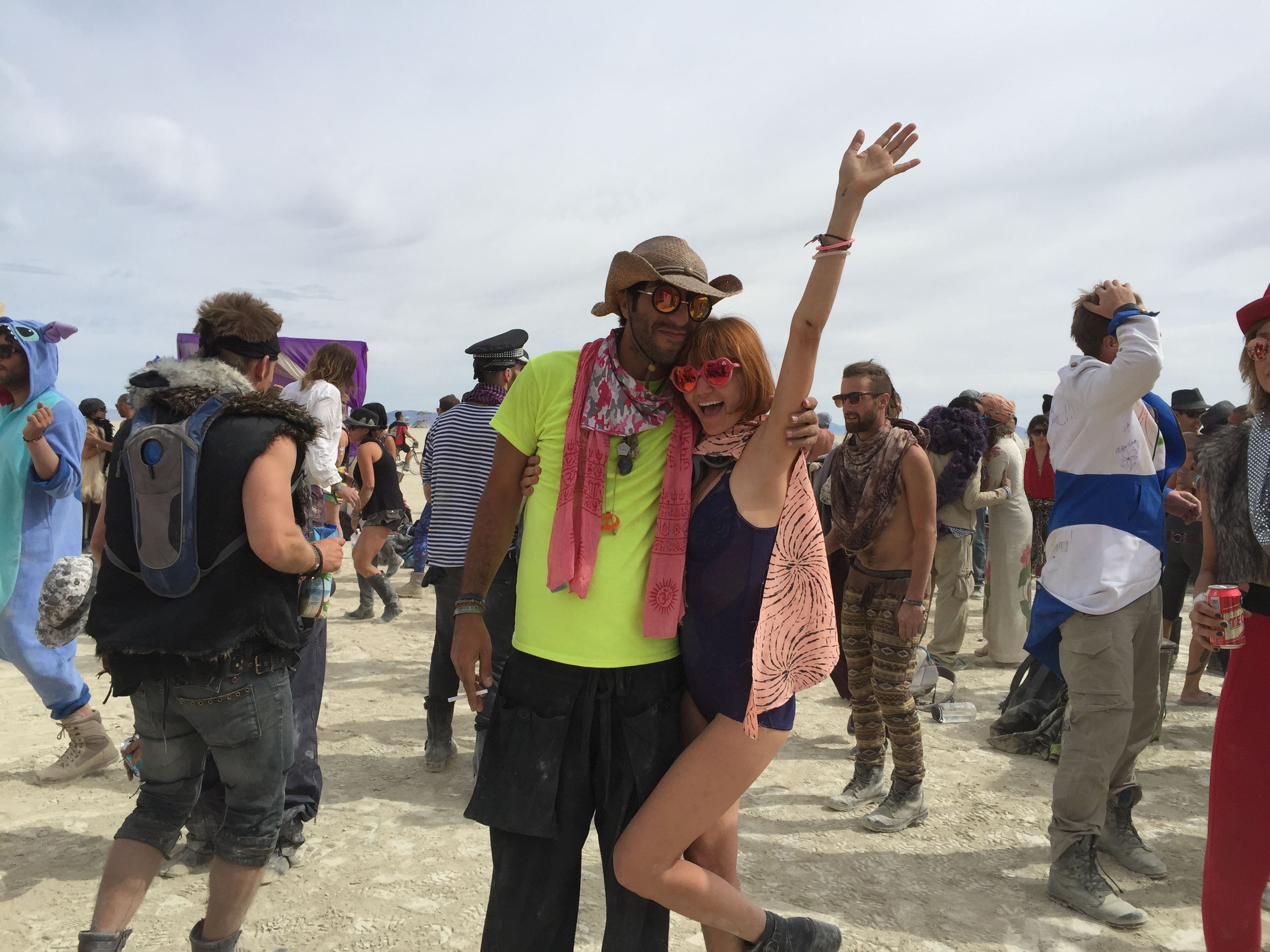 Always can count on her having a good time.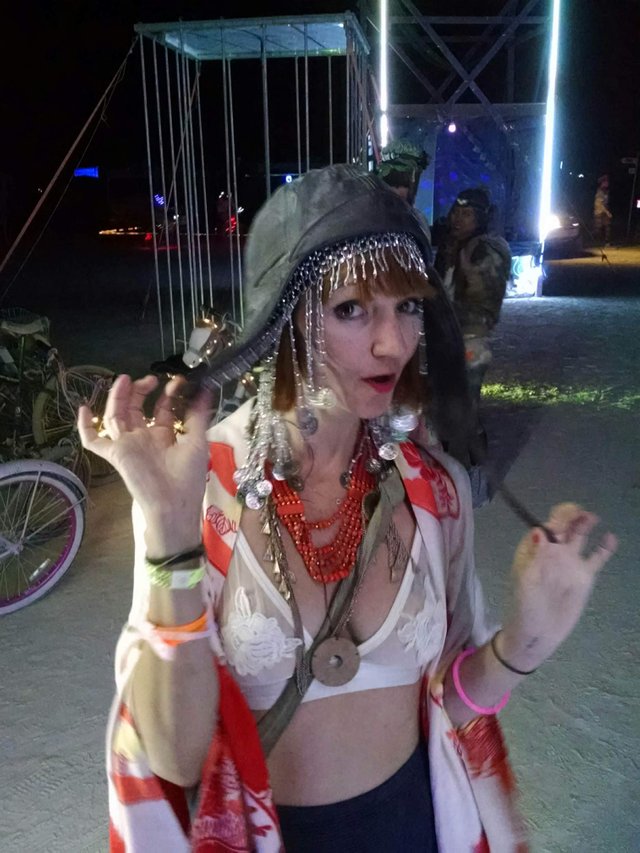 One of my favs around.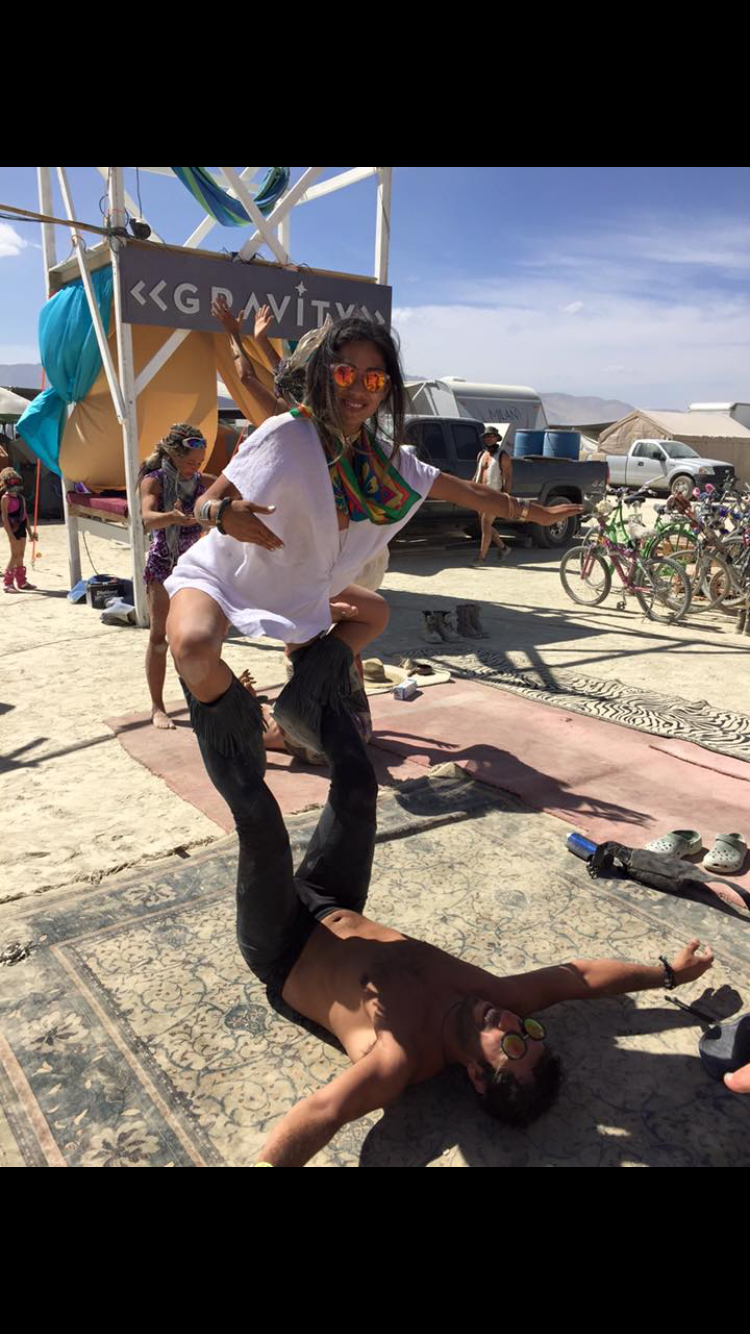 Acro-yoga in full effect!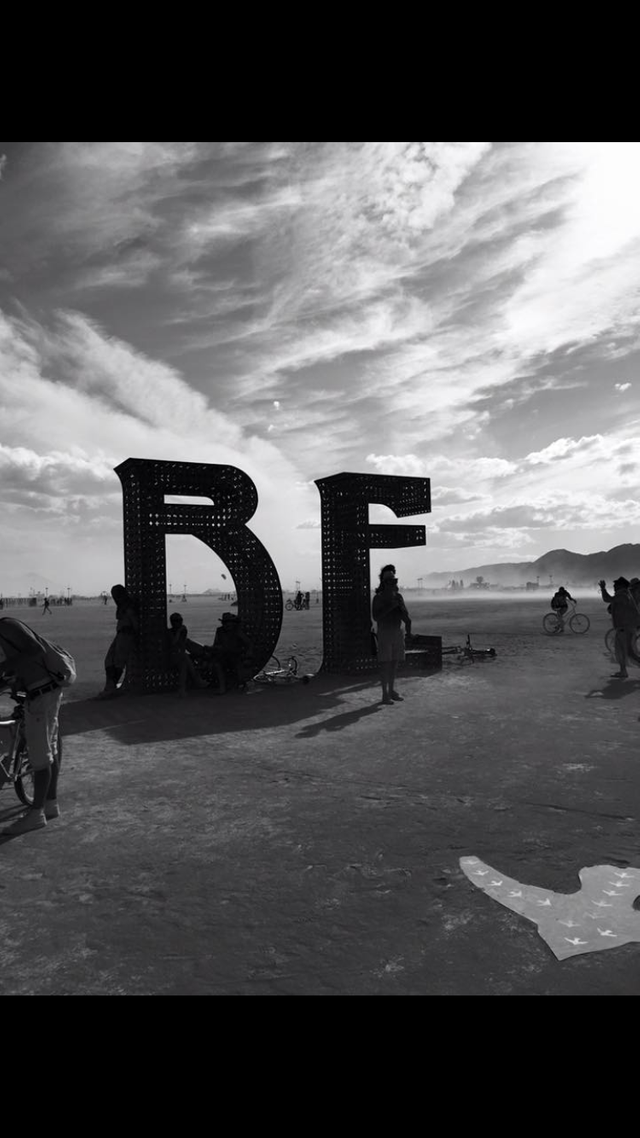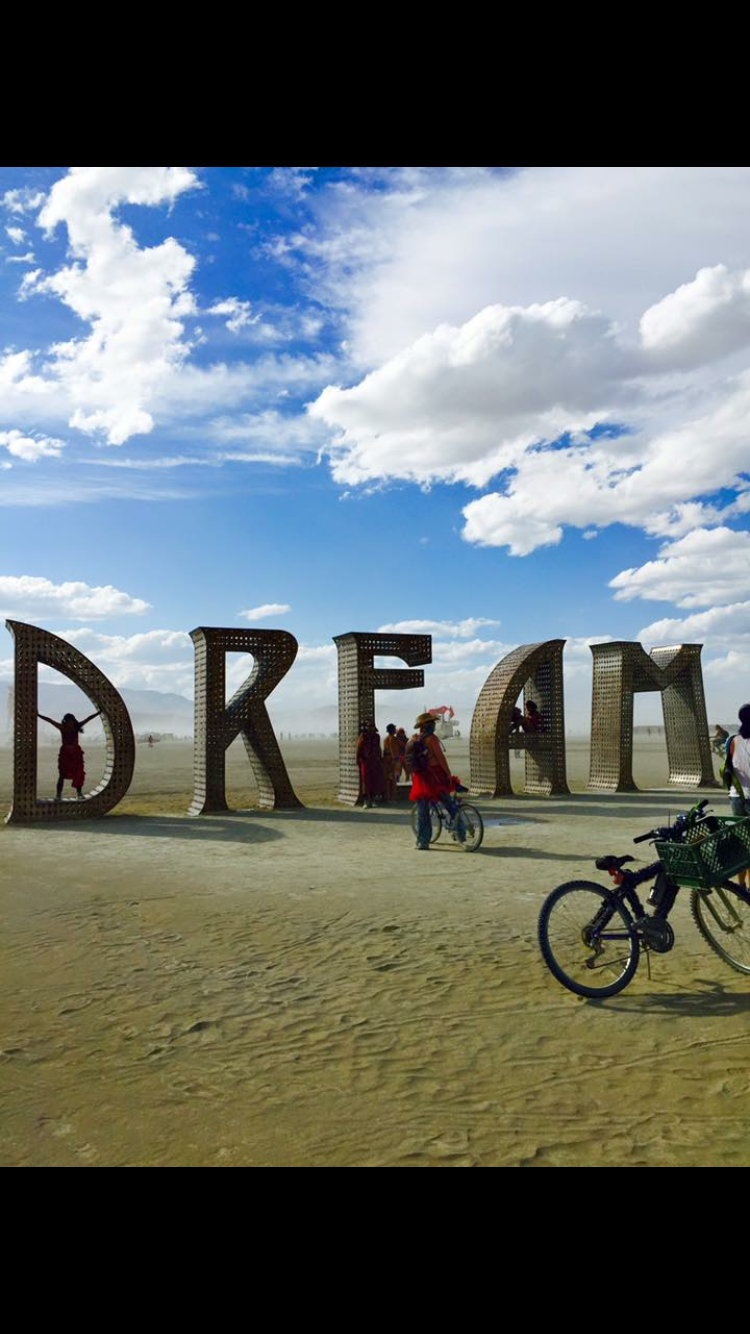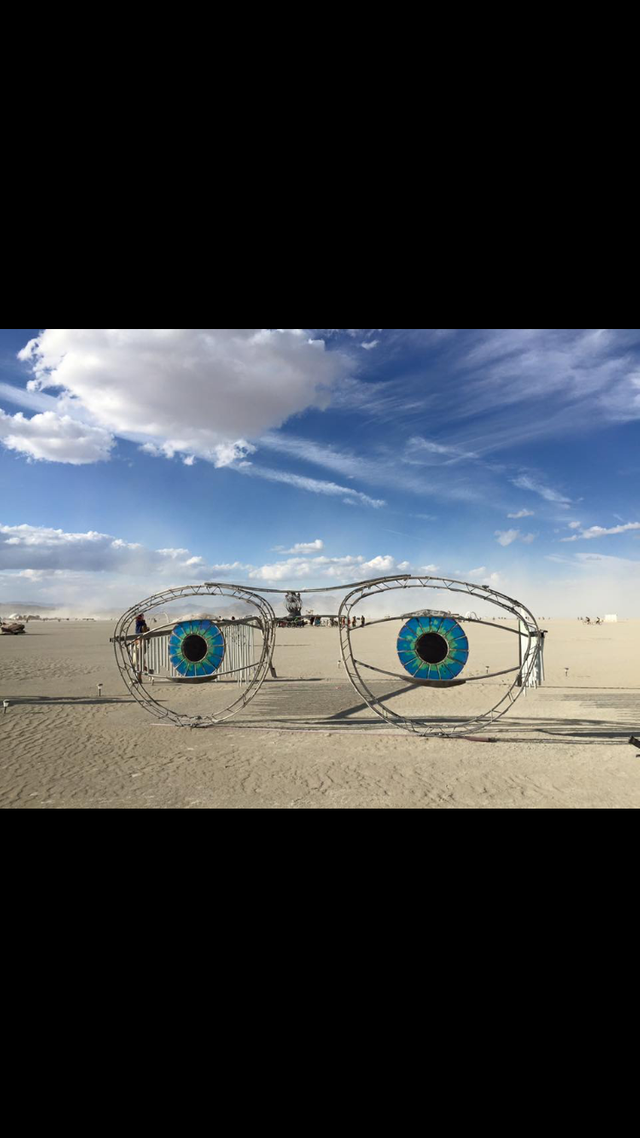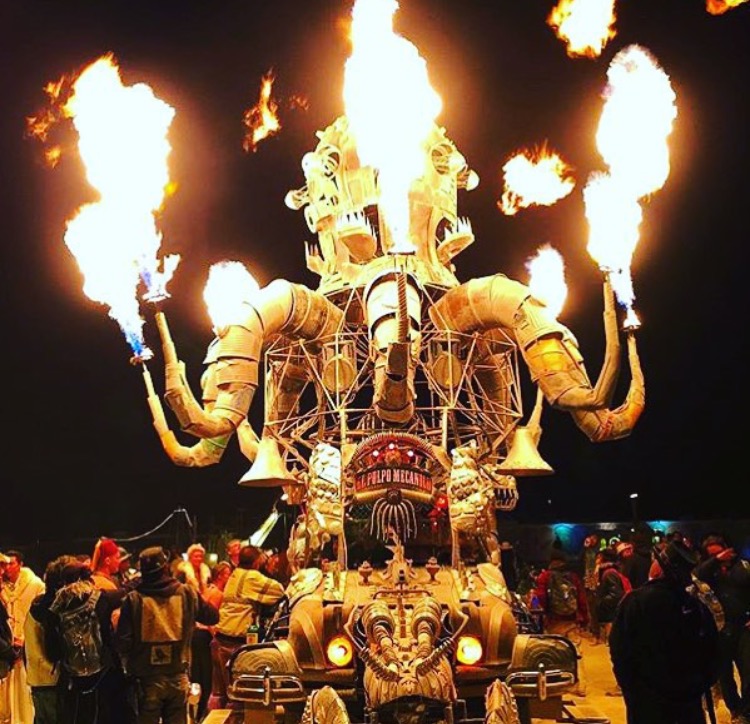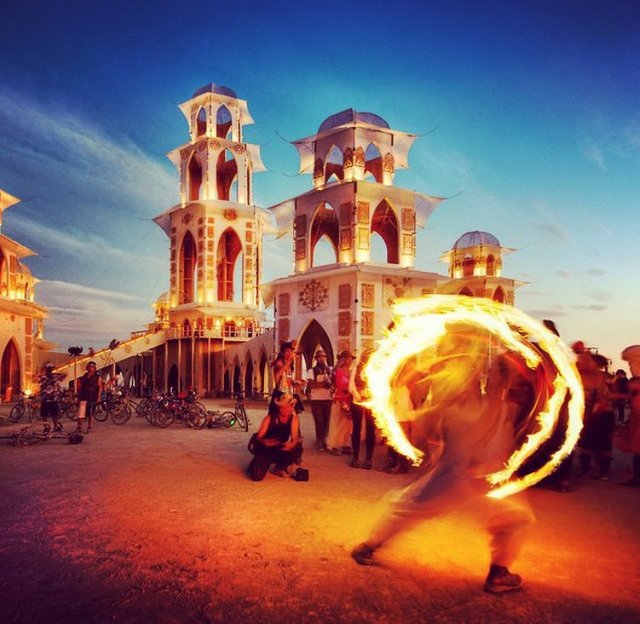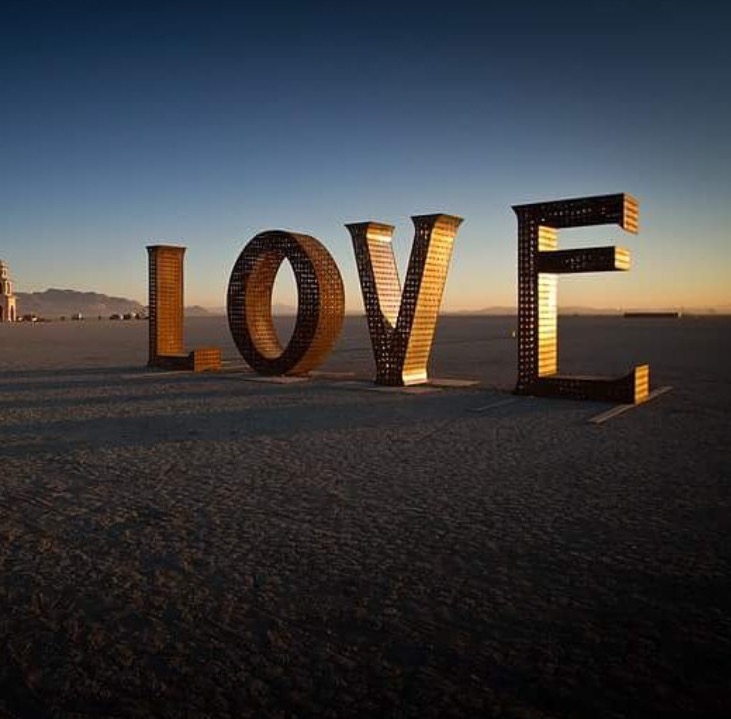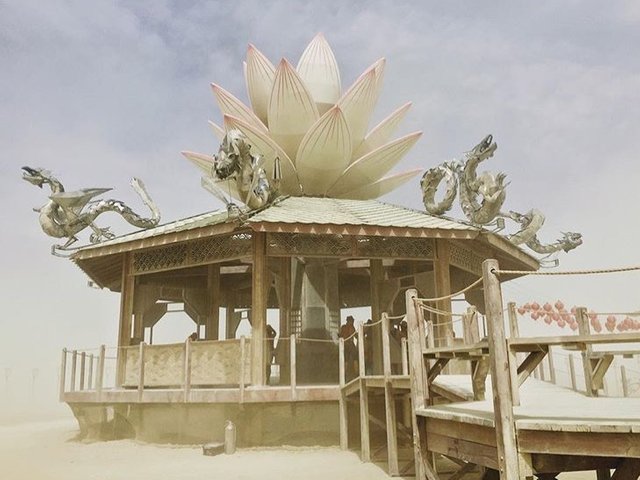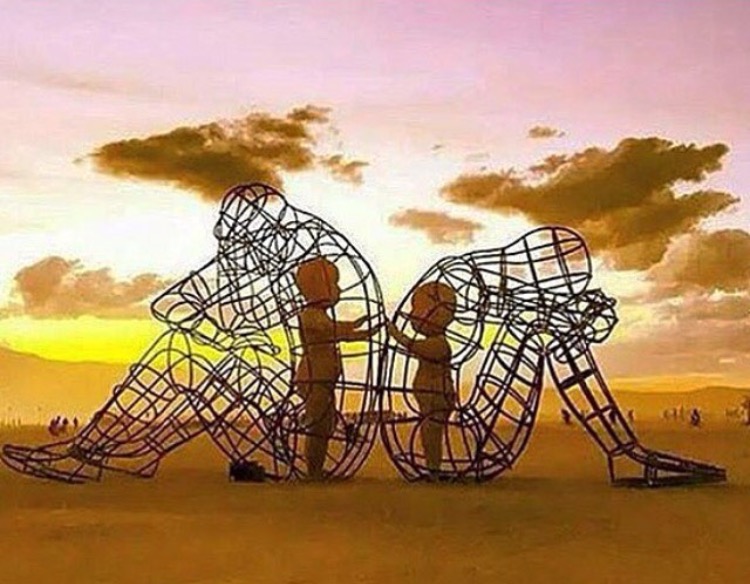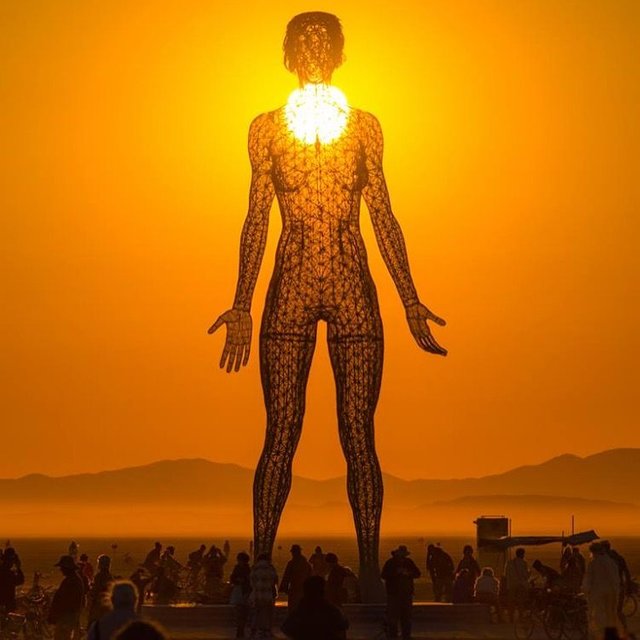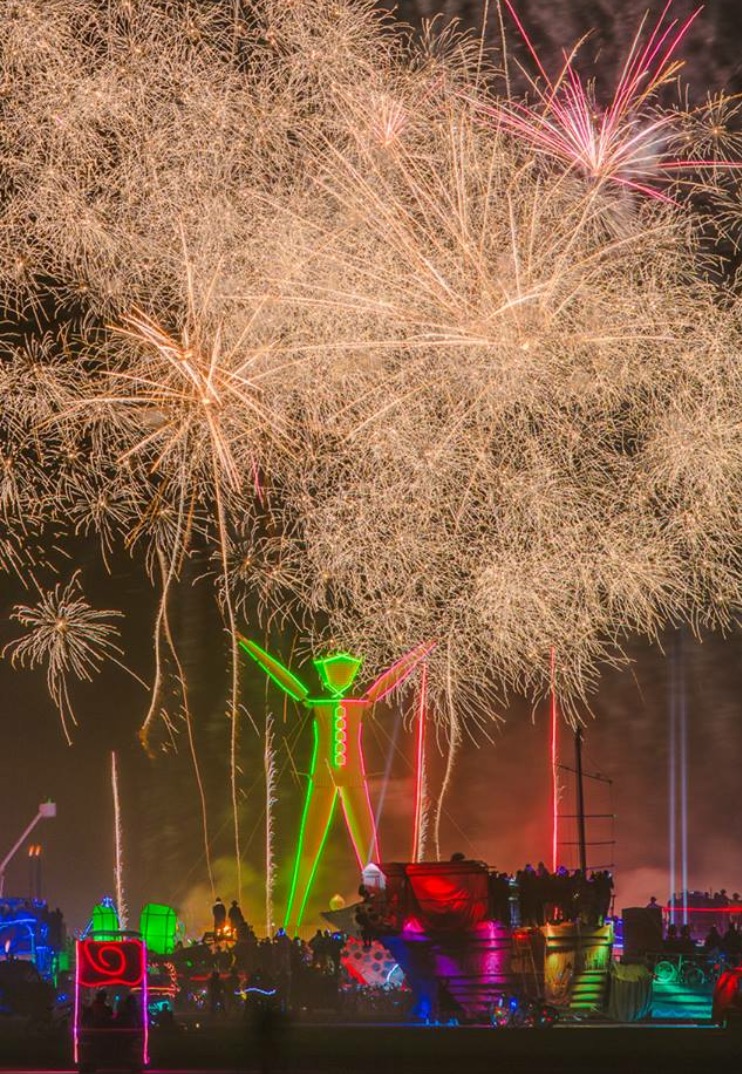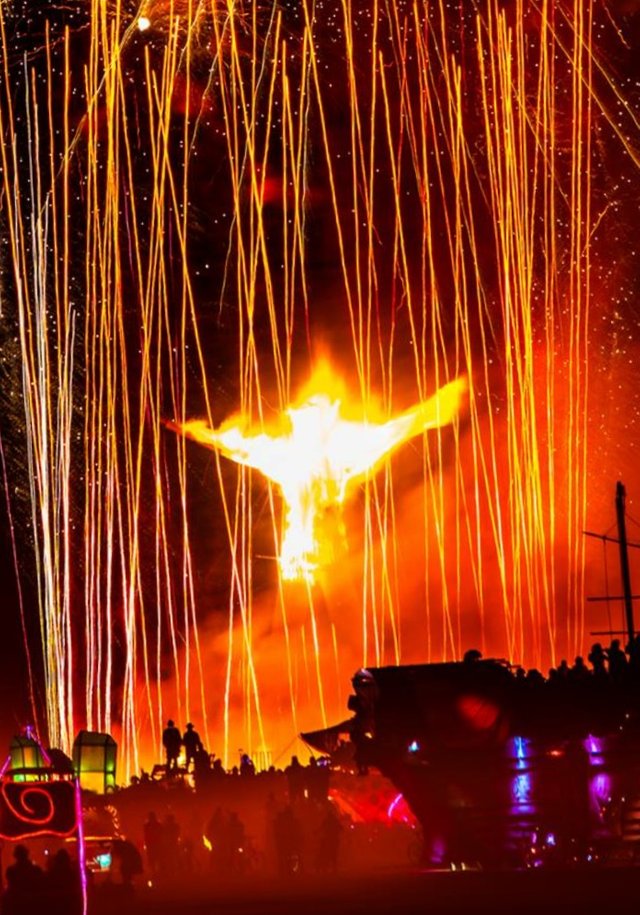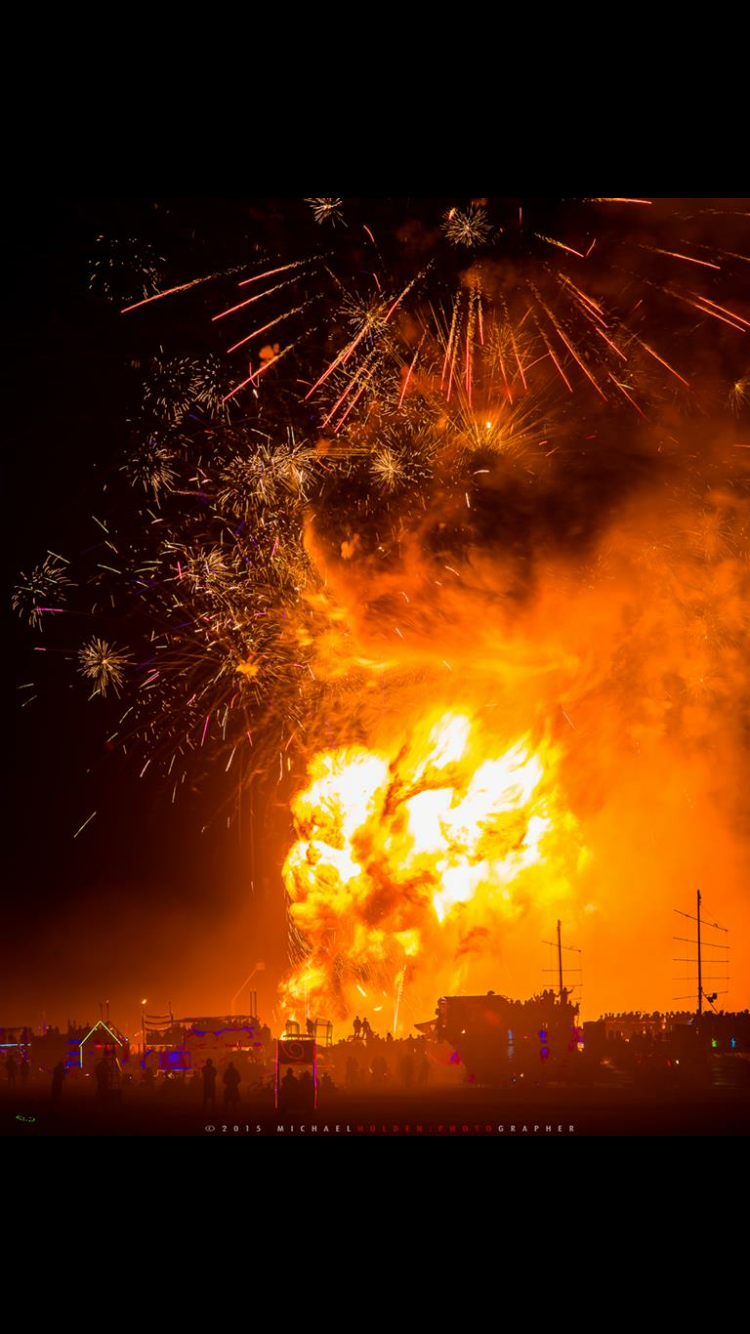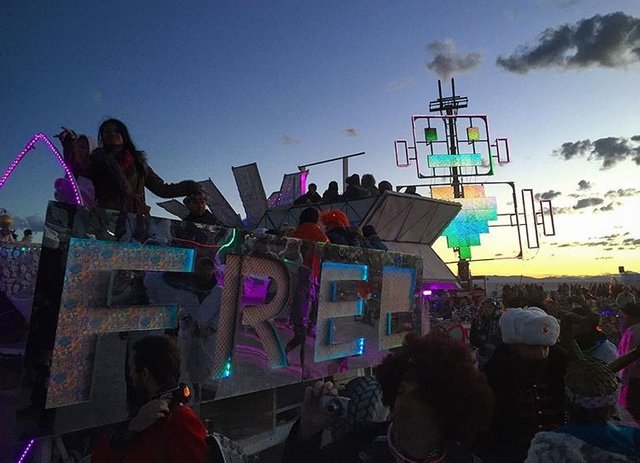 I really hope you enjoyed reading and seeing these as much as I did writing about it and sharing. It is truly a magical experience that I very much hope you get to do if you are so inclined. As always leave comments, ask questions and have a great rest of 2017!!!