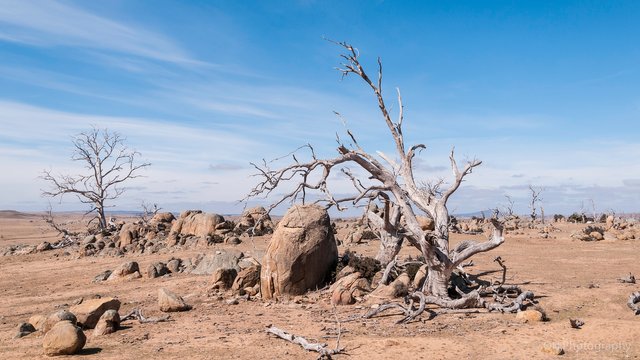 The Tree Cemetery are a unique landscape on the Monaro Plains that you would see when going from Cooma to Jindabyne, a popular location for accomodations when going to the ski resorts on the Snowy Mountains in NSW, Australia.
After five years of telling myself I should bring my camera and stop on the side of the road, I have finally done it. As we drove through the location, I spotted a couple walking around their car in a large safe area and made a U-Turn and parked behind them. The main issue is that the tree cemetery was surrounded by fences as you can see in the photograph below, so taking wide shot is not always possible without seeing the fence or power cables.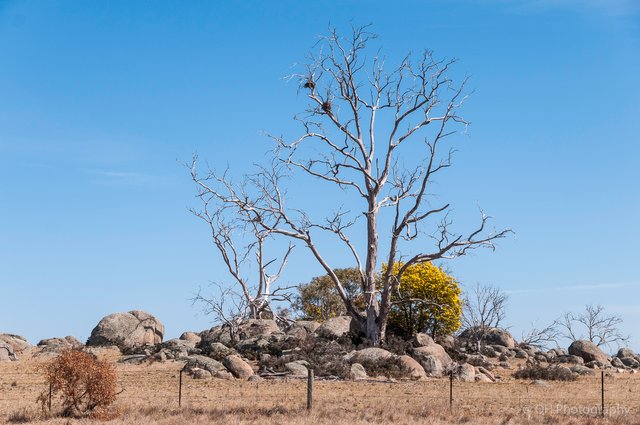 I suppose the fence are mainly for the cattle and as I discovered the hard way, they were electric fences. Against one of the fence was some large boulders and people have been stepping on the wires to get onto the boulder to take photos from inside. I decided to go across too and received a little electric shock when the powered wire touched my leg through my trousers. That wasn't that bad but it made me jump a little 😱, that was the price to pay to get the following shots.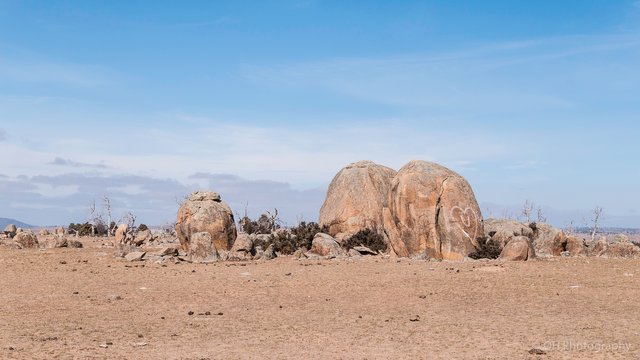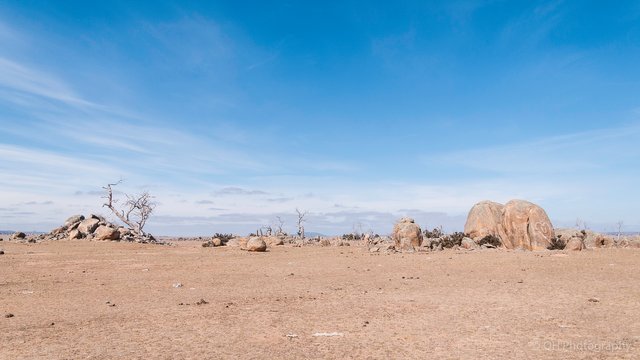 I initially thought those trees were just dormant due to the winter season but I later on discovered that they were actually dead, all of them. It was a tree graveyard. They have been destroyed by attacks of weevil. Normally, the trees would defend themselves, but for some reasons, their immune system was compromised. Maybe due to a long period of drought.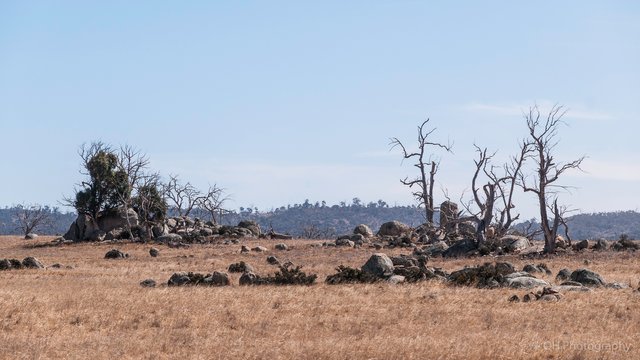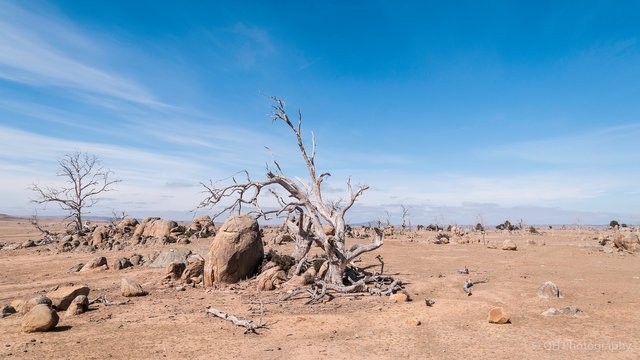 But what caught my eyes when I first saw the landscape isn't just the dead trees but it was also the fact that the whole area was scattered with various sizes of granite boulders. I was imagining it like a playground for giants and the boulders were gravels.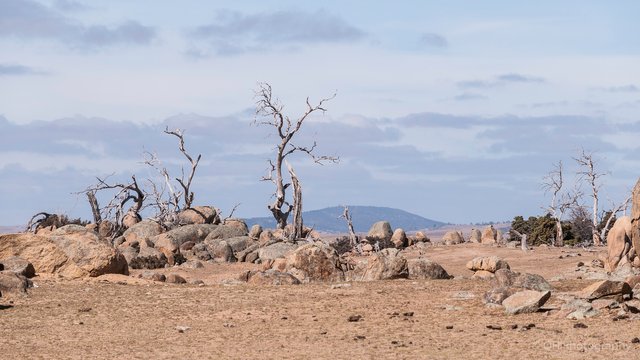 It is sinister and beautiful at the same time. I've read about a program to try to reverse the effect by replanting the area but I haven't seen any shrubs during my visit but it could have been trialed in another area.
More articles about this:
---
Previously on my blog:
---
Vote for my witness
On Steem, Witnesses are playing the important role of providing a performant and safe network for all of us. You have the power to choose 30 trusty witnesses to package transactions and sign the blocks that will go in the Steem blockchain. Vote for me via SteemConnect to help me do more useful projects for the communities.
---
| I'm a member of | these communities |
| --- | --- |
| | |
| | |
| | |
| | |
| | |
---
Credits
The image at the top has been generated with the Canva app using my own photo.
---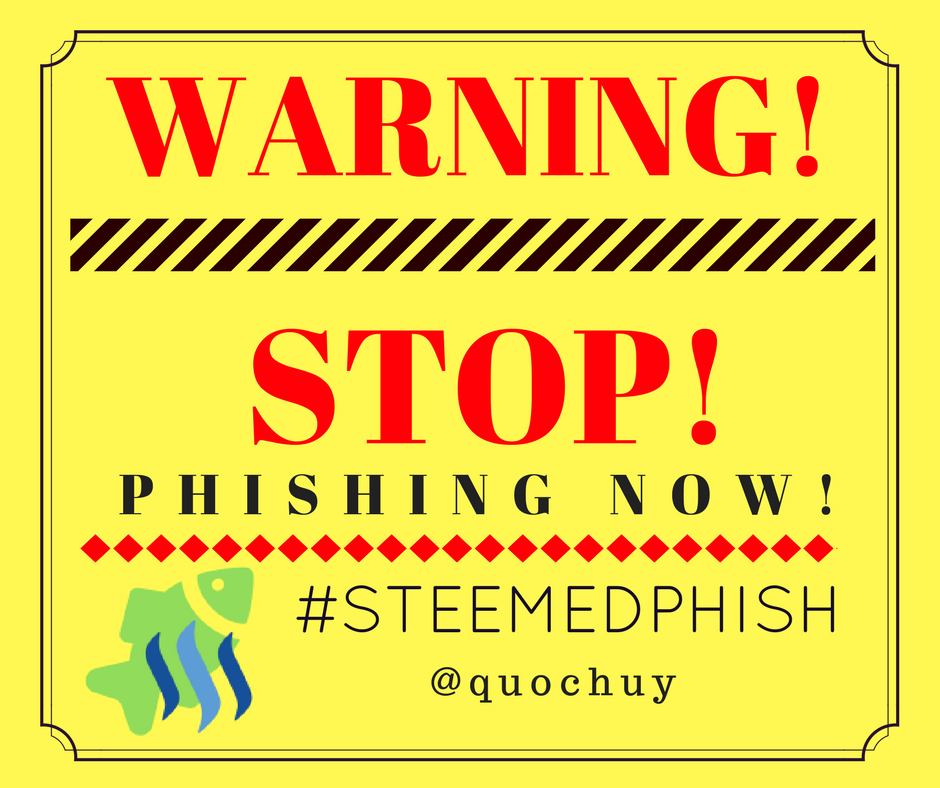 Banner by @josephlacsamana
Protect your money against Phishing Scam!
Cryptos accounts are the target of international scammers because they want your hard earned money!
Those people are very clever and in a moment of inattention, you've given them your login and password!
I've created a Chrome extension that can help you detecting scam links!
Install Steemed Phish Chrome desktop browser extension now!
Password and Private Keys security
You all know that your Steem password is the access to all your STEEM, SBD, posting, transferring, everything... right?
So, please, follow these simple steps and keep yourself safe:
Apart from the initial setup of your account, NEVER use your password ANYWHERE, if stolen, it will give full control to your Steem account.
Backup your password and keep it somewhere safe. Use a password manager like Lastpass, print it on paper and put it in a safe (no kidding). If you forget your password, no one can help you out.
To login for creating content and curating, use your Private Posting Key
To make transfers and account operations, use your Private Active Key
To encrypt and decrypt memos, use your Private Memo Key