Yellow Explosion !
Si alguna vez has venido por esta época a la ciudad de Medellín, de seguro te habrás cruzado con la explosión de color amarillo que emanan los guayacanes o araguaney como también son conocidos, extendiéndose desde México hasta Colombia y Venezuela los guayacanes embellecen por este tiempo las calles de diferentes ciudades de la región, es imposible no detenerse un momento a admirar su belleza y tomar una buena fotografía.
If you've ever been to Medellín around this time of the year, you must've seen the explosión of yellow that tres named Guayacanes ( Guaiacum sanctum) or Araguaney, as they al also called, radiate from Mexito to Colombia and Venezuela. They beautify the strees of severa cities of our región, it turns out to be imposible not to stop for a momento to look at their beauty and take a picture.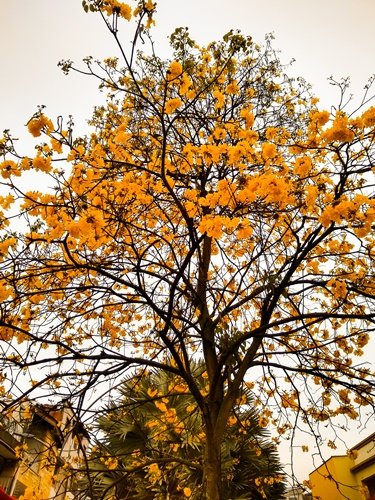 Este estallido de color amarillo también llama a diferentes especies como abejorros, abejas, avispas y colibríes a danzar entre sus flores, embriagándolos con su néctar.
This burst of yellow also calls different species like bumblebees, bees, wasps and hummingbirds to dance among its flowers, intoxicating them with their nectar.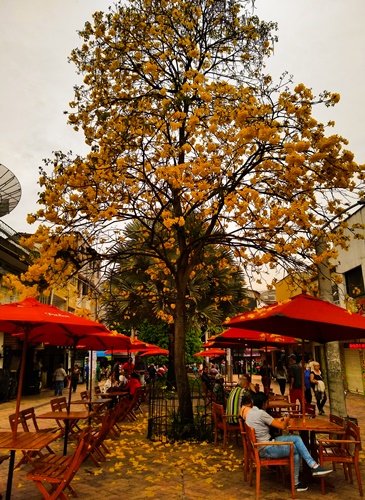 Tal vez este color amarillo que inunda nuestras calles por esta temporada quiera hacernos recordar las riquezas naturales que nos rodean y que nosotros los hombres estamos acabando poco a poco, con este consumismo desmedido y la tala indiscriminada de los pulmones de nuestro planeta, solo en Colombia en el 2018 se perdieron 220.000 hectáreas de bosque una cifra la verdad alarmante. Entonces por qué no acudir al llamado de la naturaleza y frenar esta destrucción, tal vez la naturaleza nos quiera dar una segunda oportunidad ya que nosotros no somos imprescindibles para ella, pero ella para nosotros sí.
Maybe all of this yellow that floods our streets around this season want to remind us the natural wealths that suround us and the ones we're killing everyday by excessive consumerism and the indiscriminate cutting of the lungs of our planet. Only in Colombia in 2018 we lost 220.000 hectares of forest, a truly alarming number. Why don't we listen to nature's call and act as we can to stop all of this destruction? Maybe earth wants to give us a second chance, earth doesn't need us, buy we need earth.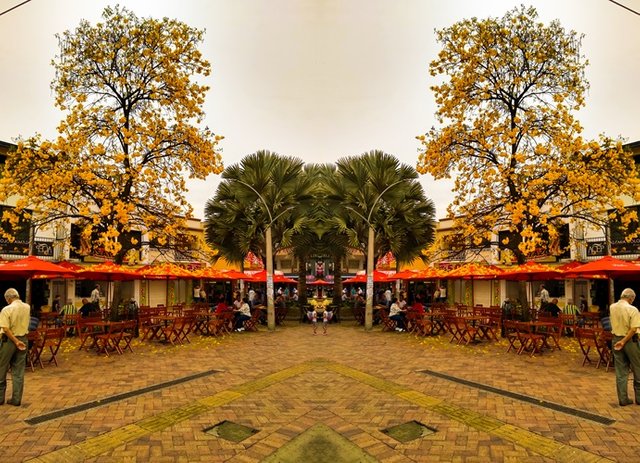 Thank you guys for coming and reading this post ! Have a great time.
Gracias a todos por tomarse el tiempo de leer mi post, espero les haya gustado.