Hello steemitians!!!
Hope you all are very happy and enjoying your life!
---
Today, I am going to show you some showpieces and toys made of Oyster and counchshells!
In my last post, I was talking about my trip to a beach with my college friends. The beach is named as Bokkhali and it was approx 150 km away from our college hostel. The journey was very pleasant and we all went by bus. We stayed over there a whole a day and night there. We went for the trip at noon and reached there at evening and next day we came back and reached hostel at night. We really enjoyed the trip and it was really a memorable day for us.
---
---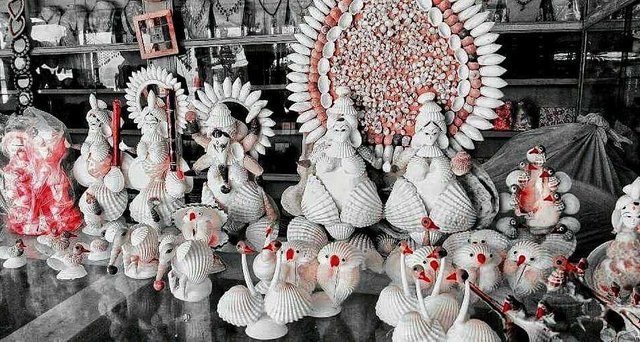 ---
---
While roaming on the beach, we saw a few small food stalls and some gift n toy shops over there. Among those shops, there was one selling various goods made of only sea based materials like Oysters, counchshells and other similar things.
The tourists were very interested and they were buying things from there. It was really a nice shop and the owner was also very friendly. As you can see in the picture, those things are awesome mementos to gift someone and to make them happy. Also they can be used to decorate your house. I bought some small showpieces for my home and whenever I look at them, I remember those golden days.
So, now it's your turn. Feel free to leave a comment and share your experience about your hangout to a beach. I am waiting to hear your experience!
Hope you like my work. 😊
---
---
Below are my Camera Settings For the Photos...
---
Device used: Android Smartphone
Device name: ZTE Nubia Z11 miniS
Camera: 23-megapixel single rear shooter
Flash: Off
Exposure time: 1/200
ISO: 800
Aperture: 2.00
Edit: Snapseed
---
---
Thank you for visiting!
You are awesome!
If you like my post, please upvote, resteem and leave a comment. You can follow me for more interesting facts and photography posts! 😃
---