Releasing the power of dropahead's Rewards Pool (dRP)
English | Castellano
UPDATE 2018-09-24: dRP has been launched officially. Learn more here: How to earn 200 upvotes + $1 + a resteem to 3k followers from dropahead's Rewards Pool (dRP)
ORIGINAL POST
Dear members and supporters,
STEEM's business is to reward people for either authoring or curating content so is dropahead's core business to reward them for quality content. We are very proud for our members who are creating quality content actively. At the same time, we are aware that the incentives are key for fueling our engine of growth. Following, our take on releasing more rewards for quality content advocates that well deserve each and every incentive!
Controlling noise to keep focus
This is how our curation channels used to look like back on January 2018: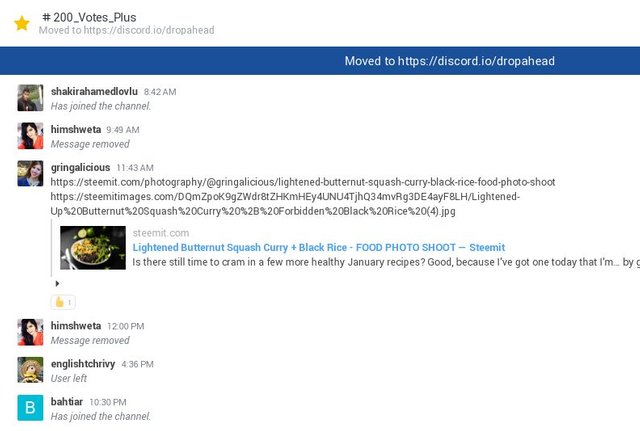 (Image source: steem.chat screenshot, @develcuy's archive)
Our curation team used to waste time deleting SPAM messages rather than investing that precious time on actual content curation! We are dealing with SPAM and abuse since our very beginning , every single day. That is why we implemented special rules for accepting content into our curation queues and we work hard to follow the rules. Also, we implemented automated checkings into decibel (our discord bot):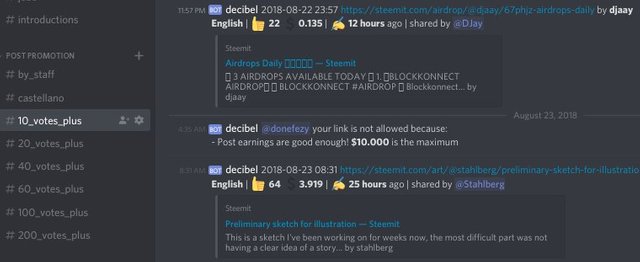 (Image source: screenshot from current dropahead's discord chat server https://discord.io/dropahead)
As you can notice, some links are automatically rejected, with a very specific explanation. The ones passing decibel's triage get a nice formatting that is very helpful for curators.
dropahead Curation Trail Rewards Pool (dRP)
You might be aware that we updated our "membership" model just recently. Yet we had to make a very important change in our language as well. Given the fact that we are marketing our "Curation trail" for about a year. It was good marketing in the beginning but not anymore, the concept of curation trail has deteriorated over time. We realized that we don't have a Curation trail anymore! Because we don't use your vote blindly and we don't drain your Voting Power. That approach would be very irresponsible and completely against our purpose!
Given the facts above, ours is an actual rewards pool! We'll call it dropahead's Rewards Pool (or dRP for short) from now on, please help us to spread the word!
How we use your vote
First of all, much thanks for your trust on us! When you give us permission for using your vote, it is a very important leap of faith on our project so we take it with much responsibility. Following, our strict rules for using your vote:
Every day we use up to two votes from you (or the equivalent of up to 4% of your Voting Power)
We don't use your vote if your Voting Power is lower than 82%
Currently, we cast your vote on @dropahead's posts, which are 99% curation reports and you can track that here: https://steemit.com/trending/xx-votesplus. Considering that we report daily, we are only using 50% our Rewards Pool full potential.
dropahead's Rewards Pool (dRP) - Power from the people, for the people!
Indeed, you gave us power, the power is yours! The best use we currently find for the remaining 50% dRP potential, is to give an extra reward to the curated content that we promote every day. We believe that this is a legitimate use of your vote, as this will dramatically increase the rewards for authors and curators alike. Even more, we are making a fair contribution to STEEM's broad purpose when we incentive quality content.
Details on how we are implementing the dRP changes and its technical aspects will come in the future, for now just stay focused on writing and curating quality content.
Join dropahead's Rewards Pool (dRP)
Now that you know more details on how we use your vote, why don't you join us? It is very easy:
Allow @dropahead to use your vote: https://steemconnect.com/authorize/@dropahead
Follow the instructions from this short post: How to give back to the dropahead Project in 15 seconds or less
Also, are you a curator? Join the dropahead Curation Team!
Conclusion
With a responsible management of your delegated vote to us, along hard work focused on the production of quality content, we'll accelerate growth for the benefit of our members and the STEEM platform.
Keep steeming hard!