I plugged Steemit hard on Gentlemen's Avenue podcast!
Hey, friends! I'm playing catch up a little since the last month has been a test in travel endurance. I have a lot of great work on the HD just waiting to be reviewed, edited and shared. In my last post, I mentioned that I had a week or so in Los Angeles. What I didn't mention is that as soon as I arrived in LA, I dropped my family off at our hotel, then drove straight back to Whittier to record an interview with the Gentlemen's Avenue podcast [...it's called The Lodgecast, I think]. 
Martin from Gentlemen's Avenue contacted me on Instragam a few weeks prior. I wasn't familiar with the show, so I looked in to it. As it turns out, he's got a pretty legit thing going on in a converted garage studio. The guest before me was a cast member from Stranger Things! We set a date, I make the trip across town and Martin met me at the door. We got around back and I finally got to see this impressive recording booth in person. Totally on the level, doing both audio and video simultaneously. I put on the headphones with no specific direction the conversation would go and just ran my mouth for 90 minutes.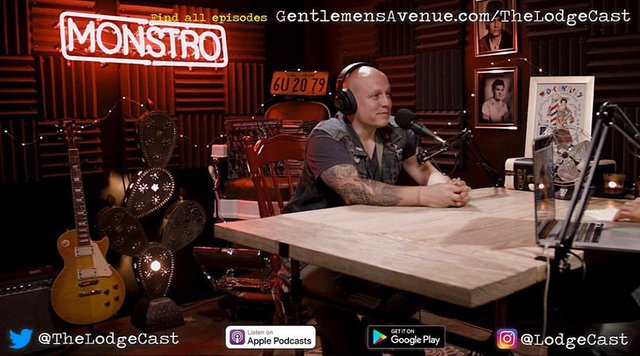 Around the 120:00 mark, I took the opportunity to talk about Steemit and share the good word of a decentralized social network that rewards it's creators for the value of their content. I keep seeing these great ambassadors bringing Steemit up on Bloomberg and The Joe Rogan podcast. I'm not at Rogan podcast level yet, but for the podcasts I DO get, I'm going to shill Steemit every opportunity I have. I did quite a bit of evangelizing on this trip with friends one on one, but we listened to this episode of The Lodgecast on the drive from LA to Vegas and I think I did a pretty good job of representing our little corner of the internet.
Have a listen. It was actually a great time talking about my previously pretentious opinions on photography before meeting my mentor, Jim Gavenus. I talk a lot about shooting diegetic lighting, the principles behind the dark pinup genre. Touching on some discussion regarding the male role in photographing women with a respectful and safe environment and of course, the book, Dark Pinup, by @wcpublishing. I was pleasantly surprised with the whole experience. As supporters of independent creators, this podcast is definitely worth your time.