| | | |
| --- | --- | --- |
| Actually, today I wanted to post a nice insect macro "Stink bug on flower". | | Eigentlich wollte ich heute ein nettes Insektenmakro "Stinkwanze auf Blume" posten. |
Rainbow over the Lake / Regenbogen über dem See
Wörthersee
Panorama view east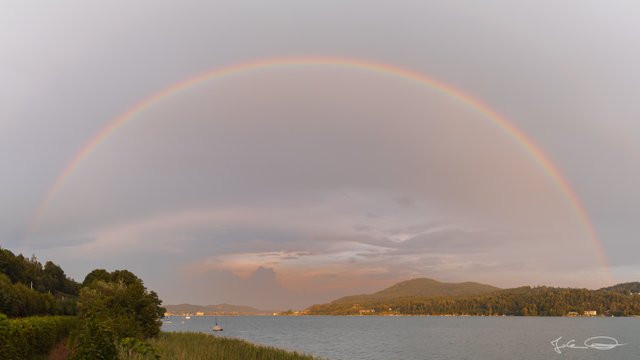 ❖ click for fullsize view ❖
Canon EOS R | RF 24-105mm f/4 L IS USM
ISO 100 • f/5.6 • 1/25 sec • @24 mm - 3 vertical shots Panorama
After Steemit has prescribed a compulsory break for us during the past two days, the Blockchain slowly returned to life this morning and Steemit if fully functional again now, I have changed my mind, and now post these photos of a rainbow over the lake Wörthersee.
Incidentally, in the ancient Orient, the rainbow is said to have symbolized victory after a quarrel between gods.

Nachdem Steemit uns während der letzten beiden Tage eine Zwangspause verordnet hat, heute Vormittag schön langsam wieder Leben in die Blockchain gekommen ist und Steemit jetzt wieder voll funktioniert, habe ich es mir anders überlegt, und poste nun diese Fotos eines Regenbogens über dem Wörthersee.
Im alten Orient soll der Regenbogen übrigens als Symbol des Sieges nach einem Streit zwischen Göttern gegolten haben.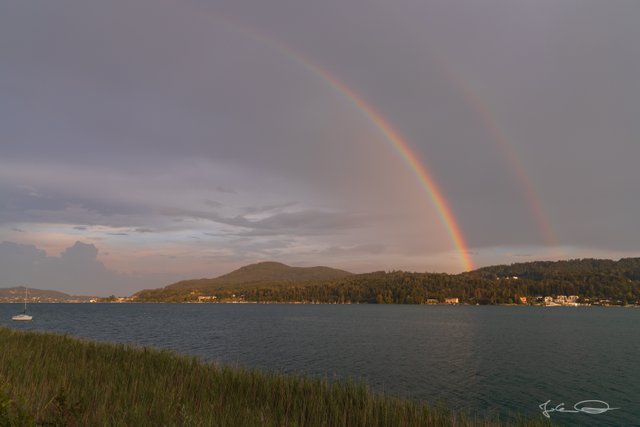 ❖ click for fullsize view ❖
Canon EOS R | RF 24-105mm f/4 L IS USM
ISO 100 • f/4 • 1/60 sec • @24 mm
On Sunday evening before sunset my son and I were driving around the lake Wörthersee.
It was rainy, and when we arrived at the western end of the lake we saw this rainbow in the east. We followed the rainbow until we found a good place to park and take pictures between the villages Velden and Pörtschach.
If you look closely, you can also see a second rainbow.

Am Sonntagabend vor Sonnenuntergang fuhren mein Sohn und ich um den Wörthersee.
Es war regnerisch und als wir am westlichen Ende des Sees ankamen, sahen wir diese Regenbogen im Osten. Wir folgten dem Regenbogen, bis wir vor Pörtschach einen guten Platz zum Parken und Fotografieren fanden.
Wenn man genau schaut, kann man auch einen zweiten Regenbogen erkennen.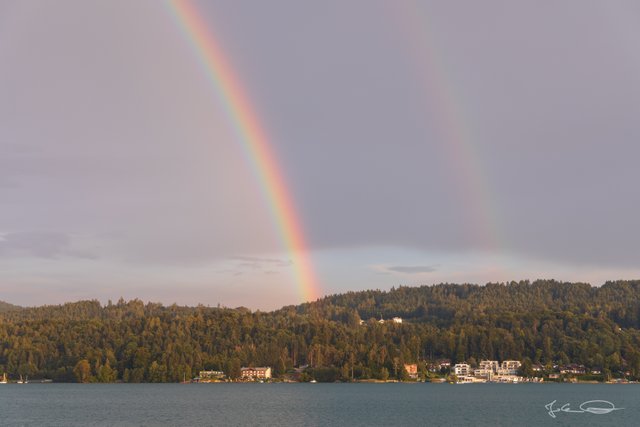 ❖ click for fullsize view ❖
Canon EOS R | RF 24-105mm f/4 L IS USM
ISO 100 • f/4.5 • 1/80 sec • @61 mm
| | | |
| --- | --- | --- |
| Shortly after taking these pictures, the clouds have become denser again, and then it has been raining until Tuesday morning. | | Kurze Zeit nachdem wir diese Fotos gemacht haben, sind die Wolken wieder dichter geworden und es hat dann bis Dienstag Vormittag ziemlich durchgeregnet. |
Information
---
If you like my photos I would appreciate an upvote, nice comment or a resteem 😊 ... and maybe you would like to follow me, so you do not miss a post from me anymore.
Thank you for visiting my blog,
have a nice evening,


Photos and Text: Johann Piber
#originalcontent #originalworks #deutsch #austria #steemit-austria