Edge of the Beaver Island / Rand der Biberinsel
Yesterday I was once again very early on the Reservoir Annabrücke of the Drau River. The sky was cloudless and it just got light without me seeing a sunrise.

But that did not matter, because I was at the place where there are a few small islands, where also a few beavers should live. I say "probably", because I have not seen one yet, although I'm always very early, but probably still late for the nocturnal beaver, but all around you can see the "work" of the beaver on the trees or the leftovers of trees.

The first photo shows the edge of one of the small islands with some nice trees and their reflection in the green water. Behind it you can see another elongated island and in between the river is iced. It's a long exposure photo because it was a bit dark at the time.

Gestern war ich wieder einmal sehr früh am Stausee Annabrücke der Drau. Der Himmel war wolkenlos und es ist einfach hell geworden, ohne dass ich einen Sonnenaufgang gesehen hätte.

Aber das machte nichts, denn ich war an der Stelle, wo es ein paar kleine Inseln gibt, wo auch ein paar Biber leben dürften. Ich sage "dürften", weil gesehen habe ich noch keinen, denn ich bin zwar immer sehr früh hier, aber für die nachtaktiven Biber wahrscheinlich noch immer nicht früh genug, aber rundherum kann man die "Arbeit" der Biber an den Bäumen bzw Baumresten erkennen.

Das erste Foto zeigt den Rand einer der kleinen Inseln mit einigen schönen Bäumen und deren Spiegelung im grünen Wasser. Dahinter erkennt man eine weitere langgezogene Insel und dazwischen ist der Fluss vereist. Es ist eine Langzeitbelichtung, weil es zu dem Zeitpunkt noch etwas dunkel gewesen ist.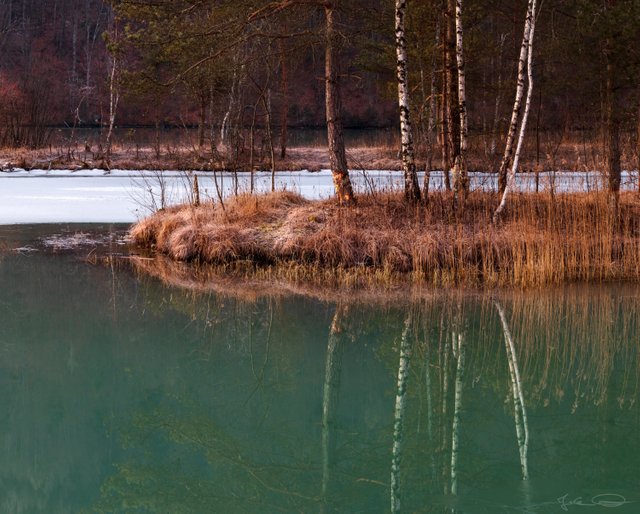 ▲click for fullsize view▲
Canon EOS M50 | Canon EF-M 55-200mm f/4.5-6.3 IS STM
ISO 100 • f/14 • 20.0 sec • @55 mm
| | | |
| --- | --- | --- |
| The second photo shows the "work" of a beaver. | | Das zweite Foto zeigt das "Werk" eines Bibers. |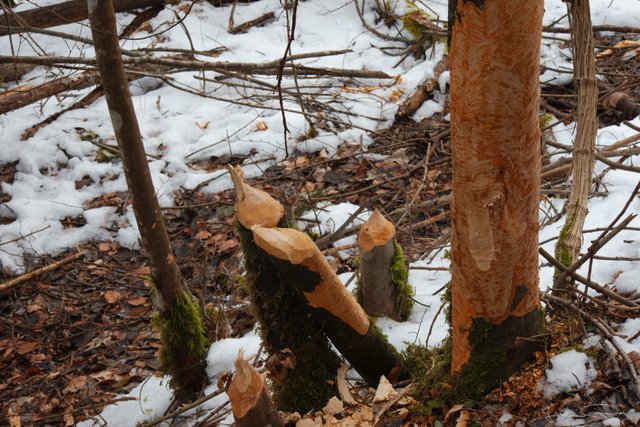 ▲click for fullsize view▲
Canon EOS M50 | Canon EF-M 55-200mm f/4.5-6.3 IS STM
ISO 100 • f/14 • 1/10 sec • @55 mm
Only once did a beaver and I scare each other, because when I walked past him, he dropped himself into the water in shock and then I was startled by the loud splashing. A few meters away from the shore, he turned up and watched me for a while. Unfortunately, it was still too dark for a photo and he was then quickly gone, so I had no time to take pictures anyway.

But I will not give up and am sure that one day I will be able to take a picture of one of these large rodents.

Nur einmal haben ein Biber und ich uns gegenseitig erschreckt, denn als ich bei ihm vorbeigegangen bin, hat er sich erschrocken ins Wasser fallen lassen und durch das laute Platschen habe dann ich mich erschreckt. Ein paar Meter vom Ufer weg ist er dann wieder aufgetaucht und hat mich eine Weile beobachtet. Leider war es noch zu dunkel für ein Foto gewesen und er war dann auch schnell wieder weg, so dass ich gar keine Zeit zum Fotografieren gehabt habe.

Ich gebe aber nicht auf und bin mir sicher, dass ich eines Tages mal eines dieser großen Nagetiere fotografieren können werde.
---
If you like my photos I would appreciate an upvote, nice comment or a resteem 😊 ... and maybe you would like to follow me, so you do not miss a post from me anymore.
Thank you for visiting my blog,
have a nice day,


Photos and Text: Johann Piber
#originalcontent #originalworks #deutsch #austria #steemit-austria