English

Currently weather is rainy and gray here, but a few days ago one could already feel that spring is approaching: there were some days with a bright clear sky which invited me to go out, enjoy nature and also make some photos for you.

Central theme of this post is the permanent changing appearance of the sky from afternoon until night.

Deutsch

Zurzeit ist das Wetter regnerisch und grau hier, aber vor einigen Tagen konnte man schon spüren, dass der Frühling sich nähert: Ein strahlender Himmel lud dazu ein, nach draußen zu gehen und die Landschaft zu genießen. Dieser Einladung konnte ich nicht widerstehen und brachte auch einige Fotos für euch mit.

Das Hauptmotiv dieses Posts ist das sich vom Nachmittag bis in die Nacht hinein permanent wandelnde Erscheinungsbild des Himmels.
---
| | |
| --- | --- |
| I found the scenery and especially the sky in the two first pictures to be very impressive and therefore decided to put them first in this article. In reality sun appeared more yellowish but in the photos it seemed to be just white only. | Ich fand die Kulisse und besonders den Himmel auf den ersten beiden Fotos sehr eindrucksvoll und entschied mich deshalb dafür, sie an den Anfang des Artikels zu setzen. In der Realität erschien die Sonne gelblicher, aber auf den Fotos sieht sie einfach nur weiß aus. |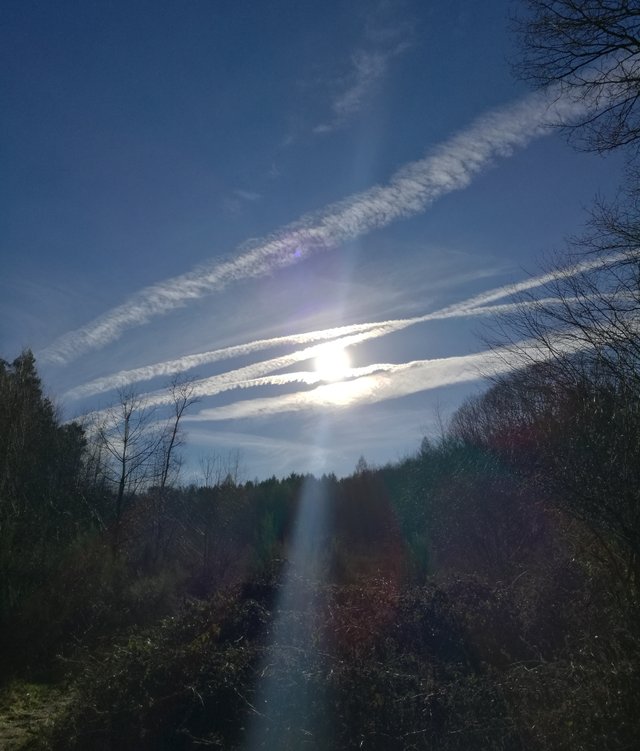 ---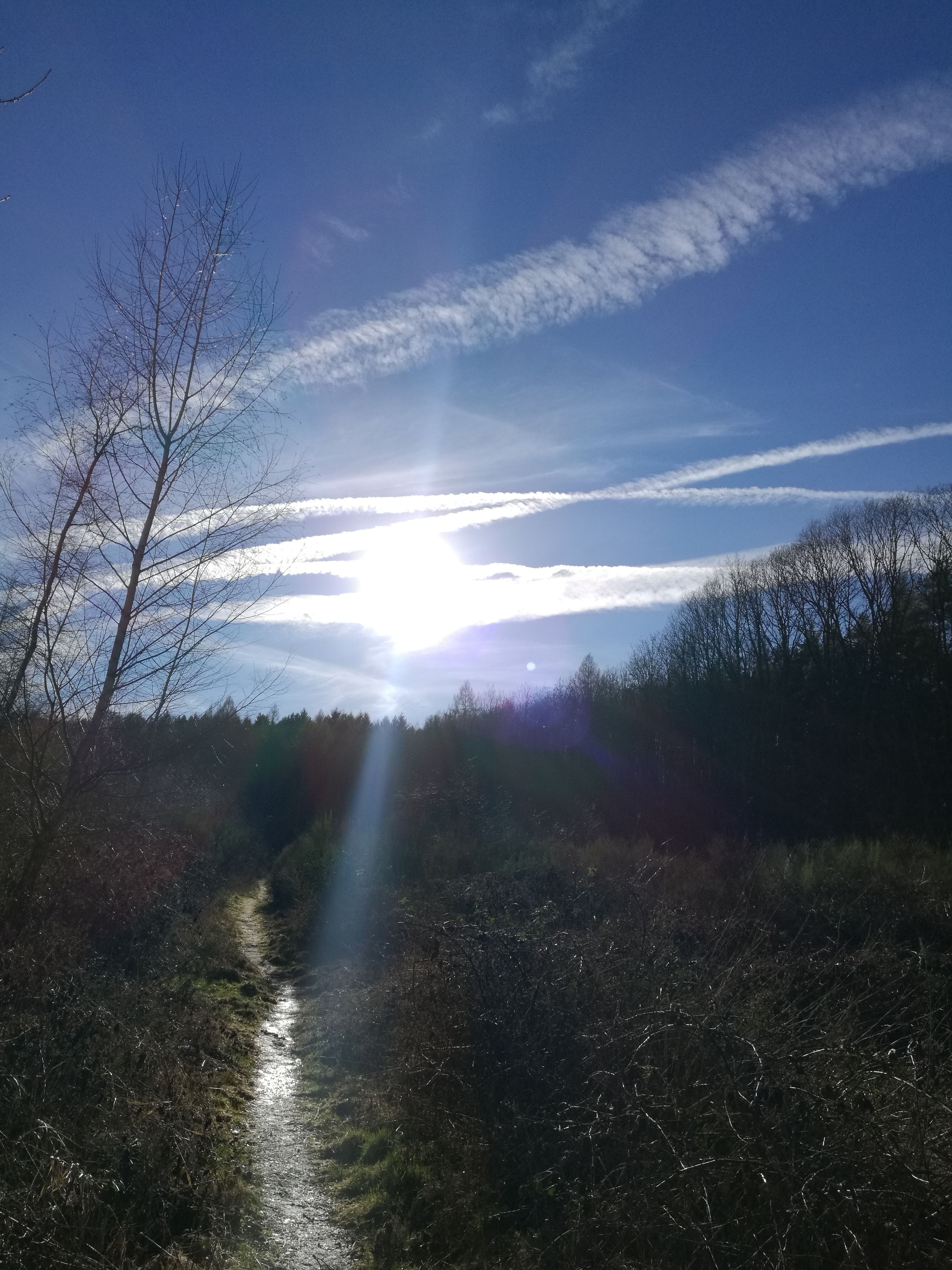 ---
| | |
| --- | --- |
| This light, cheerful sky brightened my mood. | Dieser lichte, heitere Himmel hellte auch meine Stimmung auf. |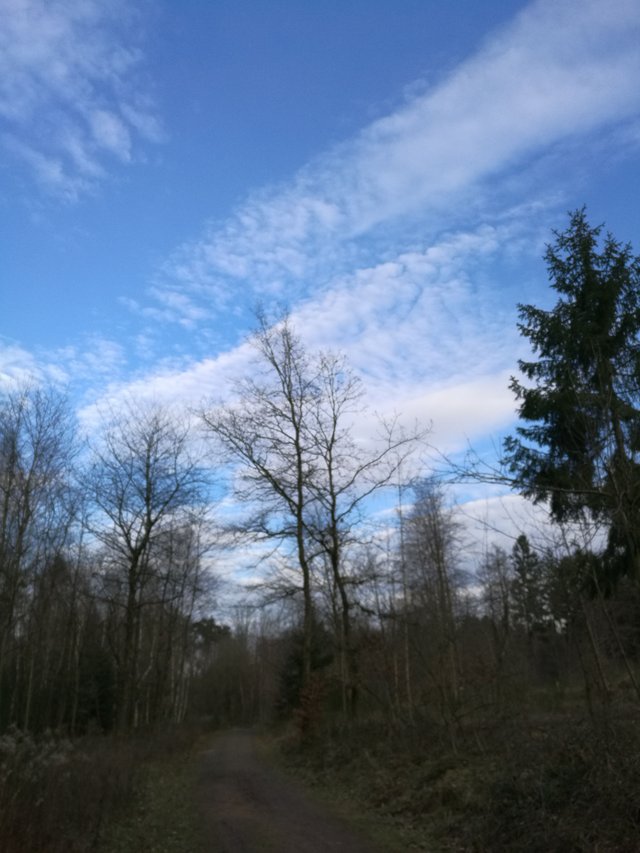 ---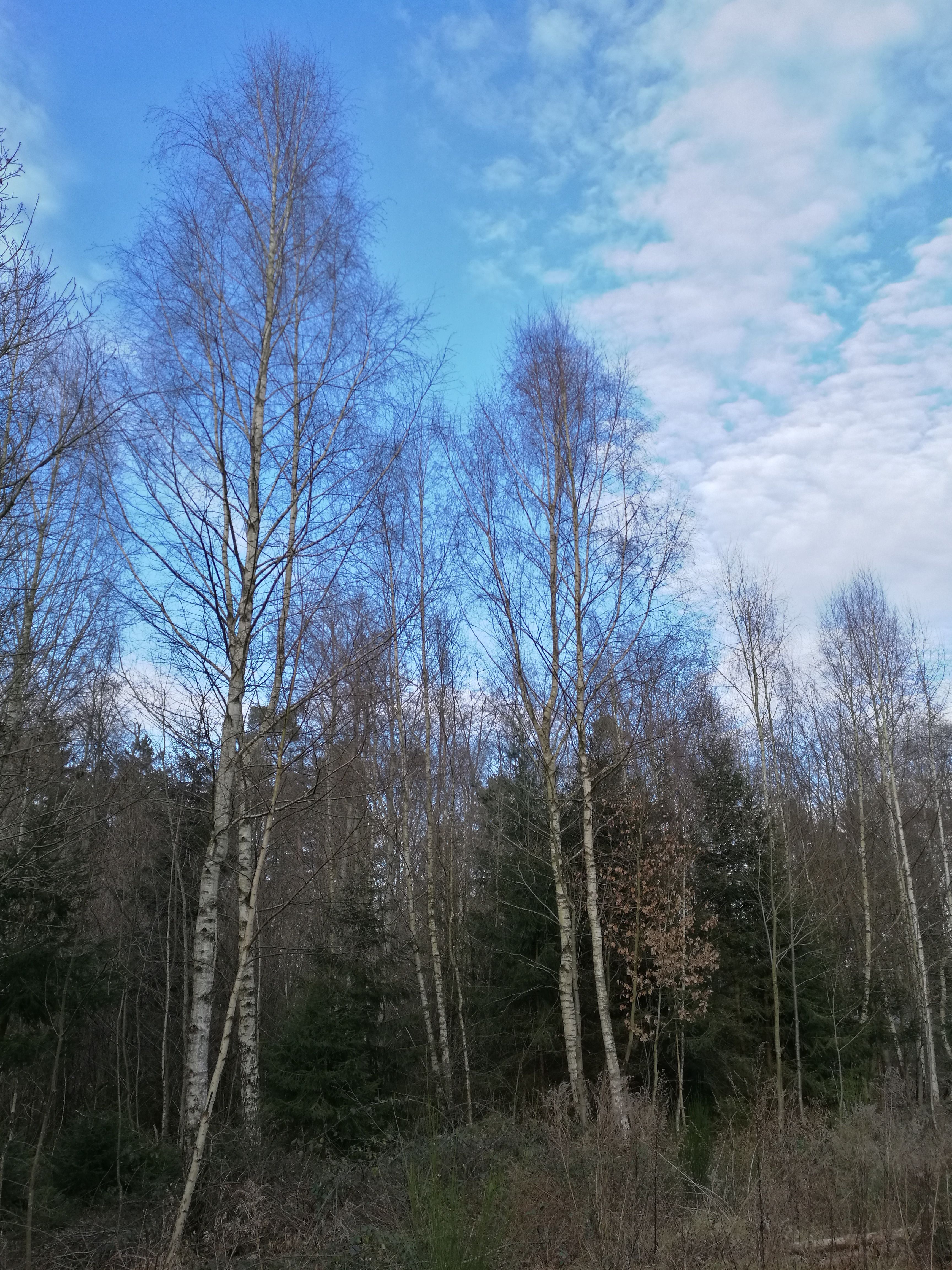 ---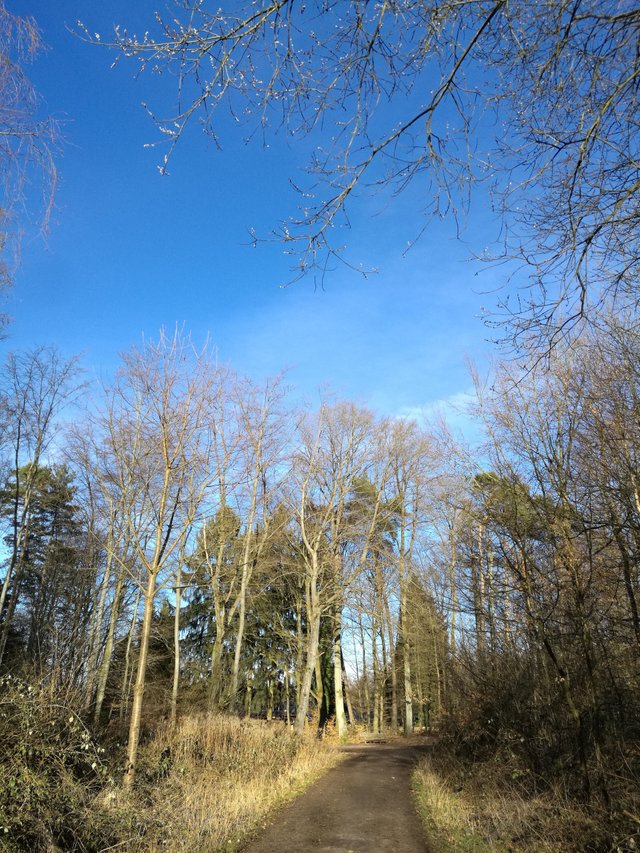 ---
| | |
| --- | --- |
| Now two pictures which I don't want to withhold from you even if they have nothing to do with the sky: a lichen and the empty envelopes of insect larvae. | Nun zwei Bilder, die ich euch nicht vorenthalten wollte, obwohl sie nichts mit dem Himmel zu tun haben: Eine Flechte und die leeren Hüllen von Insektenlarven. |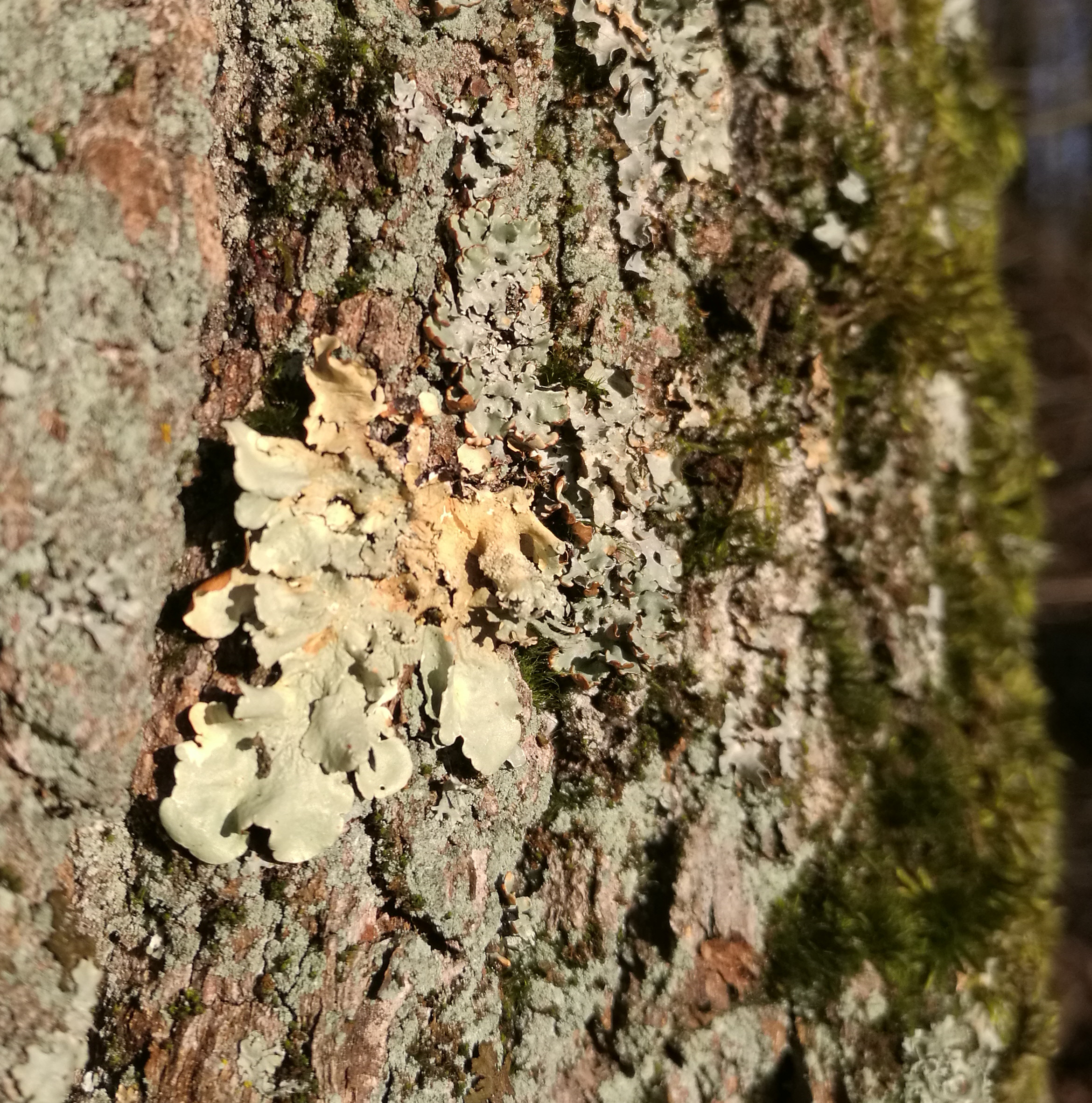 ---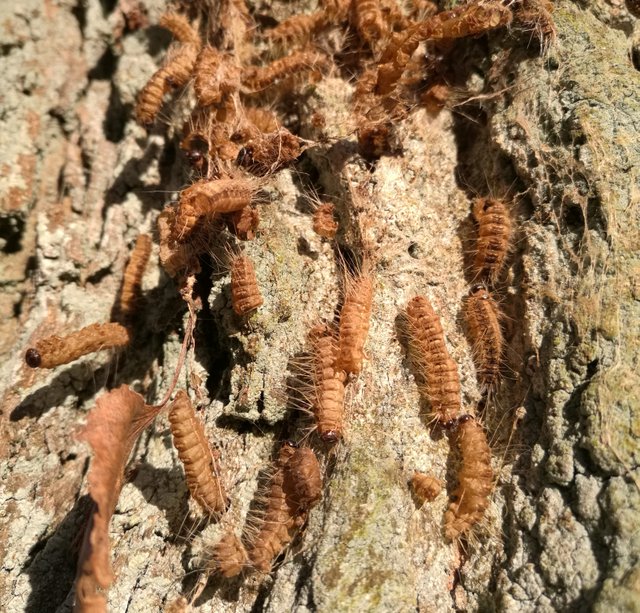 ---
| | |
| --- | --- |
| A short part of the path outside the forest. Evening is approaching. | Ein kurzes Wegstück außerhalb des Waldes. Der Abend nähert sich. |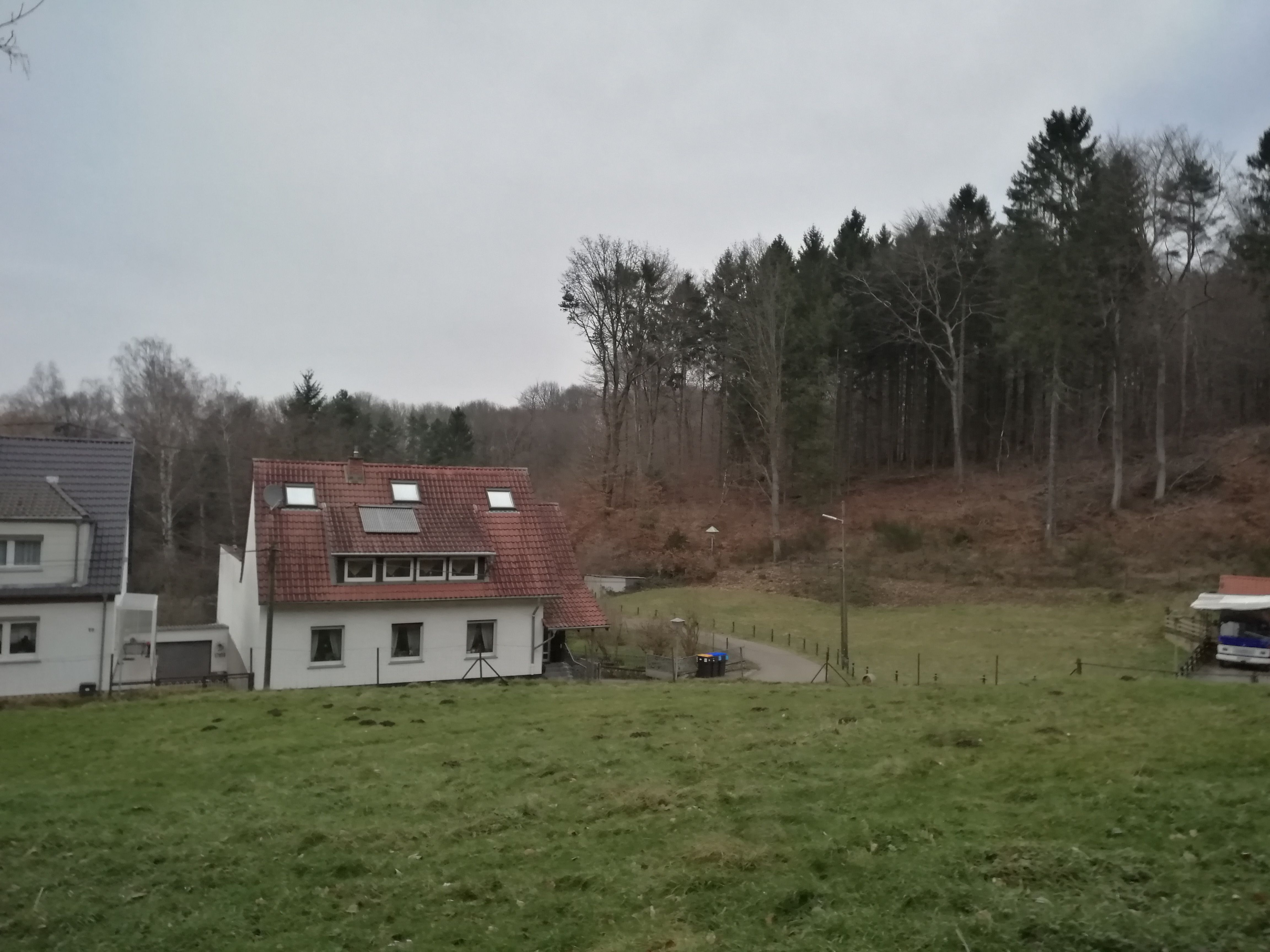 ---
| | |
| --- | --- |
| A view of the horizon ... | Ein Blick auf den Horizont ... |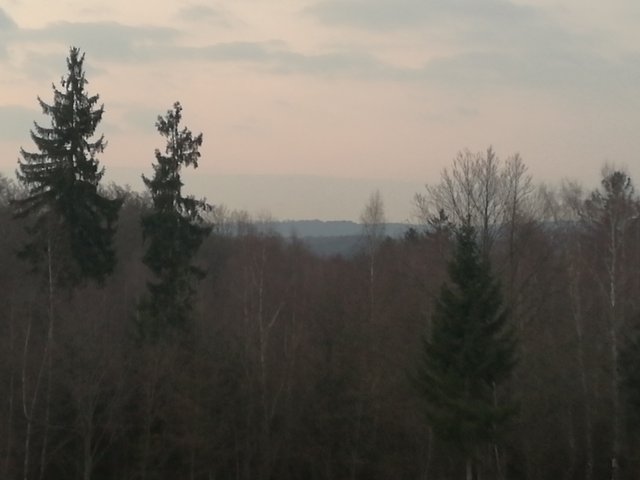 ---
| | |
| --- | --- |
| The sunset begins. | Der Sonnenuntergang setzt ein. |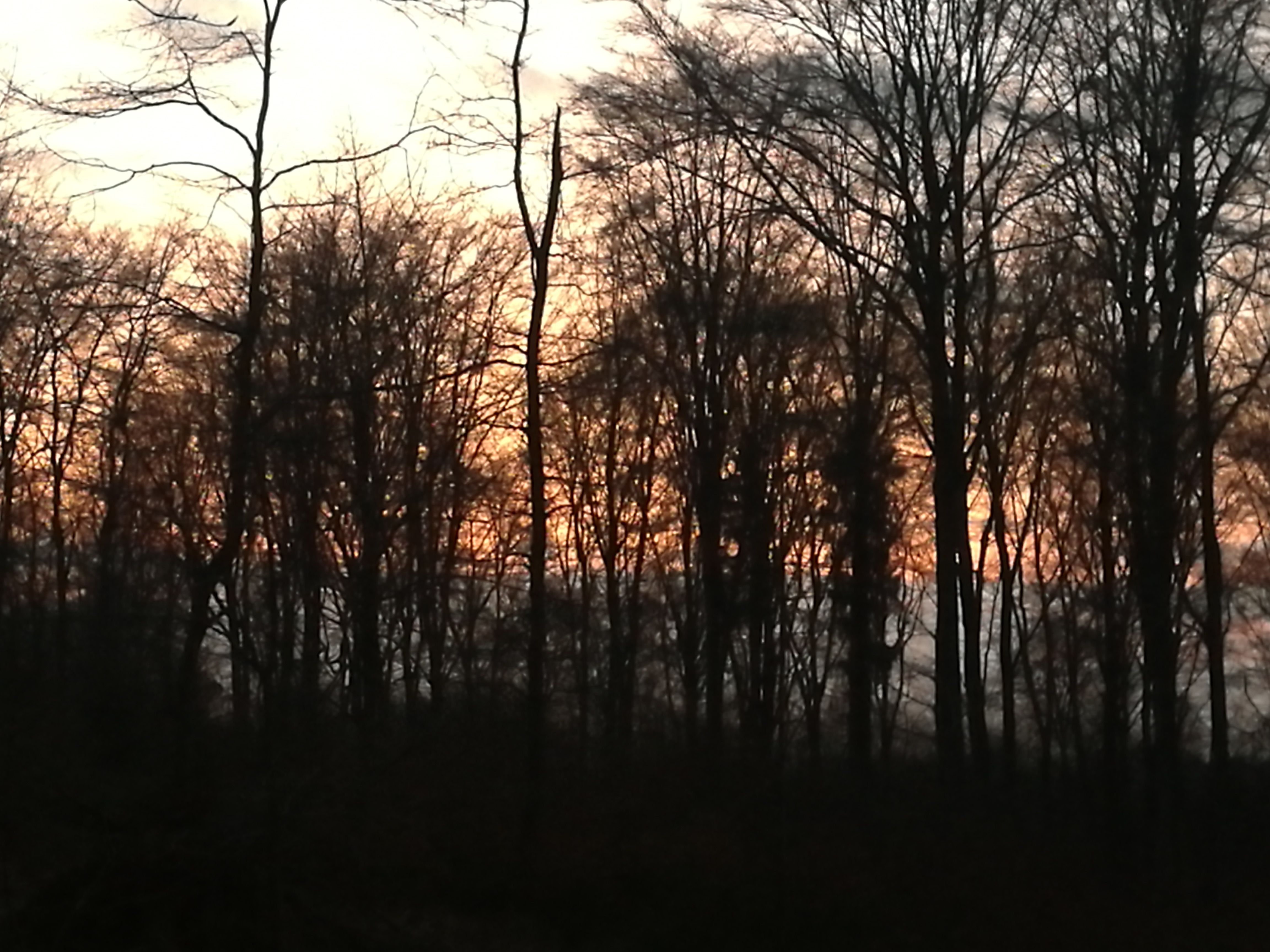 ---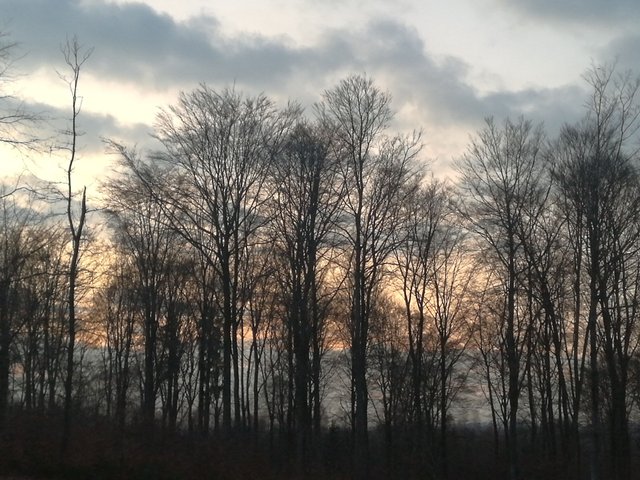 ---
| | |
| --- | --- |
| A forest glade cut by humans under now violet sky. Here still lied some remaining snow from colder days. | Eine von Menschen geschlagene Lichtung unter nun violettem Himmel. Hier lag noch etwas übriggebliebener Schnee. |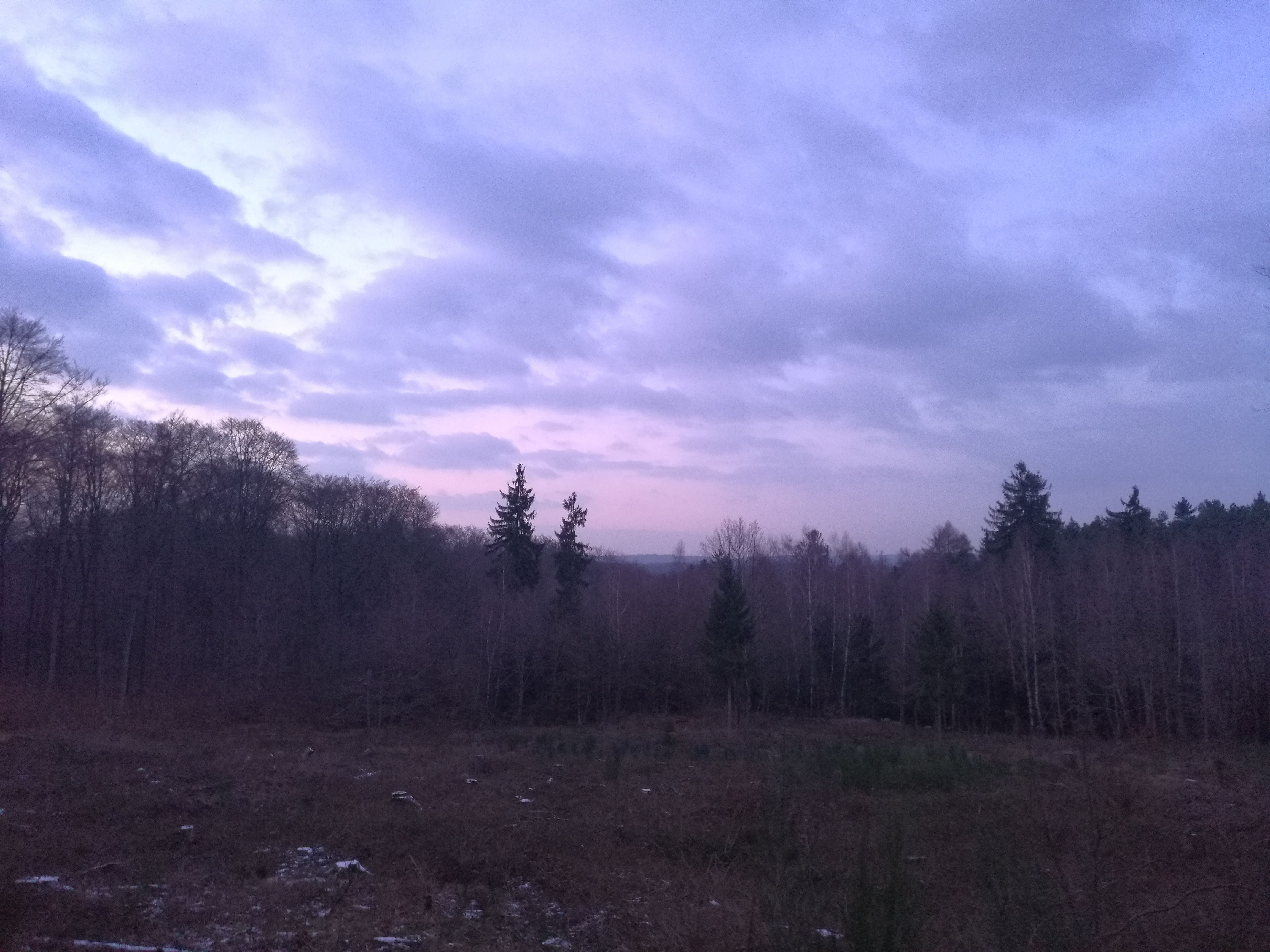 ---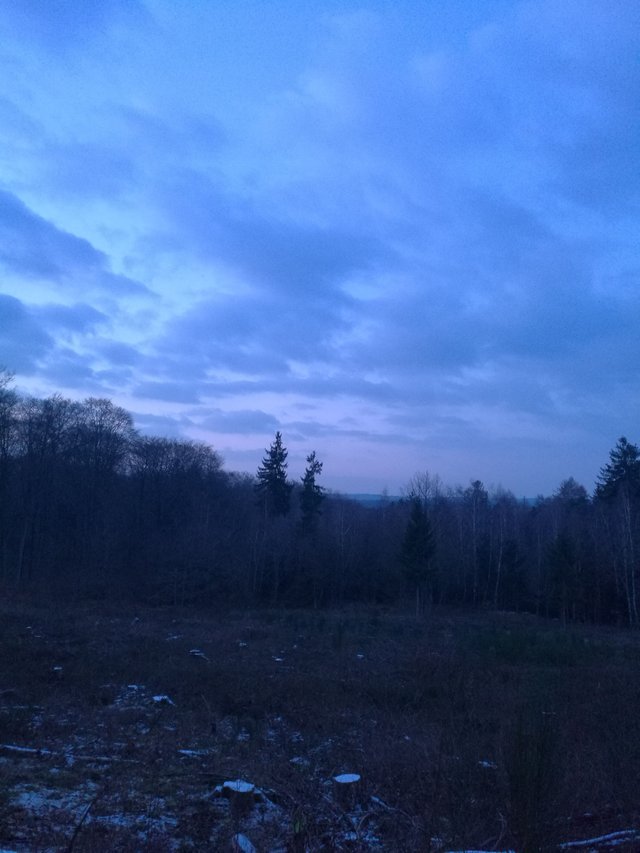 ---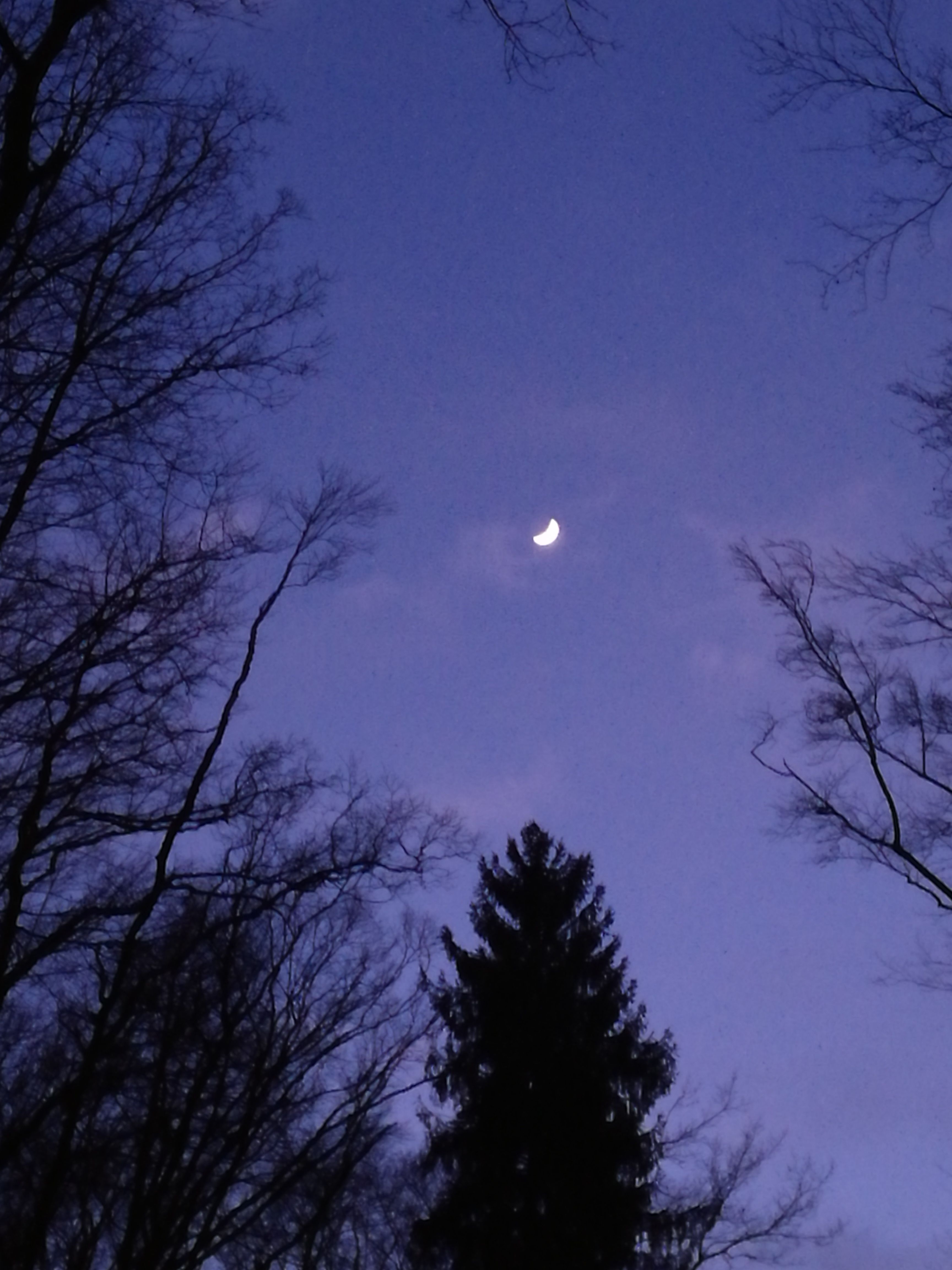 ---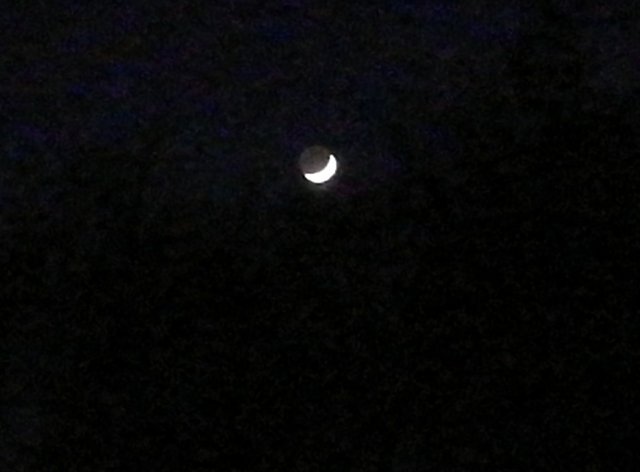 ---