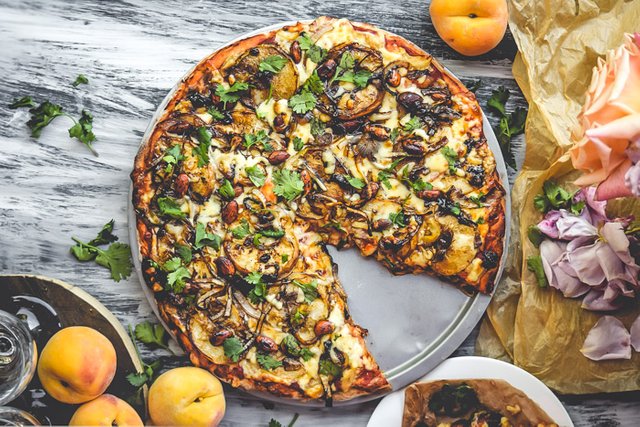 Who's ready for some Summer pizza flavahhhhhh!!!! As far as pizzas are concerned, this one is about as Summery as it gets.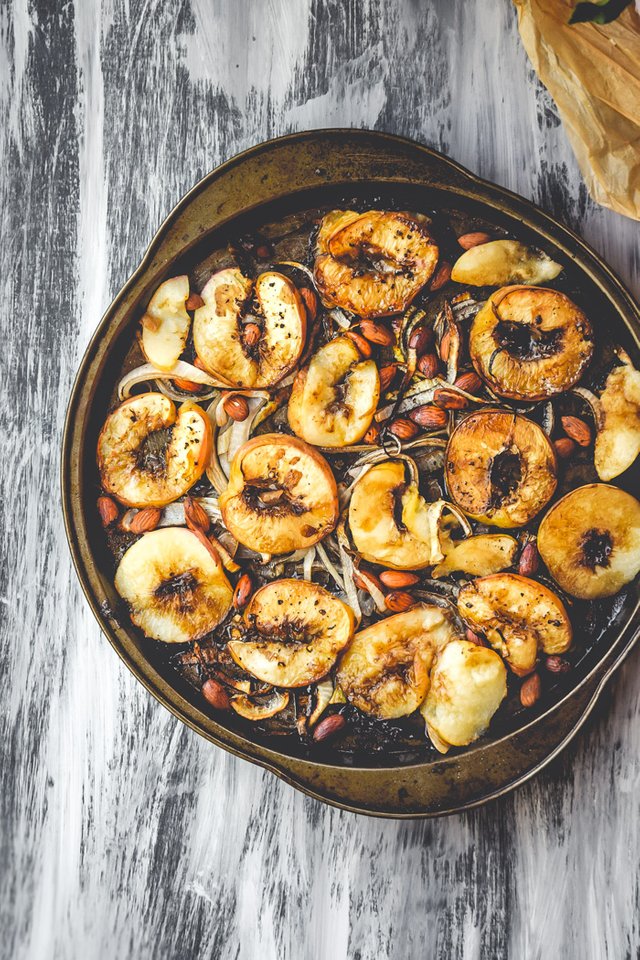 So this isn't you're typical pizza (obviously), but I was really happy with how it turned out. I debated for a while between whether to go with creamy or basic red sauce, but then I realized that I hardly ever do red so it seemed like a good choice. The step of roasting the peaches and onions with balsamic before putting it on the pizza, may seem like a pain if you're in a hurry, but it gives the best flavor ever!
I also have this thing for adding crunchy nuts to pizza, it's so good! My instinct would usually have been to reach for some fresh basil to top this off, but since I was out of basil I went with my second choice of fresh cilantro. I'm thinking that I'm kind of glad I did because it gave the pizza a unique finishing touch and added that fresh summery punch of flavor needed to push this pizza to double yumness!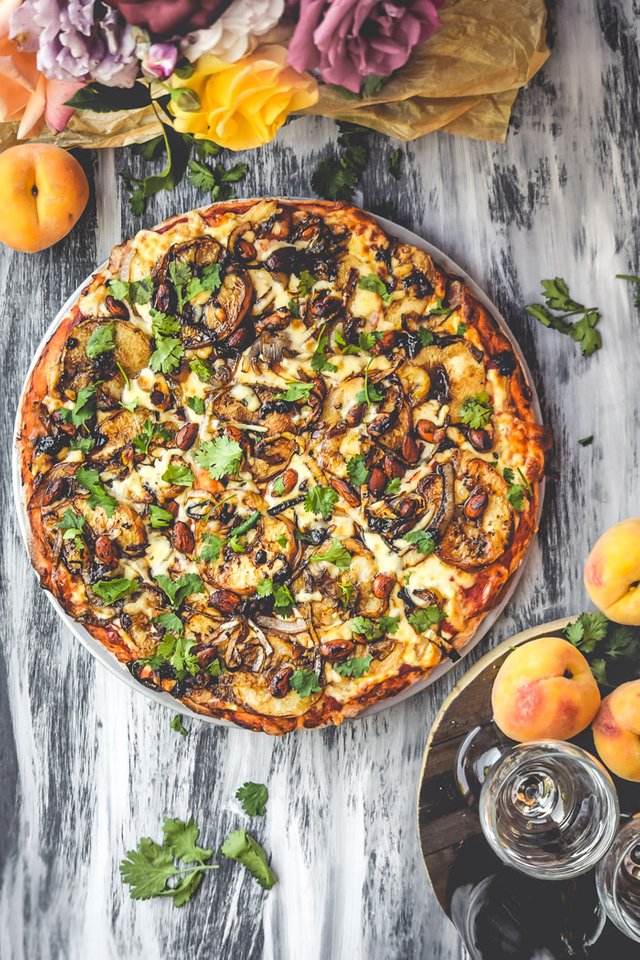 This would be a perfect romantic dinner to surprise you're sweetheart with and it would also be a great addition to your Summer party. Or, you could simply make it because it's a really great pizza flavor to switch up from the usual.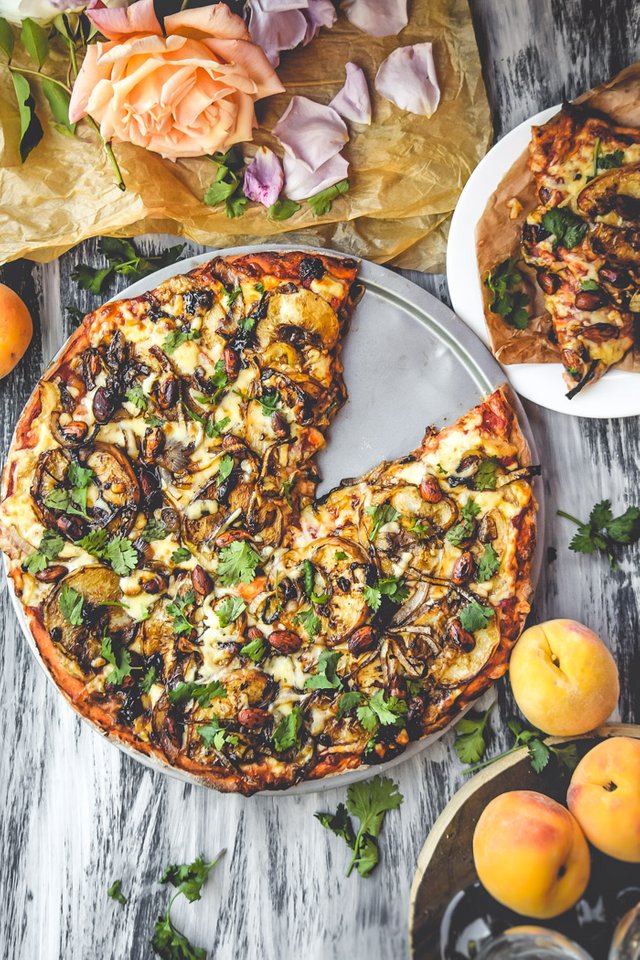 Savory Sweet Balsamic Roasted Peach Pizza
There are more topping possibilities for pizza than you may have thought and this pizza's here to prove it.
Prep Time 1 hour
Cook Time 30 minutes
Total Time 1 hour 30 minutes
Servings 1 pizza (6-8 servings)
Ingredients
Crust:
1 tablespoon active dry yeast
2 talespoons sugar
1 cup water
1 teaspoon salt
2 tablespoons olive oil
2 cups whole wheat flour
1 1/2 - 2 cups all-purpose flour
corn flour for pan optional
Toppings:
2 medium peaches peeled if desired and sliced (seeds removed)
1 small onion thinly sliced into rings
1/3 cup raw almonds
3 - 4 tablespoons balsamic vinegar divided
2 tablespoons olive oil
sea salt and cracked black pepper
1 cup marinara or your favorite pizza sauce
4 ounces about 1 cup shredded vegan cheese optional
1 large handful of fresh cilantro leaves
Instructions
Stir water, sugar, and yeast together until yeast is dissolved and allow to sit for about 5 minutes. Pour into a large mixing bowl and whisk in salt and oil until combined. Add whole wheat flour + 1 1/2 cups all purpose flour and mix until dough comes together. Turn out onto lightly floured surface and knead for a few minutes, adding a bit more flour until the dough pulls away from the surface. It should be smooth and resilient. Place in oiled bowl and cover, then place in warm place to rise until doubled in size.
While dough is rising, preheat oven to 400 degrees F (200C). Line a baking pan with foil (or simply grease if preferred) and spread peach slices, onions, and almonds out evenly. Sprinkle with salt and pepper and drizzle with olive oil and about 3 tablespoons balsamic vinegar. Roast in oven for 20 to 25 minutes, stirring halfway, until the peaches and onions start to darken and smell amazing. Remove from oven and let pan cool for a few moments while you prep your crust. Roll the pizza dough out into a circle that's roughly 1/4 inch thick and dust a pizza pan with flour or corn flour and place crust on pan. Spread marinara sauce and sprinkle cheese an an even layer. Top cheese with your roasted peaches, onions, and almonds. Sprinkle with a bit more balsamic, salt, pepper, and about half of the cilantro.
Bake pizza for 20 to 25 minutes until edges are golden and cheese is well melted and browning on top. Remove from oven and top with remaining fresh cilantro. Cool for about 5 minutes before cutting, then slice and serve hot!

ALL CONTENT IS MINE AND ORIGINAL! All of these food photos were taken with my Nikon D750 and my favorite Lens, the Nikon AF-S FX NIKKOR 50mm f/1.8G. You can find out more in my INTRO POST.
Also, a huge shoutout to @rigaronib for designing my logo!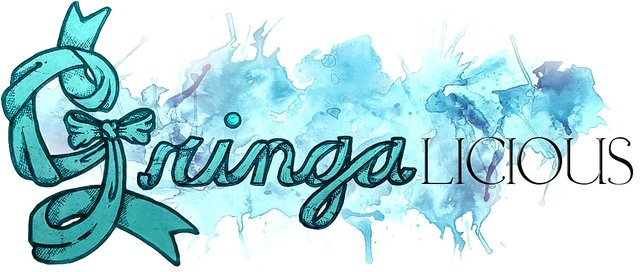 If you're looking for more recipes check out some of my other recent posts!