Kaleiderotica post #5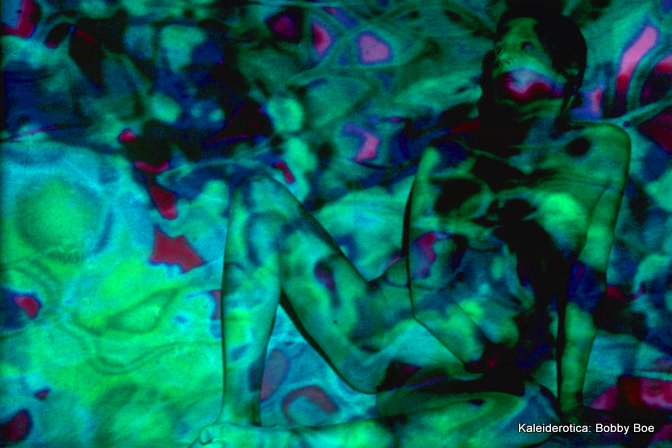 Kaleiderotica, und eine kleine Geschichte auf einem Markt:
In Anlehnung an den grossen Meister Gustav Klimt.
Es ist nicht so dass das folgende Bild sich in Aussage, Inhalt oder auch nur
der Technik wirklich den Werken des oben genannten Künstlers nähert...
aber, ohne dass ich es je vorher ausgesprochen hatte, war dies "mein Klimt".

Der Kunstmarkt war zu Ende, alle Händler packten Ihre Werke ein und waren emsig damit beschäftigt sie in Kisten zu verstauen.
So wickelte auch ich die auf Holzplatten aufgezogenen Bilder in Blasenfolie und beobachtete dabei mehr aus dem Augenwinkel einen älteren Herrn der sich am Nachbarstand offenbar just für die Kunstgegenstände zu interessieren schien, die bereits eingepackt waren. Er war einfach zu spät dran dachte ich, und wunderte mich umso mehr, dass der Künstler die Sachen wieder bereitwillig auspackte nachdem der Mann einige Dinge gesagt hatte.
Da hat er ja einen Geduldigen gefunden dachte ich mir nur und packte weiter...
Plötzlich stand der Mann vor mir, ganz aufgeregt vor Begeisterung über die Farben.
Dann fiel der Name... während er die Hand ausstreckte nach natürlich genau den Bildern die bereits teilweise eingepackt in Blasenfolie so gut wie verstaut waren...
Was haben Sie denn da für einen "Klimt" meinte er... es schoß wie ein Blitz durch meine Glieder... woher kannte der Mann meine Gedanken... gibt es da wirklich eine Ähnlichkeit?... jeglichen Widerstand hatte er mir damit jedenfalls aus den Segeln genommen, ich packte ihm gerne alles aus was er sehen wollte...
Und die Moral von der Geschichte?
Ich weiß es nicht, aber vielleicht ist die Geschichte stellvertretend für den Wunsch den viele Künstler mit ihren Werken verbinden, nämlich dass jemand ähnlich empfindet, und das Bild damit als Kommunikation funktioniert hat. Nicht immer und nicht mit jedem gelingt dies so treffend wie mit dem älteren Herren auf dem Kunstmarkt der mich überraschte.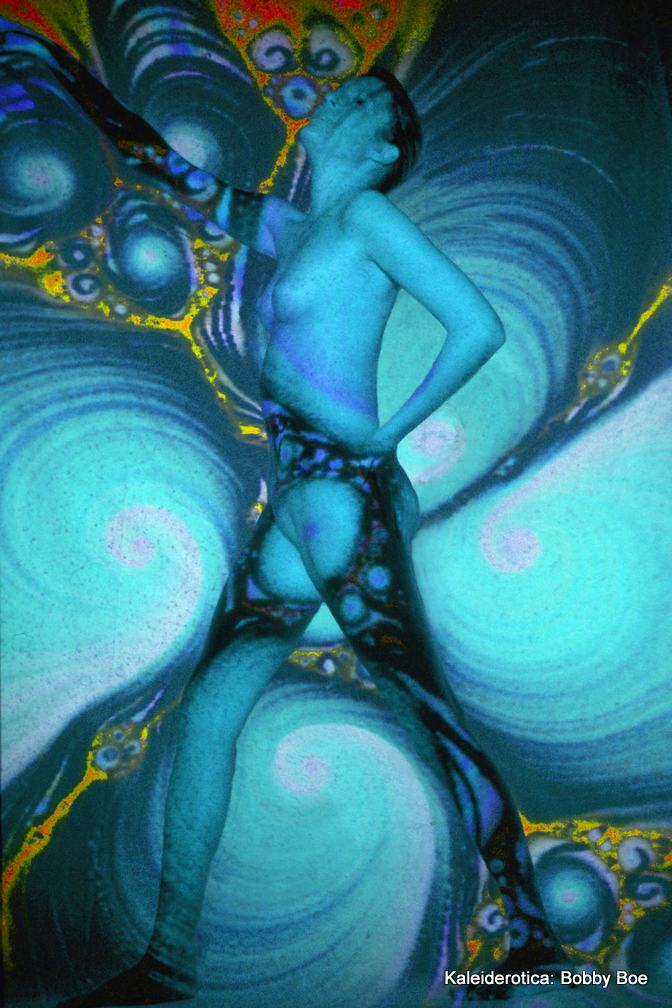 Meine Bilder wurden oft auch von Frauen geschätzt und gekauft.
Ich würde diese Bilder selber eigentlich nicht als NSFW einstufen,
vor allem nachdem ich jetzt gesehen habe was hier auf Steemit
unter diesen Buchstaben oft zu finden ist.
Sollte sich jemand durch die Nacktheit auf den Bildern kompromittiert oder gestört fühlen, bitte ich dies im Kommentar zu hinterlassen, ich füge gerne den NSFW-Tag hinzu wenn es euch angebracht erscheinen sollte.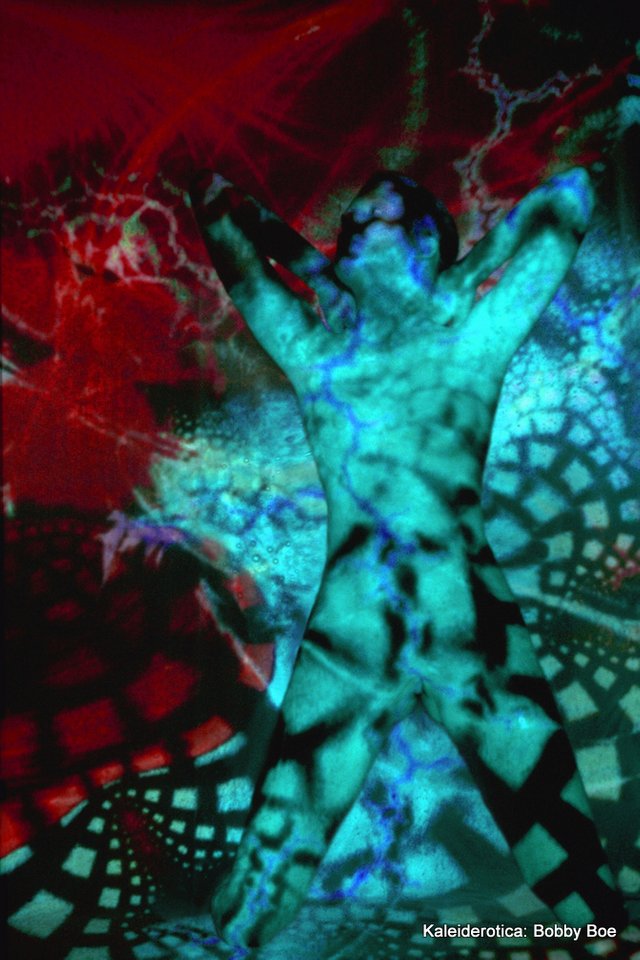 Kaleiderotica, a mix of patterns:
As described in earlier posts, the patterns were designed digitally using algorithms in a computer, then projected on the model (with and without model shots were combined later to eliminate shadows), photographed with a nikon F100 on Film, scanned and fine tuned in postproduction.
In some of the patterns you might recognize the results of fractal formulas (made with KPT`s - for those of you who still remember Kais Power Tools), others are more "biological" like what you see when looking on cells in a microscope, or "symmetrical-artificial" like in kaleidoscopes.

I sold these painting like photo art on markets open for everybody, and nobody ever complained...so I dare to not use the NSFW-tag here... also because I have seen what you find if this tag is filtered here on Steemit.
In case though, you think my art could disturb people's feelings for nudity in the picture, please leave me a comment, and I will use the NSFW-Tag, (I left one tag open to choose).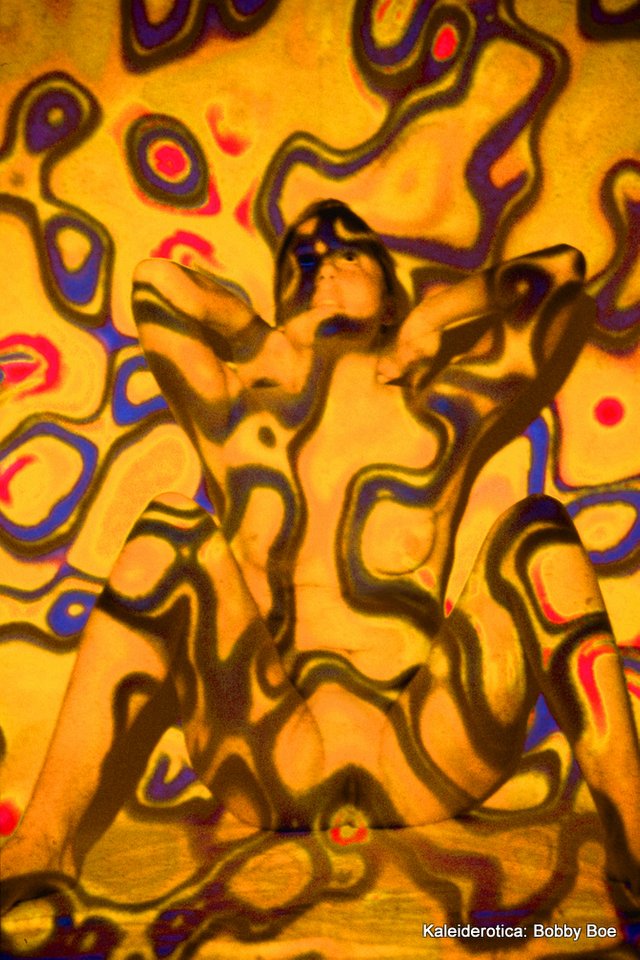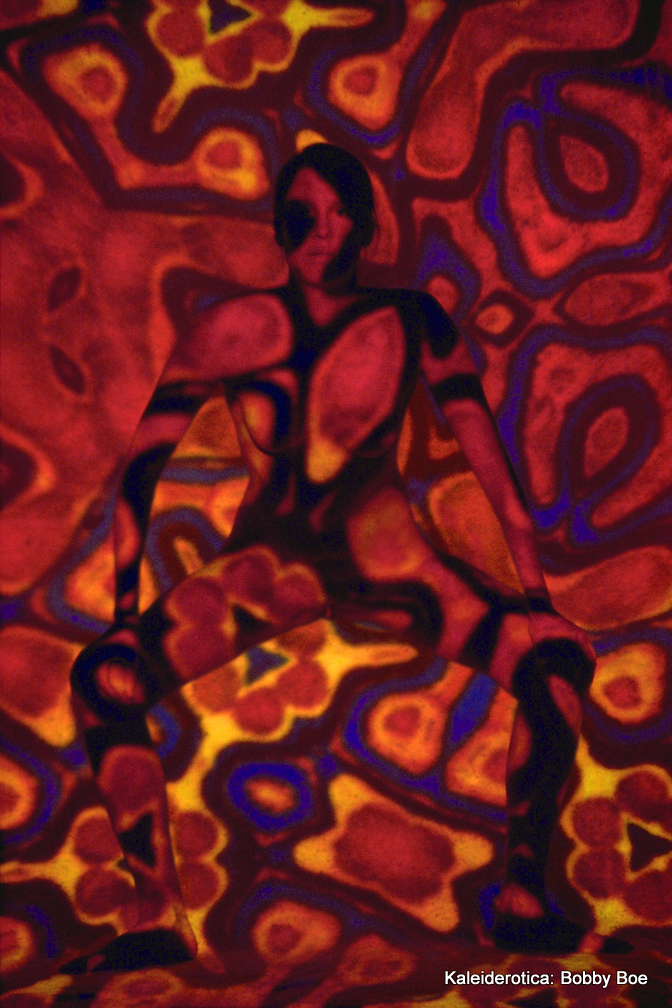 If you like to see more like this, feel free to follow.
If you resteem my post I will:
follow you
give a look at your posts
upvote those of your posts that I like