The beautiful Red Cotton Bug
Hi all friends. Hopefully today is better and more successful than yesterday.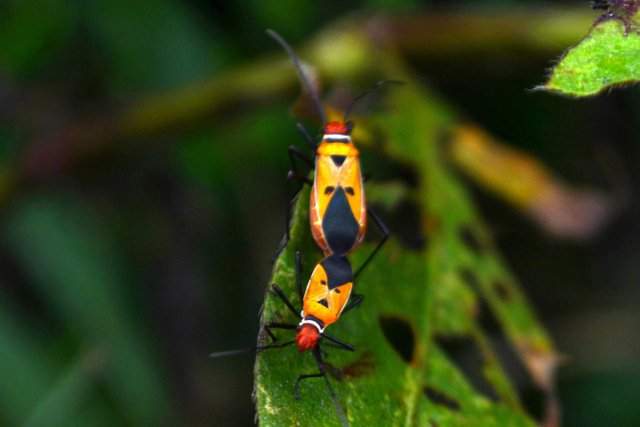 This Photo Taken With :
Camera: Nikon D5200 Exposure: 1/100 Aperture: f/5.6 Focal Length: 55.0 mm ISO Speed: 100 Lens: AF-P DX NIKKOR 18-55mm f/3.5-5.6G VR
Photograph: @bim.scouting
This time I will share pictures of beautiful insects, namely Red Cotton Bug
Red Contton Bug in Indonesia better known as Bapak Pucung.
Perhaps in other regions or countries, the name insects that have the scientific name Dysdercus cingulatus vary.
Red Cotton Bug itself is one of the most common pests that attack plants, such as roselle plants and plants from the Bombacaceae family (kapok).
Red Cotton Adult bugs are generally red with a body length of between 11 and 17 millimeters.
At the back of the head and abdomen there are white and black lines. While the wings are brown with a pair of black spots.
Of the many references and sources mention that Red Cotton Bug including insects who like to live in groups and have a very fast marriage, ie 2 to 6 days, and start laying eggs after 3 to 8 days later.
Well all friends, so glimpse reviews about Red Cotton Bug. May be useful!
Thank you for visiting my blog @bim.scouting