Photo Chronicle #3
---
---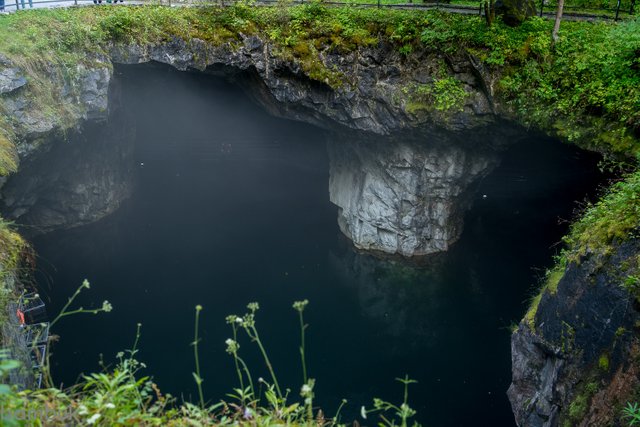 ---
---
Отсюда есть два пути следования. Можно отправиться вокруг каньона. Но можно и пойти вглубь парка. Оба маршрута интересны. Я пока не решил, куда вас поведу в следующий раз.Возможно это будет подземное озеро.
На этой фразе я закончил предыдущую часть. Таки мы пошли.
From here there are two routes. You can head around the canyon. But you can go deep into the park. Both routes are interesting. I have not decided where to take you next time.Perhaps it will be an underground lake.
On this phrase I have finished the previous part. So we went.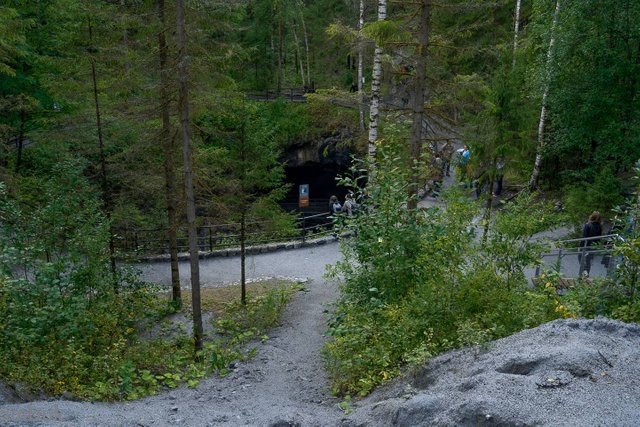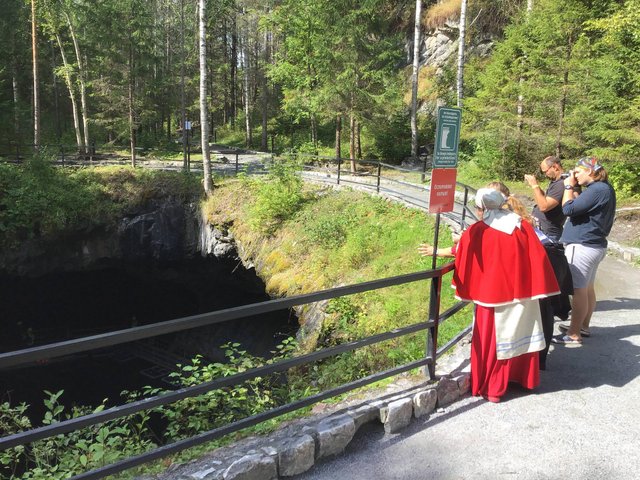 iPad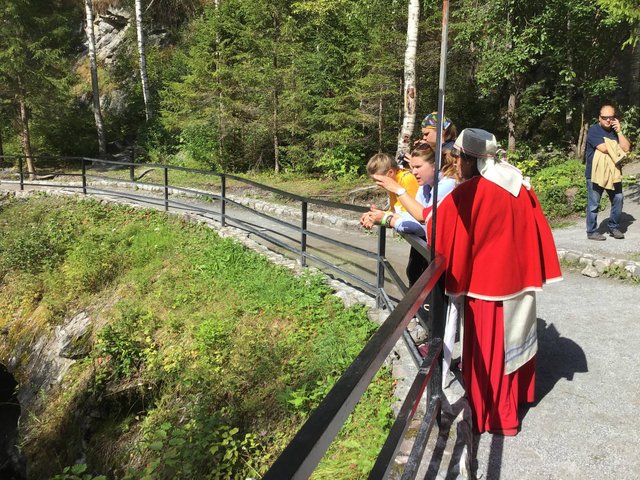 iPad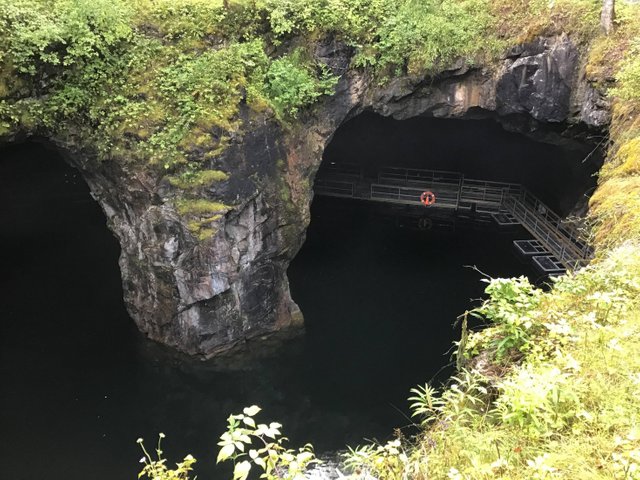 iPad
В давние времена здесь добывали мрамор для строительства Петербурга, при советской власти – известь, декоративную крошку, щебень. Когда промышленники ушли из этих мест, каньон в мраморном месторождении был затоплен подземными водами. Так образовалось это подземное озеро. Общая длина подземных лабиринтов достигает нескольких километров. Когда-то здесь располагались шахты и штольни. Температура в этих подземных проходах низкая. Смешиваясь в тёплым воздухом наружи, образуется туман. Теперь я знаю, как рождаются облака.
In ancient times, marble was mined here for the construction of St. Petersburg, during the Soviet era - lime, decorative chips, crushed stone. When the industrialists left these places, the canyon in the marble deposit was flooded with groundwater. So this underground lake was formed. The total length of the underground labyrinths reaches several kilometers. Once there were mines and adits. The temperature in these underground passages is low. Mixing in the warm air outside, fog forms. Now I know how clouds are born.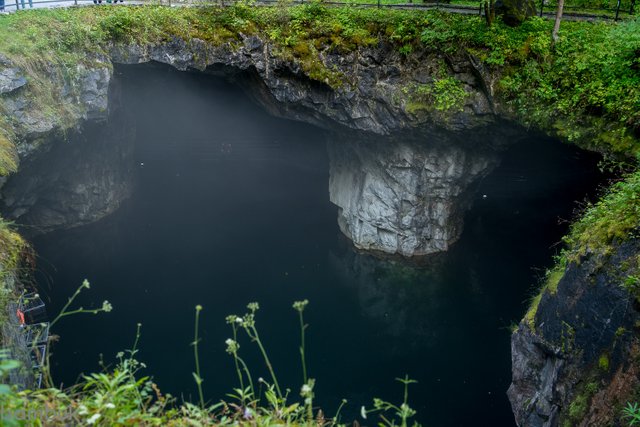 ---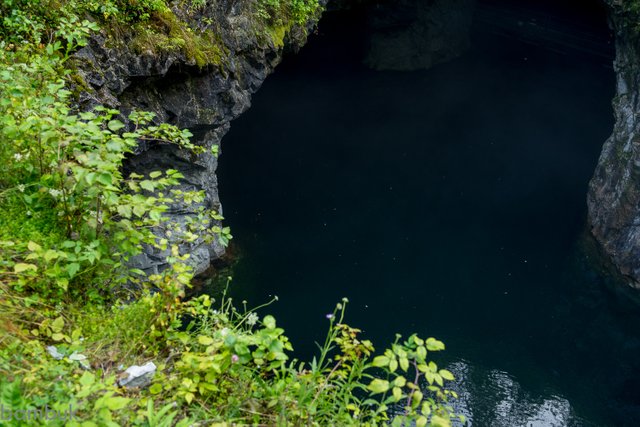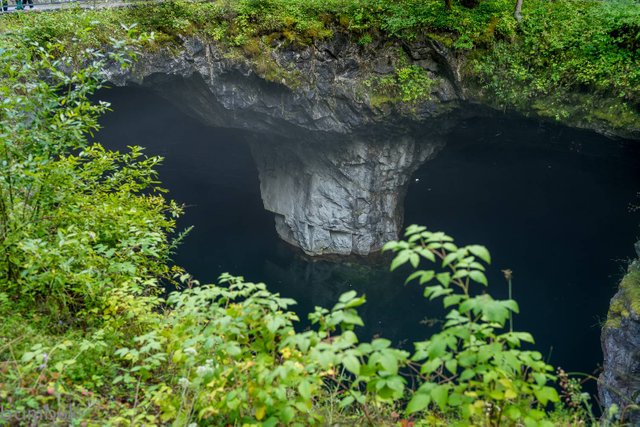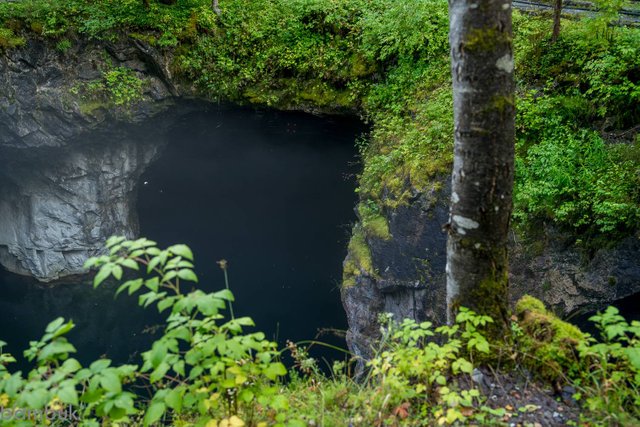 Мы осмотрели озеро сверху. Когда смотришь в чёрную дыру, то ждёшь, что кто-то помет из неё показаться. Но из этой дыры раздавались звуки органа. Оказалось, что мраморные своды озера имеют прекрасную акустику. Тут даже устраивают живые концерты. Внутри по своему подземному маршруту бродили люди. Мы туда не пошли. Может быть в следующий раз.
We examined the lake from above. When you look into a black hole, you expect someone to drool out of it to appear. But from this hole came the sounds of an organ. It turned out that the marble arches of the lake have excellent acoustics. They even arrange live concerts. Inside, people roamed along their underground route. We did not go there. Maybe next time.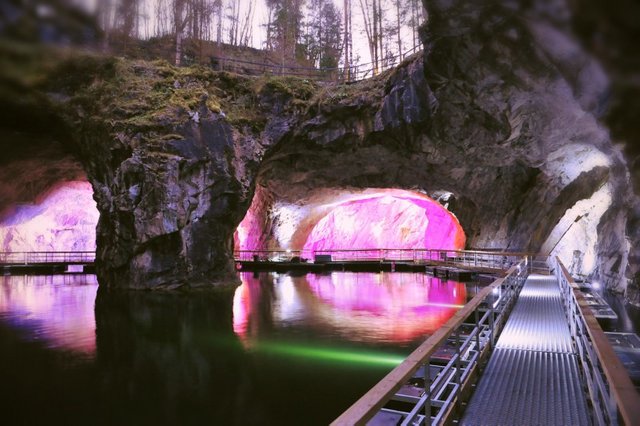 ---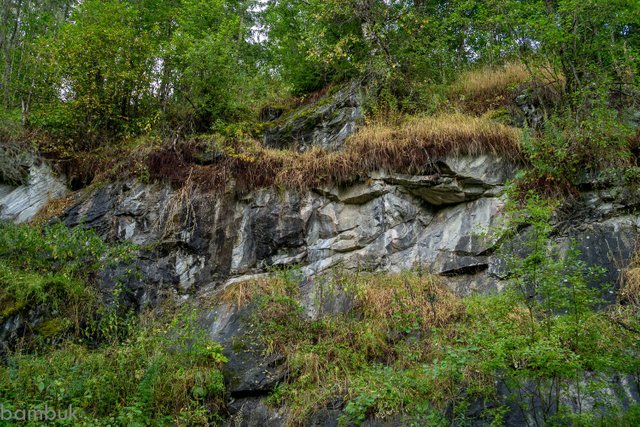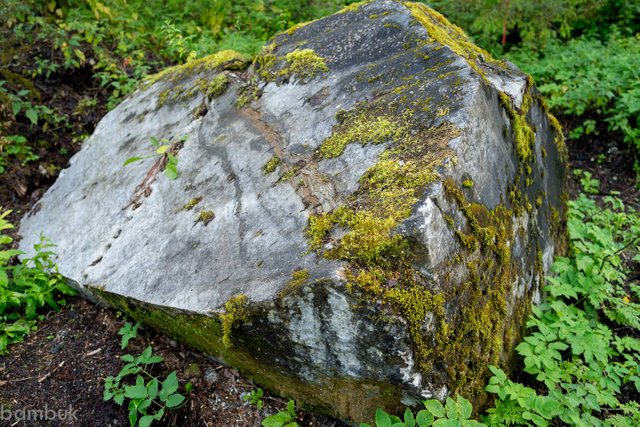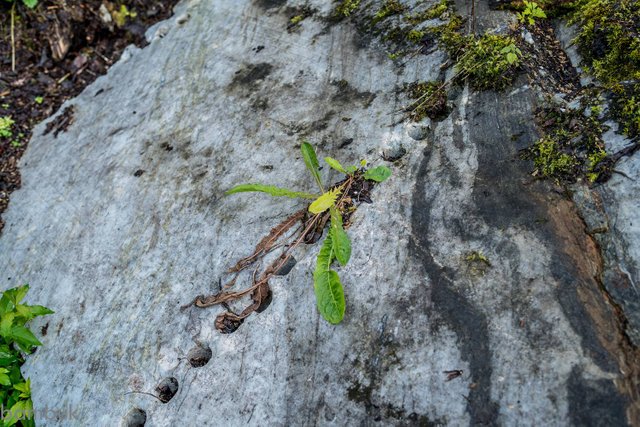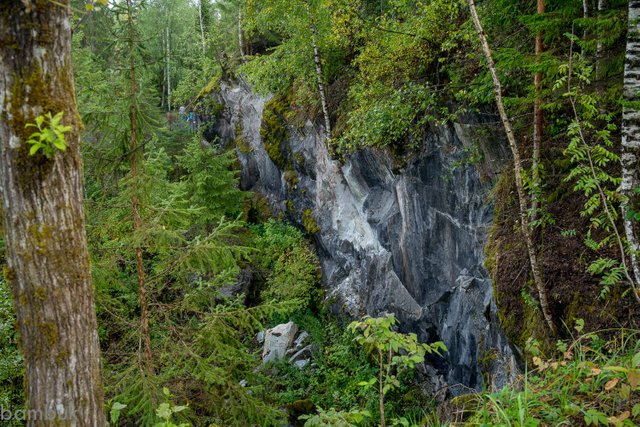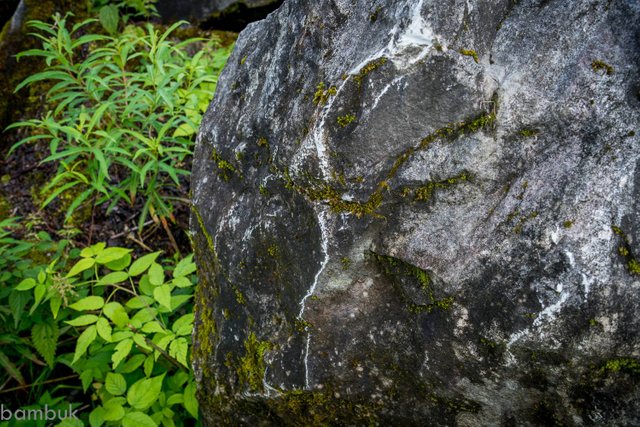 Мы прогулялись вокруг чёрной дыры и решили вернуться к мраморному каньону. Ведь были мы всего на одной смотровой площадке, а тропа ведёт вокруг всего каньона. По дороге любовались мраморными булыжниками. Здесь нет простых камней. Здесь везде мрамор, хотя в необработанном виде эти камни не похожи на него.
We walked around the black hole and decided to return to the marble canyon. After all, we were only on one viewing platform, and the trail leads around the entire canyon. On the way, we admired the marble cobblestones. There are no simple stones. There is marble everywhere, although in raw form these stones are not similar to it.
---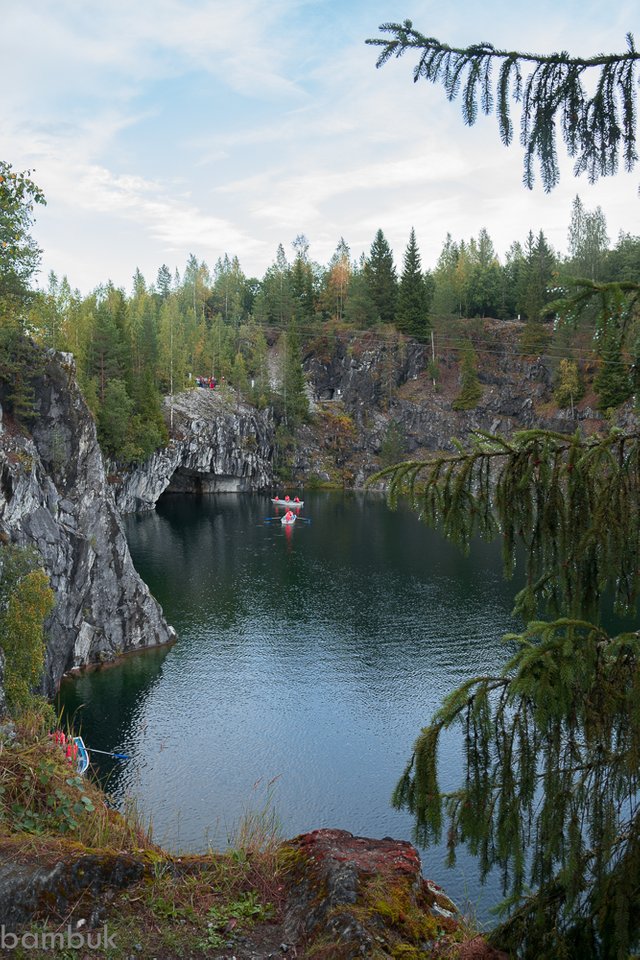 Спускался вечер. Света для съёмки становилось всё меньше. В тот первый день мы так и не обошли каньон целиком. Примерно половину. В следующем повествовании я покажу эту часть каньона. Но нас привлекла другая тропа. Она вела вглубь территории. Там мы затали красивый закат. А потом был ещё один день. Но не будем забегать вперёд. Всему своя очередь.
The evening came down. Light for shooting became less and less. On that first day, we did not go around the canyon entirely. About half. In the next story I will show this part of the canyon. But we were attracted by another path. She led inland. There we started a beautiful sunset. And then there was another day. But let's not get ahead of ourselves. Everything has its own turn.
---
---
Sony A7М2 1.4 35