The Fortified Church of Viscrii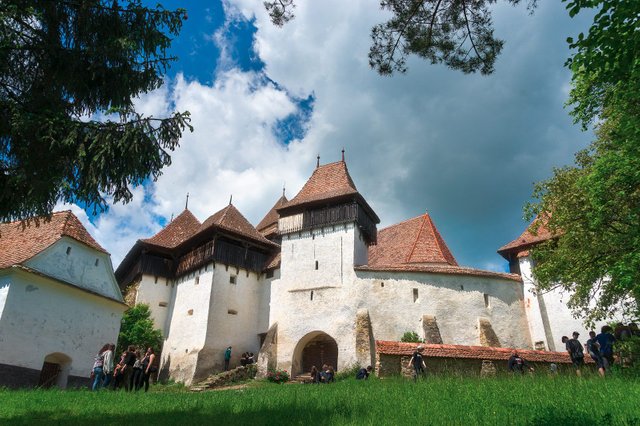 Click on image to view larger
---
The Fortified Church of Viscrii
One of the most interesting Saxon fortified churches is found in the village of Viscri (Weisskirch in German). The name stems from the German Weisse Khirche, meaning white church. Unlike other Transylvanian fortified churches, Viscri was built around 1100 by the Szekler population and taken over by Saxon colonists in 1185. This explains why this distinctive gothic church shows a plain straight ceiling rather than a traditional vaulted one.
In the 14th century, the eastern section was rebuilt and about 1525, the first fortification walls with towers were added. From the 18th century, the church was endowed with another defensive wall.Inside the church museum, it is possible to admire woven and embroidered textiles, pottery, and handmade agricultural tools, in addition to traditional furniture and clothing.
From the fortification's towers, it is possible to admire the village scenery, with its hills and meadows, in addition to the authentic hand-tiled roofs of the houses and barns. Lots of the traditional buildings are restored and flashed since 1999. The Mihai Eminescu Trust has over 300 projects in the area -- including paving the streets, providing school transportation for the kids, and supporting local entrepreneurial growth.
Have you been to Viscri?
---
| | |
| --- | --- |
| Category | Landscape |
| Exposure | Manual exposure, 1/15 sec, ISO 100 |
| Camera | Sony A7II |
| Lens | Sony 24-240mm |
| Filter | Polarizer |
| Location | Viscri, Romania |
---

"Travel is fatal to prejudice, bigotry, and narrow-mindedness." - Mark Twain
All photos are taken and articles are written by Adonis Villanueva of Always Wanderlust unless otherwise stated.

GET BUSY RIGHT NOW - BUSY.ORG
USE YOUR SP TO EARN PASSIVE INCOME - SMARTSTEEM
GET MORE FOLLOWERS - Steem Engine
THE BEST TRAVEL CONTENT - TRAVELFEED
Have a Laugh!
The Spider in the Patio
Detained for Drugs in Norway
Unforgettable Ride on a Chicken Bus
---
Twitter Page, AlwaysWanderlust
Facebook Page, AlwaysWanderlust
Instagram Page, AlwaysWanderlust
Website, AlwaysWanderlust.com
Join the Steemit Travellers on Discord
© 2017 AlwaysWanderlust.com All Rights Reserved