Watching The Night Sky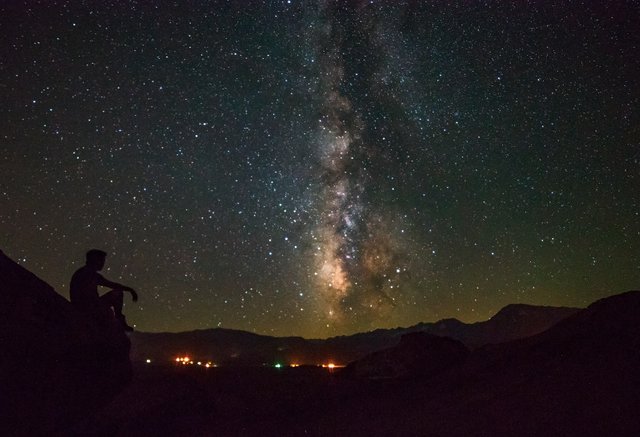 Click on image to view larger
---
Watching The Night Sky
I took this in the deep desert of the Volcanic Tablelands in Bishop, California. You can see Bishop over the horizon, it's bright but not bright enough to take over the Milky Way hovering above the skies. The elevation is high enough at over 6,500ft so there's less pollution in the air to blur the Galaxy.
Scenes like this require a really good high ISO camera. Something like the Sony A7sii would be ideal, I only have the Sony A7ii. Perhaps someday, when I get more into it, I'll have a dedicated camera for astrophotography.
Have you seen the Milky Way with your naked eye?
---
| | |
| --- | --- |
| Category | Landscape |
| Exposure | Manual exposure, 3 sec, ISO 100 |
| Camera | Sony A7ii |
| Lens | Sony FE 24-240mm |
| Filter | Polarizer |
| Location | Shkodër, Albania |
---

"Travel is fatal to prejudice, bigotry, and narrow-mindedness." - Mark Twain
All photos are taken and articles are written by Adonis Villanueva of Always Wanderlust unless otherwise stated.

USE YOUR SP TO EARN PASSIVE INCOME - SMARTSTEEM
GET MORE FOLLOWERS - Steem Engine
THE BEST TRAVEL CONTENT - TRAVELFEED
Have a Laugh!
The Spider in the Patio
Detained for Drugs in Norway
Unforgettable Ride on a Chicken Bus
The Love Valley
---
Twitter Page, AlwaysWanderlust
Facebook Page, AlwaysWanderlust
Instagram Page, AlwaysWanderlust
Website, AlwaysWanderlust.com
Join the Steemit Travellers on Discord
© 2017 AlwaysWanderlust.com All Rights Reserved