Ben Shapiro, "the cool kid's philosopher", once famously tweeted "facts don't care about your feelings", in his unending quest to "destroy" leftist ideals and arguments with "logic and facts". I really don't understand why so many people still listen to this man as he proves time after time, that in reality his feelings don't care about the facts.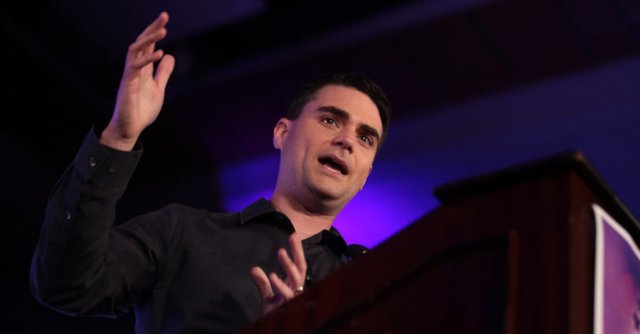 Image by Gage Skidmore - source: Flickr
Ben Shapiro is one of social media's biggest and most popular personalities; his platform is sizable, so he influences a lot of young minds, which is a shame. Ben is a wasted talent; he's really good at what he does as proven by his large following, but he uses that talent to popularize bad and sometimes dangerous ideas. Yesterday a video of him has gone viral on Twitter in which he reacts to a proposal made by Beto O'Rourke, one of the Democrats running for candidacy in the general elections of 2020. This video embodies everything that characterizes the reactionary and extremist nature of modern public discourse as it comes from the conservative side of the political spectrum; it's pure intellectual poison, to be short and to the point.
You can watch Ben's video at the end of this post, as well as the proposal that ignited his anger and wrath; really, sometimes I see in him a reflection of Damien from the film The Omen, one of the best horror-suspense movies of all, time with Damien being arguably the scariest kid of all time. O'Rourke was asked if he would end the tax exempt of religious institutions if they discriminate against people on grounds of their sexual orientation, race, religion, gender and so on, to which he answered "yes". So all Beto is saying, is that religious schools can go right on ahead and discriminate all they want, but if they do they'll forfeit their privileged status of not having to pay any taxes, you know, like we all do.
Horrible Ben however, takes this and twists it all around to go on an angry rant, accusing Beto, and by extension the entire political left, of wanting to force his crazy liberal ideas of equal rights for everyone upon his children. He calls out O'Rourke for starting a genuine culture war in America by forcing churches and religious educational institutions to embrace homosexuality and gender fluidity. He creates a straw-man, a lie, and then rages against that self-made lie, a tactic he uses to great effect when he "destroys" college-kids in his popular videos. When you watch the video you'll see just how transparent and pathetic Ben's propaganda really is, so why do so many people idolize this obvious fraud and take everything he says for granted?
The sad reality is this: the vast majority of his audience will never be exposed to the debunking video I linked here. They'll see Shapiro's angry rant, take him serious when he threatens to take up arms against the authorities or predicts a civil war over the left's oppressive politics against the church, against traditional family values, against white males... Yes, Ben repeatedly stated that white males are discriminated against, and that they have zero chance to get the nomination on the Democrat's side; so I don't even understand why he's so upset about Beto's proposal in the first place. Oh, it must be because Beto isn't a STRAIGHT white male... Regardless, Ben knows as well as anyone does that the church won't lose their tax exempt status for a long time to come; the proposal will never come to fruition, even if Beto becomes the next president of America. Ben knows all this, he's not dumb. Which leaves us with the question: why? You know how much influence you have. You know people on the alt-right will take this seriously and maybe even act upon it. Shapiro isn't cool, he's no kid and certainly isn't a philosopher. In my opinion he's "the bad kid's demagogue"; Ben doesn't care about facts, but sure does stir up a lot of angry and poisonous feelings among his large following.
Has Ben Shapiro Lost His Mind?
---
Thanks so much for visiting my blog and reading my posts dear reader, I appreciate that a lot :-) If you like my content, please consider leaving a comment, upvote or resteem. I'll be back here tomorrow and sincerely hope you'll join me. Until then, keep steeming!

Recent articles you might be interested in:





Thanks for stopping by and reading. If you really liked this content, if you disagree (or if you do agree), please leave a comment. Of course, upvotes, follows, resteems are all greatly appreciated, but nothing brings me and you more growth than sharing our ideas. It's what Steemit is made for!





I am a proud helpinaut! @Helpie is looking for new members! Helpie has been growing nicely and we are always on the lookout for new valuable members. We are very supportive and community oriented. If you would like to be scouted for @helpie , please drop a comment on THIS POST or contact @paintingangels on discord at paintingangels(serena)#3668.




Just for Full Disclosure, I'm invested in these crypto-currencies:

Bitcoin | Litecoin | EOS | OmiseGo | FunFair | KIN | Pillar | DENT | Polymath | XDCE | 0x | Decred | Ethereum | Carmel | XYO





@helpie is a WITNESS now! So please help @helpie help you by voting for us here!