I have been hibernating, my eyes, my mind shut to the world about me. It would have been fair if I had been dreaming while in this long sleep but all that I can bring out of this slumber is stillness, darkness and silence.
---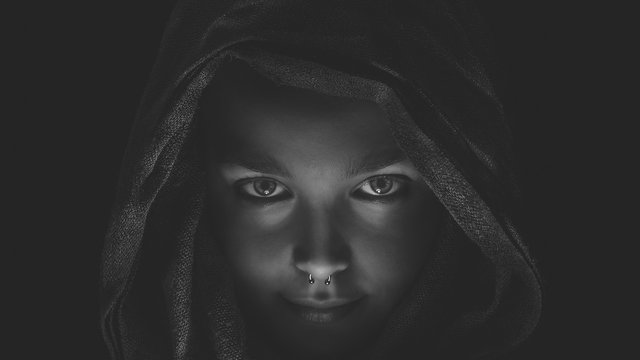 pixabay: Free-photos
---
Silence is a beautiful thing if experienced within a particular state of mind. A state where there are no distractions, no white noise, nothing; a place where you can hear your body speak. You can hear the palpitations of your heart, the rustle of your lungs drinking in air, the throbbing of your blood as it travels through your veins and capillaries, the clap of your eyelids with each blink. It is in such a state, that you discover the world, that you realize that there is more to life than a bed, a female form, food, alcohol and a stick of sweet scented weed.
Being silent in the dark is an art that must be learnt and exercised. It is a science that must be experienced and speculated upon. The moment you are able to lie still in complete darkness and let your surrounding come together within you, you will come to understand the beauty within darkness. You will come to realize that the void is not a bad place to be. It is not to be feared.
If you consider how much work the brain does while we sleep, you will realize that it is at your most immobile that your thoughts arrange themselves into coherent and coordinated ideas that you can later project into life. People who wake up from coma speak of experiences that they cannot explain or define. They see things that beat their imagination and some discover truths about themselves or and the world they live in when they wake up from coma. This is because in the deepness of that sleep, that silence, their subconscious steps to the fore and takes over the running of the mind and unlike the conscious mind that places limits on possibilities, the subconscious has no such limits and as such, you find that the ideas that you bring from sleep are more superb than the ones you get from actively thinking about an issue and even less strenuous to get.
If you can learn to lie still in the dark without a sound, you can let your mind unfetter itself from the world around you and seek answers to questions you have always been afraid to ask. If you let your mind roam through your subconscious without trying to define the thought processes, you will find answers you never expected and come to some truths you really do not want to confront.
The darkness is where a man truly sees himself for who he is. The light tends to make you feel special, good, and decent. It tends to give you a certain level of polish and makes the world seem bright even if it is just for a while. Silence makes you go into your head but noise makes you forget that you exist and your actions seem as if they are not being carried out by you. Thus, a shy boy at a party with loud music would, given time, find the courage to dance and even dance with the prettiest girl on the dance floor but in the silence of the classroom, you might never see his eyes because he always watches the ground. Movement makes you feel the need to be observant, to take note of the world around you and as a result, the world within you is ignored.
If darkness, stillness and silence are properly combined, you will find that you will become much understanding and forgiving of yourself. In the darkness, you can let yourself go and become who you truly are after all no one can see you. You can shed a few tears, let your belly sag, drop your shoulders or curl into a ball on your bed. You can think the thoughts that the day light will not let you think. It would seem that darkness breeds evil but darkness is not an entity, it is what lies within us that breeds the evil that darkness frees. What darkness actually offers is anonymity, freedom, in the darkness of night, an evil man can plead to his God for mercy and a good man can commit evil.
In stillness lies the ability of patience. To lie still on a bed without turning a muscle, staring into the darkness is something that takes a whole lot of patience. It demands the ability to ignore distractions, to stay focused. When one is still, one conquers the body and allows the subconscious to peer into the conscious world. It allows thoughts to float around seeking for answers and solutions. Sometimes when still in the dark, you begin to see a light. This light is the reflection of the light your eyes had seen before darkness came. It is like an afterimage after a snapshot.
Silence is the most difficult to achieve because the world we live in is quite noisy. It takes a lot of effort to find a place where you can literarily hear yourself think. This is why some persons do their thinking in the early hours of the day as soon as they wake up. This is because the noise pollution of the world is yet to infect them for the day. Their minds and thoughts are still pure with only the feeing images of forgotten dreams around to tarnish their mind.
When you learn to be silent, to make people do things without saying too much, you have achieved a higher level of communication. It creates mystery and breeds distrust sometimes but it is also a weapon that fights for you better than explaining your every move. When you can be silent and still in the darkness, you will feel your mind go forth and your mind's eye will see the world for you. You will come to see with different perspectives and some ideas that had seem beyond you would begin to make sense.
Darkness, stillness, silence are a trinity that helps make the creative mind become godlike in its creativity. Some persons use drugs to find inspiration and others let their minds to go deep into themselves to find truths, light and inspiration. Try it this night; go to your room, close the door and windows, lie on your bed and shut your eyes then let your mind roam. You will be amazed at what you will find.
---
I just woke up from hibernation and this is the first day of 2019. I have written above, all of that from the top of my head. I don't know if I make sense or if there is a purpose to what I have written but it feels good to write nonfiction. Happy New Year!
©warpedpoetic, 2019