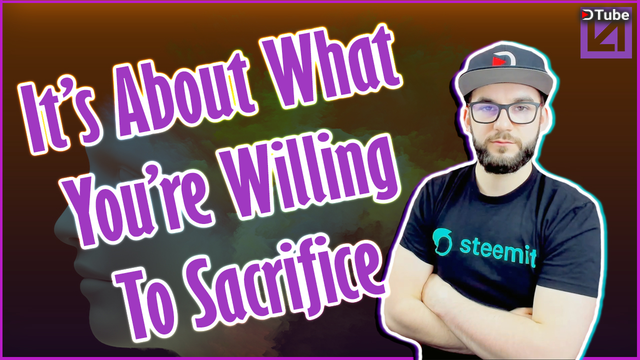 ---
We like to fantasize about that place where we've done it all and we're sitting on a beach drinking martinis, but that's not the end game. You know why? How long can you sit in the sun drinking martinis before you're severely sunburned and dehydrated and quite frankly sick of it. It's nice to think of when the going gets tough, but that's not what you really want.
What we all want is to have a purpose in this life and feel fulfilled in what we do. We want, nay, we NEED self actualization. What anyone really wants is to overcome the challenges presented to them. We may not want to partake in the challenge, but we all want to overcome them. The reality is the process, the struggle to overcoming adversity on any level that it hits you and to own it and really swing with it.
I've struggled for a long time to find who I was, but you do so by discarding the things you are not. It's a lot more about removing the negatives to make room for positives than it is about seeking out the positives and hoping you find them. It's about getting aligned and being in the space where opportunity has the chance to present itself to you. Maybe just maybe in that space, you will achieve everything you've ever wanted, but you have to really want it. You can't just wish it, but really want it so badly that you're willing to risk failing. I've regretted only things I've not done in this life, not the things I did do for I learned and grew from those trials. I still let many things pass me by, but only because I know those things are not me.
Create the you that you want to be today because tomorrow never comes.
Youtube alt link:


Every Week I Do A Giveaway
For all my posts, I collect the resteems, comments, and upvotes made on my posts the last week and use a https://snackaholic.github.io/steemfortune/en/ by @snackaholic to determine the 3 winners who receive 0.5 SBD each and announce it on the next post! I also send out 0.001 monthly to my followers with a small bulletin update. By following me you opt-in to receiving it!
Last post here: https://steemit.com/giveaway/@scottcbusiness/6vpfzz-weekly-post-engagement-giveaways
Feel free to donate to me to help keep me going

ETH: 0x3fcb3018cbd53e0a6c93048eb5c7199487d7b7fe
paypal.me/scottcbusiness
Social Media And Contact Info

🙌 You can also follow me on:
Twitter - https://twitter.com/Scottcbusiness
Facebook - https://www.facebook.com/ScottCBusiness
Instagram - https://www.instagram.com/scottcbusiness
LinkedIn - https://ca.linkedin.com/in//scottcbusiness
Steemit - https://steemit.com/@scottcbusiness
Discord - ScottCBusiness#5242
Minds - https://www.minds.com/scottcbusiness
EasyDex helps spread awareness for and is an occasional sponsor of mine and an awesome decentralized trading exchange solution. They're doing some great work.
Witnessing On $STEEM
If you believe in me as a witness kindly vote for me by going to https://steemit.com/~witnesses and voting for me at the bottom by typing in my username 'scottcbusiness' or click on the link below



Click the above text to vote for me!


---
▶️ DTube
▶️ IPFS