Trust is a big part of life, more so than we might realize. Once we see aspects of the application of trust in our lives, we can recognize just how important it is.
From a very early age to grow up and are influenced by what others say. Parents are there to take care of us and teach us about the world, hopefully. We automatically trust our parents as children, to varying degrees with some infants being rebellious in their terrible twos or other phases of development. We generally trust our parents until a certain age when our cognition develops and our ego-personality-identity construct begins to rebel against the inherent an automatic trust placed in the parent, more so depending on past experiences of fostering trust or breaking it. But even then, trust is still a huge factor in our lives.
We still trust in what others say. Building trust is how strong relationships form. When people tell us things, we implicitly trust that they are being honest in their representation of reality that we ourselves can't always verify.
Things can happen where we need to rely on the testimony of others to understand how something happened, such as someone being responsible for doing something wrong. If there was not trust, we would not accept what others say about reality or truth.
The whole world runs on trust to a large extent. We can't directly have access to what happened everywhere at all times, so we need to rely on others to tell us about things. We're not omnipresent. In this way, trust acts as a proxy for the truth of what happened because we can't verify it ourselves.
We have trust, faith and loyalty in what others are saying, and we say that we believe what they are saying is true. We don't truth in what they are saying, we believe in what they are saying because we do not have direct access to the truth of what happened. This demonstrates an important distinction between belief and truth that we already recognize that an intuitive level through the use of language to represent our understanding of certain things.
Truth has veracity, it is veritably verifiable. Those three V words come from the same root as the Latin veritas, which is the word for truth. Belief on the other hand is not, which is why we can only believe in what others say is true. Then perhaps we can verify if what they are saying is indeed true, but sometimes we can't and we have to take people at their word. This is why truth is a proxy for trust, because we depend on the honesty of others upholding a pledge to be truthful to what they say and represent reality without willful deceptions such as lying.
Another demonstration of the importance of trust is when we are betrayed. I've use this example also demonstrate how important truth is in our lives because a betrayal is a breaking of that inherent trust in another to be honest and not go against their word or harm us. When we have trust in another, there is also an implicit trust that they will not harm us. Being betrayed breaks that belief, loyalty, trust and faith that we have in others to represent the truth to us.
Even if we are not willfully deceiving and betraying the truth -- and therefore betraying someone by lying to them -- we can also be fools and not know what we're talking about, which others can verify and it reduces their trust in our competency. Anyone can be wrong, but the more right you are about things the more competency is demonstrated and trust earned. Competency affects our confidence in others and trust as well. Trust let's us know if someone can be depended on on various ways.
Trust is so pervasive, it's in everything that we buy. We go to the grocery store, and most of us grew up trusting in the safety of what is provided for us to consume. We trust that the food we are consuming is safe. We trust that the material we by is safe and doesn't have any chemicals in it that can harm us. But then we learn about the food industry, and the chemicals in products, the toxins, waste, and pesticides. We learn about unhealthy foods that we are being sold, and they seem to be the foods that uncritically thinking children want to buy. They are sold these ideas and beliefs in what food to eat through the media and advertising.
We buy into products, and we bind into beliefs. We treat those beliefs as if they are true, yet rarely do most people verify the veritable veracity of what someone claims. Then we don't know it's true, we only believe it to be true, which doesn't make it true despite us saying it's true.
There are many truths that we don't know about, but until we do know about them and can veritably demonstrate their veracity then they can't be called a truth because we have not gone through the process of verifying the veracity that it is true. There's a reason the word truth is properly used to mean something that is verifiable for us to be able to call it truth, because truth is veritas. Truth is actual, and belief is potential. We need to verify the veritas/truth, or else we can't use the word veritas/truth about that thing.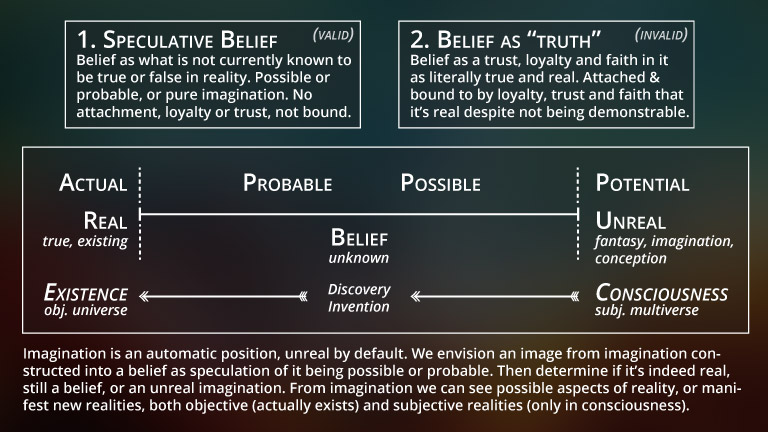 Belief is anything that we can't verify and use the word truth on. Not recognizing this difference leads many people to say they know something is true when they don't really, and then more and more people use that same model of calling things "true" when they haven't been verified by those people. It might be true, but they don't know that, they are only believing it is true. Believing something to be true is not the same as it actually being true. If we accept things from other uncritically, then we pretty much accept what they are telling us is true even if it isn't.
Sometimes we can't verify things ourselves, but other times we can. Be it an event or a scientific experiment, demonstrating truth requires a certain level of persistence and repeatability. Multiple sources can provide accurate testimony to an event, and multiple sources can repeat an experiment.
We trust in our politicians, police and so many others people. But do they deserve our trust? Have they truly earned it?
---
Thank you for your time and attention. Peace.
---
If you appreciate and value the content, please consider:
Upvoting

,    Sharing

or   Reblogging

below.

me for more content to come!
---
Please consider supporting me as a Steem Witness by voting for me at the bottom of the Witness page; or just click on the upvote button if I am in the top 50