Why "Do Unto Others, What You Want Others To Do Unto You" Is The Real Golden Rule And Not The "Do Not" Version?
Some people who are not really paying attention to the more "important" principles in life have confused the two versions of the "golden rule" namely:
Do to others, what you want others to do to you.
with
DO NOT do to others what you don't want others to do to you.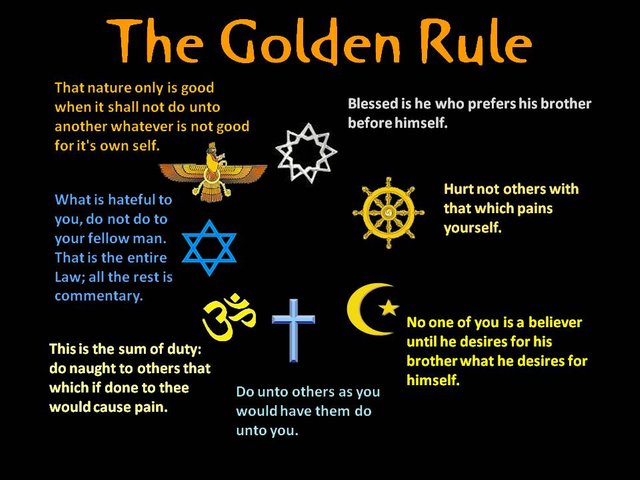 What's the difference?
There's a world of difference between them!
The first one is the real deal. Spoken by Christ himself, at Matthew 7:12. Saying further that the "law of the prophets" is summed up in this "action".
STOP SPEED READING NOW THIS IS IMPORTANT. ;)
Why is it important?
Because all our relations and interactions hinge on this.
We should do to others WHAT WE (expect, want, need, deserve) others to do to us.
This is deep. The repercusions are immeasureable and yet it is what we all need to do. AND MOST OF THE TIME DON'T.
You see why this version is the GOLDEN RULE is because of the reason that this is POSITIVE and ACTIVE.
To fulfill the admonition, WE NEED TO ACT POSITIVELY. We have to do something to our fellow, to "others" which incidentally includes even our closest relative. (Our family for example are the nearest "others" that we got)
It requires our action, it requires that we INITIATE the chain of GOOD ACTS instead of waiting to receive one from the "others". It encourages us to kickstart "good karma". Then imagine how well our society will do IF EVERYONE THINKS AND DOES THE SAME. (like upvoting and following for example)
The "Golden Rule" is so good if properly applied, that someone mistakenly thought that, it is all we need to have fulfilled all of God's requirement from mankind. Because, if all people ADHERE to this rule, we will avoid doing harm to others.
With the exception of the mentally unstables, people will usually avoid doing harm to himself:
Physically
Mentally
Emotionally
Financially
Other ways
AND THIS IS WHAT THE GOLDEN RULE WANTS US TO DO TO OTHERS.
Think about it, what sort of damages and conflicts, we all could avoid if we can ONLY LEARN TO APPLY THE GOLDEN RULE?
Crimes of all sorts would be eliminated, relationships will vastly improve, progress will be linear and continously UPTREND when harm against progress and the people behind them are eliminated. Utopia will be realized.
And it's only a representative of the HALF of God's laws. Yet, If only we can all learn to apply this ONE principle, our society will be so much different than WHAT IT IS NOW.
And here's the funny thing.
So many people confused this GOLD to a bleep rule:
"DO NOT DO UNTO OTHERS WHAT YOU DONT WANT OTHERS TO DO UNTO YOU".
I do understand the why of the confusion. But let me tell you why it cannot really compare to the real golden rule above.
This pseudo-principle is demon inspired, this is fed to the masses to sow confusion of what we really SHOULD DO.
Look at it. It is actually evil.
Why??!
Because it is the very opposite of the real Golden Rule and it is NEGATIVE in nature!
Even a DEAD PERSON fulfill that useless principle!!! It is so useless, that YOU DON'T HAVE TO DO ANYTHING and you got it covered. Got it?
Yup, that is why this is propagated by the enemies of God. It makes our society complacent, indifferent and "to each his own" kind of society, which LED US TO WHAT STATE OUR SOCIETY IS NOW.
A society that is full of hatred, harm, confusion and on the brink of total annihilation FROM ITSELF daily.
With almost everyone thinking "riches" is the sign of success, no matter how you get it. To the detriment of everyone.
So please, do not be confused, and if you really, really appreciate "good life", practice it. Because no one can live happily in a ROTTING SOCIETY, do not think that, being evil will result in a happy life. YOUR ACTIONS will breed reactions, so if you act against the golden rule, you will reap the results. That is how the society will then OPERATE.
"Do unto others what you would want others to do unto you" IS THE GOLDEN RULE.
#goldenrule #society #utopia #solution




---
---
YOU MAY ALSO LIKE
easteagle13 is a "messenger" to assist people that are willing to enjoy the best of life has to offer.
Be it material riches, spiritual truths or even Life.
He knows the "real state of things", although they may be hidden behind veils of deceits.
Therefore he does not really care about the PRESENT SYSTEM OF THINGS (governments, commerce, religions and evil people), knowing they are bound to be replaced by the best ones in God's due time soon.