This is my entry to the @pifc ( #payitforward ) for week 95 and these two accounts with this blog are my jewels this week.
https://steemit.com/payitforward/@pifc/week-95-pay-it-forward-curation-contest

@scribbleit Rep 51 and on steemit since december 2019 SP 51

https://steemit.com/hive-100421/@scribbleit/axavknor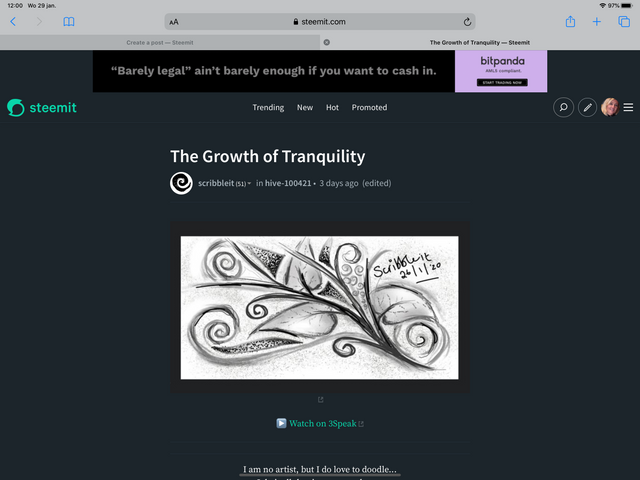 This vlogger via 3Speak is doing great things and this blog is one off them only to little appreciation so maybe this will help. Creativity is everywhere, rtogether with miusic all is shown to get a great art piece. I am not able to comprehend hoe to do this but loved watching. So if you are an art lover watch this on 3speak.

@freebirdkhushboo Rep 58 been here since August 2017 SP 240

https://steemit.com/life/@freebirdkhushboo/10-uncomfortable-signs-you-are-actually-becoming-the-person-you-are-destined-to-be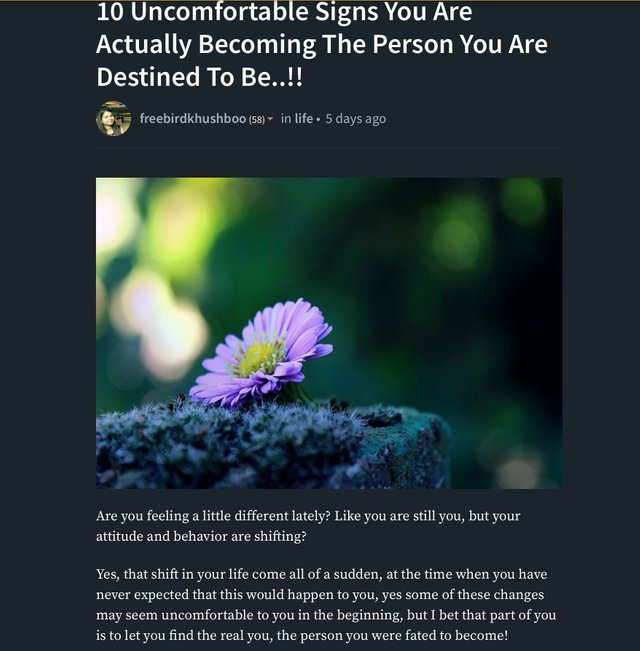 The blog is about the 10 signs you are actually becoming the person you are destined to be. If you read it you will see the sentence YOU CANNOT HANG OUT WITH NEGATIVE PEOPLE AND EXPECT TO LIVE A POSITIVE LIFE. Thats so true, it important to let life evolve but some things are destined.
I hope these two bloggers get some more votes and comments, see you next week.
Thank you for stopping by, its highly appreciated, and please let me know your vision on steemit life in general.
Please remember, focus on being creative instead of being busy!
- "Consistent Actions, Create Consistent Results"
- "Not everyone is a blogger, but everyone has something great to offer"


Lover of Life and L❤️ve in General - @brittandjosie


I fully support witness and developer group @blockbrothers for the Steem blockchain. If you want to support them, they would appreciate your vote here.


They build Steemify, a notification app for your Steemit account for iOS.
Get it Here:



Member off the :
(c) All images and photographs, unless otherwise specified, are created and owned by me. @brittandjosie originals

Sources used : Pixabay and Pexels and with others its mentioned in my blog. I only use a canon camera and my iPhone.
I would like to thank You for Reading my blog but Feel free to leave me any feedback.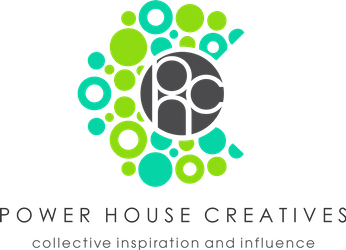 If you want to learn more about either of these projects, please visit: @heyhaveyamet or @steemterminal

#marlians, #neoxian, #creativecoin
#palnet #steemitmamas #powerhousecreatives #CC
#mediaofficials #steemterminal #heyhaveyamet #built-it