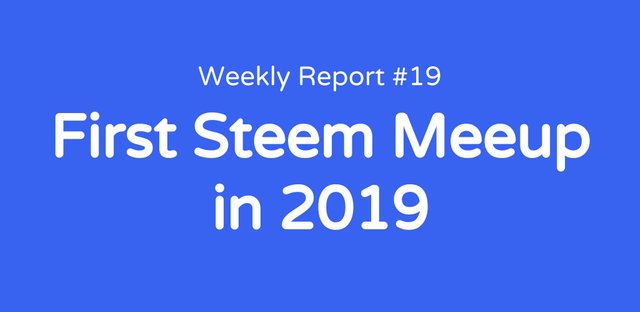 Hello Partiko lovers!
We're so excited to report to you yet another week of amazing updates!
First Steem Meetup in 2019
The first Steem Meetup in the San Francisco Bay Area is going to happen this week on Feb 28!
Time: Thursday Feb 28, 2019 6:30 to 8:30 PM
Location: Starfish San Francisco, 1535 Mission St. San Francisco, CA
Agenda
6:30 to 7:00 PM: Networking
7:00 to 7:30 PM: Recap of latest development in the Steem community
7:30 to 8:00 PM: Blockchain business model review: SteemMonsters v.s. Steemit
8:00 to 8:30 PM: Sneak peek into the future: Steem Smart Contract
8:30 PM: Happy hour!
Reserve your spot here
Perks: Partiko swags if you come! Jackets, notebooks, tote bags and pens!
Read this post for more details!
We look forward to seeing you there!
Unlock a big gift pack from Partiko!
Partiko has prepared a big gift pack for you! Wondering what gifts are we offering? Read this post to check it out!
Upcoming Updates
Messaging for Partiko iOS
New Android release!
Download Partiko and Try it Out!
Partiko has become one of the most popular interfaces for the Steem blockchain, it does not take cuts on your earnings, and you can earn Partiko Points and convert them into upvotes!
Download the Android version on the Google Play Store.
Directly download the Android package here. SHA 256 checksum: 265be9e77c49561579b01601791b4df53923e511bfddbd70a99858a1422e3d79.
Download the iOS version of the App Store.
Vote @partiko for witness
Partiko is running a witness node to contribute to the Steem ecosystem. We would really appreciate your support if you could vote us for witness! Click on the link below to vote us for witness:
Vote for Partiko's witness node
Read this article if you want to vote for us but don't know how.
Follow us for future updates
You can stay connected with us and follow our future updates by:
Together, let's change the world.
Onwards and upwards,
Partiko team
Posted using Partiko Android