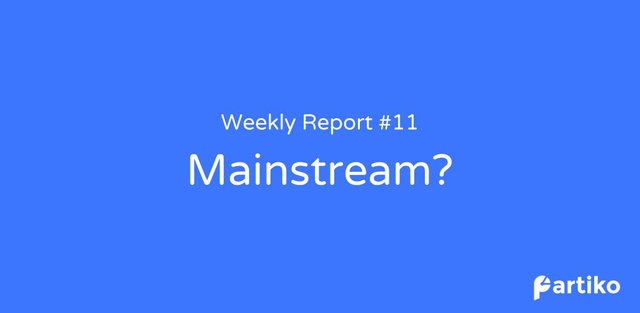 Hello Steemians and Partiko lovers,
We're so excited to report to you another week of amazing updates! We have so many updates for you this week!
Forbes Reported Partiko
We're really excited to tell you that we are interviewed and reported by Forbes! Although it's not an article dedicated to Partiko or decentralized social platforms, we see this as a small step towards a big future!
From the report:
Similarly, the dApp startup Partiko is gaining much buzz as a result of its community proposition integrated with financial transaction. Created by the former founder of Airbnb's blockchain community, Sida Wang's company describes itself as a decentralized Reddit with a built-in revenue model.

Wang, based in San Francisco, is being courted for his new approach in the blockchain space and says, "Social media is one particularly promising application of blockchain because it allows users to own and monetize their content in a completely peer-to-peer and open economy. When people are contributing content to centralized platforms like Facebook, they are giving up their personal data without getting anything back, with the risk of their data being sold, and more and more people are starting to realize that. Blockchain technology provides a very solid solution to that problem".

The company reports that on average its users are spending 15 minutes a day on the blockchain platform, many of them spending more time on Partiko now than Facebook or WeChat.
Partiko Raised 220K SP in 4 Days
Thanks to the amazing Partiko and Steem community, Partiko was able to raise 220K SP in just 4 days! We believe this is a ground break history, and we are so glad we can witness this together with YOU!
The delegation summary can be found here.
We would also like to memorize this moment by writing everyone who have delegated in round 1 on the Steem blockchain! And here they are:
@gcalex, @skenan, @stellabelle, @smartmarket, @rea, @walterjay, @sirknight, @onealfa, @oflyhigh, @trevonjb, @flauwy, @pouchon, @abrockman, @nateaguila, @bitrocker2020, @deanliu, @victory622, @htliao, @cyberdemon531, @karr, @rosatravels, @stackin, @xemurai, @spicyer, @theb0red1, @kimxinfo, @rivalhw, @solar, @anomadsoul, @jwolf, @exyle, @sulev, @rondras, @adventuroussoul, @streetstyle, @shitsignals, @jiujitsu, @imacryptorick, @bobdos, @jongolson, @tarekadam, @thebluewin, @bluengel, @honoru, @joythewanderer, @runicar, @neopch, @kenmelendez, @nonzerosum, @cryptoburner, @felander, @newageinv, @organduo, @richellis, @eduter, @kenanqhd, @angelina6688, @khaleelkazi, @midlet, @axeman, @culgin, @kenny-crane, @sagarthukral, @aniestudio, @jackmiller, @taskmaster4450, @ryanlj, @immarojas, @rawutah, @moghul, @d00k13, @yellowbird, @newtechblog, @shaka, @chesatochi, @cryptospa, @pfunk, @goldrooster, @alexvan, @china.mobile, @itchyfeetdonica, @mountainjewel, @jrvacation, @meno, @niallon11, @elevator09, @eonwarped, @holger80, @masterthematrix, @b00m, @improv, @kabir88, @saffisara, @wandrnrose7, @onepercentbetter, @jrswab, @libert, @julian2013, @iguazi123, @travelgirl, @kid4life, @gadrian, @matheusggr, @kelvinzhang, @toofasteddie, @hansdewet, @shenchensucc, @ahmayzinone, @alexaventuria, @steemmillionaire, @avizor, @totopapa, @kevinli, @meesterboom, @maticpecovnik, @jimbobbill, @teamhumble, @clumsysilverdad, @bozz, @daan, @timothyallen, @solominer, @ericet, @gracelbm, @heyimsnuffles, @soyrosa, @awesomegames007, @revisesociology, @shanghaipreneur, @redtravels, @shanibeer, @apshamilton, @gungunkrishu, @preparedwombat, @city-of-dresden, @sandan, @sergiomendes, @voteminer, @freedomno1, @mcoinz79, @goldendawne, @emrebeyler, @stephen.king989, @fknmayhem, @bleuxwolf, @espoem, @ekushya, @fingersik, @tbnfl4sun, @machv, @stokjockey, @guchtere, @buttcoins, @rmach, @codingdefined, @dbooster, @camuel, @simplymike, @leyargoz, @gentmartin, @tommyl33, @nathen007, @runridefly, @akomoajong, @minismallholding, @slientstorm, @roleerob, @enginewitty, @rehan12, @k0wsk1, @jeanpi1908, @windowglass, @cowboysblog, @sames, @dalz, @shookriya, @trendhk, @amico, @iamevilradio, @elizacheng, @stuffbyspencer, @littlenewthings, @kentzz001, @shaidon, @oivas, @boyasyie, @bluemist, @dwiitavita, @digitaldan, @flemingfarm, @sharpshot, @kph, @dragraff, @aclcrypto2, @emjoe, @kapteeni, @travelling-two, @fatherfaith, @ketcom, @torrey.blog, @mermaidvampire, @jassennessaj, @mamun123456, @eturnerx, @minimining, @scottcbusiness, @ftbll, @hendrawahyuni, @puregrace
Upcoming Updates
Partiko Delegation Plan benefits will take place in 48 hours.
Partiko iOS update next week: New profile page, payout information, resteem history.
Partiko Partners Program update, announcing on December 1.
Download Partiko and Try it Out!
Partiko has become one of the most popular interfaces for the Steem blockchain, it does not take cuts on your earnings, and you can earn Partiko Points and convert them into upvotes!
Download the Android version on the Google Play Store.
Directly download the Android package here. SHA 256 checksum: 32648472c43fe62e10ebeec7553fce4744eae914d1ed0015b895c2188d62daa0.
Download the iOS version of the App Store.
Vote @partiko for witness
Partiko is running a witness node to contribute to the Steem ecosystem. We would really appreciate your support if you could vote us for witness! Click on the link below to vote us for witness:
Vote for Partiko's witness node
Read this article if you want to vote for us but don't know how.
Follow us for future updates
You can stay connected with us and follow our future updates by:
Together, let's change the world.
Onwards and upwards,
Partiko team
Posted using Partiko Android