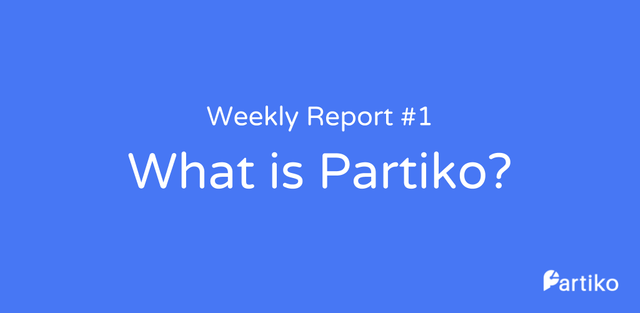 Hello steemians and Partiko lovers,
The Partiko team would like to sincerely thank you for all of your support! It has been an incredible experience making a mobile app for such a supportive community. To make it easier for you to be aware of Partiko's latest developments, starting today, we will post our weekly announcements to always keep you updated. This week we will start by (re)introducing ourselves to give you a better idea of the product and our mission.
What is Partiko?
Partiko is a mobile app built on the Steem blockchain, which allows you to interact with your fellow steemians on the go! Partiko's engineers care deeply about providing steemians with a world-class user experience; Partiko's ultimate vision is to enable the mass adoption of cryptocurrency by building crypto-based products like Partiko that seamlessly interact with users.
Why should I choose Partiko over other Steem mobile apps?
It's fast: Partiko is designed using native technology, which achieves smooth scrolling and quick user interaction.
It's beautiful: Partiko is written using the most intuitive design language, making it incredibly easy and enjoyable to use.
It's convenient: Partiko allows you fully engage with the Steem community when you're on the go, with features including posting, feed, search, sliding vote, notifications, and profile viewing.
It's secure: Partiko uses SteemConnect, the most trusted login service on the Steem blockchain. SteemConnect allows you to make posts and transact without exposing your private key.
Partiko is available to download in both the App Store and Google Play Store (or directly download the Android version here).
What are Partiko's primary functionalities?
Browsing posts by categories and tags
Making posts and commenting
Feed
Sliding vote
Notifications
Search
Profile page
What are Partiko's unique functionalities?
Partiko's most distinctive feature is its newly-added points system. To reward Partiko's users for their dedication to our platform, Partiko's engineers developed a point system that will allows users to redeem points for upvotes from Partiko and premium Partiko features. Please stay tuned for updates!
So, how do users obtain points?
Partiko users begin with 3000 points, and you can earn points by simply using Partiko:
Upvote a post or comment to earn 5 points
Publish a post to earn 30 points
Comment on a post to earn 10 points
Check in everyday to earn 10 points
What do Steem mobile app users think?
Partiko is the highest-rated Steem mobile app on both the App Store and Google Play Store, as shown below: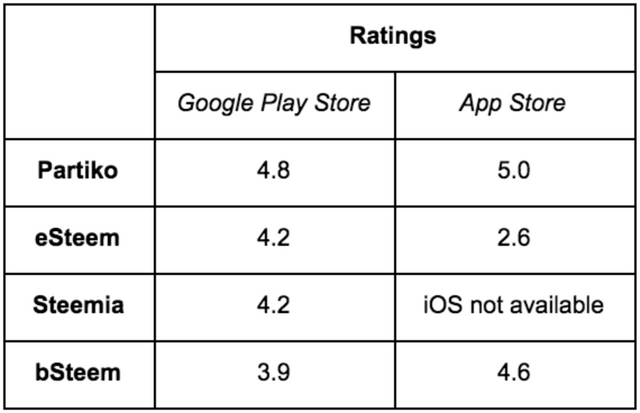 Data was collected directly from the Google Play Store and App Store on August 17, 2018.
Recent Community Feedback
We love to hear feedback from users like you! Check out these posts made by dedicated Partiko users reviewing Partiko and sharing their experience with the app:
IN-DEPTH REVIEW OF PARTIKO! - 3A DTUBE EXCLUSIVE REVIEW
Follow us for updates
We welcome everyone to download and use Partiko. If you have any feedback (e.g. new product feature suggestions), please contact us via email at support@partiko.app or join our Discord server and post under #support. For our latest updates, follow us on Steemit (@partiko), Twitter (@PartikoTeam), Facebook.
We hope you have fun making posts using Partiko! Together, let's change the world.
Onwards and upwards,
Partiko team
Posted using Partiko iOS